As my primary language is not English, there are probably some mistakes in my translation.
Remember that the person who speaks here is NOT me, Vincent Celier (@vcelier), but Marc Allaria (@marc-allaria), a French guy.
---
BORNEO - DIVING IN MARATUA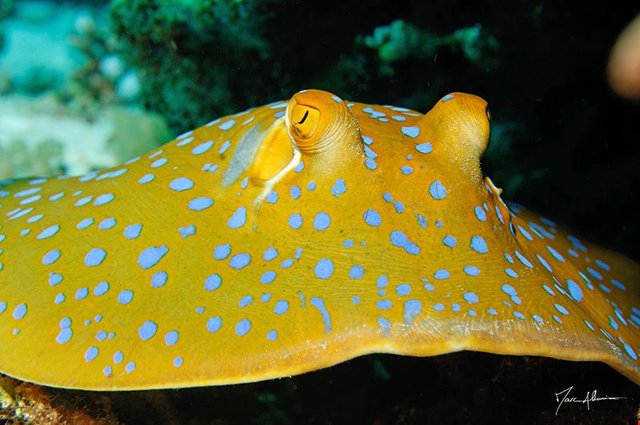 Bluespotted ribbontail ray
* * * * *
If the pass of the "Big School" is the center of interest of the place, we should not forget the rest of the drop. The coral reef of Maratua is very rich and includes a density of gorgonians and soft corals quite incredible. I do not move much under water, and no long motionless moments around the same subject. Each gorgonian is entitled to its selfie, the soft corals give spectacular colors, and it is not uncommon to receive the visit of a small shark, a humphead wrasse or the school of parrotfish in the area.
* * * * *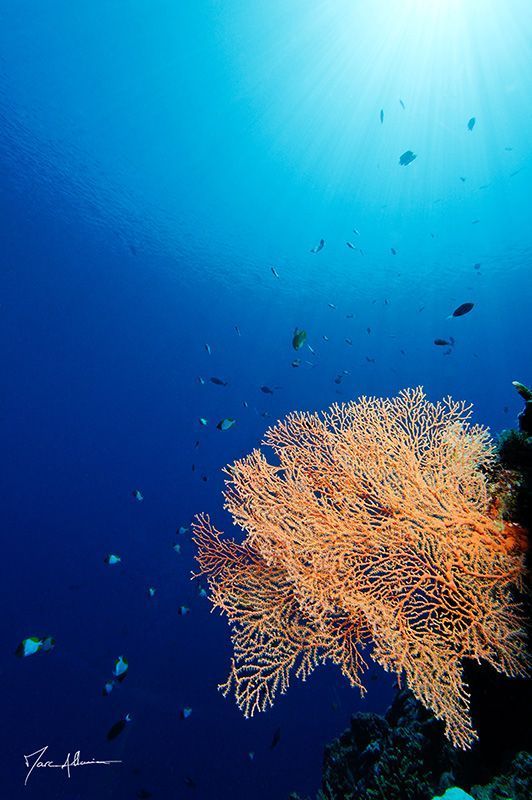 Gorgonians
Here the dives are deep. How good it is to land at the feet of the wall, and let your mind escape by watching his bubbles reach the sun. Several months that I was waiting for this moment. It is by going up from one of these dives that I catch a
zebra shark
on a platform of the fall. The zebra sharks, as well as the
nurse sharks
, or the reef sharks, are some of the sharks that can filter the water needed for survival through muscle action. A total stop for a night's sleep is not detrimental to their survival. In contrast to this, almost all other shark species do not have this feature. If it stops, the oxygen filtration also stops and their survival is called into question. It is therefore a perpetual swim for them.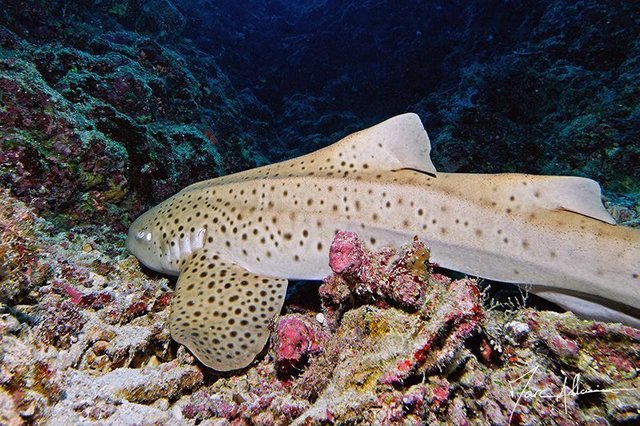 Zebra shark
From too hurried to find ourselves along this drop, we get used to go a little too fast next to a flat who deserve certainly that we pay more attention. At the diving returns, I let myself drift next to my small boat to enjoy each and every concentrate of life. The flat is easily accessible and offers a rich marine life. The turtles obviously, but also the bluespotted ribbontail rays are in very large numbers. More discreet some anemones protect their lots of symbiotic shrimps and their eternal clown fish. White moray eels, shells, mantis shrimps and octopuses also set the scene.
No less than a month passed here. Aurora is now part of the walls! The dives at the rhythm of the tides, the pleasant moments spent at the Nabucco hotel, the small jogging on the way to the village, the sedentarisation is not far! And then the season changes, the winds will turn soon and it will be time to go back to sea. The next route followed by Aurora should be that of Sulawesi. Some drop-off points given by Maratua's friends are waiting for me and should give some ink to my future stories. In the meantime, it's time to reinflate the sails ...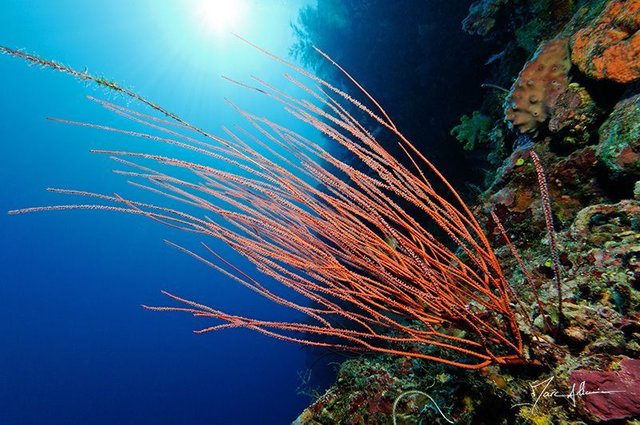 * * * * *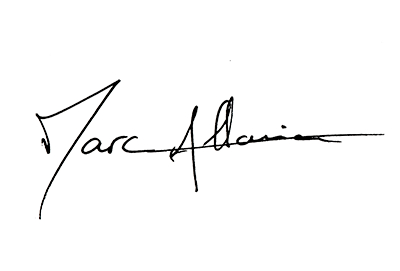 01: DISCOVER THE PHILIPPINES: Funny situations ...! at sea..., by @marc-allaria
02: DISCOVER THE PHILIPPINES: The fishing file ...!, by @marc-allaria
03: DISCOVER THE PHILIPPINES: The Cagayan Islands, by @marc-allaria
04: DISCOVER THE PHILIPPINES: Seaweed...!, by @marc-allaria
05: DISCOVER THE PHILIPPINES: The Bacuit Archipelago, by @marc-allaria
06: BORNEO: Kudat and the technical stop, by @marc-allaria
07: BORNEO: Kinabatangan River, by @marc-allaria
08: BORNEO: Maratua, part 1, by @marc-allaria
09: BORNEO: Big Fish School, by @marc-allaria