Writing down your memories is the best way to re-live an experience?
We travel for pleasure, because we have time to do it, because we are curious, because it makes us happy, because we run away from our reality, because what we have in front of us is not pleasant. We travel to see our problems from other view, to invest in us, because we believe it's the best way to spend money, because we see, listen, smell and perceive differently, because it relieves our sorrows, because it heals our wounds, because seeing the grandeur of the world we help ourselves to forgive those little ones mistakes and shortcomings of ours and of others.
We travel because new landscapes flood our retina, because it gives our tears different flavor, because the new flavors modify our taste buds, because we learn to live and think in another way , because traveling opens our senses, conscience, windows of the soul. Because we produce endorphins, because we face uncertainty, the unknown, the unfamiliar and we learn to ask for help and direction, because traveling confronts us with our fantastic world, castles and goblins, princesses and carriages; we face cultures, stories, we face other lives.

Traveling makes us more skilful, more tolerant, more ambitious, it teaches us not to conform, to always go for more. And we also travel because we feel like it, to test our decisions and for the simple and simple taste of flying on wings of giants.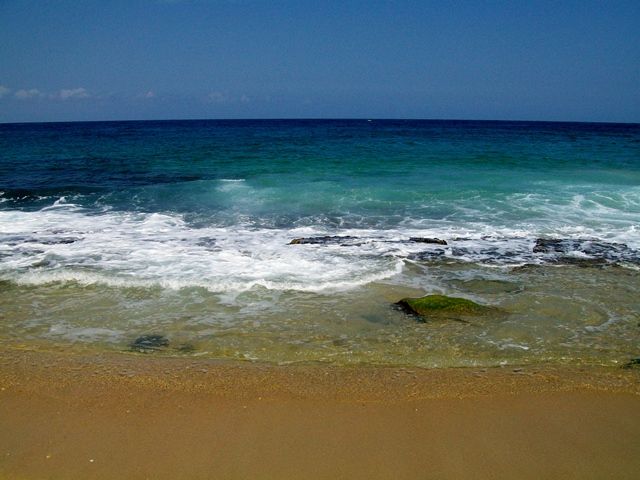 Imagine spending 10 days in one of the most beautiful places on earth, how would you feel? I had the luck to make a roadtrip the most gorgeous place I've ever been, a place full of life and colors, the beach was my front yard, a lot of river and pits were my backyard.. I spent more than a week in heaven. This short (but long) 10 days were so meaningful to me, that I'm gonna share the story with you. Why? Because since I started in Steemit I wanted to show the beauty of my country, and what better way to do it, than telling you how a random roadtrip changed my life.
(Also I have a lot of great photos from that trip that I want to share).
The destination was National Park Henri Pittier, located in the state of Aragua, Venezuela. To get there, the first thing you have to do is get on a bus that takes you from Maracay to Choroní. Unfortunely I don't have any photo of this peculiar transport (It's well known that Venezuela isn't that secure, so you can get robbed why just taking a photo). Why were the buses so interesting? Well.. They were HUGE (50 people minimum per bus) full of color and the music was REALLY loud. The road to Choroní is really small and sort of tight, you can see the cliff in the other side of the road.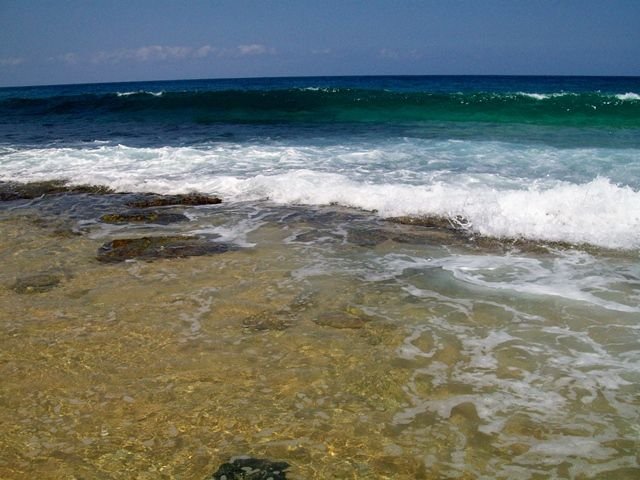 Our first stop was Cepe, once you get to Choroní you have to do a 40 minutes boat ride to the shore. Cepe is magical. White sand, a vibrant turquoise water, a small hamlet in the heart of the shore (only like 40 people live there) and surrounded by the jungle forest. I made this trip with a couple of friends, with no more than a tent and some food. Once we arrived, we prepared our little camp. There we some interesting venezuelans: Carolina, a biologist from Caracas specialized in marine life; also we met Hugo, he's french and married to a venezuelan beauty called Shirley, they live in Mérida and own a hostal
Check its Facebook page.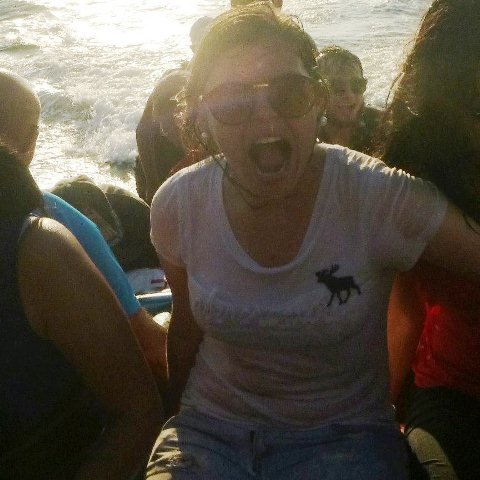 Long story short: I was so scared, LOOK AT MY SCREAMING FACE.
First days were totally awesome, enjoying the beach, playing with some local dogs, meeting the people of the hamlet, exploring the shore. One day a local fisher gave us a huge fish as a welcoming gift, we cooked at the old style: some wood and fire! I'm not a big fan of fish, but it was definitely tasty! Of course, in Venezuela we can't never miss some arepas. I like to travel, of course I like to do it! Because it gives me reasons to love my country, to value everything beautiful it has, to verify its contradictions, to show its wounds and scars, to narrate from different perspectives, to compare us and decide that finally a country like ours is like no other.
| The most random gift I've ever received | Lunch prep |
| --- | --- |
| | |
Carolina is the one with the red swimsuit, the other two traveled with me.
We found a place that is called Puerto Escondido (something like Hidden Port in english), it was perfect for cliff diving, our friend Hugo didn't think it twice. To get to Puerto Escondido , you have to walk and ascend a mountain for like 30 minutes, it's quite an easy road, but you have to be careful, it's full of cactus and pointy bushes. The view from the top was absolutely INSANE , the turquoise water was so intense!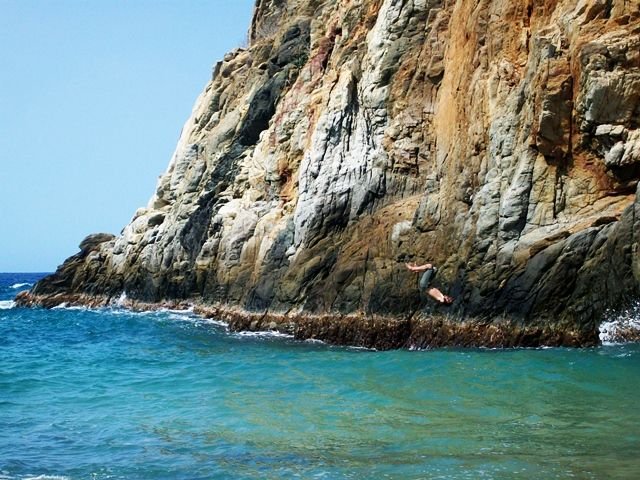 Fearless Hugo, cliff diving. I didn't do it, so now I regret it!
| Crazy view | Look at the colors please! |
| --- | --- |
| | |
In the shore of the port, Carolina showed us a sea urchin, I though my whole life they were so dangerous, that just by touching it you'll get poisoned, well.. guess what? I was completely wrong. She took it out of the water for some minutes and then put it back to its home, he/she wasn't harmed.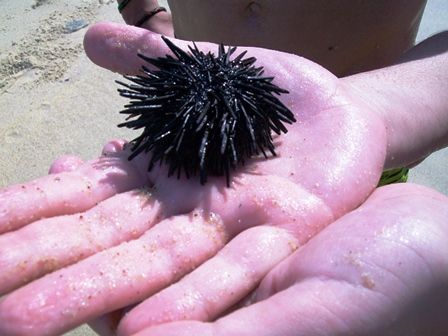 I named this little friend Frederick.
In the shore, right in front of our camp, we could find some others sea creatures (I forgot their names), being honest I don't want to find them again lol. I took some photos (really bad quality photos to be honest), but I needed to have them with me, they're part of this awesome experience.
| I named this one Shelly | I hate worms.. |
| --- | --- |
| | |
These are just two of the weird fellows we met. I googled it and the first one is called fire escalope , the second one is just a random worm maybe?
Sunsets at the beach are always beautiful, but the ones that I had the pleasure and honor to observe in here.. Were spectaculars, a party of soft colors, it was like sun was caressing the sand and the mountains around us. It turns out that camping at the edge of the beach is one of the most relaxing experiences you can do, completely away from the city, enjoy the sunsets and sunrises. For me, a moment of peace is a moment well spent. I didn't know what I was actually capable of until I decided to go camping for 10 days, I was able to prove myself, to measure my strenght and my capacity to adapt, and this were just the first moments of a wonderfull journey.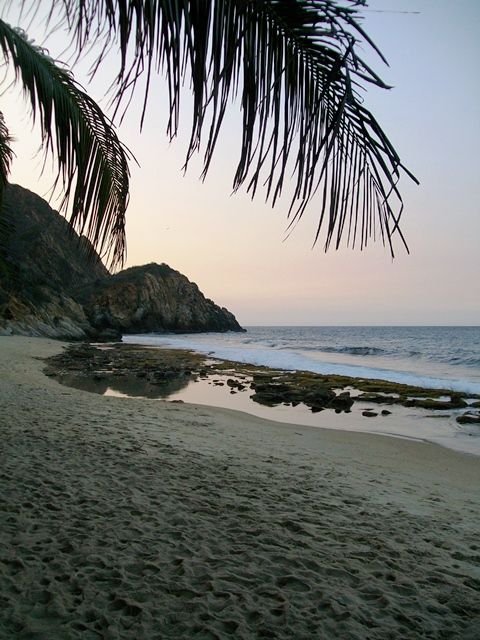 This was my favorite view to end the day.
---
This is a really short resume of the first couple of days of this 10 days experience. In the next posts I'll keep telling this story, I'm gonna tell you how and why I was surprised, how I actually cried and above all, I'll keep telling you how this changed me and marked my soul in a way. By now I'm just showing the beauty of the place and introducing the characters in this journey.