A risk you face when you decide to travel abroad is... well.. getting things stolen, being robbed and other unsavoury events that everyone tells you before you depart for a worldwide adventure. Especially, regions that have had a general bad reputation through the media. Colombia hasn't exactly been the safest place in recent decades and the crazy insane stories you hear could not be further from the actual truth when you are traveling through this beautiful country.
Having said that... I did got out the other evening with a bunch of new friends from the place I am staying for some drinks and fun adventures. Unfortunately, I did get pick pocketed by a group of people as I was walking along the street in what is considered to be a safe neighbourhood. They only got my phone, which is a pain but they didn't get my wallet, as that would have made it quite a bit more painful.
---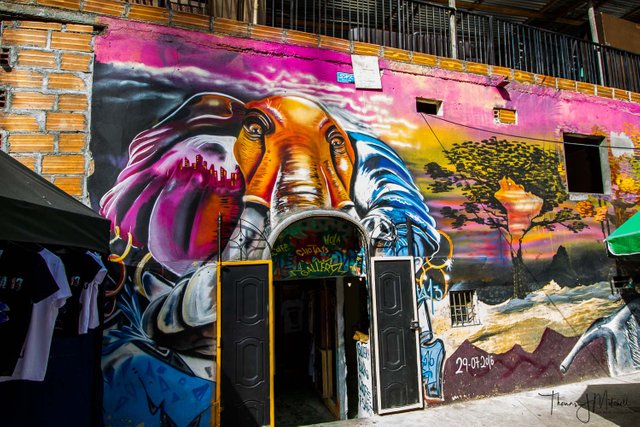 An entrance to a artistic store in Comuna 13, Medellin
Click image to view full size
---
This made me think that no matter how prepared you are when you travel abroad things happen, hence you buy insurance, etc. I was lucky it was my phone and not something else, as I have heard some stories from other travellers the last few days, which makes my experience look incredibly PG rated. One of my fellow travellers was caught urinating in public one evening. Not his finest hour, especially, when the police caught him and threatened him with jail if he didn't pay a bribe. Lucky for him it cost him $40CAD to walk away, as he did talk them down from $320CAD. Lesson here don't urinate in public... Kind of a funny story though.
Other stories involve being pick pocketed in other areas in South America, which can happen from time to time - it is just what happens when you travel through these areas. Personally, to prevent such mishaps from occurring I walk with my hands either in my pockets or against my leg so that I can constantly feel my wallet and my new phone. Not the most ideal but it is for when you are walking through crowded streets, etc.
Basically, a lot of comes down to prevention and using common sense when travelling. If it looks like a dodgy, dark alleyway then don't walk down the dark, dodgy alleyway... make sense? Don't walk off alone with people you don't really know that you just met at a restaurant or bar. Common sense goes a long way...
However, knowing that certain situations will occur won't put me off exploring and travelling more and more throughout Colombia or South America. Well, worth the risk
---
Do you have any little things to ensure mishaps like these don't happen to you?
Have you any stories of being robbed whilst travelling abroad?