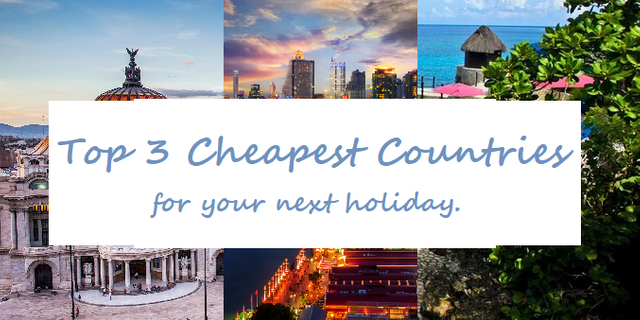 A recent UK study published by Travelex showed a list of destinations where £500 (about $1,000NZD) would last the longest. The figures are based strictly on daily out of pocket tourist expenses, three restaurant meals, four soft drinks, two beers, two coffees and two trips using public transport per day.

Please note that the calculations do not include accommodation costs but are generally low cost on a per-day basis.
3. Jamaica - 25 Days
Jamaica has lovely features and attractions and I heard the beaches and nightlife are definitely one for the books but the reason I want to go there the most, is to visit the world-famed birthplace of Reggae Music and the one and only Bob Marley.
I dont know about you but I'm kind of surprised to see such a perfect idea of the Caribbeans at such a steal price! This is definitely on my bucket list.
---
2. Mexico - 26 Days
Mexico is a country known for its diverse landscape, ancient ruins and beautiful beaches. Take in the arts of Mexico City and the relics of the Pre-Columbian civilization or if you'd rather to enjoy the rewards of such beautiful ocean resort retreats, Mexico has such amazing options at amazing prices.
I have got one word for you. Margarita

---
1. Thailand - 44 Days
Wait, what?! Am I reading that right?!
Your money will last almost twice as long in Thailand than in Mexico and you begin to wonder how. Thailand radiates the epitome of gold from its glittering temples to its tropical beaches and resorts, you will understand exactly what happiness is.
(emphasis on the penis, amiright?)
Although the Travelex figures dont allow for accommodation, there is no doubt that there are many high star hotels in Bangkok at affordable prices.

The Top 3 Cheapest Countries $$$ If you would like to read the full article on the UK study results, check them out here. Comment below if you've got awesome cheap travel stories that you want to share, we would love to hear from you.
Dora lets explore, yeah?