Travel Hack #2: How To Combat Jet Lag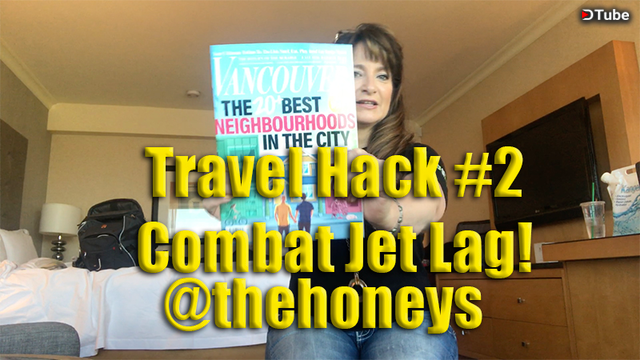 ---
The whole video is transcribed below: Hi guys! Today I am in Vancouver and that's the magazine that's on my table. I am at the Pan Pacific Hotel. It's Monday and I'm flying home today to Las Vegas and then on Wednesday, I'm flying to England. So I'll leave Wednesday at 10 am but I'll land in England at 6:40 am on Thursday morning.
I have a little hack and it's my secret weapon for fighting jet lag. It's a simple holistic thing it's called "Sleep Support Spray." And what this does, it's just 3 sprays in your mouth and it's a natural melatonin. You just hold it in your mouth, it's all natural and it's good for your immune system but what it really does, it actually resets your circadian rhythm.
So, a lot of times I'll get on a plane with this, I always carry this and it's like 13 bucks for the bottle. I carry it onto the plane and it's 2 ounces so it fits perfectly in my bag that they allow the liquids in so I always carry this on the plane with me. And I'll do a few sprays on the plane so I actually sleep on the plane on the way to England and when I get into England on Thursday at 6:40 am, I stay up as long as I can and then I use the sleep spray again and I go to bed that night. And I'm like, reset, just like that!
So my travel schedule is super hectic and this is my secret weapon for fighting jet lag. I rarely get jet lag, but once in a while, it will kick my butt, but very rarely. I'm jumping time zones all the time so, this is my secret time zone jumping weapon. Hope you guys having a great day! I'll talk to you soon. Bye!
To find out more about sleep spray, feel free to contact me personally, or go to Sleep Spray and Brain Support
Find us on Discord at thehoneys#6857
Or find us on Facebook at http://www.facebook.com/thehoneydare


---
▶️ DTube
▶️ IPFS