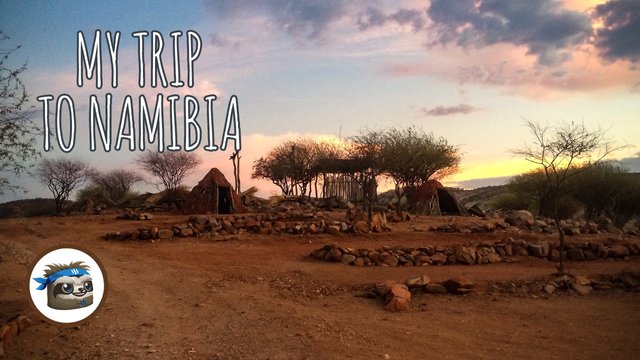 Mornings in Namibia are hard. You don't need an alarm clock, because the first sounds of people at the campsite effectively awaken you. And the heat. It makes you sleep with difficulty.
Quick cleaning in a branch-built toilet. Nothing is missing here, there is a washbasin, there is a toilet - only sometimes the cover is missing and you have to whistle so that nobody can be found in an embarrassing situation. After drinking the first coffee, the world becomes more beautiful. A strong espresso made on a tourist gas cooker becomes a ritual. Immediately after drinking, we have to fold the tent, which was placed on the roof of the car.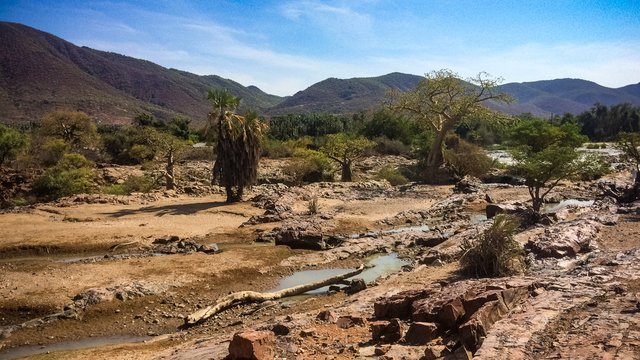 Dessert against malaria
It takes us 5 minutes to set up a tent with a little skill. You have to start by arranging everything inside. Then just fold the two-part ladder and push the material so that the lock of the cover closes without any problems. Finally, two straps tighten the folded tent and you're done. After this operation you are all in sand and dust, so you go to wash again. The morning heat is getting bigger and bigger.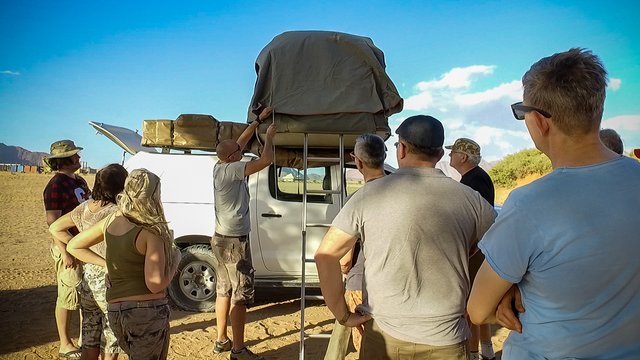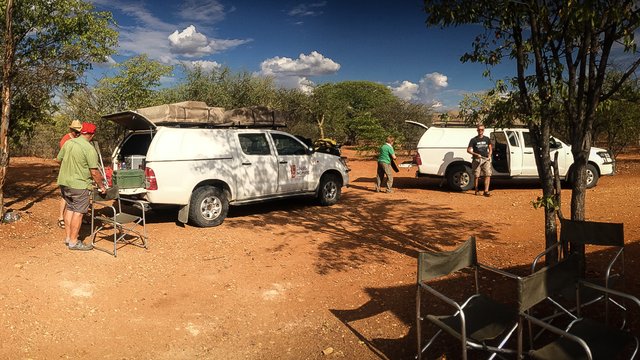 Then you have to have breakfast. The first and only Lady in our four-person team has already managed to remove products from the plastic crates, which are supplied with our cars. We eat at a folding table, sitting on tourist chairs. There are plastic plates, knives and forks, and metal cups - everything you need. Bread, cottage cheese, delicious local Cheddar, chopped cucumber. Modestly, but that's enough. For dessert Malarone, which hours of consumption is watched over by our camp doctor. Only one mosquito bite me during the whole trip. Around me there is drought, there are few mosquitoes, but it is better to protect oneself.
Tetris on the campsite
When breakfast is eaten and the dishes are washed, you can start the last procedure before departure - packaging. After a few days we had already developed the order of putting things on the car's package, so that nothing could be damaged during the all day off road. Each jar and bottle wrapped in plastic bags, chairs and table are carefully placed and loaded with bags and backpacks. Our car tetris probably passed the exam, because for two weeks we didn't pass a single failure.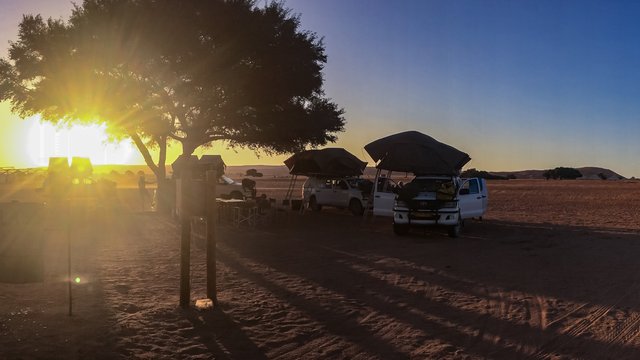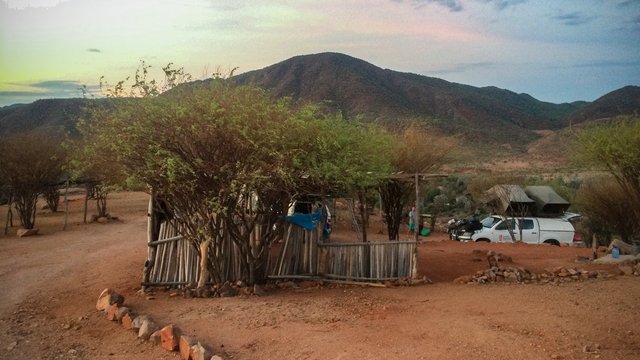 After a few days of travel, nobody is worried about the fact that he is wearing the same t-shirt on the second day. Ladies have already got used to the fact that long hair can be washed once every few days. At some campsites there is no running water at all and then you have to use the 45 litre tanks that are in each car. Slightly more than 10 litres per head - to wash hands, face or teeth is enough, but you still have to leave a bit for washing dishes.
Let's drink
Drinking water is carried separately in five-litre bottles. Before setting off, remember to pour it a little bit into a smaller container and cool it down. Despite the air conditioning, you want to drink all the time while driving and the cold water ends quickly. You can be aided by cola, juices, or basically sugar nectars and... beer. Of course only if you are not the driver.
In such heat apple cider tastes best. In Namibia you can buy it in a few versions. I liked the most the Light (3%) and Loco versions, with the addition of tequila (8%). There is also the Dry version, but for me it was too sweet. There must always be a place for beer in the car fridge. And for meat....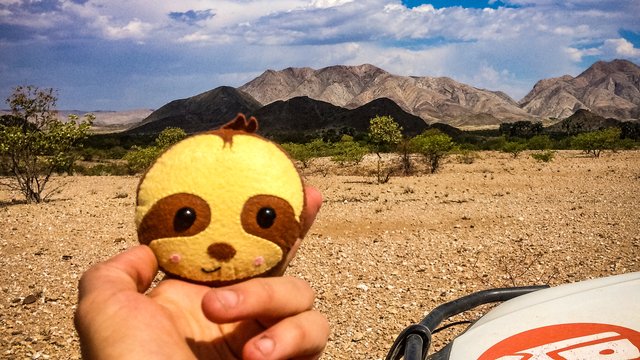 Give us the meat
The "Veterinary control" operation takes place a number of times along the route. Then all the beef is stored in other places in the car, because the first thing local inspectors check is the fridge. They look at whether meat is being transported from one part of the country to another. I met with this practice already in Botswana. Sometimes tourists throw away spoiled meat and it poisons animals living in the vast wilderness.
Our four travelers, usually the first to finish the morning preparations for the road. Almost without unnecessary words, each of us knew what to do to make it efficient and fast. While others were rushing to put up their tents and collect their belongings, we had time to warm up in the sun and admire the beautiful views.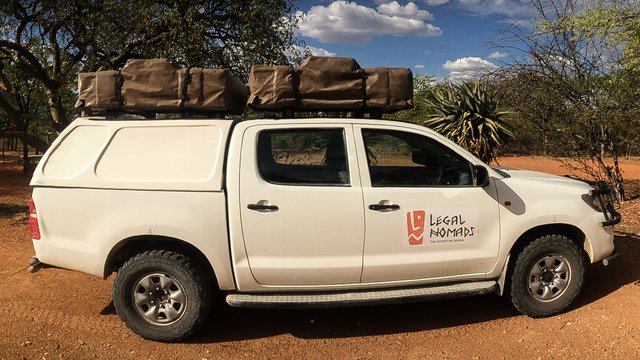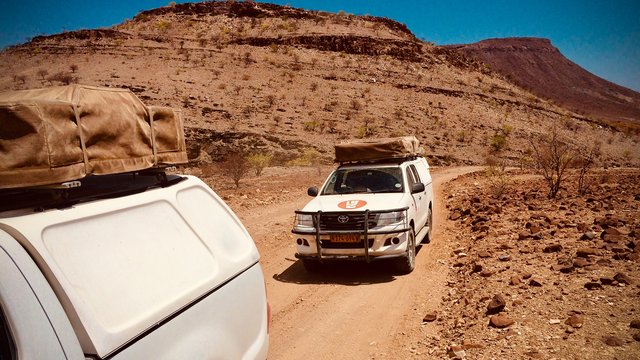 Usually, a few minutes after 9 a.m. we set off on the road. Nobody asks how many kilometers we have to drive. During this expedition we have already learned that sometimes 50 km takes a whole day.
Photo by Sloth