Hi dear Steemians 🌹,
親愛的Steemit朋友們:
How's everything? Last time we paid a visit to the Beijing Drum Tower and watched an amazing performance🥁, were you impressed? :) This time let's visit the Tower opposite to the Drum Tower: the Beijing Bell Tower🔔 !! Wanna know what's special about this tower? Let's get started!! 🏯
大家好嗎?上次,我們一起去了北京鼓樓,還欣賞了精彩的擊鼓表演🥁,你喜歡嗎?這次,我打算帶大家到鼓樓對面的那座樓——鐘樓去看看🔔!你想知道這座雄偉的鐘樓有何特別之處嗎?就讓我們一起來探索吧!🏯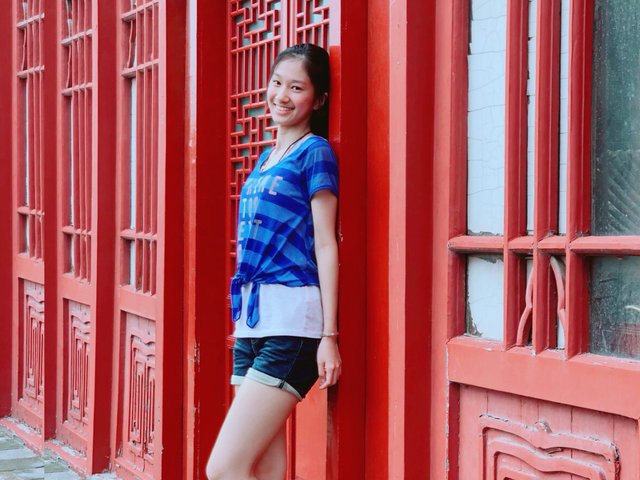 Same as Drum Tower, the construction of Beijing's Bell Tower began during 1272 AD. Shortly after the construction was completed, a fire destroyed both the Drum and Bell Tower 🔥. The Bell Tower was rebuilt at the north end of the north-south central axis of the ancient capital Beijing in 1420 AD. The Bell Tower has double eaves and a hip and gable roof. It's an ancient building made of brick and stone masonry, covered with black glazed tiles and green glazed trim at the top.
與鼓樓一樣,鐘樓始建於公元1272年,後毀於火,並於1420年重建🔥。可惜其後再遇火,於1745年再次重建,現位於古都北京南北中軸線最北端。它重檐、歇山頂、上覆黑琉璃瓦綠琉璃剪邊,是一座全磚石結構的古建築。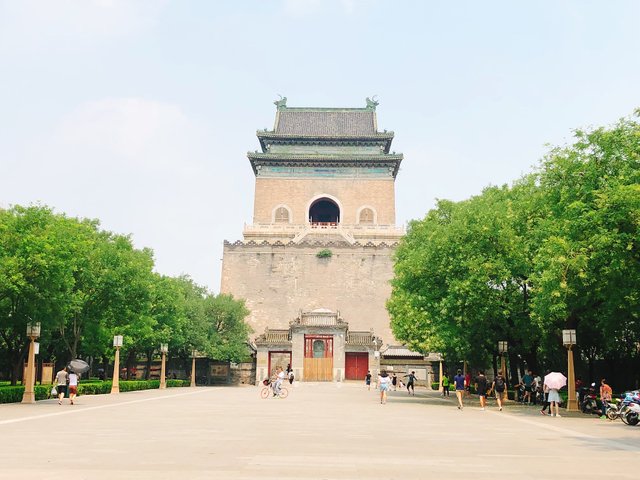 The location of the Bell Tower:
鐘樓的位置: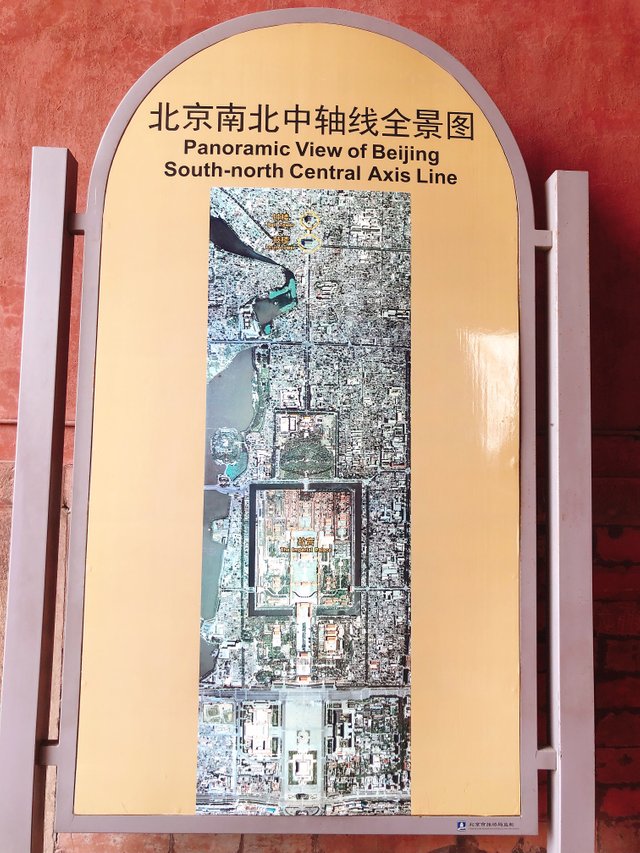 In ancient China people divided the night into 5 Gengs. A Geng was an ancient time unit used to divide the night, every Geng marked a Shichen (anither time unit which is equivalent to 2 hours). The FIRST Geng came at dusk and was called "Xu (dog) Shi" (1900-2100), also known as the Ding Geng 🐶; the SECOND Geng, marking the time people settled down for sleep, was called "Hai (pig) Shi" (2100-2300)🐽; the THIRD Geng, Zi (rat) Shi, signaled the middle of the night (2300-100)🐭; the FOURTH Geng was called "Chou (ox) Shi" (100-300)🐂; and "Yin (tiger) Shi" (300-500), also known as "Liang Geng", was the FIFTH Geng🐯 and it marks the dawn of a new day. When the Ding Geng and Liang Geng were announced, the drum (from the Drum Tower) was to be beaten first 🥁, followed by the striking of the bell (from the Bell Tower)🔔. When the second, third and fourth Geng were announced, only the bell was struck. As the bell signalling the FIRST Geng struck, the gate of the city was closed and the traffic was stopped. This was called "Jingjie", which means "clearing the streets". 🚗
古代人把每夜劃為五更,每更次為一個時辰,相當於現代的兩個小時:黃昏戌時(19-21時)曰定更🐶;人定亥時(21-23時)曰二更🐽;夜半子時(23-1時)曰三更🐭;雞鳴丑時(1-3時)曰四更🐂;平旦寅時(3-5時)曰五更🐯,又曰亮更,即天明之意。定更和亮更報時皆先擊鼓、後撞鐘;二至四更報時則只撞鐘。每晚戌時定更,鐘聲響,城門關。交通斷,稱「淨街」。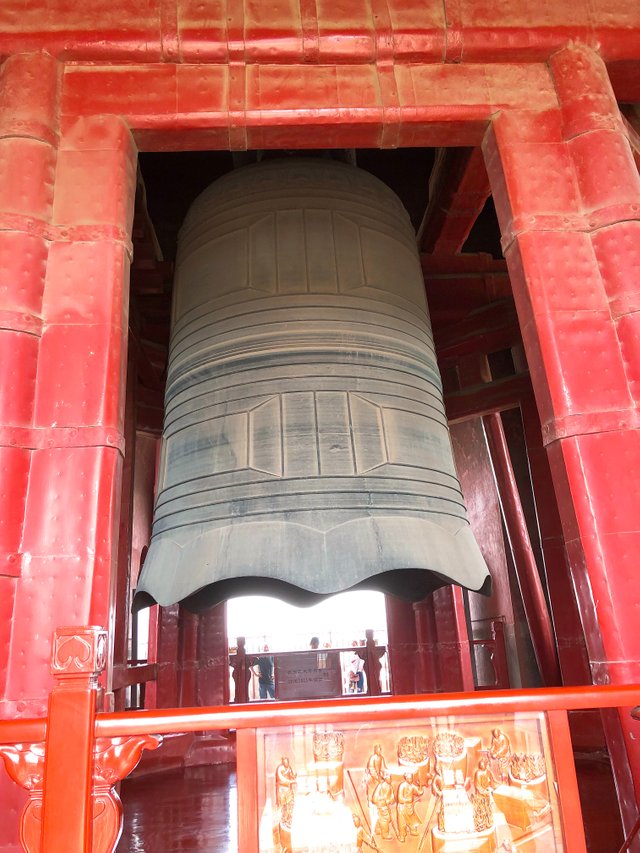 The Bell Tower is special in term of architectural features. The masonry and beam-free arched structure was adopted for fire prevention when the Bell Tower was rebuilt in the Qing Dynasty. The inner structure integrates Tianjing (parvis), track and the propagation of sound. The sound from the bell was made bolder and more vigorous through the resonance generated by the Tower's structure. This was a special technique often used in the large-scale buildings in ancient China.
鐘樓的建築特色也十分值得一提。清代重建鐘樓時,為防火整個件數採用磚石無樑拱券式結構。內部結構將天井、聲道及傳聲融為一體,使鐘聲通過建築結構產生的共鳴更加渾厚綿長。這在中國古代大型建築史上可堪稱一絕。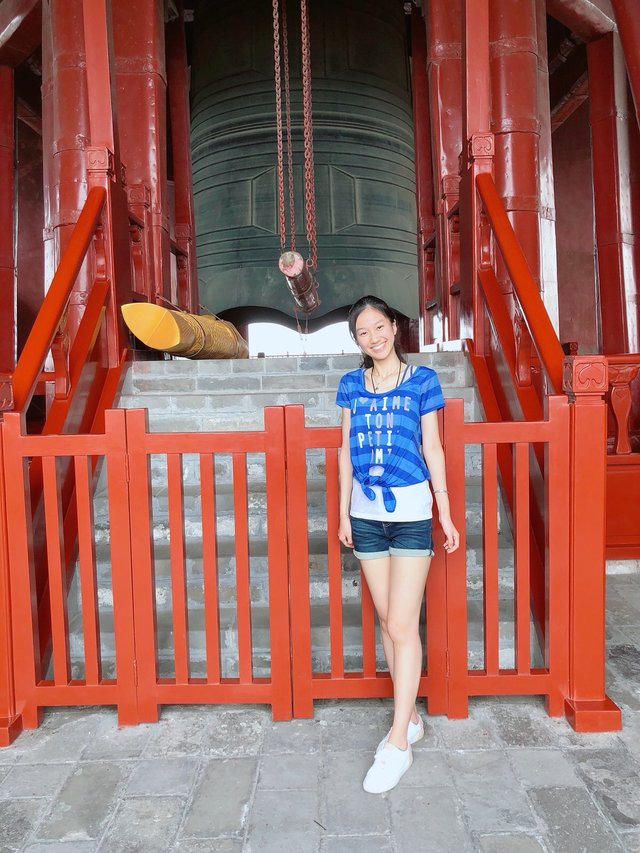 It is said that the tool in golden colour (on the floor) was used specifically in Chinese Lunar New Year to strike the bell:
放在旁邊的這個金色器具聽說是中國農曆新年用來撞鐘的特殊用具:))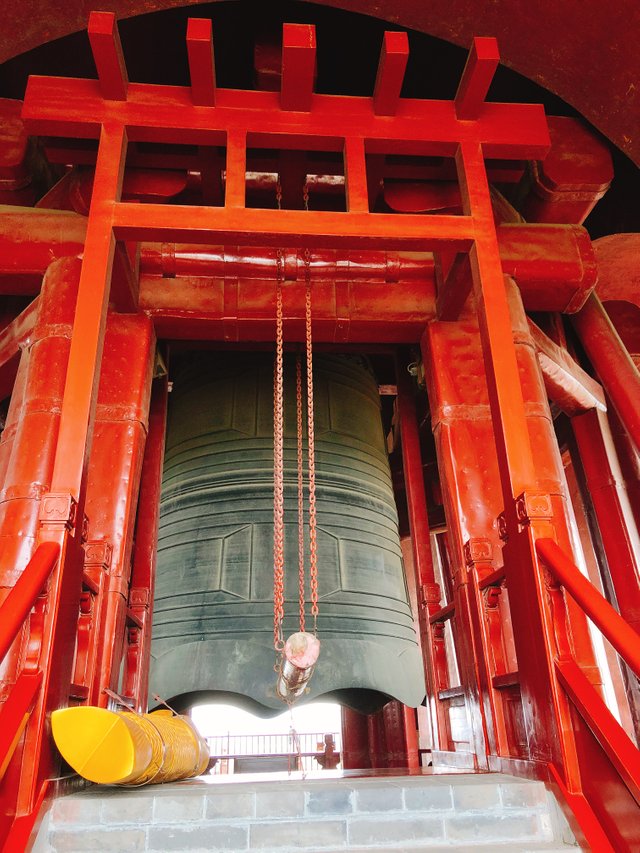 From the Tower we can see the Drum Tower:
從鐘樓可以眺望鼓樓:
After the visit I was thirsty. The old and famous ice lolly brand "The Old Central Street Ice Lolly" was the perfect solution!!
參觀完畢後,我有點渴。有什麼是比「老中街冰棍」更好的解暑方法呢!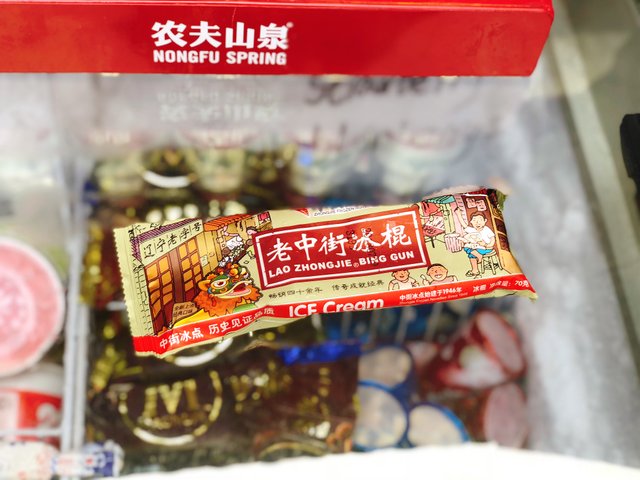 Finished reading, have you learnt more about the Beijing Bell Tower? I'm sure you liked it! ❤️ Both the Drum and Bell Tower were ancient and magnificent, so I'm sure you liked it :) Next time I'll share more of my experience in Beijing with you, cheers! 😆
haha,看到這裏,大家有沒有對北京鐘樓留下深刻的印象呢? 它和鼓樓一樣,既古老又莊重,你一定會喜歡它的:) 那麼,我今天就先寫到這吧:))下次,我還會向大家介紹更多在北京的點滴,希望大家喜歡!😆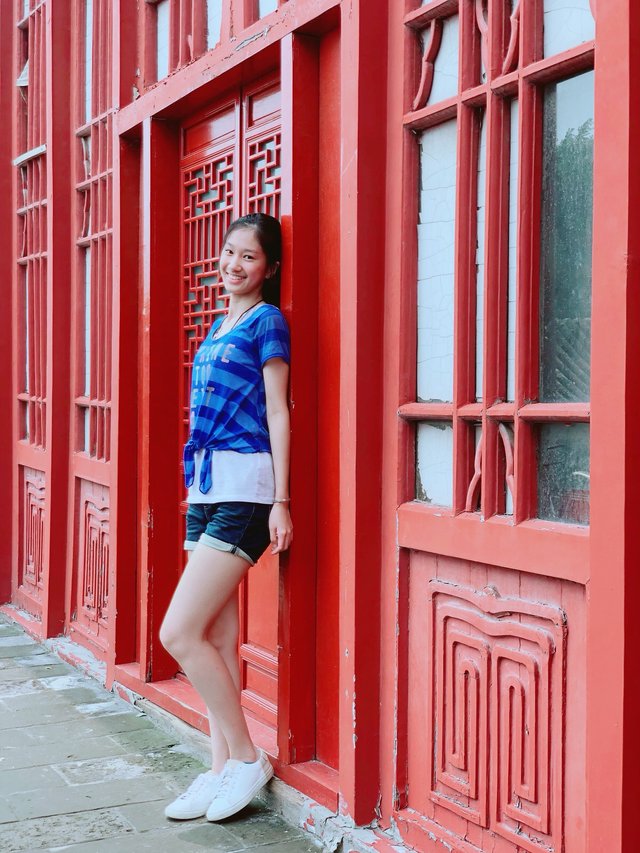 Please follow me @susanlo! Thanks a lot for your support! ❤️
!steemitworldmap 39.942451 lat 116.395894 long d3scr