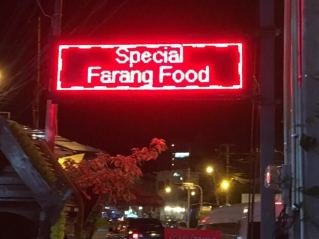 Sorry for the badly chosen title; I simply couldn't think of a better variation of the good old 'one man's trash' saying that we all love to refer to from time to time. I'm currently in one of the quiter parts of Pattaya, Thailand.
Thailand is actually a country that I absolutely love but it often gets criticised unfairly due to a certain kind of reputation that it has. This reputation for being a place where a farang can indulge in a wide variety of sin, which is not entirely undeserved yet there is far more to the country than that for one to enjoy. One only needs to only take a look at the large numbers of Russian families that call this place a second home to realise that it is actually a fairly nice place for them to enjoy a slow, relaxed pace of life without even going anywhere close to what would be considered morally dubious behaviour. The local people are also very nice, polite and friendly from what I've experienced so far too.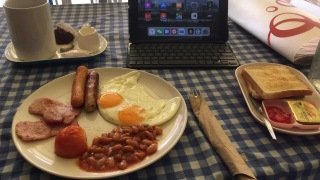 As I write this, I have sat down to enjoy what probably isn't the best Full English Breakfast that I have ever had in my life, but is nonetheless served with a smile. The moment that I had walked in, an elderly expat argued with the waitresses about the beer that he has just ordered before 10am, alleging in a rude and abrupt manner that the beer had already been opened. Thankfully my soda water was perfectly fizzy enough and all seemed fairly good for then onwards.
Looking straight across the street from the window of the cafe, I see many a middle aged to elderly, balding and not quite in shape unaccopanied single man heading into the 7-11 to get a coffee before hopping on a scooter towards their next location. It may be tempting to take rough guesses about what kind of people they are; it may also be slightly dangerous to make such assumptions. Fuck it, let's assume a thing or two like that twats that we all are anyway.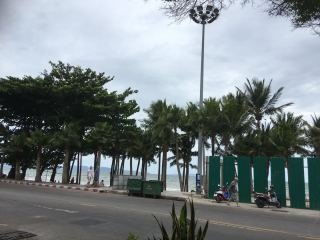 In the more modern forms of media, these men may be labelled as 'sex tourists.' This place that they often like to visit does attract a certain sort and if it wasn't for the fact that I am here to not only relax but consider potential future business opportunities, Pattaya would in truth not be my first choice of destination. Regardless, it is important to seize the chance to enjoy the moment and take a look at what is really going on.
I took the opportunity to head down the notorious 'Walking Street' and a couple of other recommended areas to see what the centre of the city was all about. For me personally, the sex industry seemed so in my face that I couldn't possibly find it all that sexy. I'd like to think of myself as a red blooded male, but maybe I'm just too much of a pussy to cheat on my girlfriend. Or am I really just a good man with morals? Who knows? Who cares!
As much as I am reluctant to even judge myself, I wonder about the issue of casting judgement upon others; especially the sex tourists. Not everybody present was a sex tourist; those flag following Chinese tour groups were probably enjoying watching the whole spectacle from a distance as much as I was, but let's not beat about the bush here, there were indeed tonnes of sex tourists present and they came in all different shapes and sizes, colours, religions etc. It was interesting to observe them all.
There were some that looked rather rapey, less cosmetically blessed men walking alone and pounding the street with clenched teeth and fists, fearful that you are going to accuse him of having to pay for sex and film him, even though the vast majority of men are here to pay for it, possibly several times over the course of a short stay. Others looked like possibly, widowed older guys that enjoyed the attention of a younger woman sitting next to them in the bar so much that you wondered if the sex aspect of it all was really of secondary importance, they mostly just wanted a few cuddles. Groups of middle-aged working class guys were drinking together with their mates, having fun and as long as the girls that they took were above the age of consent and willing to participate, they were probably doing nobody any real harm whatsoever.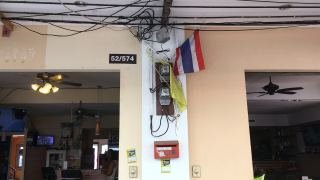 Of course, social justice warrior millenial types would still write this place off as a sleazy shithole. It isn't exactly clean in either a physical or moral sense. It is place stuck in time, the holiday destination that you would want to go to with your mates about 20 years ago, that promised sun, sex and booze and not in any particular order. This is not a place for green smoothies, soy milk lattes and questionable volunteer work to bulk out your CV and attempt to convince the world that you are a psuedo-ethical kind of superhero. Pattaya is not what I would consider to be an Instagram friendly place and that was one of the most wonderful things about it.
After talking about the kinds of people that I did see here, I would also like to talk about the types of people that I didn't see. There was not a single white person with greasy unwashed dreadlocks that don't suit them one bit. They're probably too busy doing loads of drugs elsewhere. Ugly feminist looking Western women with strange haircuts were a rarity. Soyboys were completely non-existent. Maybe they are allergic to Pattaya and that suits me just fine.
Is it my idea of paradise? Not at all. But I do not feel a need to tread on eggshells here, I can be open and honest with people without fear of being labelled in a negative way and if you don't want to partake in any of the naughty stuff, they'll usually be happy to just let you enjoy a cold beer instead. Overall, it is still a place worth going to.