Return to GR 131 (Day 9) / Návrat na GR131 (Den 9)
We woke up early in the morning, because we had an uncompromising climb to Teide National Park. We set out to reach a space observatory on the edge of Caldery. We chose the shortest way up. That is, the cycle path that led directly around the campsite. During the first hour we were 250 meters higher. Here we took a little break in the shelter.
Ráno jsme se vzbudili brzy, protože nás čekalo nekompromisní stoupání do národního parku Teide. Za cíl jsme si stanovili dojít k vesmírné observatoři, která leží na okraji Caldery. Zvolili jsme nejkratší cestu vzhůru. Tedy po cyklostezce, která vedla přímo kolem kempoviště. Během první hodiny jsme byli o 250 metrů výše. Zde jsme si dali malou přestávku v přístřešku.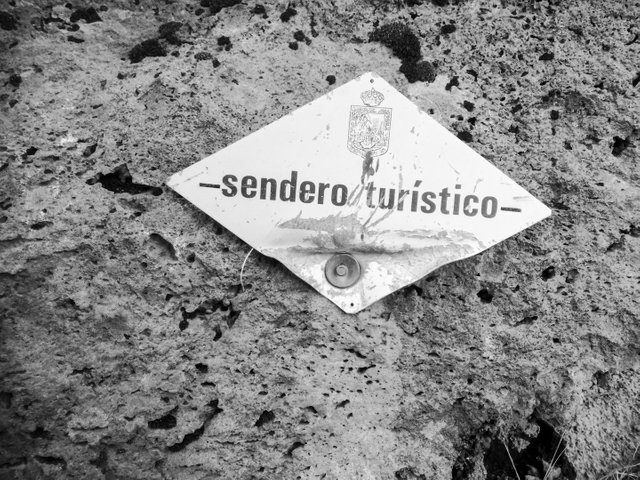 We were incredibly good and in the next two hours we appeared on the forest border at 2000 meters above sea level. All the time since the shelter we copied the hiking trail for cars. Somehow I did not understand that we have the average height of 250 meters per hour.
Šlo se nám neuvěřitelně dobře a za další dvě hodiny jsme se objevili na hranici lesa ve výšce 2000 metrů nad mořem. Veškerý čas od přístřešku jsme kopírovali turistickou stezku pro auta. Nějak jsem nechápal, že máme průměr 250 výškových metrů za hodinu.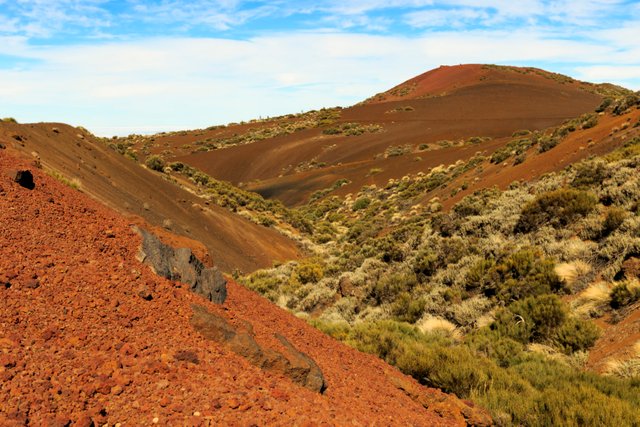 The temperature was very pleasant for the march, estimated at about 15 degrees Celsius. Even in the alpine semi-desert we were in. We left the hiking trail for cars at an altitude of 2150 meters and set out on the S-21 to the road. After which we continued to the Observatorio Astronomico Teide. On the road we usually met only cyclists and at one moment a luxury car from the first half of the 20th century passed by.
Teplota byla na pochod velmi příjemná, odhadem kolem 15 stupňů celsia. Dokonce i ve vysokohorské polopoušti ve které jsme se nacházeli. Turistickou stezku pro auta jsme opustili ve výšce 2150 metrů a vydali jsme se po stezce S-21 k silnici. Po které jsme pokračovali k Observatorio Astronomico Teide. Na silnici jsme většinou potkávali pouze cyklisty a v jednu chvíli kolem nás projel luxusní automobil z první poloviny 20. století.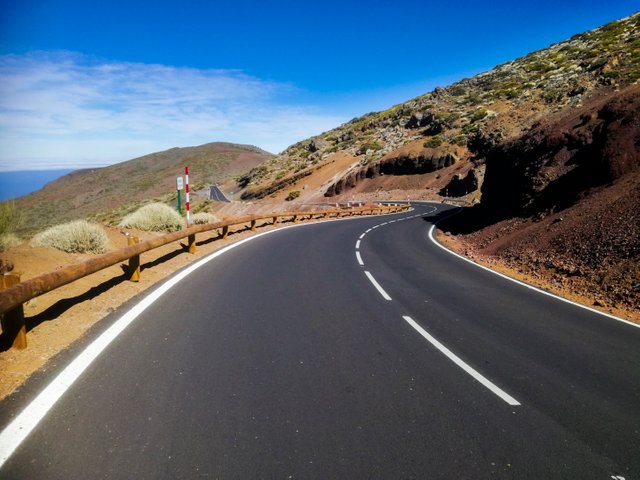 When we arrived at the observatory, we found that we could only get in after ordering. So we enjoyed the landscape and went further. The movement at 2300 meters was not so brisk, but we still felt great. We decided to try some hiking trail. We chose the S-20 trail when we found that it would be dark soon, so we were forced to find a place to sleep. That's why we found a road that looked unused and built a tent on it.
Když jsme došli k observatoři zjistili jsme, že se dovnitř dostaneme pouze po předchozím objednání. Tak jsme se pokochali krajinou a vyrazili dále. Pohyb ve 2300 metrech už nebyl tak svižný, ale pořád jsme se cítili výborně. Rozhodli jsme se zkusit projít nějakou turistickou stezku. Vybrali jsme si stezku S-20, když jsme zjistili, že za chvíli bude tma a tak jsme byli nuceni najít nějaké místo na spaní. Proto jsme našli cestu, která vypadala nepoužívaně a na ní jsme si postavili stan.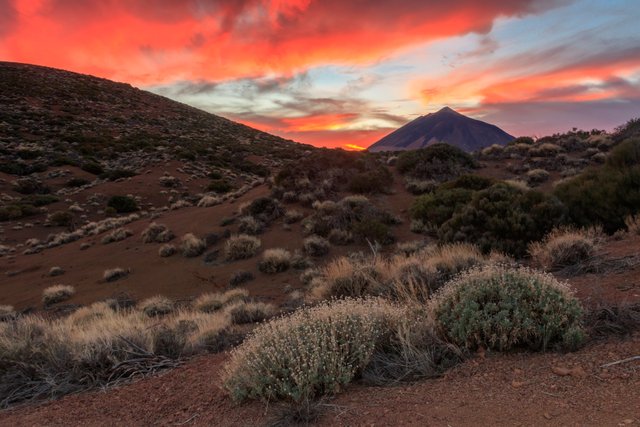 All day we watched the clouds that rolled us from the west, hoping it would not snow at night. Fortunately, it was not snowing but it was freezing. The estimate was about -5 degrees. And I feel asleep at altitude so I didn't sleep much at night.
Celý den jsme sledovali mraky, které se nás od západu valili a doufali jsme že v noci nezačne sněžit. Naštěstí nesněžilo, ale dosti silně mrzlo. Odhadem bylo kolem -5 stupňů. A navíc se mi v nadmořské výšce špatně spí a tak jsem toho v noci moc nenaspal.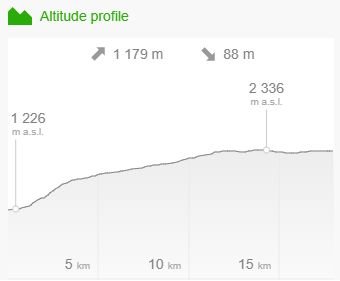 This day we managed to cover a distance of 17.9 km and climb 1270 meters and spend the night at an altitude of 2300 meters.
Tento den se nám podařilo překonat vzdálenost 17.9 km a vystoupat 1270 metrů a přenocovat v nadmořské výšce 2300 metrů.