A Summary of my Short Trip to Istanbul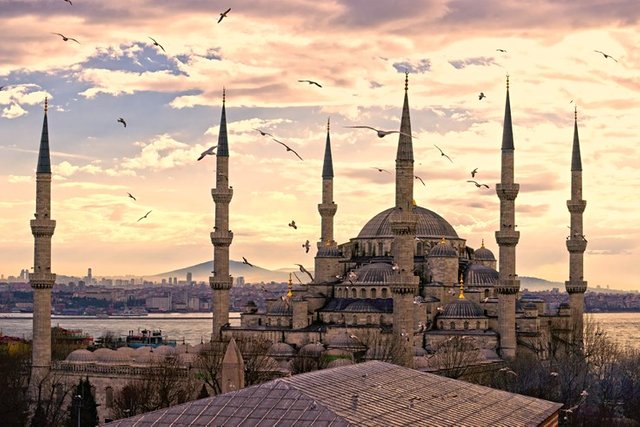 Pic Courtesy : the internet
As part of my work, I went to Turkey for an 8-day trip recently.
Despite the rather tight work schedule, and the rather unfriendly weather at this time of the year (cold, windy and rainy), I still got a chance to go around the city on a couple of evenings and was quite impressed by what I experienced. Without a doubt, this is a country that should be on every globetrotter's travel list.
Here are the few things I have experienced in the country that is worth writing about.
1. The Food
---
If you are an out and out foodie (vegans and vegetarians - you're going to miss the best of the food choices here) this is a country you should visit before you die (and while you are still in good health to to savour any food).
Of all the countries I have visited till date, I haven't found a place that serves better food (sorry Thailand, you've lost your #1 spot).
Starting with the mouth watering soups (who on earth though soups could be so good!), succulent doner meat, and the fabulous sweets (Baclava, Turkish Delight, etc), Turkey offers the most mouth watering recipes you can find if you are willing to experiment!
By the way, I also discovered that you get some extremely good local chocolate in Turkey, and that took me by surprise. Most people hear of Belgian chocolates and Swiss chocolates being exemplary, but after tasting some of the local chocolate I was extremely impressed!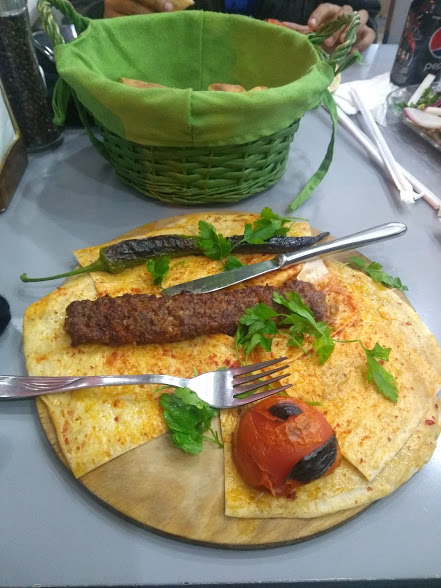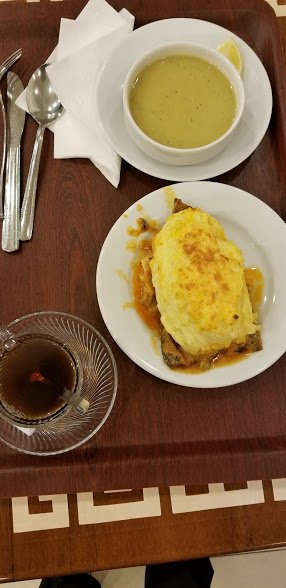 Pic : These are just two of the meals I had and boy were they delicious!
2. Tea and Coffee
---
I'm not much of a coffee drinker but for those of you who are fond of your Espresso, have a load of traditional turkish coffee - and I'm warning you it's far stronger than what you'd expect. In fact it is so strong that those who drink coffee keep a glass of water on the side (because that coffee is extremely dehydrating). Turkish coffee is generally served in restaurants with a piece of Turkish Delight (a sweet cube shaped chewy sweet with pistachio bits in it, more often than not).
And what about turkish tea?
Turkish tea is ubiquitous. In fact almost every restaurant I visited (and that's close to a dozen) served me a complementary cup of turkish tea after my meal.
The customary tea glasses in which tea is served have a unique hourglass shape and the tea is served black with a cube of sugar - if you like it sweet.
Given the extremely cold weather, the tea was always a welcome drink at he end of each meal.
Turkish tea - served everywhere in these shapely glasses and often free of cost too!
Pic Courtesy : the internet
3. The Local Attractions
---
Turkey is undoubtedly a rich mix of the ancient and the modern and nowhere is it more evident than Istambul. While I only got a chance to visit the famous Blue Mosque and the Hagia Sofia (both magnificient structures) in my short stay, I noticed that, in general, the landscape of Istambul is incredibly aesthetic and that is evident even when you take a taxi ride from one side of the city to the other (a narrow strip that connects the Black Sea and the Sea of Marmara separates the Asian side of Istambul from the European side)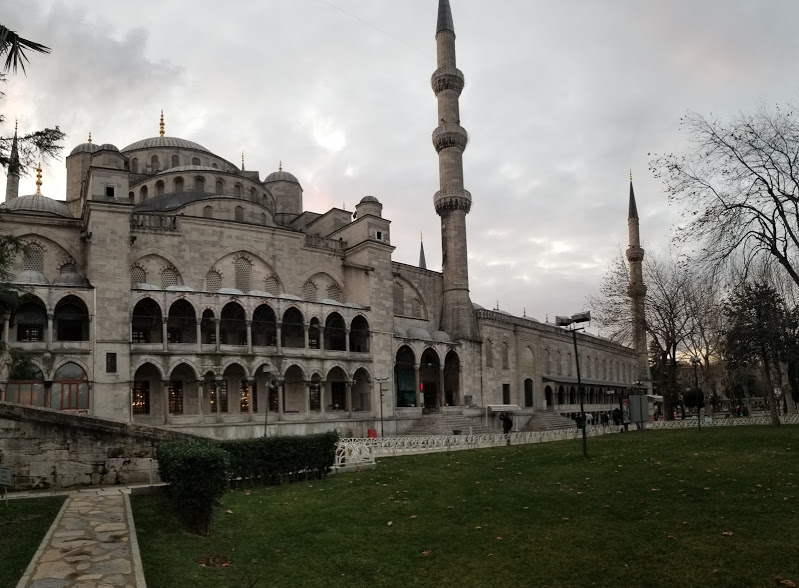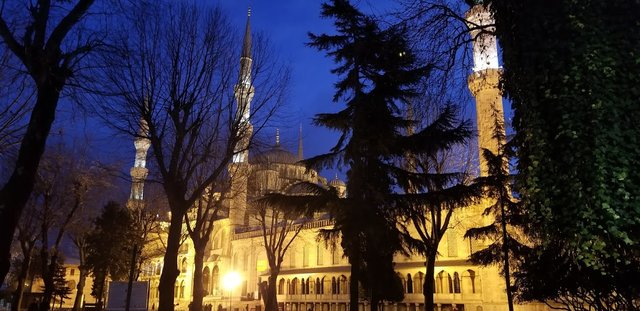 Pics: The Blue Mosque - Different views from within its courtyard.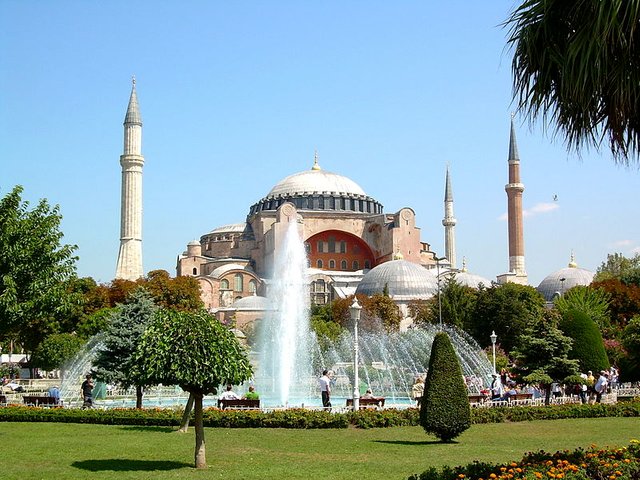 The Hagia Sofia - A Greek Basilica turned mosque, turned museum.
Pic Courtesy : Wikipedia (because I couldn't get a decent pic )
4. The People
---
I found the people in Turkey extremely approachable and friendly (most of the time anyway) and their mix of European and Asian features make many of them extremely good-looking too (I can now understand why a former colleague end up marrying a Turkish woman after travelling there for short term work).
However, unless you speak Turkish, communication will be a barrier and you are better of moving around with a colleague who speaks the language or atleast by getting the Google Translate App installed on your phone to communicate (Sergey Brinn and Larry Page - can't thank you enough).
5. Local Shopping
---
As a tourist, you are spoilt for choice when shopping. You can pick so many things that are uniquely Turkish to take back home for yourself or your friends and family.
Of course all of us have heard of Turkish rugs haven't we - they have been famous for centuries. But it's not just rugs that are uniquely Turkish you can purchase here - you can also buy some beautiful and intricately designed ceramic ware at bargain prices all over the city.
Some of the the popular choices for shoppers include the different flavour of the local tea, the indigenous tea glasses, a wide array of local desserts (including countless varieties of the famous Turkish Delight, Baklava, and whatnot), local artistry and some great handwoven scarves, and embroidery.

Pic: A panoramic view of one of the many sprawling and beautifully constructed mall complexes (this one is in Umraniye).
---
If you get your high from travel, make sure you put Istanbul in that list of destinations you must visit someday.
Oh, and by the way, if you're somebody who has been worried to death about that balding patch on your head, here's another reason for you to visit the country - Turkey is now one of the hottest destinations for hair transplant procedures because it provides cutting edge medical technology at the most affordable rates.
That explains why I came across atleast 3 to 4 tourists everyday, in the hotel where I stayed, who'd be roaming around with bandages on their heads after completing a hair transplant procedure....
So, now that you've had a fair glimpse of what the county has to offer, is it time to pack your bags already?