OK, it wasn't exactly at gun point, unless you define "point" as a region somewhere on the ground a number of metres in front of me. But as a naive young tourist on his first trip abroad, it didn't make all that much difference. Facing the three armed soldiers, guns at hand, had me wondering what the hell I was doing there.
Boarding the train at Timișoara, Romania, at 4.30 am that morning, the signs were already there that this would be no ordinary trip. My travel companion for that day was a Romanian "business" man on his way to Vienna by the name of Dănut, who, upon sitting down opposite me, un-self-consciously cracked open a large beer.
I've been known in my time to have a beer before the sun reaches the yard arm – and as a general rule I always try and consume at least three or four beers on a long journey – but this was taking devotion to alcohol to new levels. With hindsight, the appropriate thing to do would have been to ask him if he would like a drinking companion, and if by chance he had a spare beer in that briefcase of his.
This leg of my trip was one in a long journey from the Orient to Western Europe, and then to the subcontinent on the way back home to Australia. Despite my best intentions, my travels had become defined by an impressive lack of planning and an almost total lack of information on where I was going. Heading into the war torn country of Yugoslavia that morning was no different. In those days before smart phones, without a guide book, or even a map, I was charging blindly forth into the unknown!
Dănut, however, had a map. Not that he would share it with me. Not without first requiring a sacrifice. I had to sacrifice my taste buds, and my dignity, by skolling a measure of the peach-flavoured ethanol that he had begun drinking after finishing his beer. This sacrifice was required every time I wanted to look at the map.
Not surprisingly, the longer this procedure went on, the less likely I was to remember what I read from the map, and hence the more likely I would need to look at the map and skol more ethanol again. Under the entry for "vicious circle" in the dictionary there should be a picture of Dănut and I haggling over a map and that bottle of mysterious peach-flavoured liquid.
Traveling through the western hills of Romania is an unforgettable experience. Like a scene out of J.R.R. Tolkien's Shire, small plots of land, apparently randomly shaped and arranged, form a colourful patchwork of different crops across the landscape. Cheery-looking cottages with smoke rising out of their chimneys dot the scene. On the roads the primary form of transport in rural Romania – the horse and cart – amble along untroubled by modern conveniences such as cars.
Passing through small towns, the morning markets were a hive of activity. Like our markets here in the West, parking is an issue, and bright new signs indicated where, and for how long, one could park one's horse and cart. And if you couldn't manage to park Mr Ed yourself, they even had valet parking! Fetch my horse and cart, good fellow!
In a blur of bucolic rural scenery, and Dănut throwing back shots at an alarming rate, we approached the eastern border of what was known back then as Yugoslavia – a country that at this time in history was remaking itself via a bloody civil war. Croatia and Slovenia in the north-west; Montenegro, Kosovo and Macedonia in the south; and Bosnia-Herzegovina in the middle of it all with Serbia. With the first instance of European genocide since the Nazis in the second world war, this was an horrific conflict that scarred all sides.
As we approached the border, shady-looking men resembling brick outhouses with beards moved down the carriages and offered to exchange our Romania leus for Yugoslavian dinars. I was too frightened to even look at these guys, let alone negotiate a trade for a currency I had no idea the value of. I was later to regret this decision, but at the time, with Dănut somewhat paralytic and offering no support, I couldn't face these dangers alone.
And with that, we were upon the border. Stern-faced border guards with machine guns (and scars to match those guns), systematically interrogated all the passengers aboard as we waited at the crossing. As they moved up the carriage, a procession of criminal-looking characters were booted off the train. As they anxiously moved over towards the guards on the platform, I could only imagine what they must have done, and to what gulag they were now surely destined.
Well I didn't have to imagine for too long, as pretty soon I too was kicked off the train by a 6-foot-3 fridge with a machine gun. I was told to take my luggage with me, which could only be a bad sign. In further troubling news, I was separated from the other criminals, and left alone with three of the soldier guards. Machine guns in hand, they regarded me seriously.
HOLY SHIT! What have I got myself into here?! I thought. Was I about to be shot and left in a shallow ditch for the wolves to finish off? Robbed and left to fend for myself in the wilds of post-Soviet-era urban decay?
Thankfully, no. After a tense few minutes which saw me hastily calculating the odds of making a run for it and surviving, there was a break in the ice. Holding my passport in hand, a large human-shaped bear from the customs office conferred with the soldiers guarding me, and with a broad smile indicated I could now safely unclench my butt-cheeks.
In fact, once they worked out that I was Australian, as opposed to a Kosovar freedom fighter, or the bodyguard of a now-unconscious Romanian mafia-boss, the mood changed entirely. Hell, they even started cracking jokes with me in Serbian. At least I think that's what they did. I hadn't understood a word that was spoken in that half hour on the train platform. But by a series of gestures and smiles, it was pointed out to me that my visa had expired before I even got into the country.
Well done Bernard! How did you manage that one?
I honestly don't know. Given my level of planning and forethought on that trip, I was lucky to have an expired visa, let alone a valid one.
And in a lovely twist of fate, my expired transit visa of unknown length – but surely only a day or two at most – was replaced with a brand new 7-day tourist visa and a hearty smile from the talking bear in the customs office. With waves from my new border guard friends, I re-boarded the train and made my way back to my compartment and a lifeless Dănut.
This is where the story ends, although there was much drama before the train began moving again. Scuffling sounds in the roof above our compartment, and walnuts(!) falling through the light sockets, presaged another 30 minutes on the platform while half the Gypsy population of Romania was debarked from the train for smuggling contraband. Walnuts, apparently, were highly sought after.
This story also doesn't tell of the brief few days a frightened young traveller ventured into the former Yugoslavia and found not a battle-scarred and insular citizenry, but instead an open and wonderfully friendly people who lived a sophisticated European lifestyle. It was a pleasure to walk amongst these optimistic people in their beautiful parks and wide boulevards.
Still, though, I did inexplicably long for a bit of danger, and upon seeing the bullet-riddled and bombed-out buildings on the Yugoslav/Croatian border a few days later, a little thrill kicked up inside my stomach.
I wonder if they have talking bears in Croatia too...


---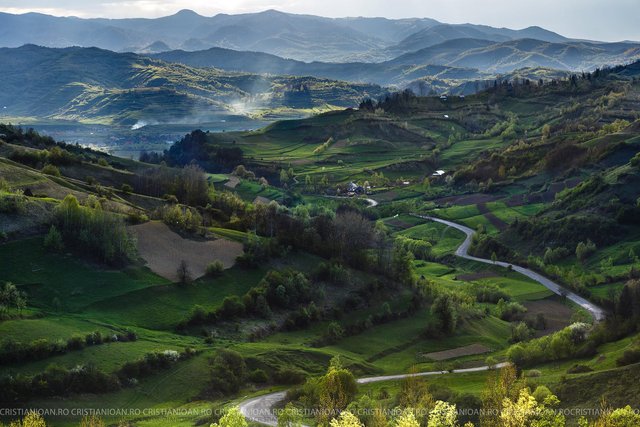 Source