Albuquerque, NM. Today after my 2 year-old woke up from his afternoon nap, I dropped him off with the in-laws for a playdate with his cousin. I brought some water and my menagerie of dogs along and we planned to make use of yet another beautiful Albuquerque evening by going up into the mountains. I had heard that the foothills are full of rattlesnakes this time of year, coming down off the higher ranges of the Sandias and Manzanitas for the waning desert heat. I also like to go where I probably won't run into anyone, so I can let the dogs be off-leash. (Yes, this is prob not ideal, with mountain lions and rattlesnakes around. I hear that a free running dog makes a tempting target for a hungry cougar, but I always try to make lots of noise at intervals.)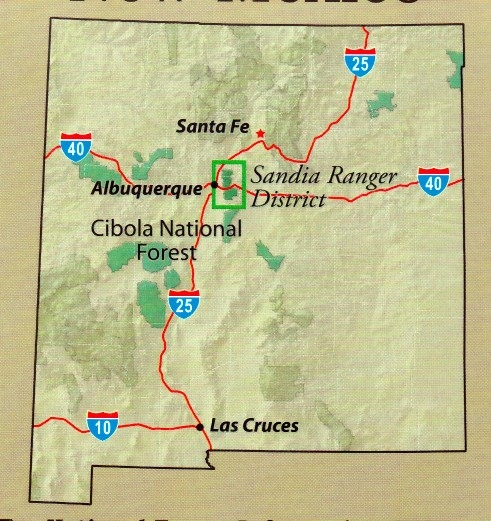 So to the peaks it would be! One of my dogs is a half-blind, half deaf 13 year-old Komondor, so he doesn't do so well climbing anymore, though he still loves to go for rides and walk a bit along more level ground. It was already 6 PM, and the long and twisty route to the beautiful forested peak that overlooks the city, while quite beautiful and covered in beautiful pine forest and alpine meadows, is at least an hour away if you are in the city limits. To get to Sandia Crest, you have to drive all the way to the opposite (east) side of the Sandias past the small towns of Tijeras and Cedar Crest, and before you can ascend, or go around the restricted Sandia Pueblo from the north side through Placitas and some very rugged roads, which takes even longer.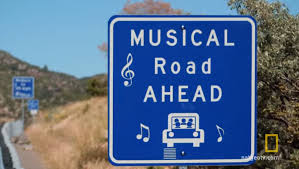 I thought I would head south instead, into the Manzanitas that spring up at the southern end of the Sandia range. GPS told me that it would only be about 30 minutes to Cedro Peak, and the southern mountains looked quite inviting, so away we went. Although it added a few extra minutes, I took Highway 333, which is contiguous here with the famous Route 66, the so-called Mother Road, one of the first highways in the US established in 1926. Right before you hit Tijeras heading east, you reach the Musical Road, a short section of highway with tuned rumble strips that play "America the Beautiful" as you drive over them going East. The rumble strip is easy to miss, it looks like a thin asphalt patch on the right side of the lane. You have to align your right tires over the strip in order to hear a snippet of the song. It is really cool to hear, and clear as a bell. It only works going East though, and you need to be going the 45 mph speed limit.
Next: Cedro Peak and Neo-druids in Mountain Mabon Madness!