Costa Rica - My Trip and the 14 Things I Learned About the Country
Costa Rica means "Rich Coast" -- I couldn't agree more. Here is what I specifically learned about Costa Rica, it's culture and other useful information (not from the perspective of traveling with a 4 year old). 
Thanks for all the love on my first official post: https://steemit.com/family/@pdxlove/costa-rica-what-i-learned-from-traveling-with-a-4-5-year-old 
1. Addresses and street signs are not the same! 
What are you talking about, @PDXLove? Some addresses are indicated by "300 meters North of the church". I was fortunate enough to have a friend as a tour guide, but I imagine this would have been confusing trying to find locations.  However, Google/Waze/Apple maps seems to do a good job of getting people where they need to go. I also heard, asking a postman, or worker at the gas station would be able to direct you to where "300 meters North of the church" is.   
2. There is a church or park/center in every city 
So, if you need to find the church - find the center of the city. There is usually a park (with a soccer field) or a center. Seriously, I did not see one city without a church/center, even in the small villages.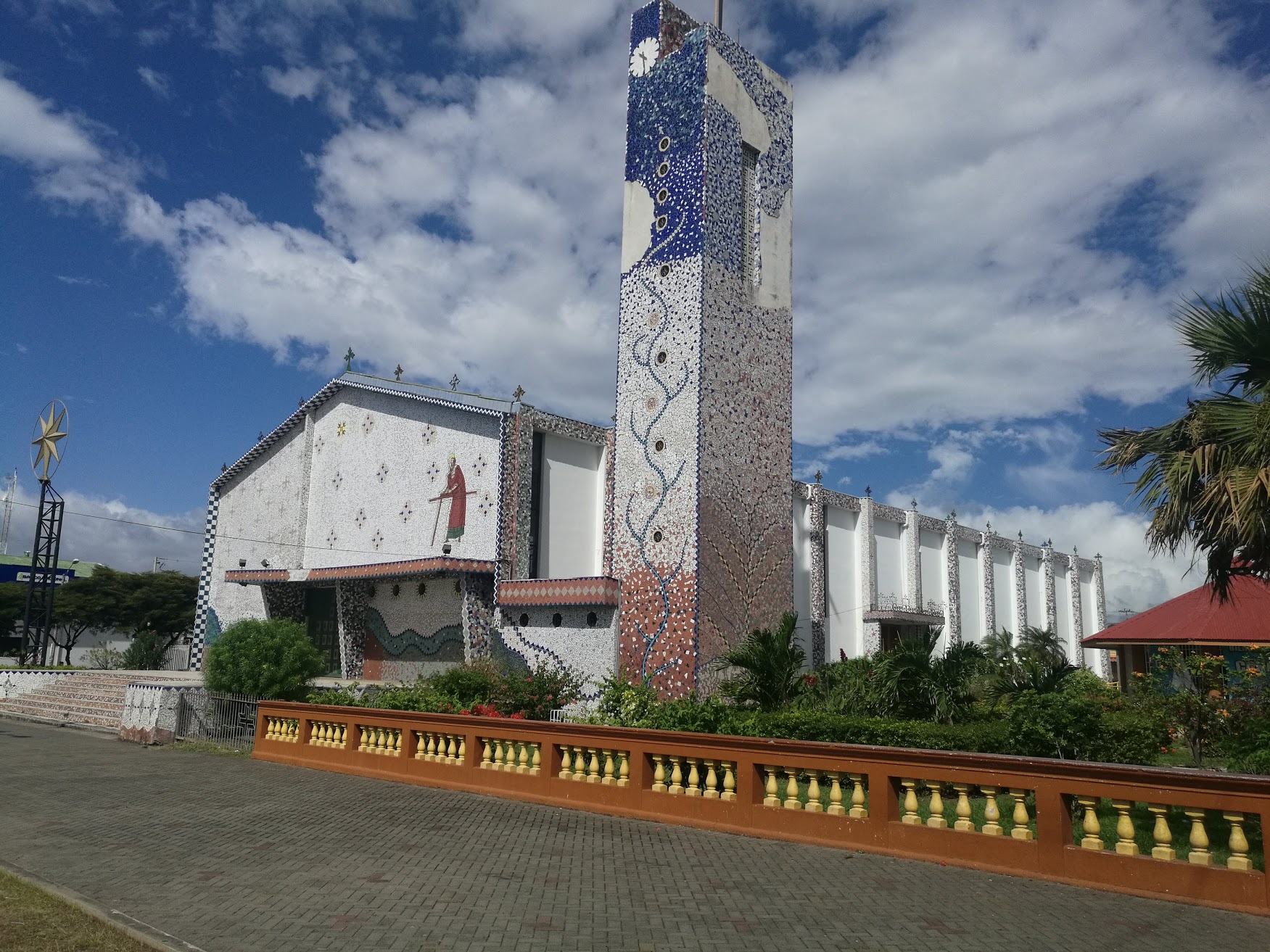 ABOVE: Canas church in Guanacaste; BELOW: city center.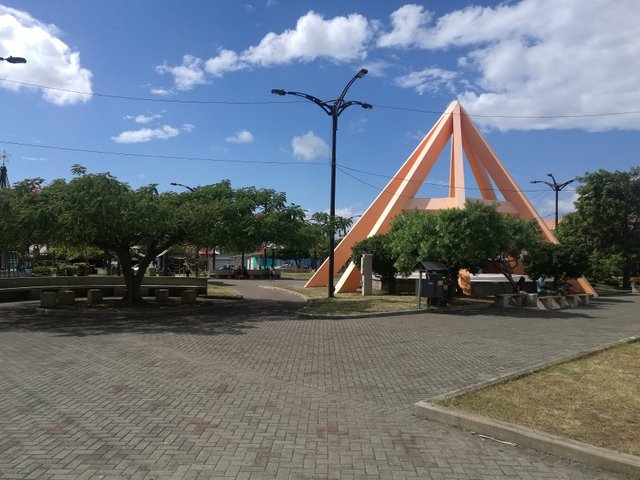 3. Crazy Drivers 
In the United States, our cab drivers, and aggressive people in the city are the majority of the crazy drivers. However, in Costa Rica there are locas putas everywhere! They'll pass you on little side streets around a corner on a suburb road, they will pass right before a semi-truck is coming on a 55 MPH road. I'd say about 5% are crazy drivers, but that is 1/20 cars on the road! We even had a semi-truck pass us on a 2 lane highway. We were going over the speed limit by about 8 MPH, I'd never experienced that before and I think I'll be okay without ever experiencing that again!   
4. Crazy Roads 
For a country that has successfully developed renewal energy for 300 out of 365 days a year (very impressive!); sustainable energy, and not the roads has clearly been the focus. Many of the main highways are in much better shape than I was expecting, however once off the thorough-fare the roads are a free-for-all. We forded rivers, put the SUV in Cuatro por Cuatro (4x4) and climbed some steep grades that were entirely dirt.
IT WAS AWESOME!
I was impressed by how well the cars seemed to manage the dilapidated roads. Costa Ricans (Ticos) appear to take very good care of their vehicles. Also, the cost of a mechanic is about 1/10th of what it would be in the United States.   
5. The Pacific Coastline was Hotter than Anywhere Else We Went
I didn't experience a day on the beach where the high was less than 85 F or (~30 C). I expected San Jose to be much warmer in January, but the Guanacaste coast, Jaco beach and Manu Antonio were nice and toasty. San Jose was 72-80 ish. The water was warm probably 80-83 F, I stayed in it for hours. 

6. Every Beach is Very Different, Right?
No beach is equal, right? Well, the beaches in Costa Rica were better than any of the beaches I have visited in Washington, Oregon, California, Hawaii or Mexico. There was a beach that had shells as the sand, there was another white and black sand beach that was so soft it felt like you were walking on a tempur-pedic mattress, and even better was the sand wouldn't stick to your feet! Some beaches, the flora came right up to the high tide, others there was only a couple of palm trees. And then on other beaches, the monkeys and raccoons would try to steal your backpack. Seriously, a raccoon took our backpack and started to run away until a man on the beach came chasing after the raccoon and managed to win game of tug-of-war with the raccoon.
So word to the wise, keep your food as sealed as possible, and remember it's a group effort to combat the klepto animal thieves.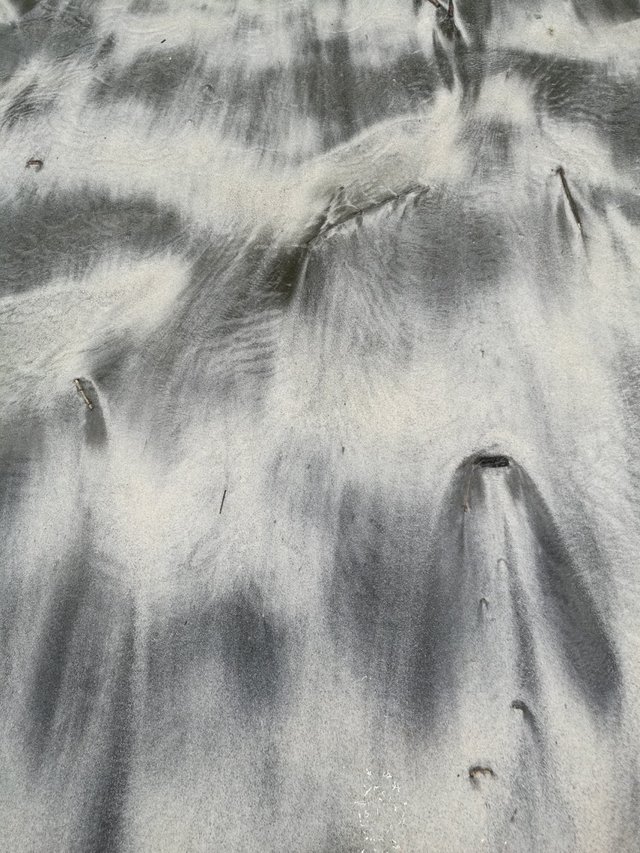 The softest Costa Rica beach; white and black sand beach (Playa Huevo)  
7. I Did Not Meet One Unfriendly Person 
Maybe I was floating on cloud 9, maybe it was the Imperials or Chili Guaros, but I do not remember one person being unfriendly. Everyone was helpful, and happy. I mean, when you live in paradise what could make you grumpy?   
8. Costa Rican Bees Aren't Mean, but the Grasshoppers Are! 
I couldn't believe when my Costa Rican brother (from another mother) put his hand right next to a bees nest and wasn't stung once. He basically put his finger in the hole the bees were coming out of. I wouldn't dare try that in the United States, I've been stung 20+ times. I've been stung just walking by a nest!
On the other hand, watch out for these Langostas. My brother's cousin-in-law grabbed one and showed me that by shaking the Langosta, you could get it to flap its wings. He handed it over to me and I gave it a try. Five days later, I saw another Langosta, I caught it and tried to flap it. Well, those putas have thorny fins on the back of their legs. I didn't realize there was a specific way that I needed to hold the Langosta. It started digging its spikes into me and kept pushing. Not pleasant! It was like getting stabbed by a thorny blackberry bush. 
!Langosta" Giant Grasshopper -- look at those thorns!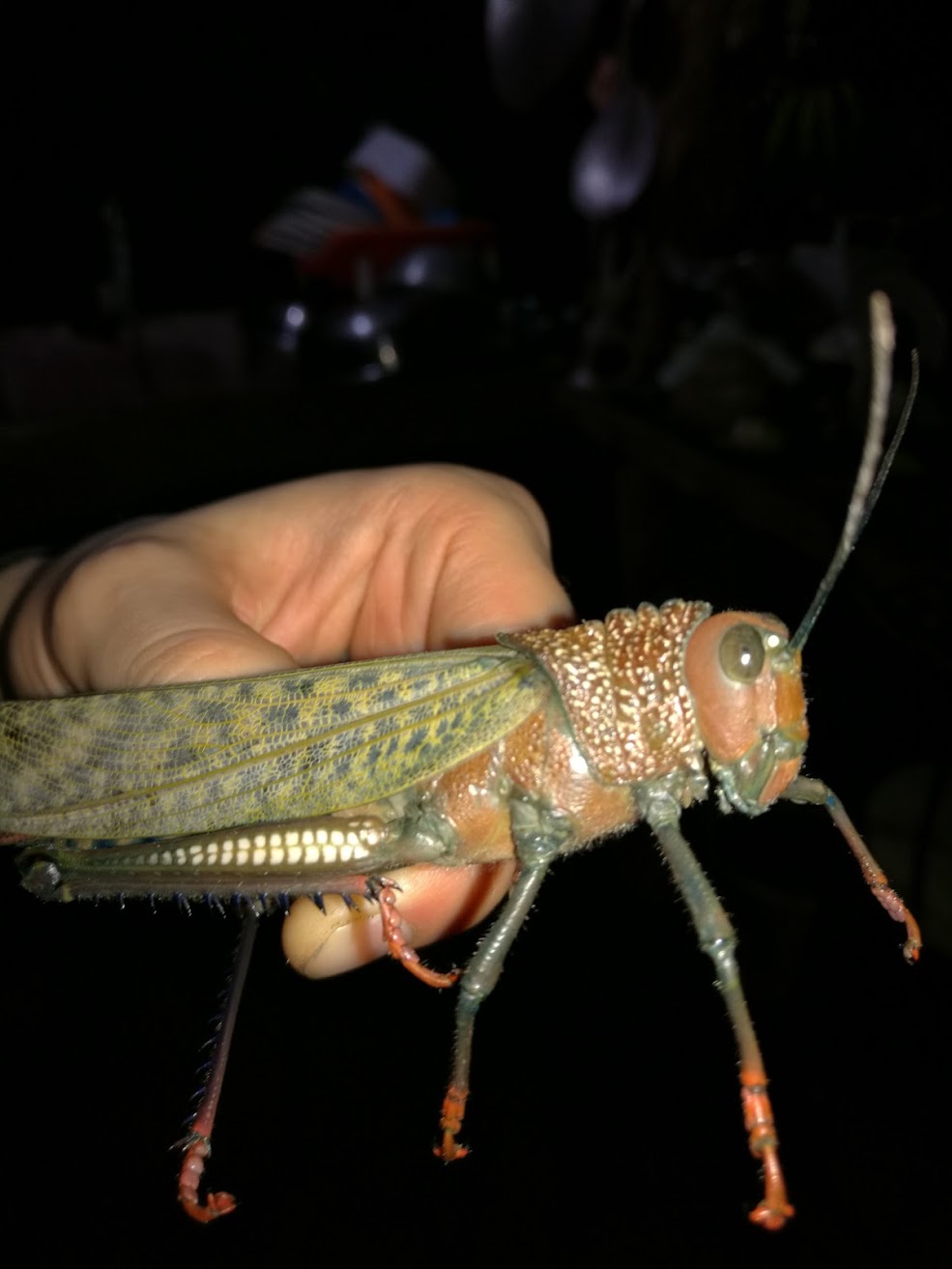 9. Volcanos Are Everywhere (so are the Monkeys, Tucans, and Iguanas) 
It seemed to me that anywhere you are in Costa Rica (even downtown San Jose) you are less than an hour from a volcano.
Monkeys are in the rain forests, on the beach, hanging in trees over the highway, they are everywhere! So are the tucans, I saw so many tucans that they almost started to feel like another bird.  And the iguanas, you don't have to look hard to find one, and you'll also see them splattered on the road. We were there during mating season and saw this male that hard started turning orange.   
Volcano Irazu (near Cartago)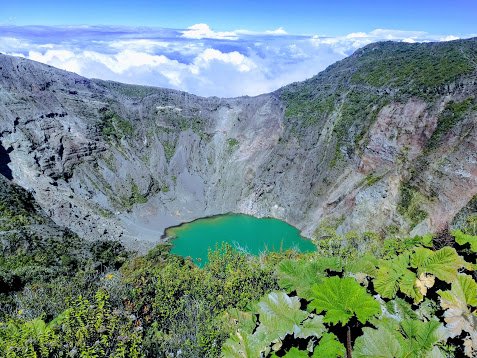 !
10. Everyone Has a Dog 
Ticos love their dogs.
Bailey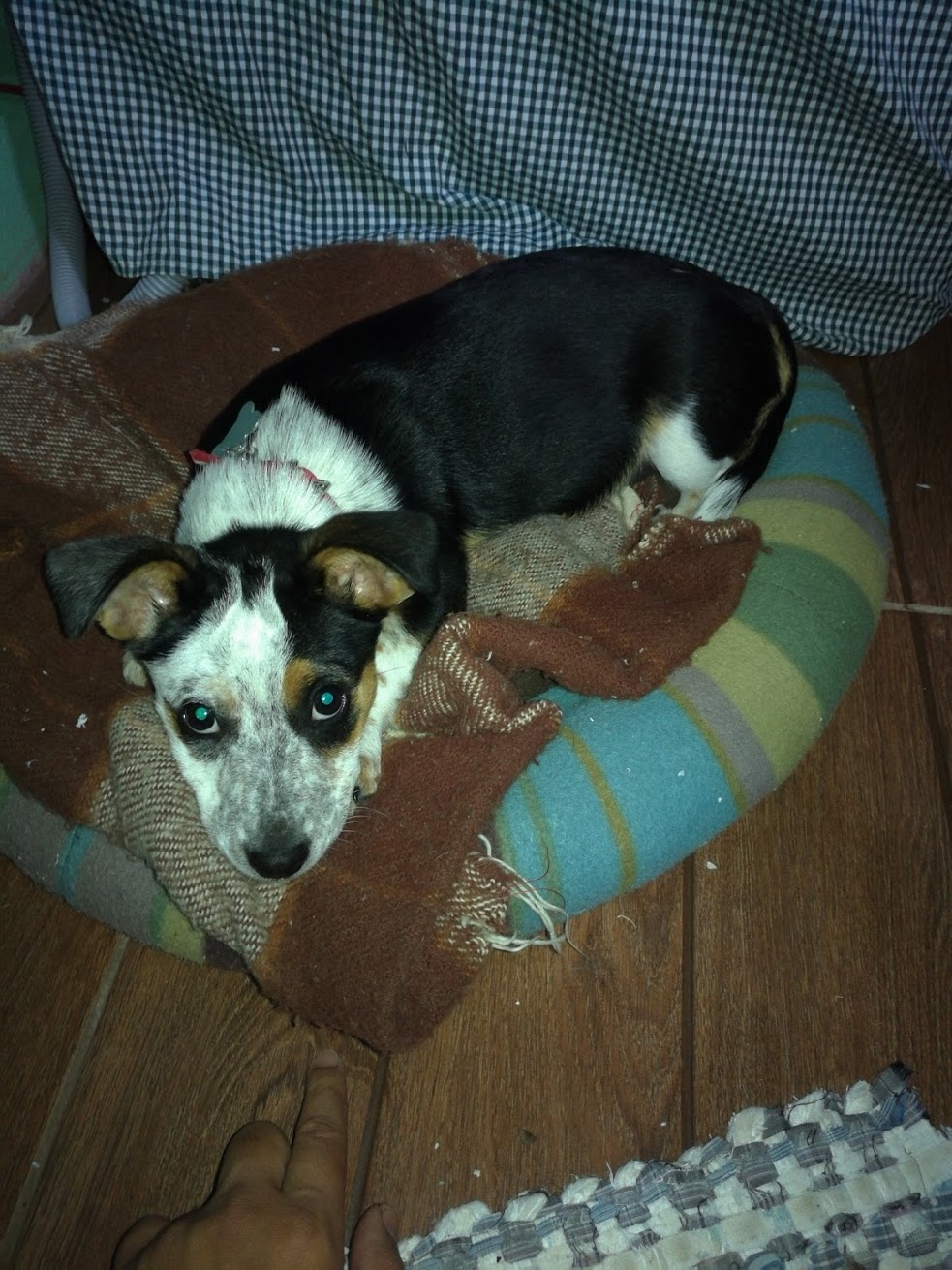 Driving around town you'll see dogs, in the bar dogs invite themselves in. They were all friendly, just like the people! There is even a sanctuary for 1,000 dogs. Check out this link! https://www.huffingtonpost.com/entry/costa-rica-land-of-the-stray-dogs_us_56fc7b49e4b0daf53aeeb271 
11. La Negrita 
The patron saint of Costa Rica. She was discovered in downtown Cartago in 1635. A young woman found this black rock that looked like mother Mary holding baby Jesus. She took it home, however it disappeared. She went back the next day to the place where she had found the rock and brought it back home again. The rock again disappeared and was found in the same place. Eventually she told the town priest. The priest and townspeople decided it was a miracle and built a Basilica around the location.  Present day, people complete a pilgrimage for all different parts of the country. The most popular starting place is in San Jose, they walk from San Jose over the mountain pass down into Cartago. It's ~25 km or just over 15 miles. The last stretch (~200-300m) people walk on their knees as a sign of respect. When I was in the Basilica, I saw people walking down the aisle to the altar on their knees. Maybe the most impressive part of the story of La Negrita, is the chemical composition of the stone.
Negrita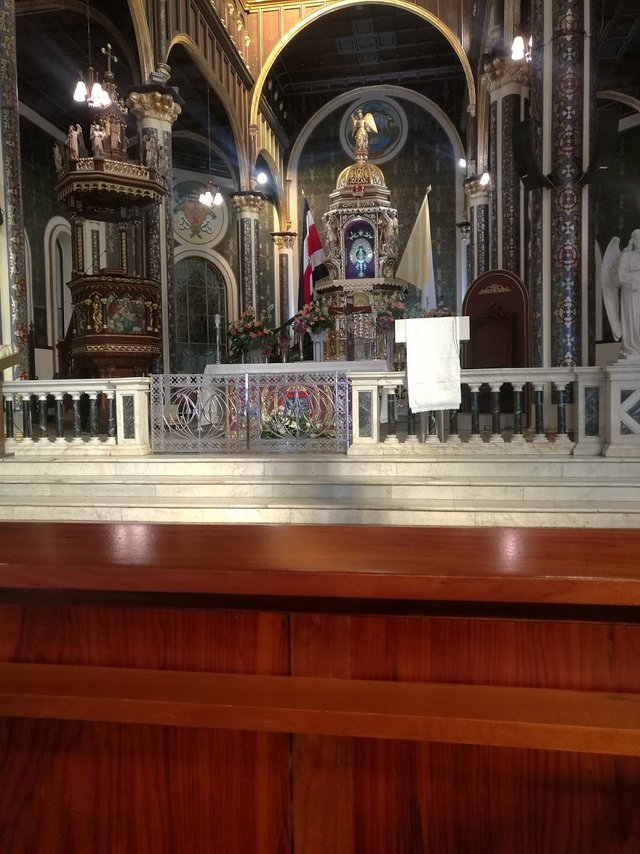 "La Negrita is made up of three different types of stone: graphite, jade and volcanic rock. Archeologists have shown great curiosity in this composition since it is very difficult, or even impossible, to join the three types of stone. However, they do agree that the Virgin does have all of these types of stone. There are studies that show that there was no graphite in Costa Rica at the time La Negrita was found, and the Old Continent had no jade or volcanic rock. Thus, we can conclude that the Costa Rican Patroness Saint has characteristics of both continents. The figure is 20 centimeters tall. It's called The little black onealthough its true color is a greenish-gray. The Virgin's features are those of a mestizo. She is looking forward, while her Son looks directly into her eyes, touching her heart with this hand." http://pocketcultures.com/2012/08/03/costa-rican-annual-pilgrimage-to-honor-la-negrita/   
12. Saprissa is the Best Futbol Team 
Don't need to say too much when you've won 33 Primera Division de Costa Rica champsionships. And winning CONCAFAF three times. Also, three players play for my local team, the Portland Timbers!  Saprissa beats rival La Liga 3-1!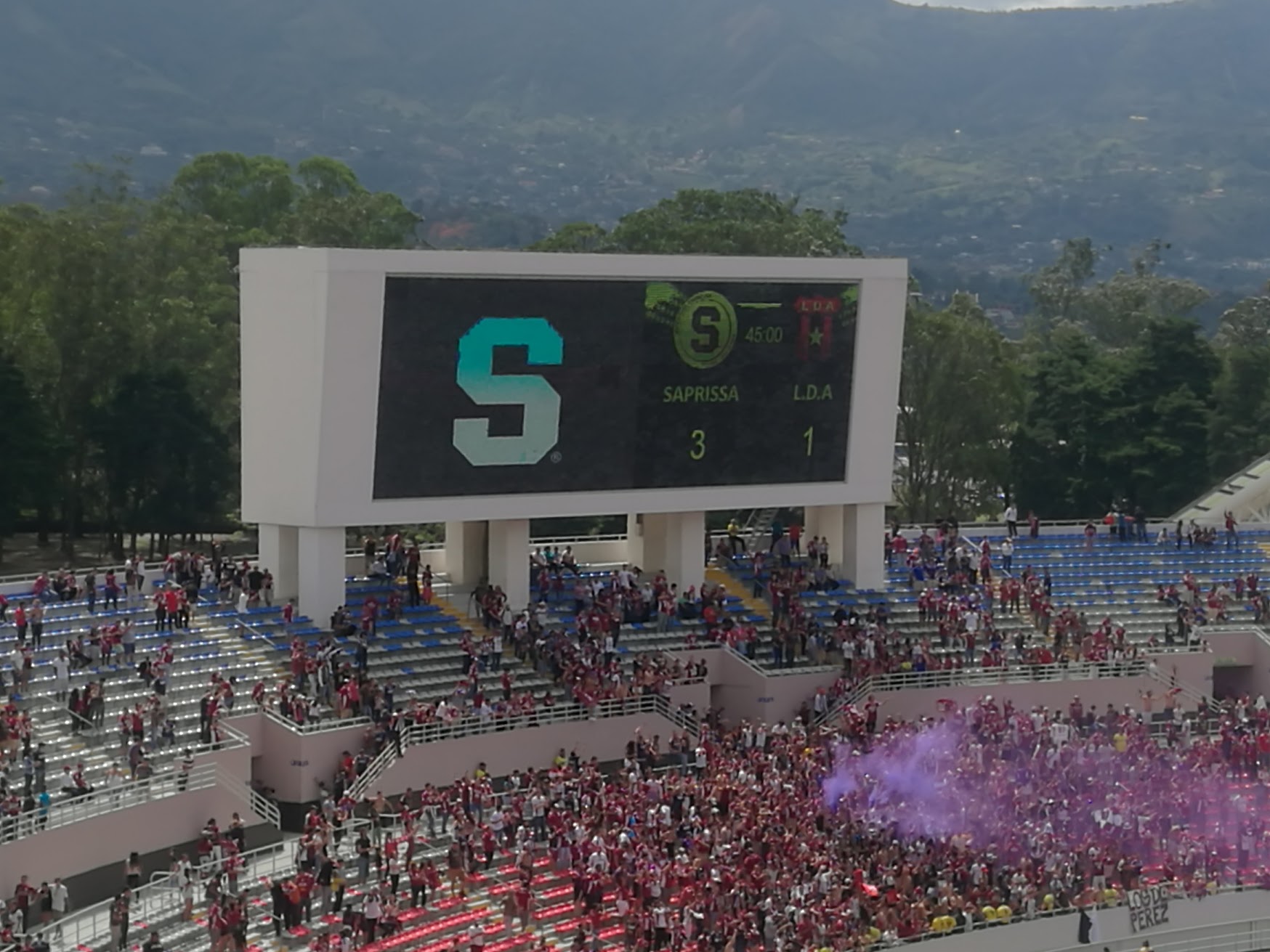 13. Fruit Grows Everywhere
I saw fruit everywhere, growing naturally along the beaches, growing naturally in the rain forest, planted in peoples backyards.  Now, if only I could climb the trees like a capuchin monkey...
14. The food is amazing Rice, beans, fish, meat, stews, soups 
I could eat gallo pintos for breakfast everyday.  That is the traditional Costa Rican breakfast, which consists of beans and rice.  Costa Rica utilizes rice and beans in many dishes, but also has a wide variety of stews and soups such as Olla de Carne.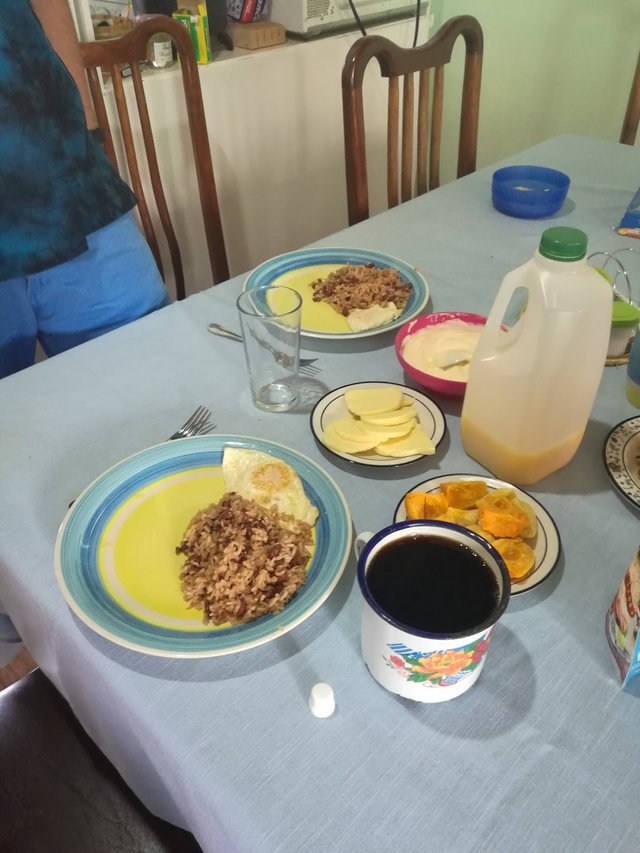 Gallo Pintos and cheese, I could eat this every day! My favorite!
Big thanks to @raserrano and his wife ("Ray Ray") for one of the best vacations I could imagine.  They basically planned my whole vacation out for me and were my personal tour guides! Oh and thanks "Ray Ray" for all the good food, including the gallo pintos featured above!
@raserrano and @soykatonline thanks for introducing me to the Steemit community!