Preparing For an Excursion
We had just completed a full day and night at sea on our last cruise when we finally arrived at one of our Mexican destinations. We were really excited because we were about to embark on quite an adventure to an ancient town in Jalisco, called Tomatlan.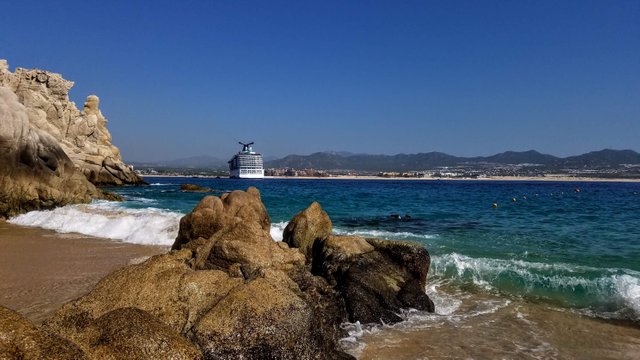 The excursion was going to be a bit of a rigmarole because we had to first get on a ferry to land, then take a taxi to another location where we were to be picked up on a bus and driven for a couple of hours to the location where we'd be hiking. We got off the ship at the earliest possible time and hung out on the beach for a little while before beginning our voyage. As you can see in the above image, there's our ship in the background!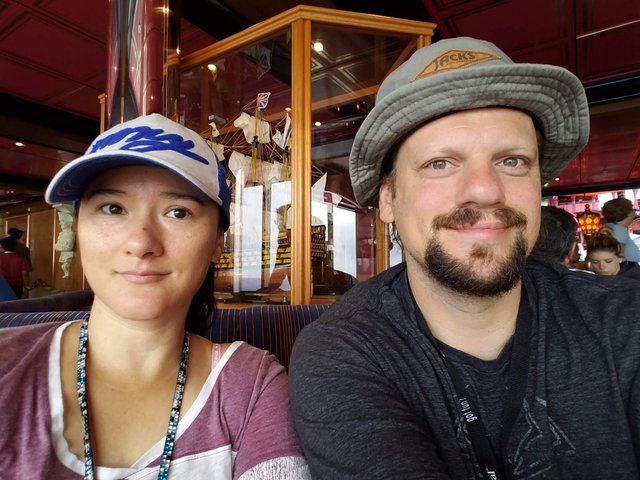 After a nice lunch, we were on our way! Of course I was a happy camper since I'm a huge fan of Mexican food. Especially enchiladas as you can see here on my plate. It makes my mouth water just looking at it now!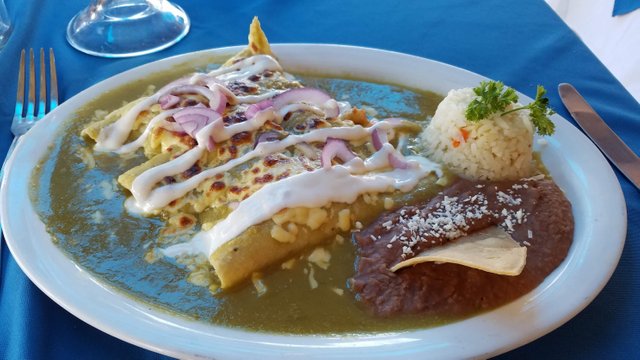 The bus ride was pretty miserable, I must say. There were no shocks on the bus, and Amanda, who has terrible motion sickness was about to hurl the whole time. That being said, I got a great laugh when we drove by the following shop: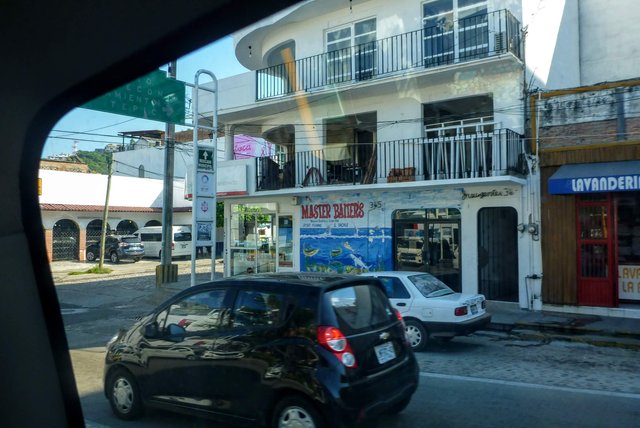 I really had to wonder about the owner of the shop. Is he American? Is the play on words lost on most locals? I am really guessing that it is targeted at tourists, being that the text just under Master Baiters is in English as well. I can't remember how much longer we were on the road before finally arriving at our destination. I think that I must have dozed off for a few minutes, because when I next looked out the window we were in a much less populated area next to the ocean.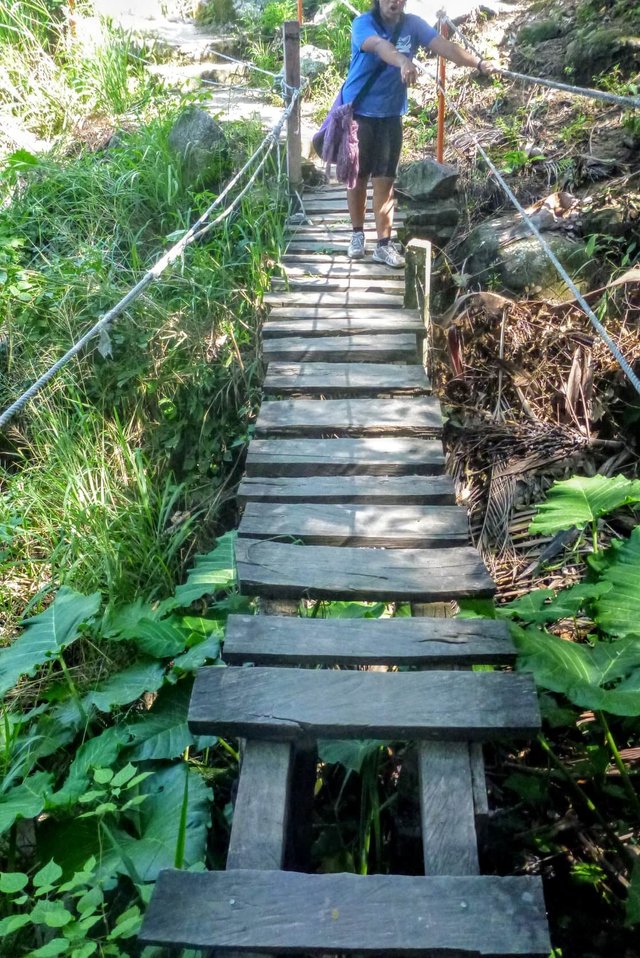 We had a little snack, then headed up to a trail where we walked through the woods for a couple of miles. Finally we came to the above bridge that was quite precarious looking, but seemed safe enough. At least that's what I kept telling myself. As you can see in the above image, the tour guide is directing us to cross one at a time, and to hold on to the side rails.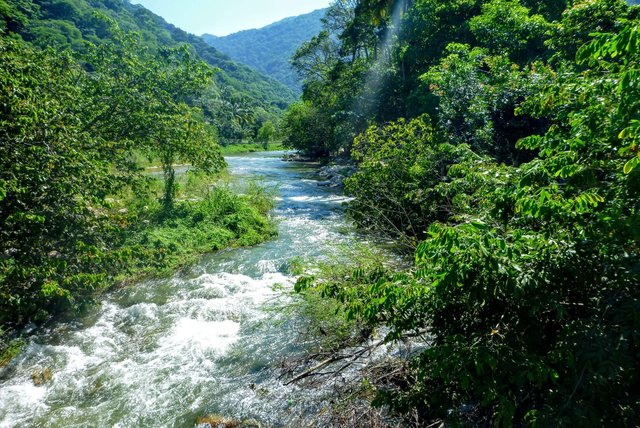 Which is fair enough, because I didn't really want to fall into the water. I had my nice camera with me and was not in the mood to lose it in that fast moving stream.
It Was Further Than I Thought
I don't think that we fully appreciated what a long hike this was going to be. We ended up walking for hours through the canopy. I was pretty sure that some of the older folks in our group were going to have a problem going back. The idea was that we were going to hike to a secret area where we could snorkel for a while, eat dinner, then walk back.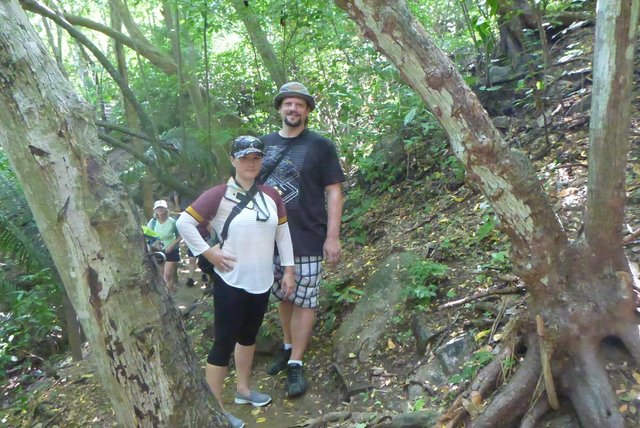 My suspicions turned out to be right. By the time we arrived at our destination, several families were complaining about knee pain and other difficulties. At this point, the guide called a friend of hers to bring a boat over that could take the older folks back to the beginning by water rather than walking the trails again.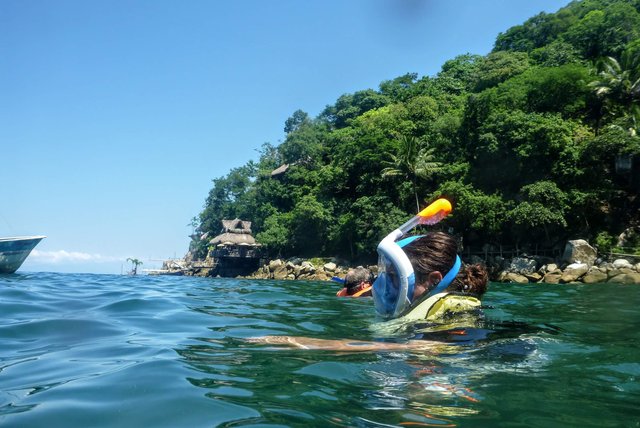 Meanwhile, the rest of us got our gear out and jumped in the water. That was the best feeling ever hitting that water! We were all seriously hot and sweaty after all that walking. I honestly think that the people who took the boat back were more hot than anything else. I think that the families that went back were from Sweden or somewhere up north.
We swam around for an hour or so, looking at the fish and other critters in the water. The snorkeling wasn't as impressive there as it was in Hawaii, but it could just be the area that we happened to be swimming around. Also, for some reason the water wasn't very clear on this particular day.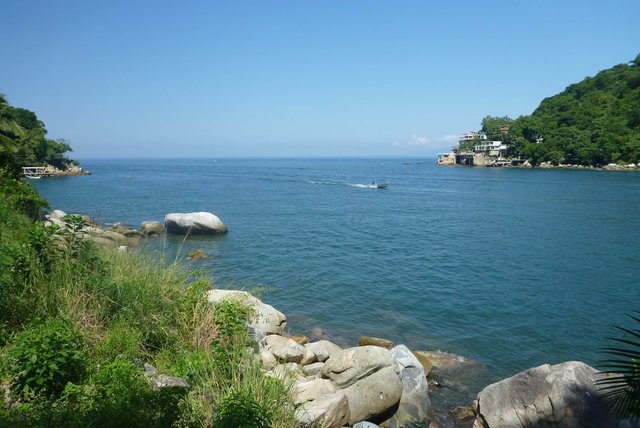 I was perfectly fine with it anyway - we were having a blast! After a quick break, we started our journey back and made it just in time to get back on the ship before it left. We really cut it close!
We plan to do this same cruise again, probably in the next few months. There are so many other places that we'd like to visit in this part of Mexico. Not to mention, I'm really looking forward to having some more of those tasty enchiladas!