Receding Tide Reveals Rock Formations
We've been walking down to the beach near where we live in Palos Verdes off and on for years now, but my favorite time to come is when the tide has receded a bit.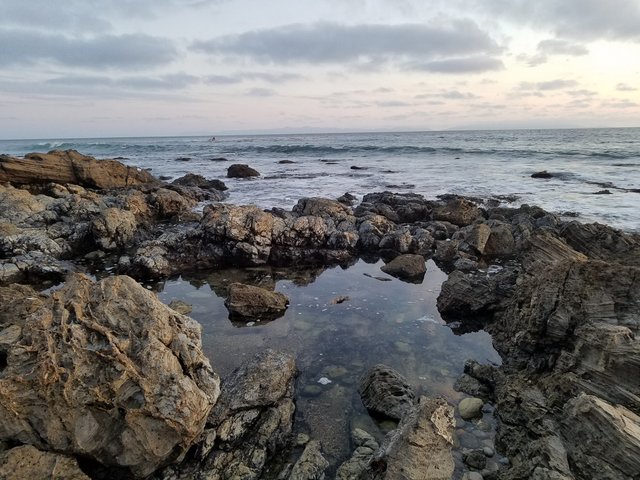 Normally when we go down there there are only a few rocks visible and the water is pretty much right on the sandy beach. When the water is back a bit, we can actually walk out onto the rocks and look at all of the little critters swimming around and looking for food in the little ponds that form between them.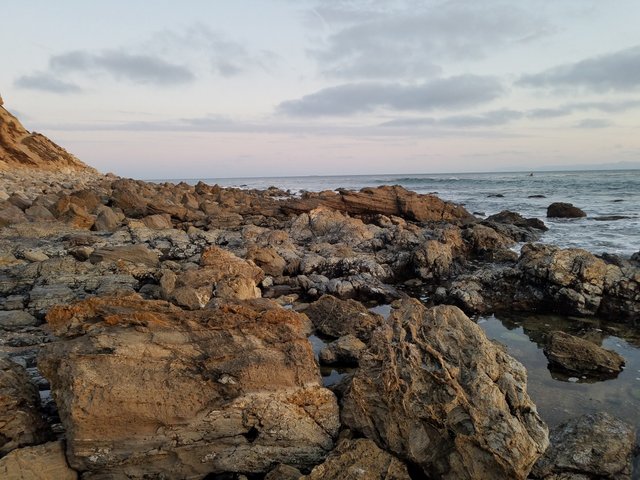 The whole area almost completely up to the cliff in the above image is usually completely submerged in water. It's funny when you look at it because as the rocks dry off in the hot sun it looks like it is always this way.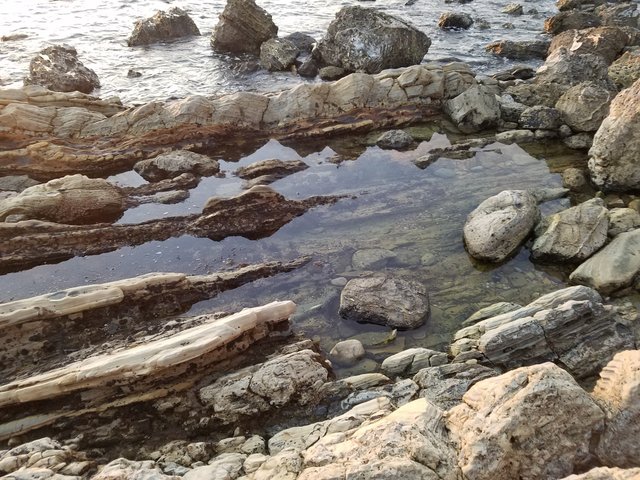 At a quick glance it looks like not a lot is happening here, but if you look closely there are all kinds of little animals in the water. The rocks are completely covered with tiny little shellfish which have attached themselves to the surface. They are so tough that you can actually walk across them without even worrying about crushing them. It's also nearly impossible not too when walking across them!
I didn't manage to get a picture of it, but there was also this gigantic seaweed plant that looked like a massive network of arteries. It is crazy how nature repeats patterns across all types of life on this planet. I couldn't believe the sheer size of that seaweed! On more than one occasion we have found a massive dead seal on the beach as well. I sure hope that they died of natural causes. It was one of the most horrifying smells that I can remember.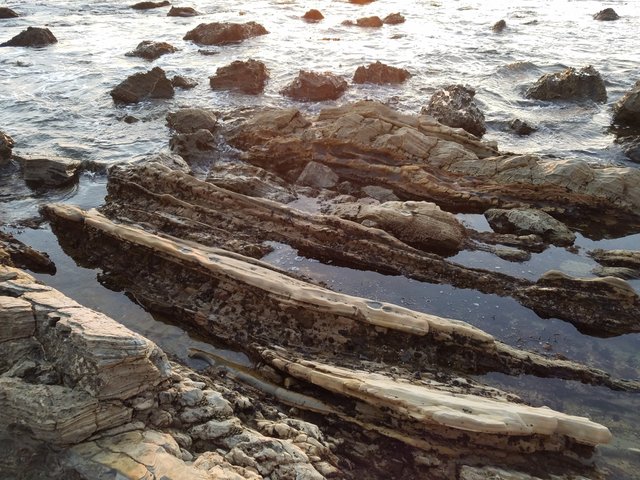 The above rows of rocks were pretty neat. You can see all of the layers from many years of buildup. When you turn around and look at the eroding cliffs it is easy to see that all of the these rocks were at one point part of the surrounding landscape but have falling into the ocean over the decades and centuries. I can't even guess how long these have been in the water. They are incredibly smooth at this point.
It turned out to be a pretty gorgeous day to watch the sun set. I have no complaints! I'm looking forward to doing it again tomorrow evening.