Enchanted Kingdom + Mount Pulag: Magical Place and a Paradise Adventure
Ohh it's been awhile! My last post was a year ago. Hahah Oopss, I guess my hiatus resulted to being lazy in updating my blog. HAHA! :laughing:


So what I have for you this time? Well, I really had a great time with my friends in our Luzon adventure that highlighted Enchanted Kingdom and Mt. Pulag! With that, I'd like to bring you there with this post.
Does that sound interesting? We'll never know 'til you continue to read up! ;)
February has been fun and full of adventure because of this travel. Uuugghhh, I can't wait to share!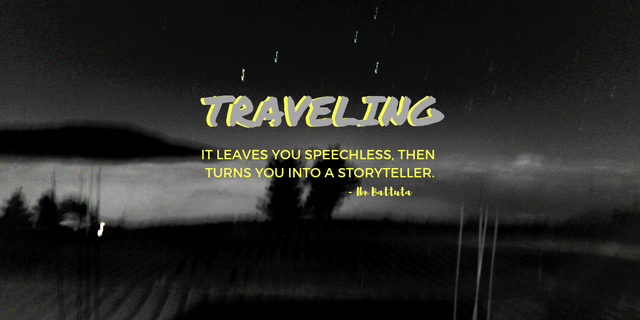 The background image is the scenery at 2AM in the morning fronting the place where we stayed prior to our climb to Mt. Pulag. The image gives no justice to the reality. huhuhu cellphone shot + night mode lang talaga. Trust me! It's way way way better if you see it yourself!

Up until now, as I recall the experience... It's still making me pause for awhile and become speechless. And here's me, channeling my storyteller within.
Let's start!
Our adventure lasted for four (4) days.


Our itinerary goes like this:
Day 1 - Arrival + Enchanted Kingdom at Laguna
Day 2 & 3 - Mount Pulag Adventure
Day 4 - Baguio + Homebound to Cebu
Day 1
Our flight bound to Manila was very early in the morning of Friday, around 4:30AM and we're expected to arrive there at 5:50AM.
We were accompanied by my boyfriend to the airport. Sadly, he's not going with us.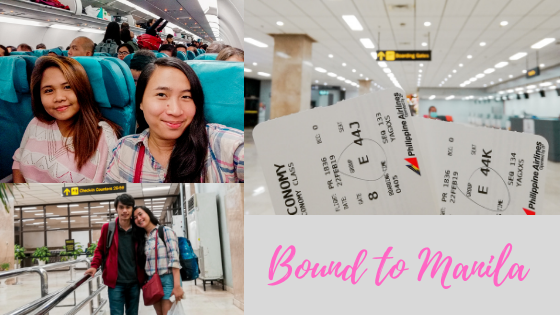 Lyngie and me (shameless selfie inside the plane)
Well, it's my first time with Philippine Airlines (PAL) and so far I'm happy with my experience. The flight had no delay and the aircraft departed exactly as scheduled. As a result, we arrived in MNL according to schedule. Plus points for PAL!
We then headed to Sta. Mesa, where we are going to meet our friend -- the Manila girl, Kath. Among the three of us, she's the one tasked for our Enchanted Kingdom adventure.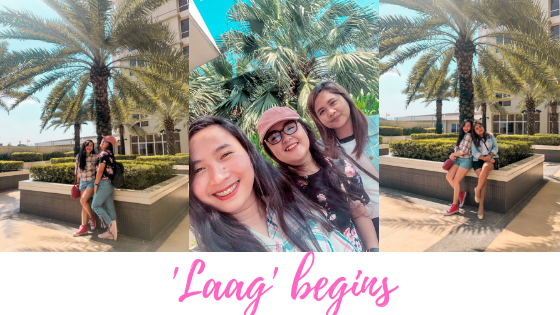 Me & Kath - The three of us - Me & Lyngie
Enchanted Kingdom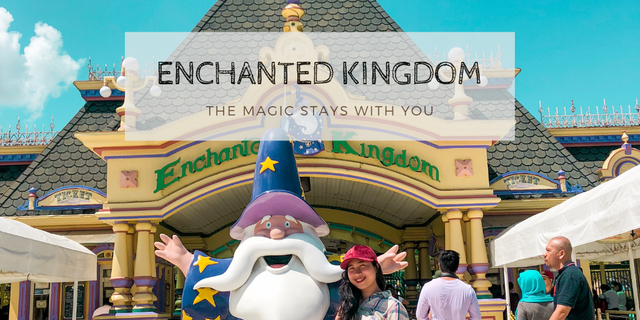 Enchanted Kingdom
About Enchanted Kingdom
Enchanted Kingdom or commonly known as "EK" has been here in the Philippines since 1995. It is located in Santa Rosa, Laguna with an estimated area of 25 hectares or 250 000 square meters. (Wow! Oh diba, ang lawak!)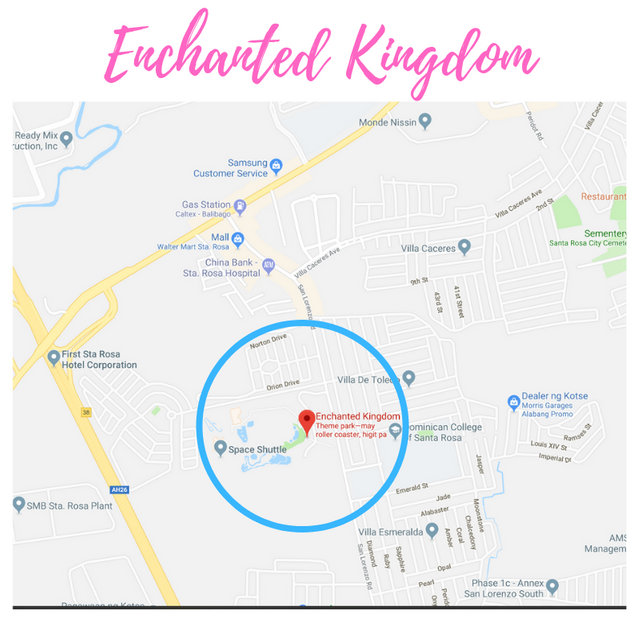 Enchanted Kingdom location from Google maps.
It is considered as the first and only world-class theme park here in the Philippines ever since. It consists of various rides and attractions within its seven themed zones that contribute to the over all "enchanting experience" as you visit and enjoy the place.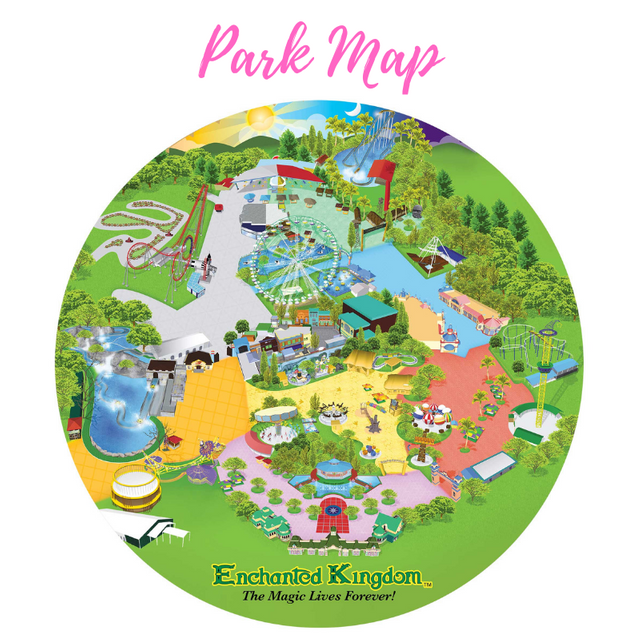 Look at the place! Indeed, it's Magical!
If you want to know more about EK, you may visit their official site here.
How To Get There?
There are many ways on how to get to Enchanted Kingdom to have an enchanting experience! It all depends where you are coming from. As for this part, I'll share to you how we made it to Laguna in our Day 1.
Remember, I said that Lyngie & I went to Sta. Mesa to meet our friend. So, our starting point that time was Sta. Mesa.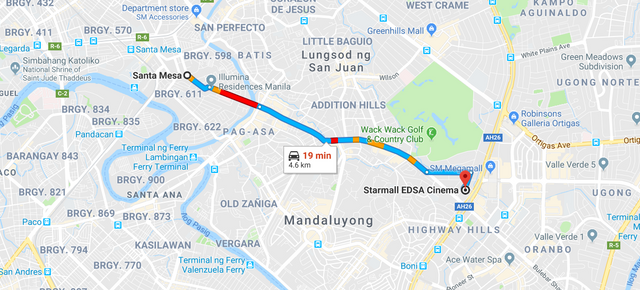 From Sta. Mesa, we rode a jeepney to Shaw and then we went somewhere known as Shaw Starmall since there were vans there going to Laguna.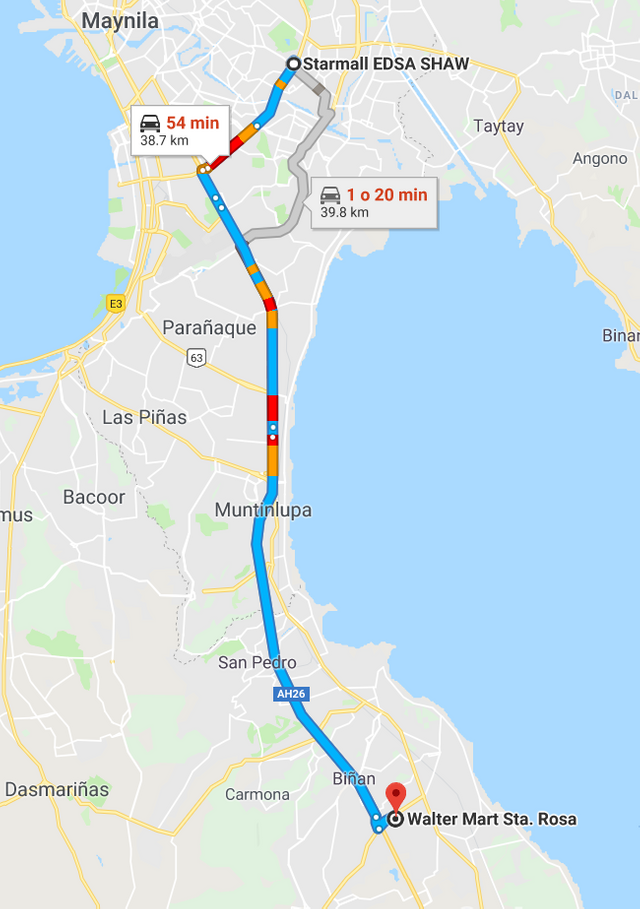 We rode a van and then we dropped off at Walter Mart Sta. Rosa.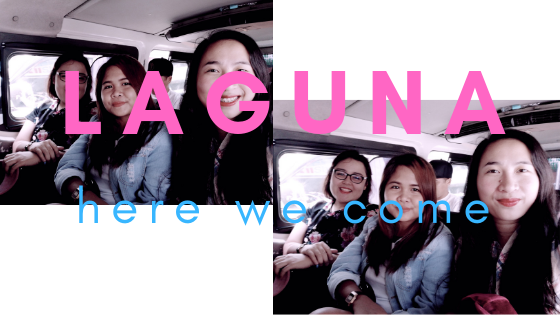 Groufie muna bago matulog. Hahah!
I can't really remember which way we went after the van departed from the terminal. Guess why? Well, we slept all through out the travel. Hahaha Oops! Sorry for not being helpful. Hahah! I know we can trust Kath. She's the Manila girl. So, no need to worry.
When we arrived at Walter Mart, we have to walk for a while beside it to search for the tricycle terminal going to Enchanted Kingdom. Yes, from Walter Mart we have to ride a tricycle for around 3 minutes to get to EK.
Aaaaaannndddd, charaaaaaan!!! EK!!!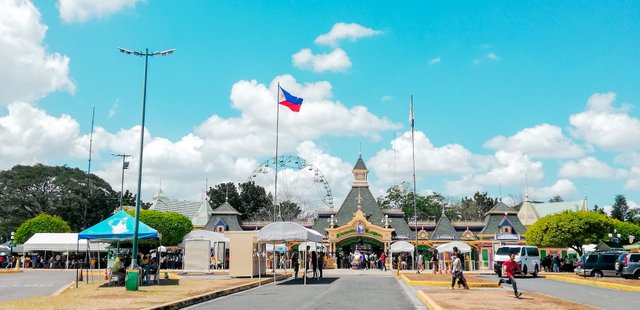 Enchanted Kingdom, where the magic lives forever.
The Experience
Before you can enter, you need to purchase an admission ticket first. Ticket price varies according to the day of your visit. Is it on a weekday? or on a weekend? or holiday?
We visited on a weekday, the ticket price is lower compared on weekends. And since we prepared ahead, we availed the admission ticket from Klook at a much lower price.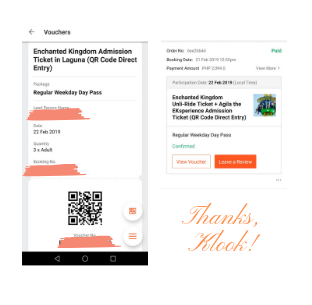 Instead of paying Php800.00 for each ticket, we got it for only Php 698.00!
Ticket price may change without prior notice.
During our visit, the park schedule was 12NN - 7PM. We entered just in time for 12NN! Amazing! Kailangan sulitin ang oras!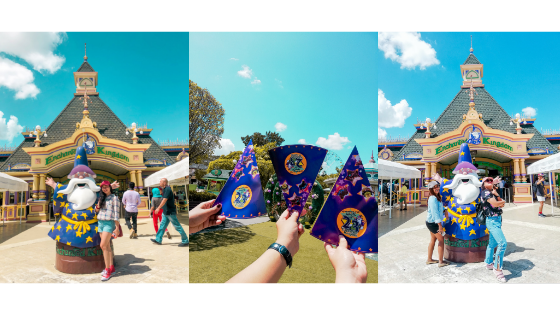 When we were about to enter, the guards were checking our bags thoroughly.
We were prompted to leave behind all the food, only water was allowed. Gosh! We didn't know that bringing food inside is not allowed.
We attempted to eat almost all of our food. Sad to say, we really had to leave behind a lot since we cannot finish them all right there. Ugghh, still can't move on about the one pack of Frutos that we left outside. It was supposedly one of our trail foods for Mt. Pulag climb. Hayss.
Tip: Don't bring food. It's either you leave it outside/eat it or you cannot enter the park with it.
The admission ticket is equal to unlimited rides to almost all of the rides and attractions inside Enchanted Kingdom! When we finally entered, we strolled a bit and then among the rides available, we rode the roller coaster first! No warm-up ride. Lol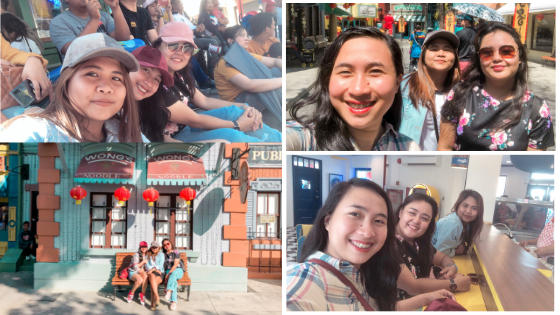 Strolling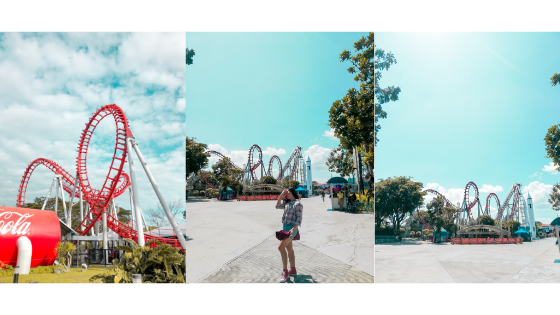 Galabad akong ulo pose. Haha!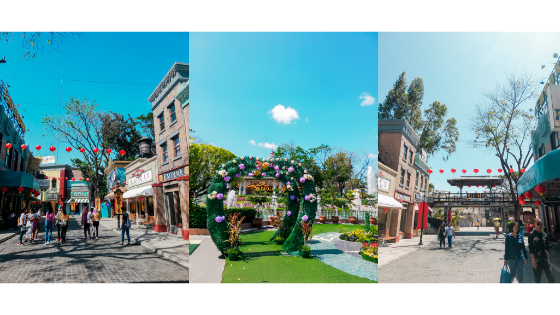 Brooklyn Place
There are lots of rides available! I haven't had the time to take a picture of all of it because we really had a great time enjoying the place and each other's company. Aweeeiiii <3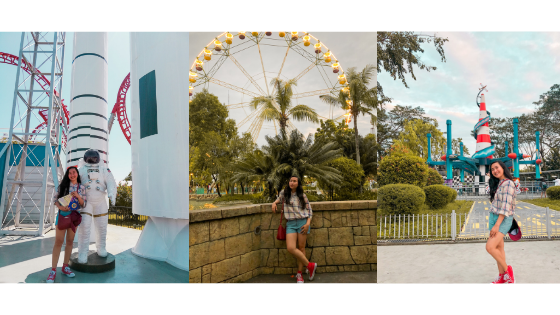 Some of the rides I've conquered. It's sad I didn't have a picture at the EKstreme Tower! Hahaha!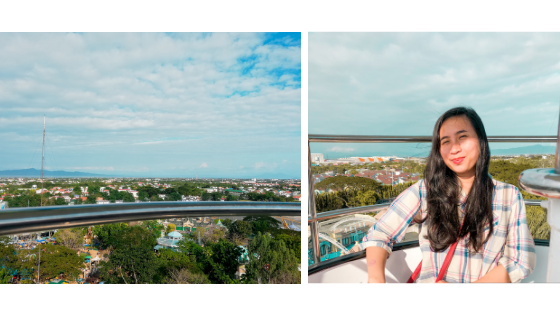 Chilling at the Wheel of Fate with the view of the place from the top.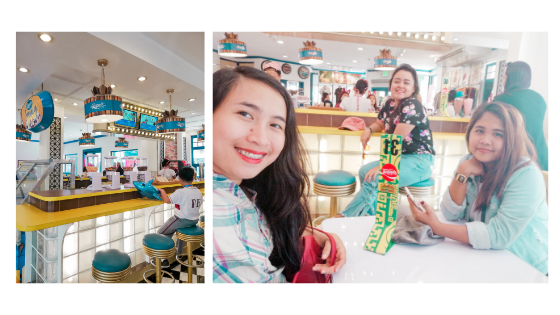 Food stalls and small restos are also present within the vicinity. We enjoyed ice cream desserts inside the Magnolia place.
We left the park around 6:30PM so that we would be back at Sta. Mesa by 9PM. We had to prepare for our 10PM meetup. The said meetup is part of the package tour to Mt. Pulag.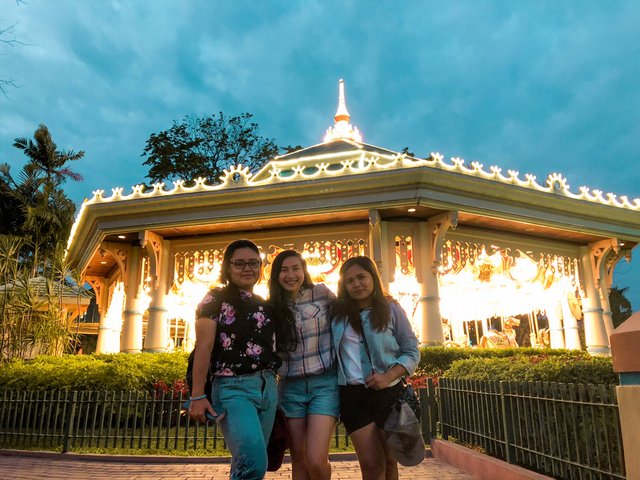 Thank you, Enchanted Kingdom!
In going back, we had to ride a tricycle to the nearest terminal in Balibago. There, we rode a van back to Starmall Shaw.
Budget Breakdown
Our travel was not for free. Let me share with you our budget for Day 1.
Day 1 - Enchanted Kingdom Adventure

Sta. Mesa to Shaw Starmall - Php 12.00
Van to Walter Mart Laguna - Php 80.00
Tricycle to Enchanted Kingdom (good for 3) - Php 44.00
Admission Ticket c/o Klook - Php 698.00
Tricycle back to Walter Mart - Php 44.00
Tricycle to Balibago Terminal - Php 30.00
Van back to Starmall Shaw - Php 80.00


TOTAL: Php 988.00
Food and souvenirs are excluded.

That's it for Day 1! Hope you had a great time reading and hope that this would be helpful for you when it's your time to enjoy the enchanting experience at Enchanted Kingdom! <3
I guess I had to make another separate post for our Mt. Pulag Adventure! Please bear with me. xD
Our ride back to Starmall Shaw was unforgettable. We experienced super duper heavy traffic in EDSA. Hahahuhuhu! Our meetup was put at stake. Hindi kami aabot sa meetup place ng 10PM .
Tune in for my next post Part II! Our Mt. Pulag Adventure!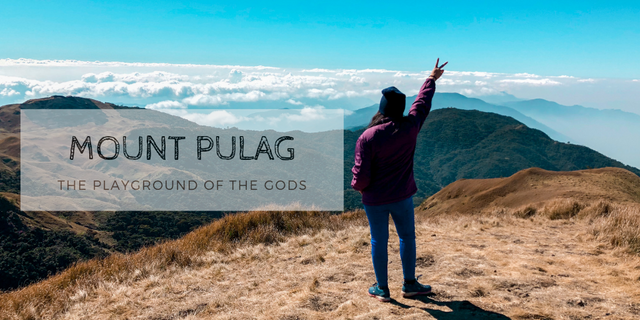 Mount Pulag is also known as the Playground of the Gods
To more adventures,
@namranna