By Sylvia Bury
With more than 13,500 paintings and 300 sculptures created over a lifetime, there is always something to talk about. Ultimately, he is the most influential artist in the 20th century. After all these years having regular exhibits on this spectacular genie, we might think that we know Picasso. But, do we, really?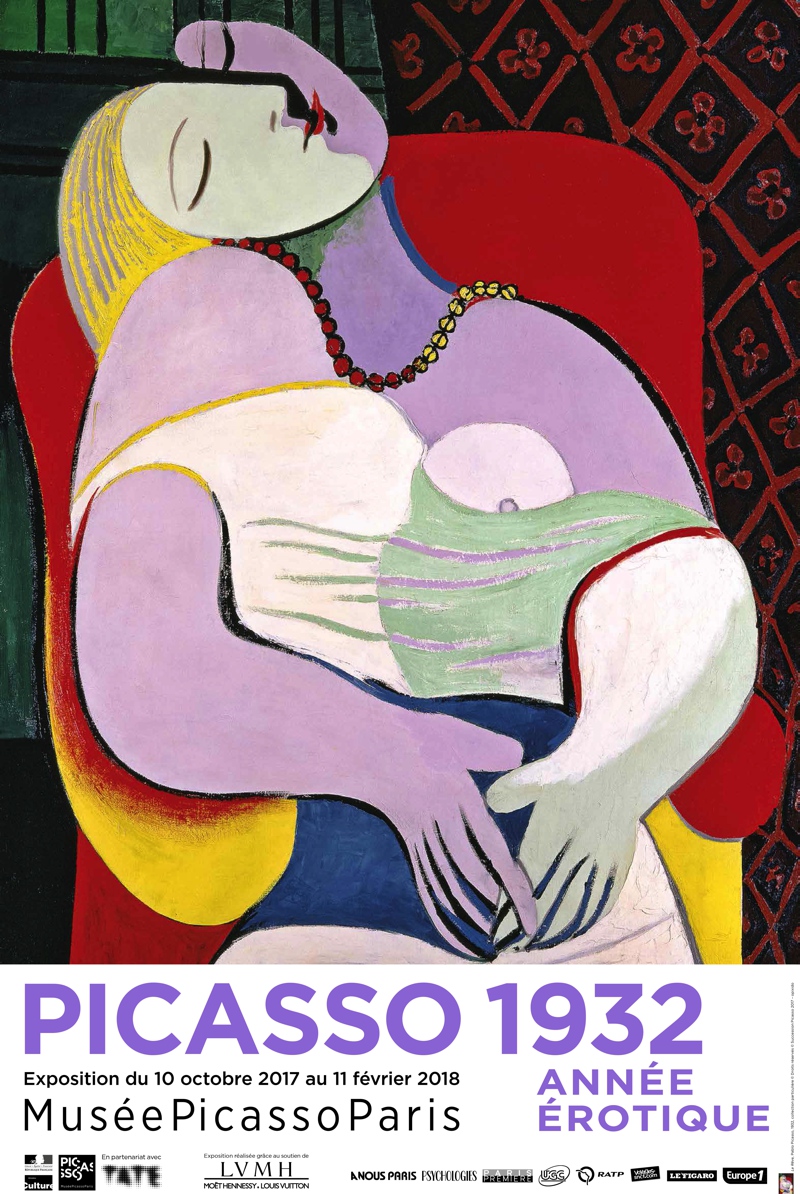 Poster of the exhibit, featuring Le Rêve or The Dream which is sold for $155m in 2015
!steemitworldmap 48.859862 lat 2.362286 long Musée Picasso Paris d3scr
Photo Courtesy of Musée Picasso
Picasso 1932 – Love, Fame, Tragedy
Recently, French President Emmanuel Macron visited a newly started exhibit titled 1932: L'Année Erotique. Hmm, you might feel, is it an erotic year?
Well, it could be, depends on who sees it. The exhibition curator said that Picasso used strong erotic and sexual power as driving forces in his paintings that year. Picasso was utterly productive and produced 300 works of art in 1932 alone. In this exhibit, there are more than 110 paintings, drawings, engravings and sculptures.
President Macron was exploring the artworks accompanied by the artist's daughter, Maya Widmaier-Picasso, at the weekend before it opens for public. Maya was born in 1935. She is daughter of Pablo Picasso and Marie-Thérèse Walter. The main masterpieces presented in this exhibit are "The Dream" and "Girl Before a Mirror", both are portraits of Maya's mother. Walter was 17 when she met Picasso and she became Picasso's muse ever since.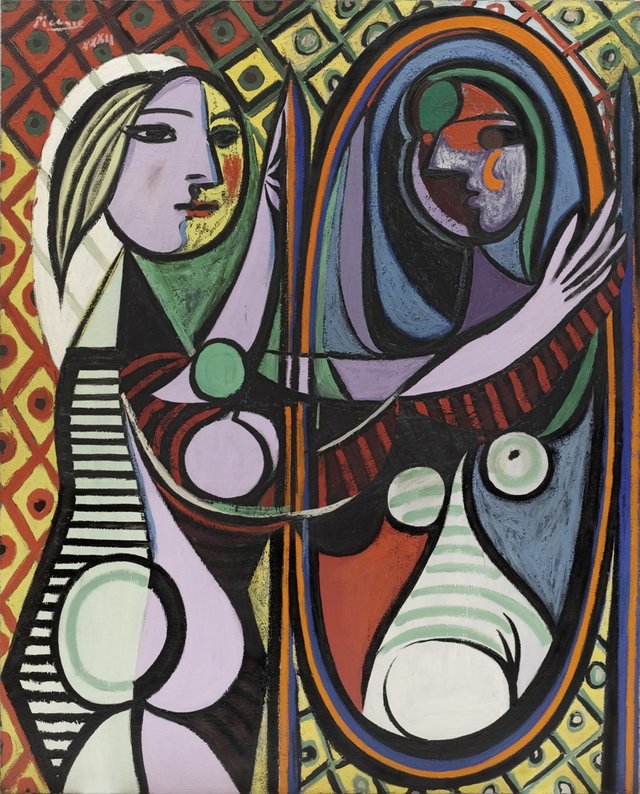 Girl before a Mirror, painted in Paris, March 14, 1932 - self-conscious, she sees all the flaws in herself that the world doesn't see
This exhibit is carefully translated as the year of Love, Fame and Tragedy. I guess Musée Picasso Paris lets you judge the importance of this year as source of inspirations for Picasso.
This exhibit shows a complete year of life of the Spanish artist, chronologically presented in partnership of Tate Modern in London.
The artworks will be available in both cities:
| City | Dates |
| --- | --- |
| Musée Picasso, Paris | 10 October 2017 until 11 February 2018 |
| Tate Modern, London | 8 March until 9 September 2018 |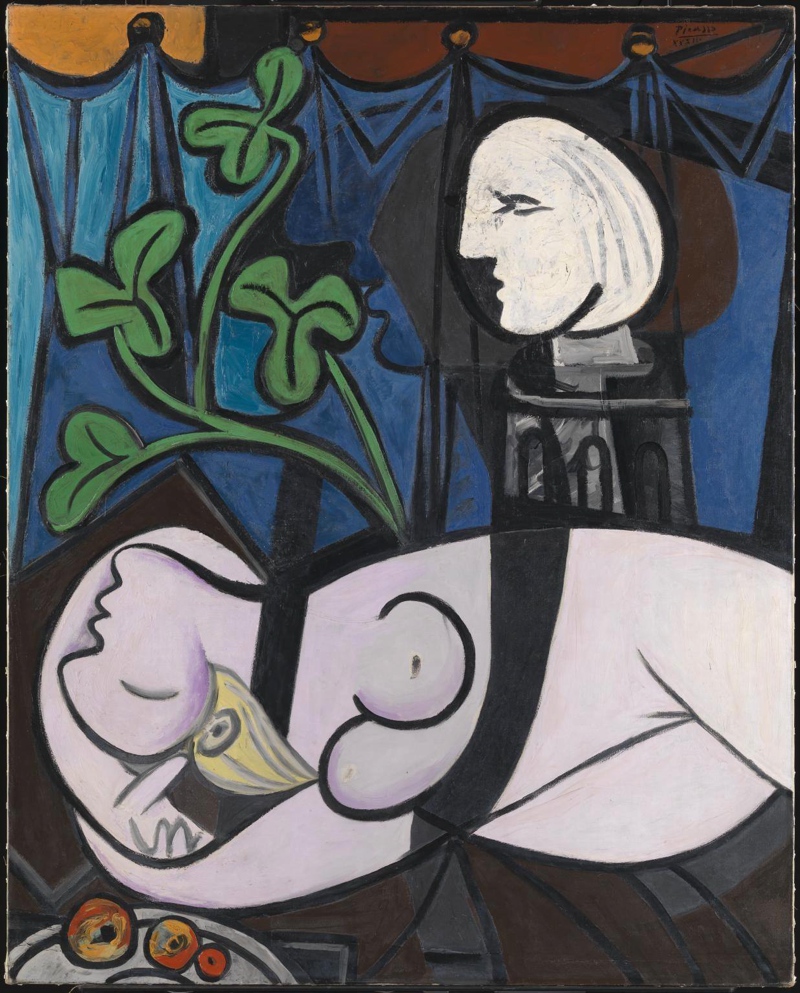 Nude, Green Leaves, and Bust, 1932, 162 cm × 130 cm, sold at auction for $106.5 million in 2010
Photo Courtesy of Musée Picasso
List of Upcoming Exhibits on Picasso in Paris (2018 – 2020)
Now, let's get ready for the years to come. There are much more to discover from this Andalusian painter, sculptor and graphic artist - more pieces and never before seen archives yet to unveil.
Please check out the dates below.
| Exhibit | Place | Dates |
| --- | --- | --- |
| Picasso 1947 | Musée national d'art moderne at Musée Picasso, Paris | available until 25 February 2018 |
| Jewelery by artists, from Picasso to Jeff Koons | Musée des Arts décoratifs, Paris | 7 March until 1 July 2018 |
| Picasso and Dance | Opéra Garnier, Paris | 13 June until 16 September 2018 |
| Picasso's Blue and Pink Periods | Musée d'Orsay, Paris | 18 September 2018 until 6 January 2019 |
| The Ivan Morozov collection (Cézanne, Gauguin, Van Gogh, Renoir, Monet, Picasso, etc) | Fondation Louis Vuitton, Paris | Fall 2020 |

Once Picasso said, "Everything you can imagine is real".
Never stop dreaming, my friends! Never stop believing.