Land of Extinct Volcanoes part 13/16 - Granite Rock Formations
This is continuation of the trip that started here.
I've parked at Karpnicka Przełęcz (Karpnicka Mountain Pass). It is a major trail hub where you can chose to go in many directions. My main goal was to reach Bolczów Castle, however when I looked at the map I saw that if I used blue trail first and then switched to black I could reach my destination while in the same time visiting many named rock formations (named is usually an equivalent of interesting). I would then use green trail to get back to the car. When I talked about it with a man selling parking tickets, he told me it is a worthwhile hike, but I should plan 5 hours to complete it. It was 3.5 hours till dusk, so I decided to hurry up and go for it at first, and in case it took too much time, I'd simply turn back using yellow cycling route from the place where it meets with blue trail and return to see Bolczów next day.
At the start multiple trails go the same way following regular (but closed to the public) paved road prepared for forestry units and firefighters. When the trails split, the view starts to get interesting. Granite stones are everywhere, and not just boulders littering forest floor, but large rocks that were not prominent enough to receive names and marks on the map.
Plenty of mushrooms again, including some weird like this "frill":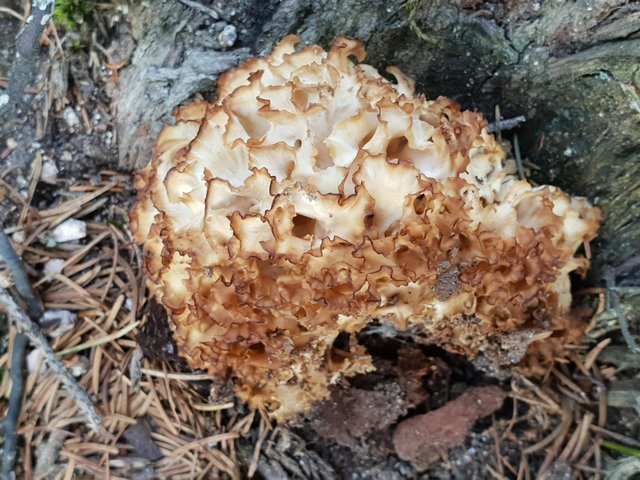 It looks delicate but it was in fact pretty stiff.
I've made it to the Starościńskie Skały ("district governor rocks"?). Taking vertical panoramas with a smartphone has its problems, mainly related to locked exposition parameters, so when you start at the bottom, the sky is too bright, and when you start at the top, the bottom is too dark. This one does not have this problem, because forest floor was well lit, however automatic merging of photos can be a challenge too :o)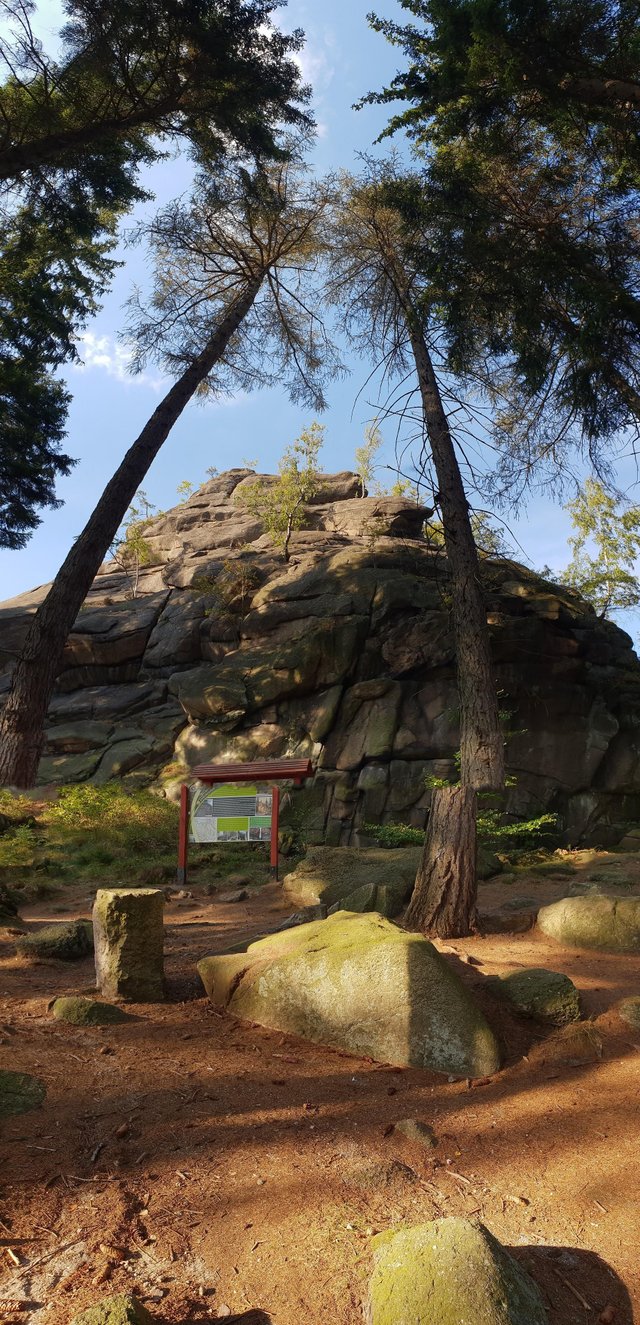 The marked trail leads to the right, but since this is main attraction of the area, I followed beaten track to the left to reach center of rock labirynth.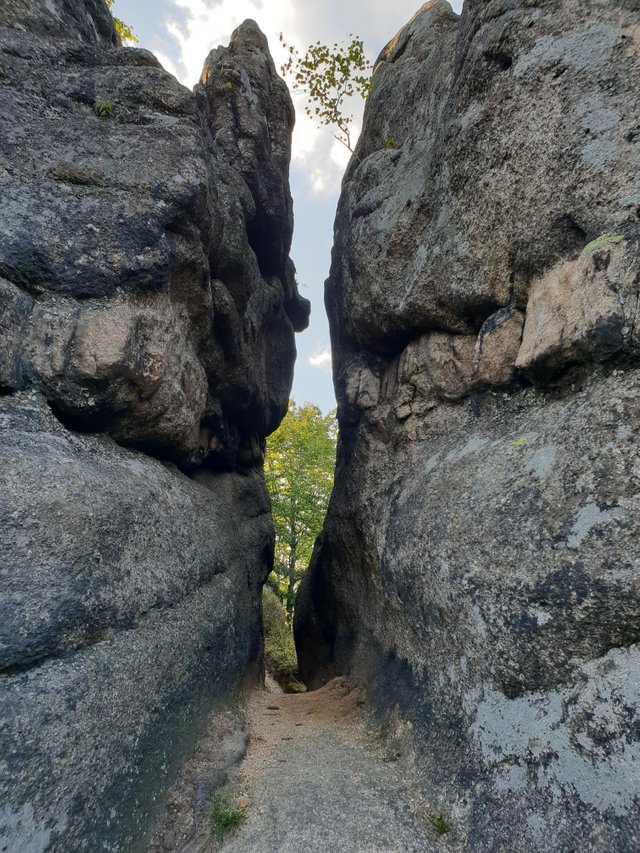 Exposed aplite veins formed by fresh magma that filled early cracks in granite.
I won't lie - I've spend a lot of time there, taking pictures and walking around each bigger rock.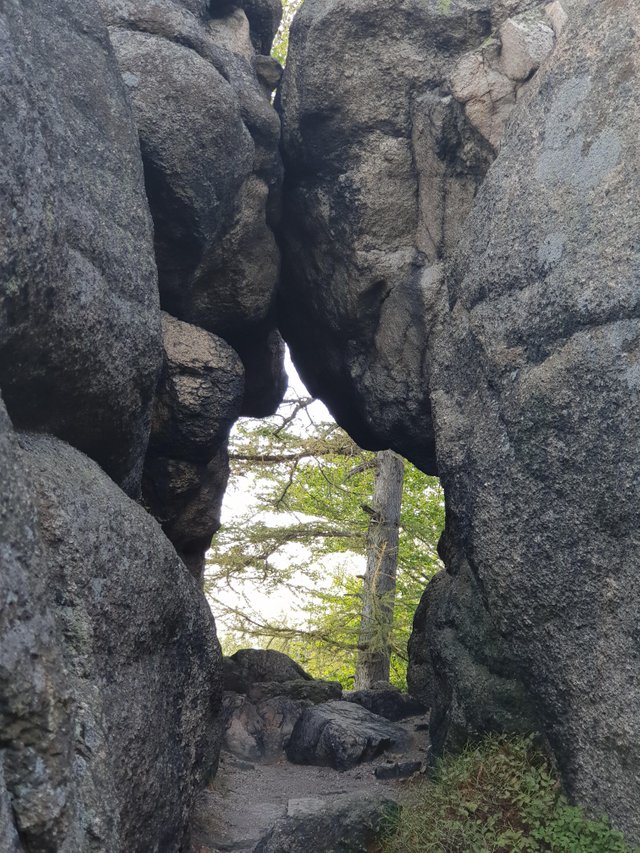 If I was rock climber I would be in heaven.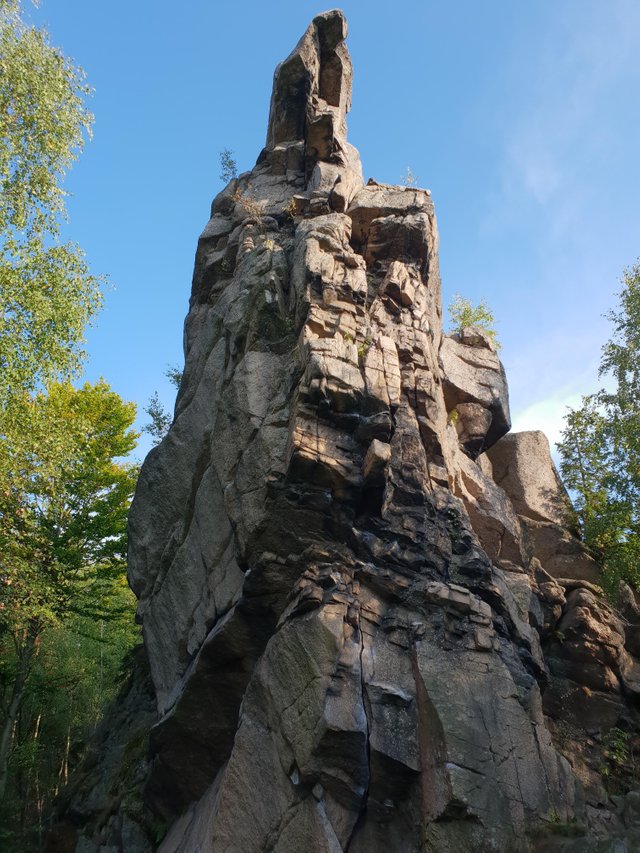 Some rocks were only shaped by nature,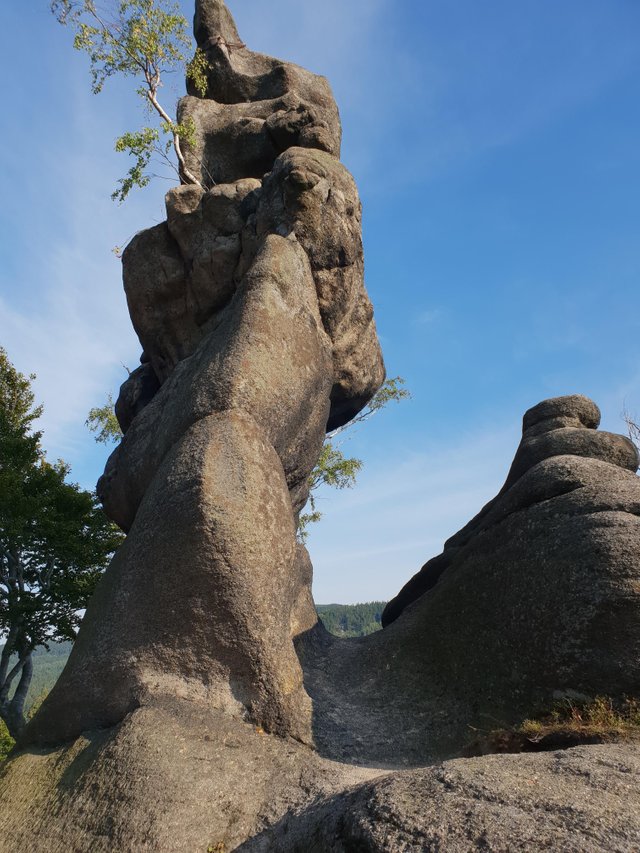 while others bear marks of human intervention.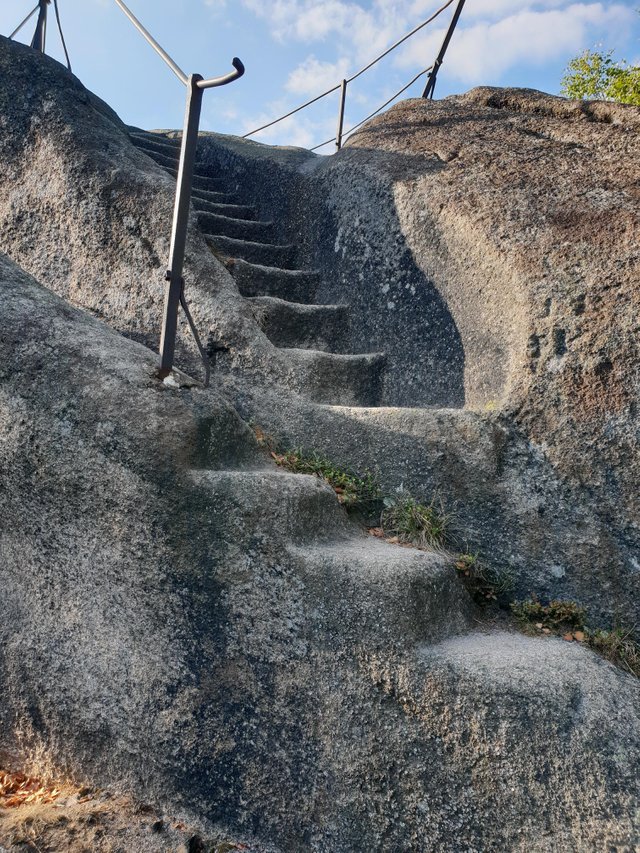 Carved stairs leading to scenic overlook.
Not just the rocks, the view was stunning as well.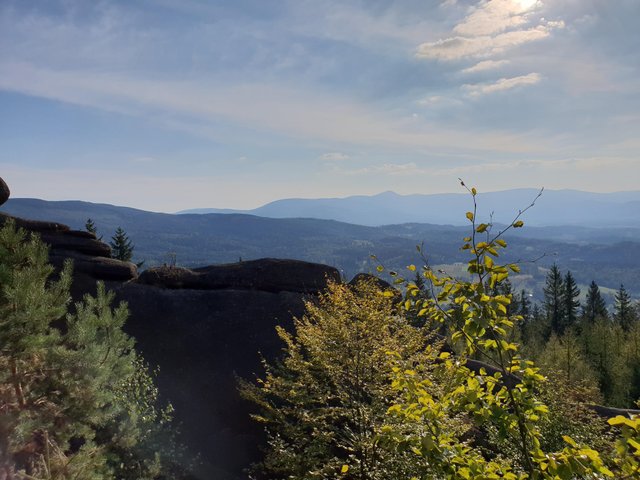 Is that Śnieżka in the background? (highest peak of Sudetes with meteorological observatory on top)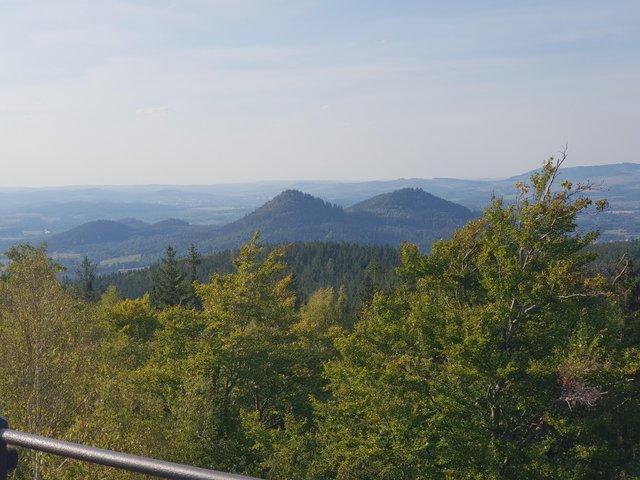 "Bosom of Brigitte Bardot" - Krzyżna Mountain and Sokolik
While I was finally moving out, I've encountered common European viper - it is venomous, but instead of trying to bite, it just hissed me badly while quickly looking for a hideout under the rock.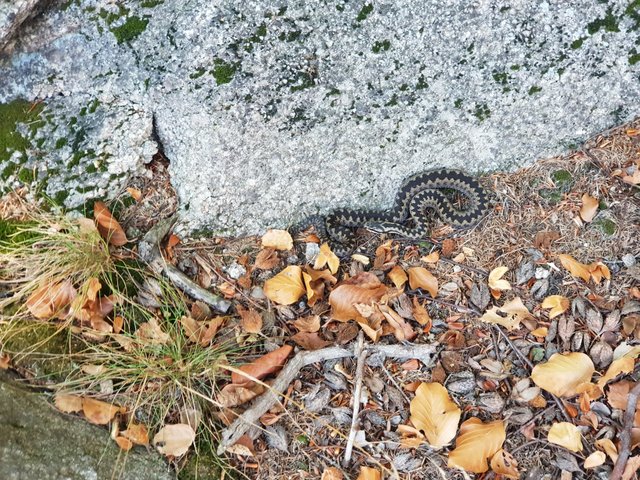 Even more unnamed rocks on the trail.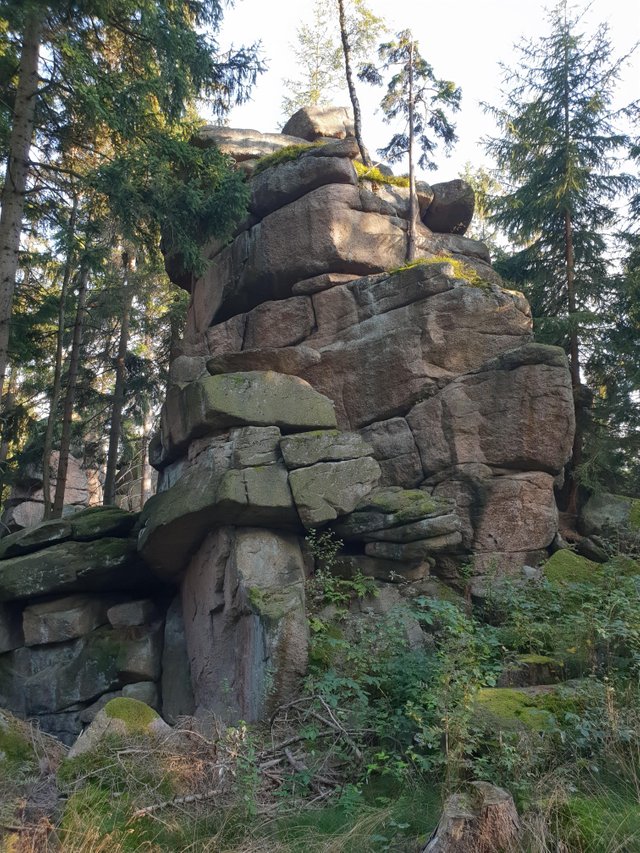 And even more mushrooms - this one near delicate creek.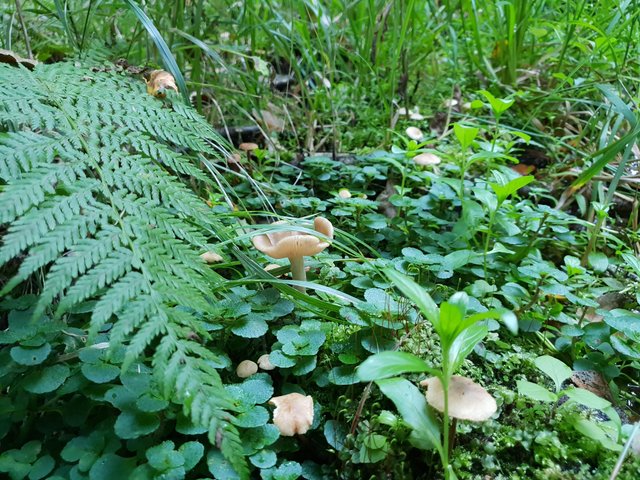 Next stop was near Skała Piec ("oven rock"?). It is apparently popular place for rock climbing (but only for half a year because of birds nesting there in spring and early summer). It looks nice from the side opposite to the road (with large aplite vein and slightly pink tinted granite) and it has an overlook at the top. But far more interesting was the next one - Skalny Most ("rock bridge").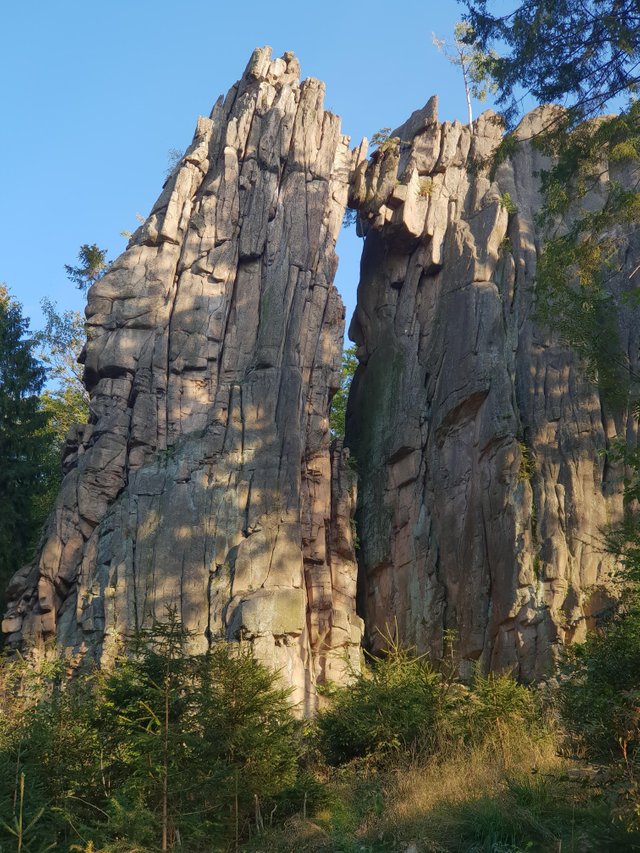 Generally most of the rocks in the area look like they formed, then cracked horizontally, the cracks were glued by aplite, and millions years later, while already above ground, they cracked vertically and started eroding this way. Hence multitude of large protruding walls with occassional passages between them.
Janówka Stream - this is where yellow biking trail was parting ways with blue for the second time. But wait... I was supposed to decide if to go back once they merge... which happened way back... damn!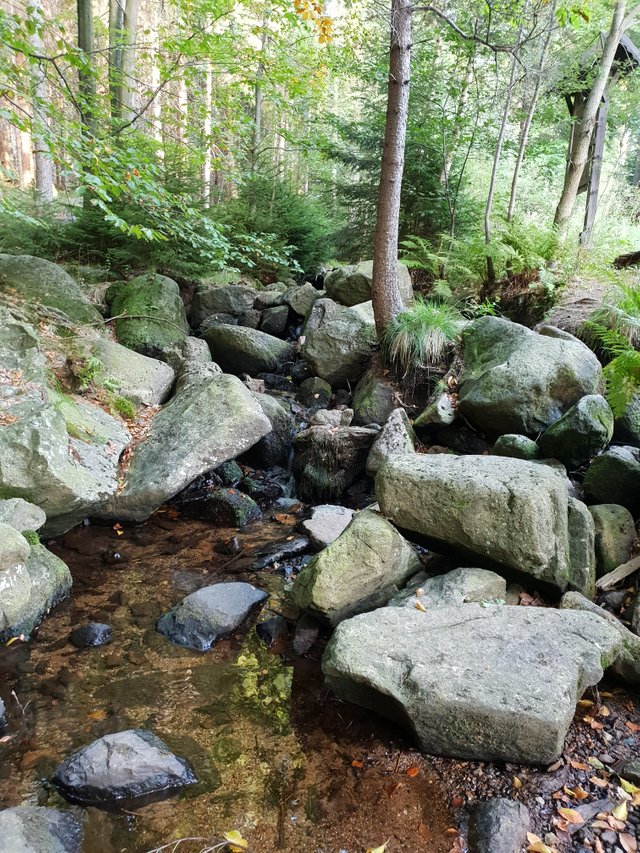 Another walls of granite. There was supposed to be a rock formation called Skalne Bramy ("rock gates") but I didn't spot information board on them so I'm not sure if the ones on the picture are these or something else.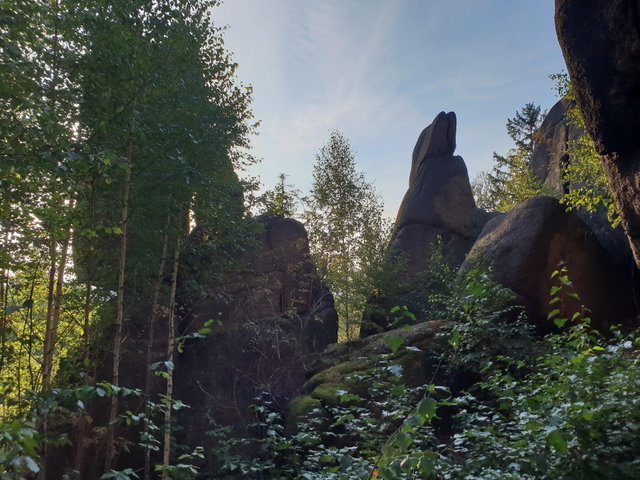 Black trail showed up and blue turned sharply to the right - Bolczów Castle is just 15 minutes away.
Mushrooms again.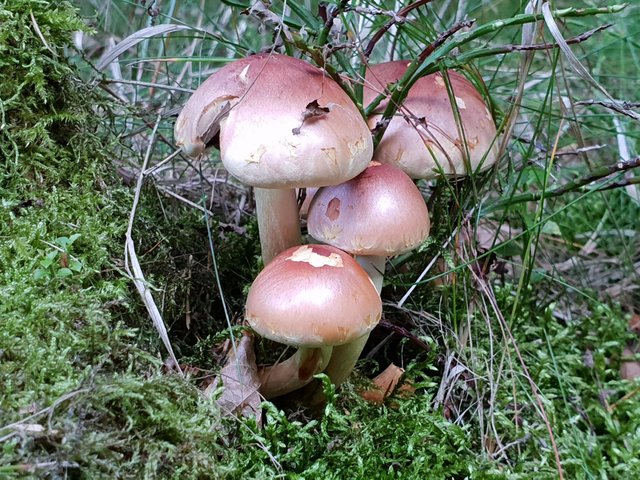 Is that a sign of water erosion? On this elevation?

Yet another rock.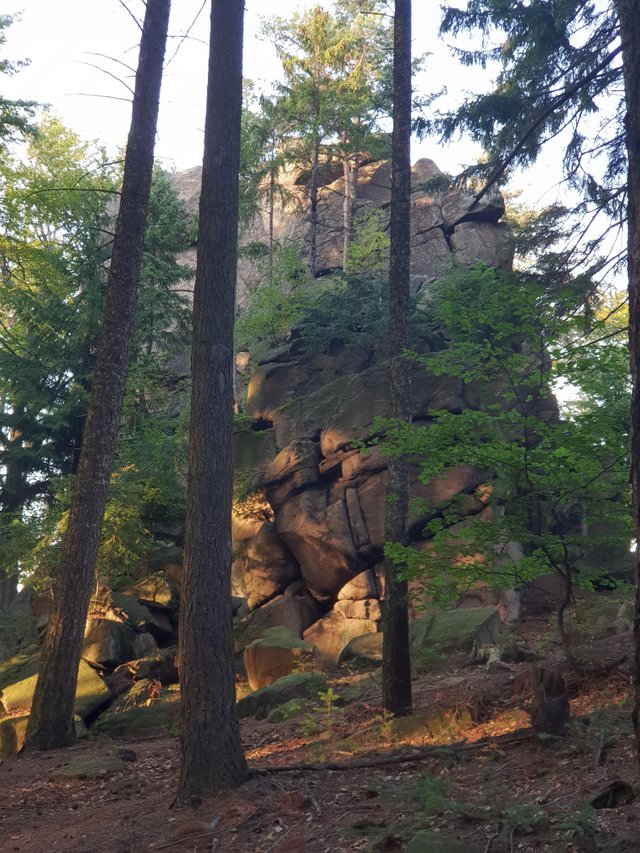 Yep. I'm almost at the destination, but here comes another problem. I've made a terrible mistake - I got both car charger and a power bank, but when I was packing for vacation I deliberately left them both, because I thought I'll manage with charging the phone just when I'm in a hotel room. Which was ok for the most part, but not quite this day. Don't be me, always take extra power for your devices :o)
The phone reached Panic Mode (15%) long time ago, and now turned Agony (5%). And the day was not over yet...