Land of Extinct Volcanoes part 12/16 - Kolorowe Jeziorka (Colorful Lakelets)
Colorful Lakelets is a set of four small bodies of water filling excavation sites of old mines. Even though they are pretty close to each other (well, maybe not the last one), they significantly differ in color, reflecting differences in mineral composition of surrounding rocks. There is a parking/picnic site right at the start of a well marked educational trail.
The first one, just couple of meters from the entrance, is a periodical Yellow Lakelet, aaand... it was almost dried out due to weather.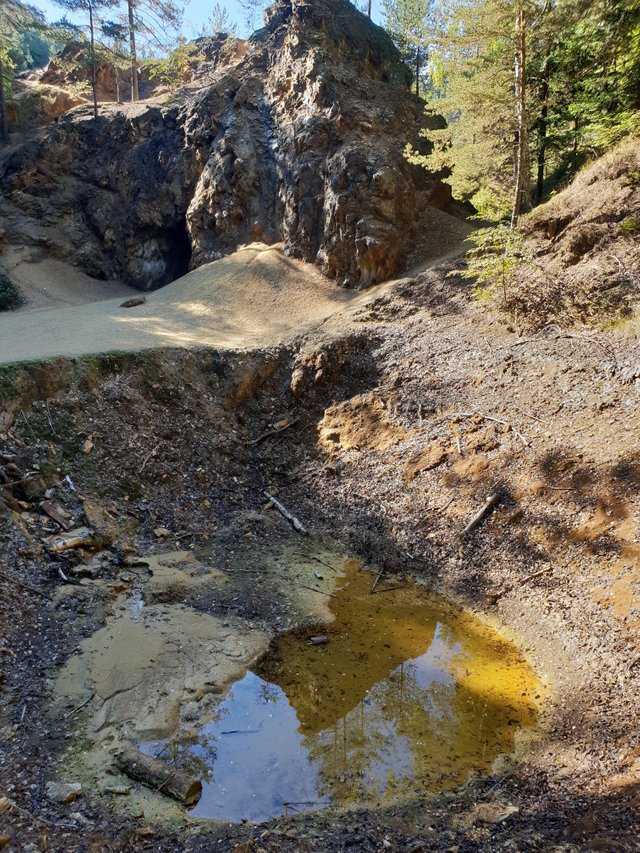 In order to get to it, you need to pass through a dug out tunnel under weathering metamorphic rock.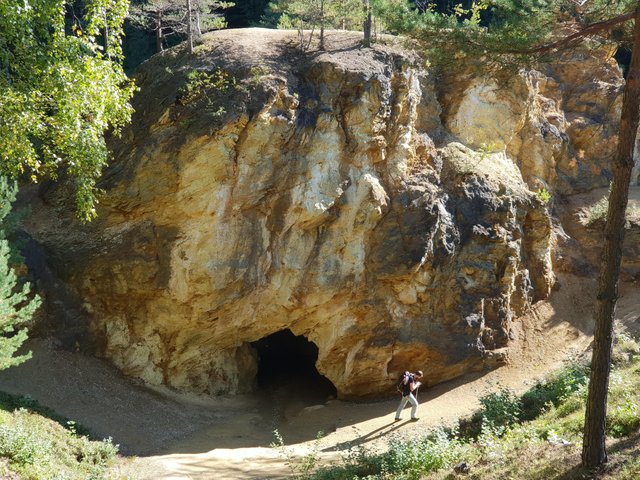 The rock is heavily undulated from the time when it was on the very edge of colliding tectonic plates, some 350 million years ago.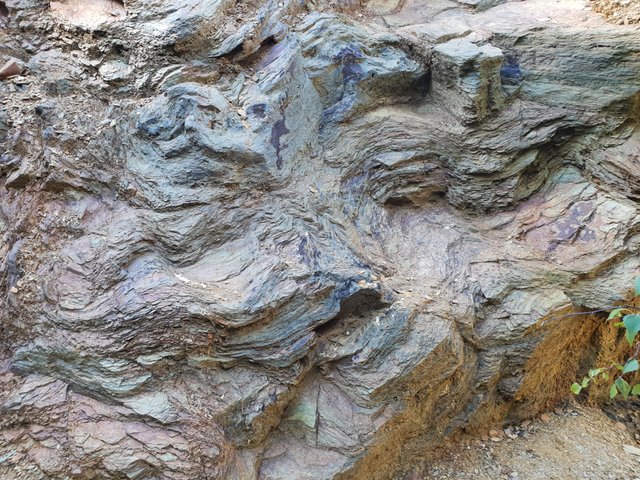 It is possible to climb up for better view, you might experience a slight problem with coming back down though. At some point you'll need to make sharp turn close to the edge above tunnel exit. Since the rock is covered with loose pieces that came off of it, you might slip, and if you do, it is 5m flight with hard landing :o)
There is another tunnel through that rock, where the water from next lakelet flows to the Yellow one. The walls of smaller tunnel as well as shallow cavities are covered with fresh dripstones and tiny crystals.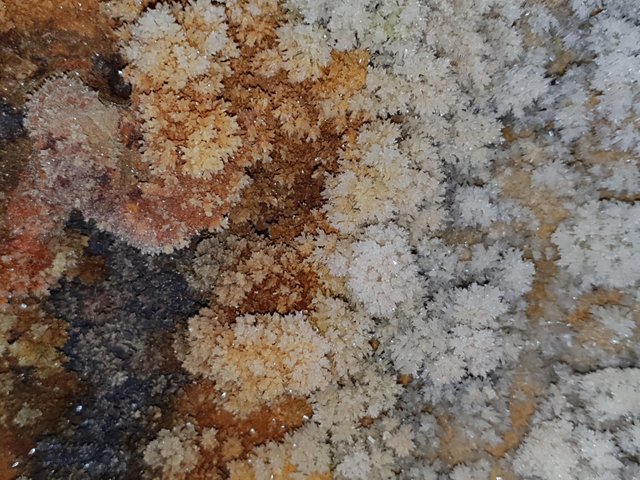 The surrounding rock is full of iron sulfides, mainly pyrite, in a slate. When eroded and mixed with water and other components, it forms some exotic minerals (citing from information board): white pickeringite crystals growing on yellow crust of copiapite, rare slavikite or red crust of fibroferrite.
These sound like made-up-for-fun names like amirite (mamracyt), amido-I-nitrite (czyseradzyt) or cummingtonite (this one is actually name of a real mineral).
The next point on the trail - the Purple Lakelet - is right on the other side of the rock.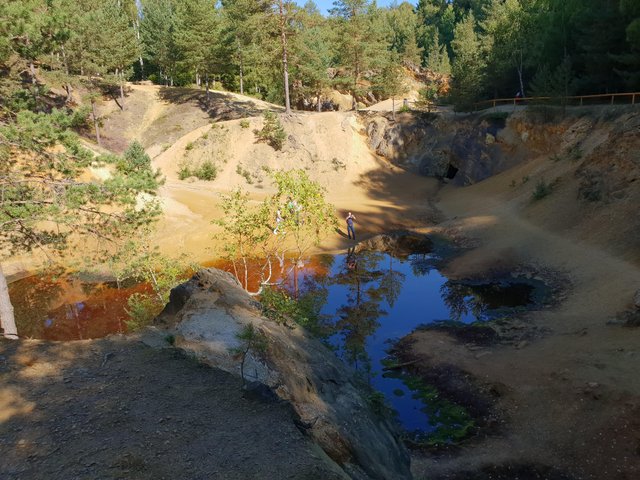 Its name comes from the dark red color of the "water", which is actually a sulfuric acid.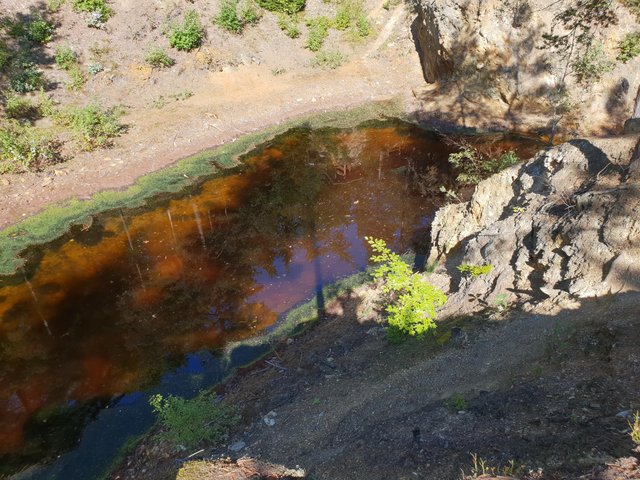 Some glones and plants don't seem to mind the acidic environment, growing right above "fog" of sulfur billowing near the bottom.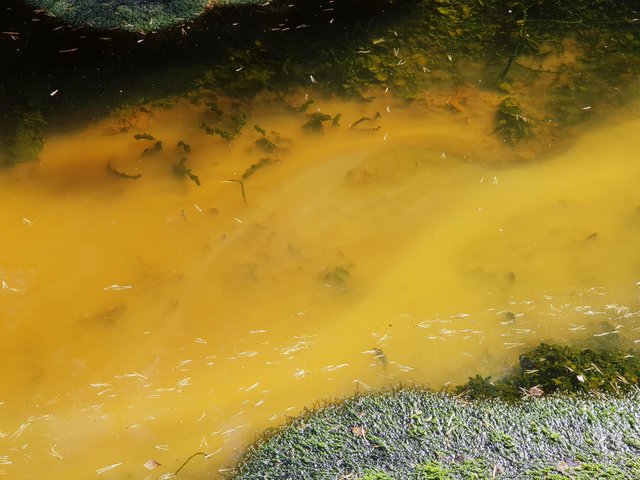 It is largest of the lakelets, surrounding three rocks that nearly turn into islands when the water level is normal. Low water has its benefits - it was easy to reach exit of the mine that supplies lakelet with acidic water.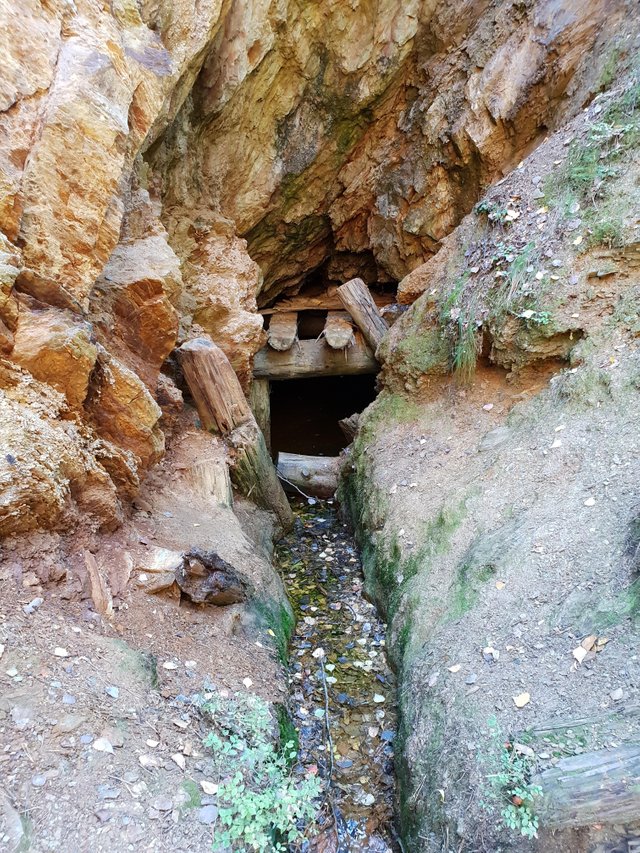 Nature used the opportunity as well, with banks covered with moss and plenty of common earthballs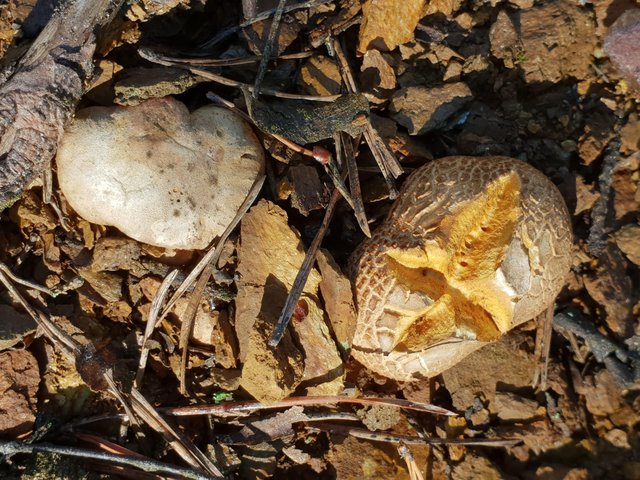 This one looks like freshly baked kaiser roll :o)
Road to next point runs above Purple Lakelet and through the spruce forest. After a while it reaches small mine working area surrounded by rocks.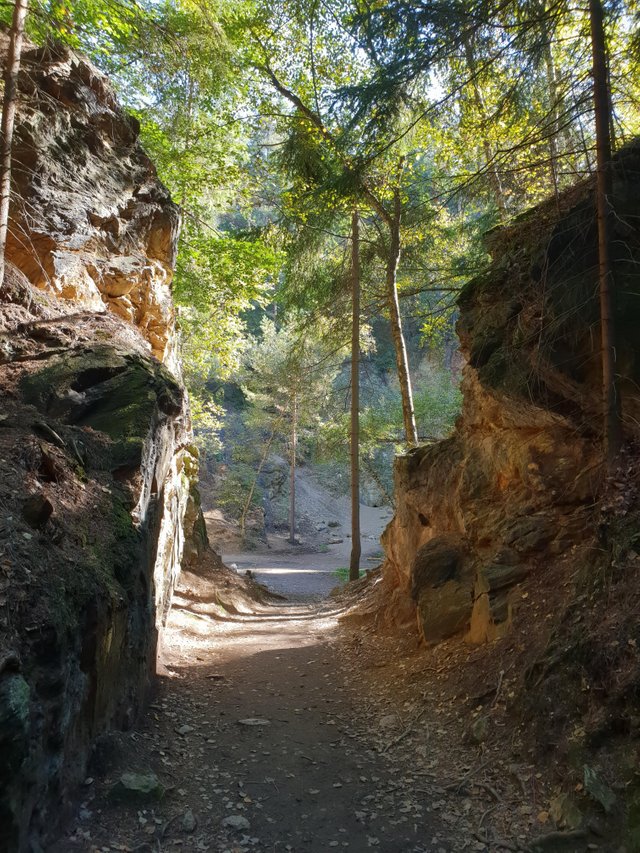 There is an entrance to the adit (blocked by thick metal bars for protection)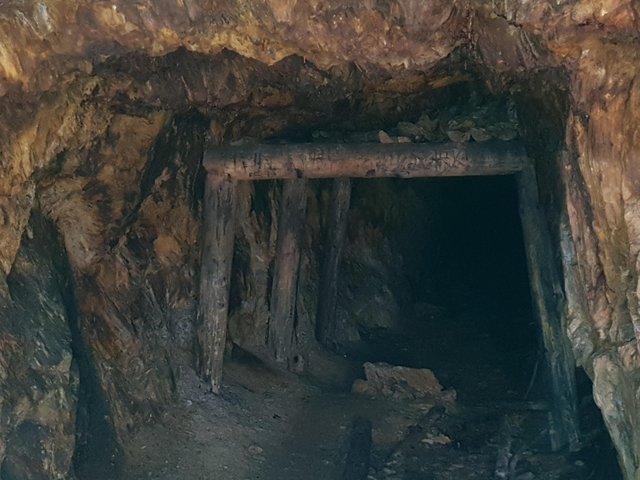 and a narrow entrance to the cave where bats have their bedchamber.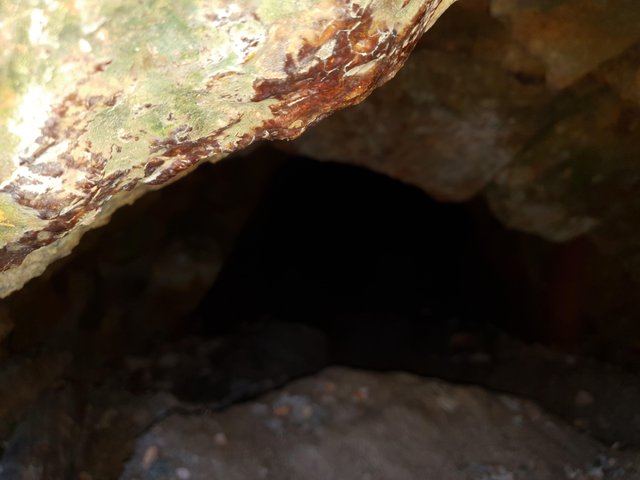 Red dripstone forming above entrance to the cave.
Next the trail reaches third lakelet - the Azure or (more fitting in current condition) Emerald Lakelet. It's not very big, but it is 20m deep. Color of the water is a result of a mixture of lush vegetation and copper compounds.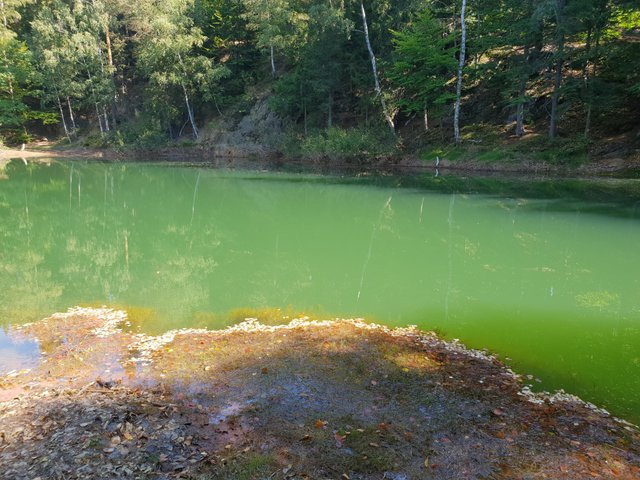 The last lakelet - Green Pond - requires some walking as it is nearly 1km away from previous one. It fills only during heavy rain or spring thaw as there is no other source of water there. This means it was completely dry when I visited it. It remained green though due to abundance of common haircap, flat-topped bogmoss and couple species of ferns.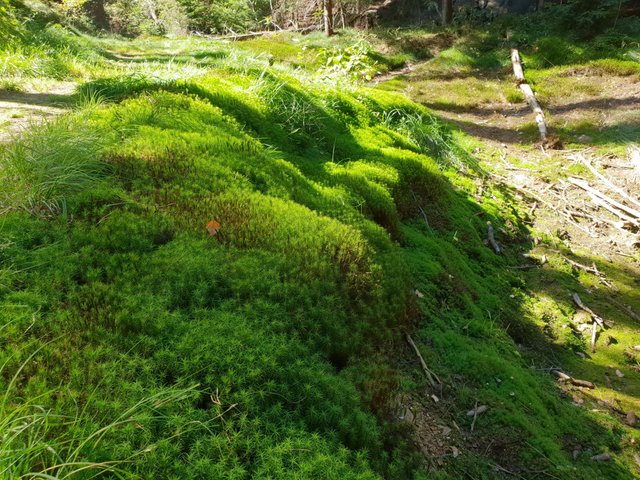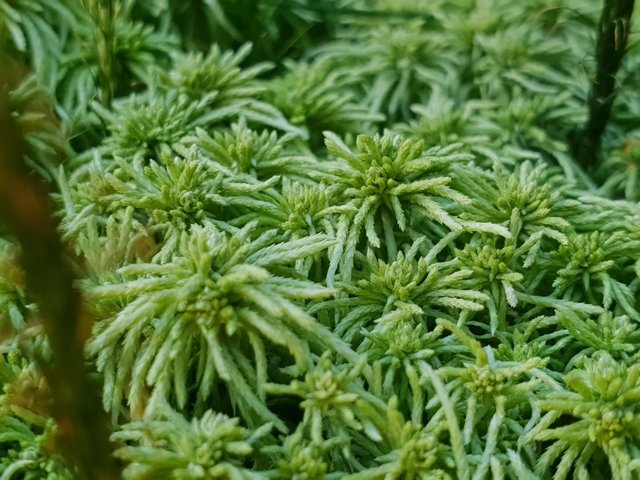 Green Pond ends educational trail, however since I was already that high, I decided to continue hike to Wielka Kopa.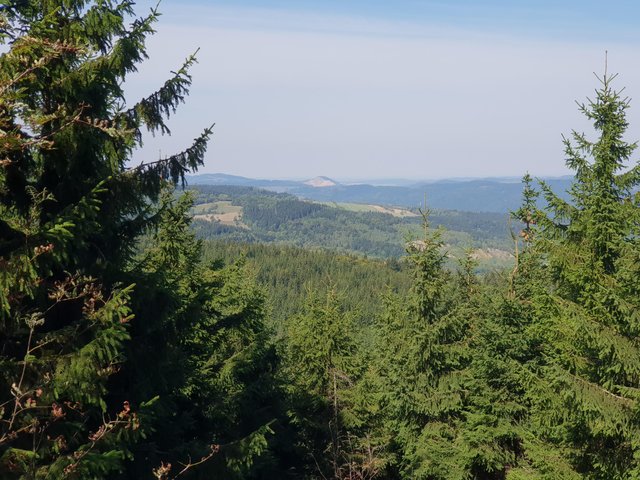 Połom Mountain (south side this time) is easily recognizable and visible from far away.
On the side of the road I found two things I was looking for and one I was not expecting:
Ever since I've first seen wavy metamorphic rock I was looking for a specimen that would show rock undulation, in a compact form, and that would not be falling apart. Finally got one, which is my first find.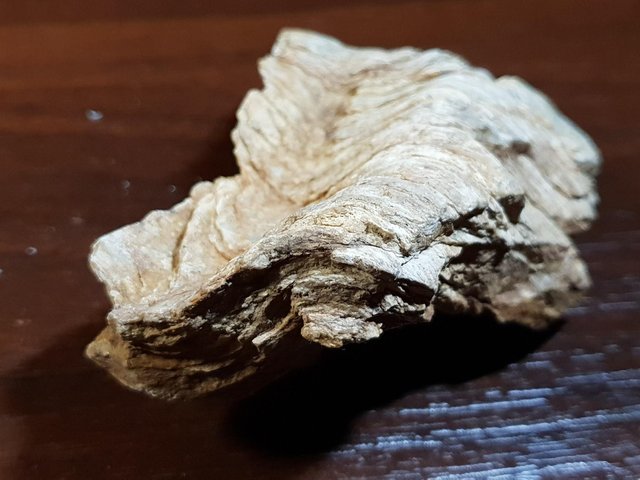 Second is the yellow staghorn - not very uncommon, but since I started collecting pictures of mushrooms I could not find it.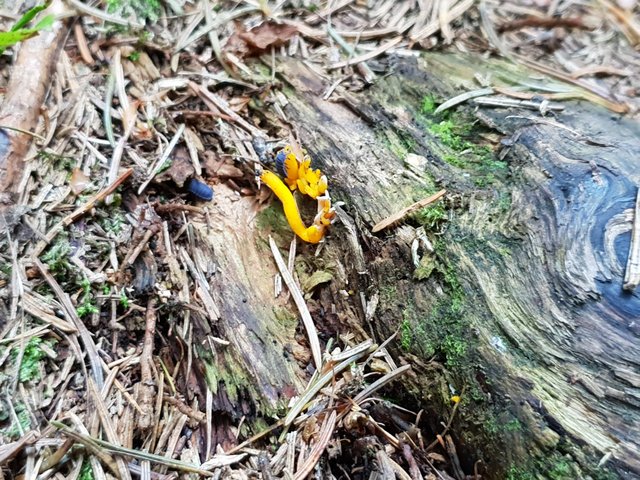 Two rough woodlouse are also in the picture - I love these bugs, oops, sorry, these are actually not insects but crustaceans.
Third was a small boar (but not a piglet) - it managed to evacuate before I could pull my phone from the pocket and take a picture :o(
A trip back to the car was uneventful. But the day was not over yet...