Land of Extinct Volcanoes part 8/16 - "Połom" Quarry
A limestone quarry on the west side of Wojcieszów eats Połom Mountain from two sides. Since it is still operational you can't enter it normally. In theory you could ask guards to let you in, however I suspected it would require permission from higher authority (f.e. trained cave explorers routinely visit caves unearthed by quarry operation before they are subsequently destroyed). For this reason I didn't even try and when I saw a warning sign, instead of following paved road, I immediately turned to the woods heading straight up the adjacent mountain overseeing Połom from the north.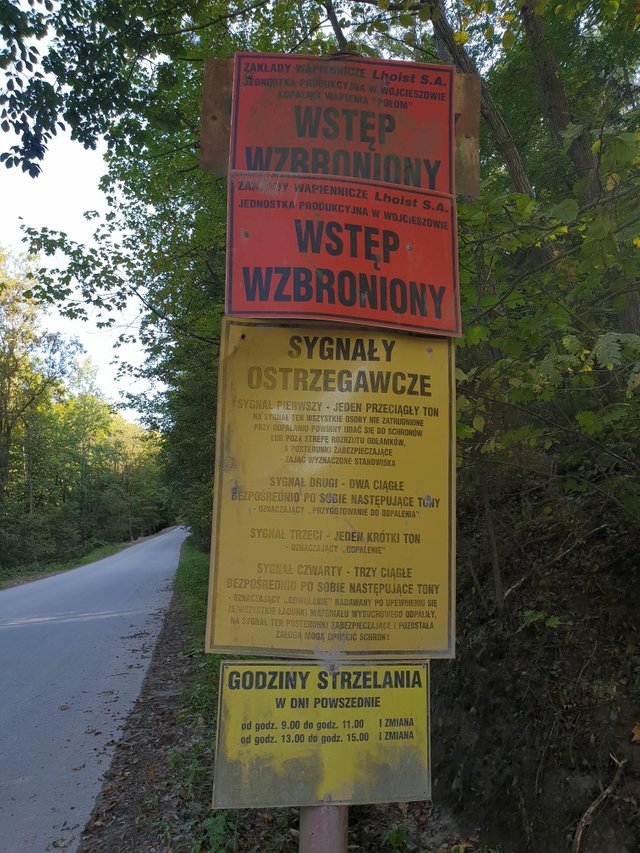 There is no official or even unofficial path, only once in a while I spotted signs that I was not the first person climbing that way. It wasn't easy but definitely worth it.

The rock in the center of above panorama hides pretty scary precipice - shortest way to the quarry below :o) Instead of taking such shortcut, at first I went to the north, because the view looked interesting. Indeed, what I found was an edge above a steep slope of gravel and sand mix. The peak was covered with dwarf birch and pine trees, there was also plenty of bovine boletes despite long period of dry weather.

Now my goal was to reach "Zerówka" - a place for storing sediments, where finest fractions of dredged material are pushed by bulldozers and flushed down during rain. There was no way around slopes, but when I moved to the east the sand disappeared and gravel became bigger - less prone to slide on its own, which means easier to descent. During moving down there was couple of stone runs I had to pass, thankfully most mixed with sparse forest (I have no idea how these trees find any soil to cling on to). I've came across abandoned pieces of old infrastructure - ruins of buildings, rail tracks or power lines. Also plenty of plants. As the whole region, Połom is a place of rare orchids, however this time of year is past their period of bloom, so I got this other flower instead: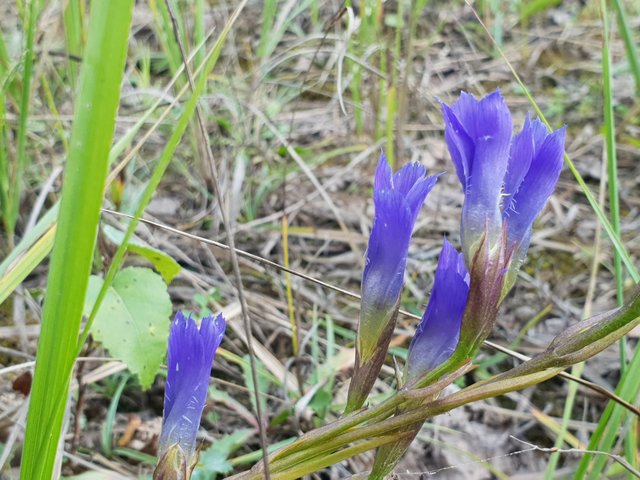 Out of any quarries I visited this one has the most levels and they are also tallest. Look at the trees compared to size of these walls: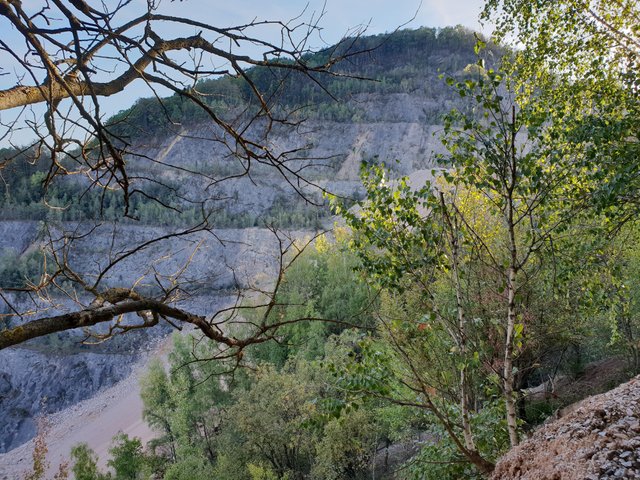 Couple of times it seemed like there might be a shortcut to "Zerówka" :o) - one of them captured from below: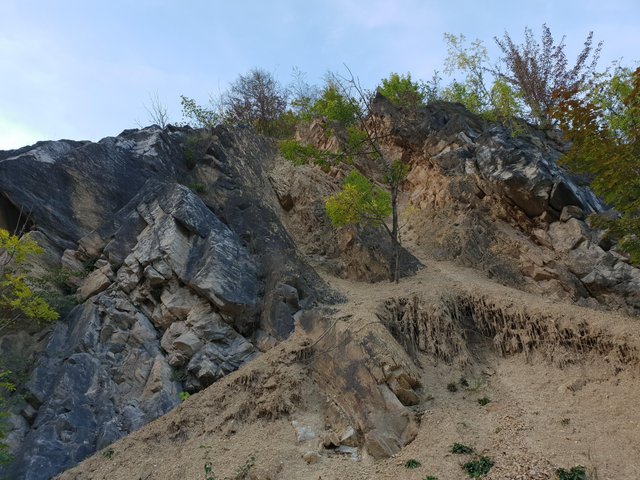 Interesting part of this particular wall was that every stone broken off of it had nice little manganese dendrite pictures on it: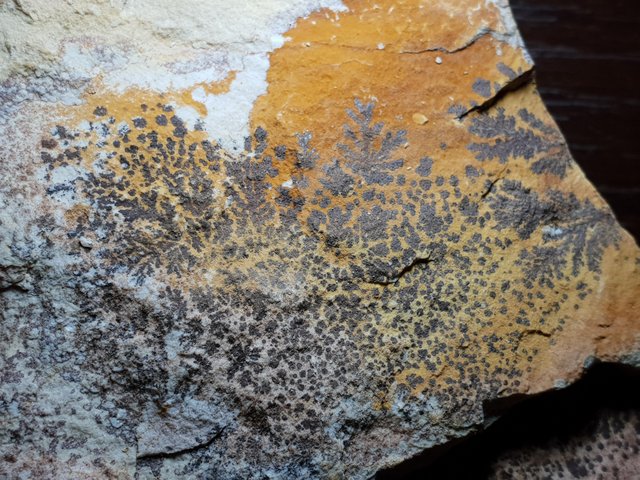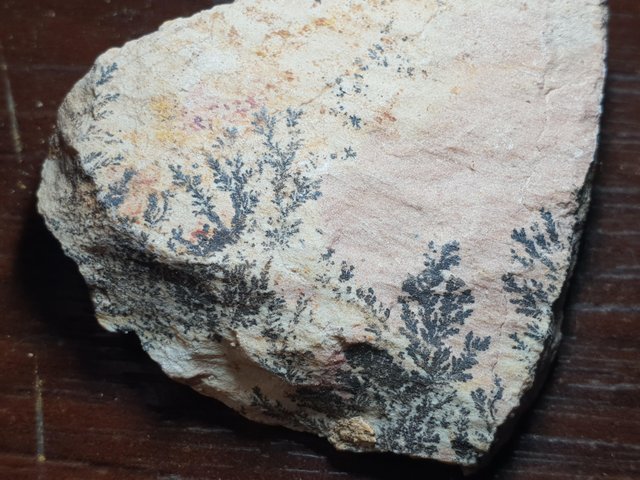 Even though not the tallest on Połom, "Zerówka" is surrounded by pretty tall walls.
Edges of the area are littered with boulders that fell from higher levels.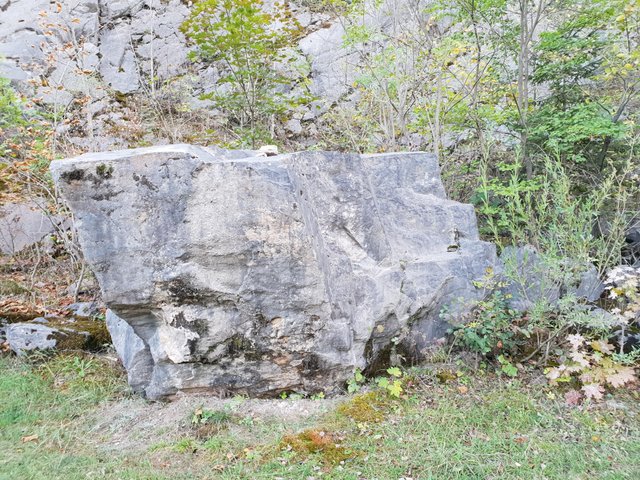 View from the bottom towards heap of rubble dumped there by bulldozers: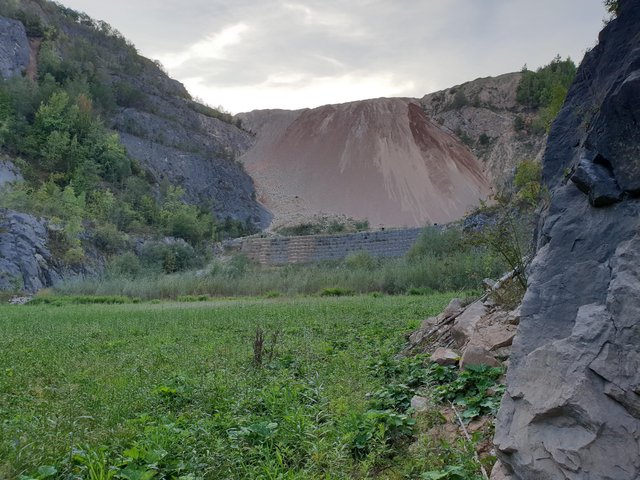 When I walked right below it, I was accompanied by constant sound of pebbles rolling down the slope.
Aaand... that was it. I started this trip close to 4pm and at this point it was half past 6pm and I still had to walk back to the car. At least now I know it is possible to reach "Zerówka" right from Wojcieszów, so on next opportunity I can pick up my trip where I left it. It seemed like it should be possible to climb Połom Mountain itself mostly avoiding places used by heavy equipment. There is also another (inactive) quarry nearby called "Silesia". And it has caves - too bad they require climbing equipment.