🌍Découvrons Le Monde : Fès, Maroc 🌍DTUBE (FR + EN sub) LesPitchousVoyagent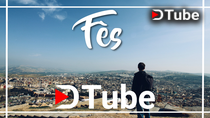 ---
Je soumets avec fierté cette vidéo à la @steemitworldmap et au #traveldigest qui font un excellent travail au quotidien pour dénicher les meilleurs articles de voyages et les compiler! Je vous encourage à faire de même si vous aimez voyager!
Vous pouvez aussi aller voir notre carte perso!
http://steemitworldmap.com/?author=lpv
Hi there! So today we will be discovering Fès, Morocco. I hope you enjoy our vidéo and it make you want to go there!
this vidéo will be submitted to the @steemitworldmap and will hopefully appear in the #traveldigest ! If you don't know about them, go check it out! They do a great job every day finding the best articles about traveiling the world. You can check out our personal map here
If you have any questions or suggestions, feel free, we will respond for shure!!
---
▶️ DTube
▶️ IPFS