Officially I have left this amazing friendamily in the beautiful San Marcos La Laguna, Sololá(on Lake Atitlan)GuATeMAYA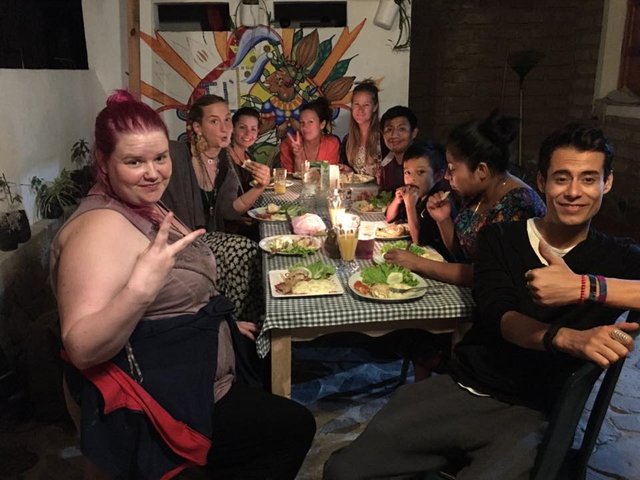 You are receiving this communication from a working laptop in the home of average American Citizens...
Toilet paper goes in the toilet bowl.
Hot water comes out of every faucet.
The internet is fast.
And so far I don't have to pay rent.
Actually I think that's already on its last legs..... (its been about a week and I was forced to get a job at Walmart)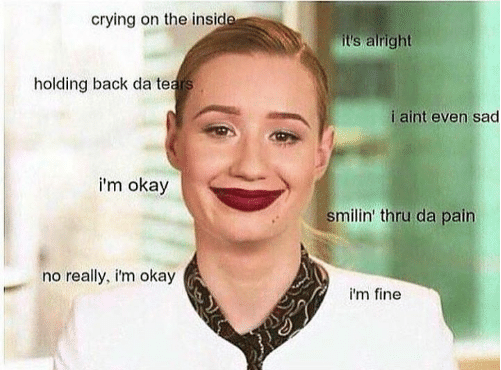 But actually its gonna be fine. REALLY. I'm working on my workshop proposal/presskit type thingy; and there is a school nearby that needs substitutes so I might switch to that. But the sad part is that I really, really, miss my Guatemaltecos and Extrañeros--- especially the people and businesses I'm about to talk about ri-cher
Y muy importante es que yo intento a platicar un poco en español, pero es dificil a decir todo. Puez para el negocio de mi amor ESSS
Escuela Caracol (donde hablo solo en español)

English speakers, I'm sorry there aren't any translations for the video. But you can tell by looking at it how they feel. YOu can see the amazing things the kids are doing.. and that was years ago! Now they are doing so MUCH MORE!!
Also.. here is a bit about the pedagogy of steiner/waldorf IN FRENCH, lol.

Unfortunately i was too too busy and don't have any photos of me or my music classes but maybe I can explain.
First of all I went there after volunteering at the fun but a little too much for me, Hostel Del Lago (btw everyone should go to Guatemala and stay there for at least a week, contact @buttcoins for the Steemit crypto discount lol) --- and when I found them they were in desperate need of a music teacher for 3 weeks!
http://escuelacaracol.org/what-is-waldorf/
[heres a link to their website which is displayed in english btw ;)]
Well I jumped right in and there were teachers co-teaching with me in every class (well except primary but it was okay). For the first three weeks I had to pull out every old k-12 trick I could think of after not teaching for a good 4 years. Truth be told I am really resistant to kids music and tried to teach my way. It ended up being half and half because all of the teachers there have a basic understanding of primary music and know WAY more kids songs than me! It was especially hard with the older grades of course because they are in a big group together for one and 2- a lot of them know guitar very well!! Seriously, melodically they played better than me. It really didn't matter that I understood the theory and write songs, lol. Also when you love your teacher, you love your teacher! No one can compare. Well maybe these two really really talented teachers of Euritmia came RUTH y SIEVE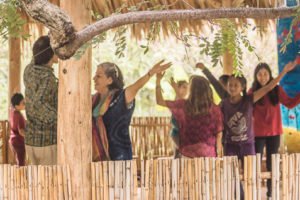 http://escuelacaracol.org/eurythmic-experts-visits-escuela-caracol/
BUT THEY left and DIEGO came back!! and I asked to stay on. They let me.
THE FIRST WEEK WAS LIKE---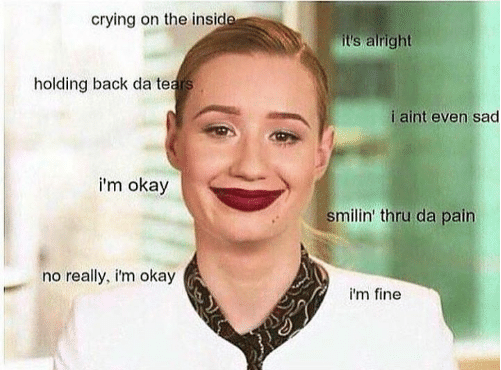 you know you wanted to see that face again.
But seriously it was hard to be behind in a class full of teenage guitar players and to see how amazing Diego, the school Music Teacher was and realize how much i didnt have to offer. I cried for sure. Actually to be honest i WAS on one of my insane periods, but it really was hard. They say the lake is a mirror. I really think its true. Once I really started looking I found the music that was long vacant in me and I saw how I had been masking my pain with meds when I all I needed was to leave Boston and play music!!
Its actually sad to think about now because after that I began to create some amazing bonds with the students... AND.. also someone else special... a beautiful guy actually..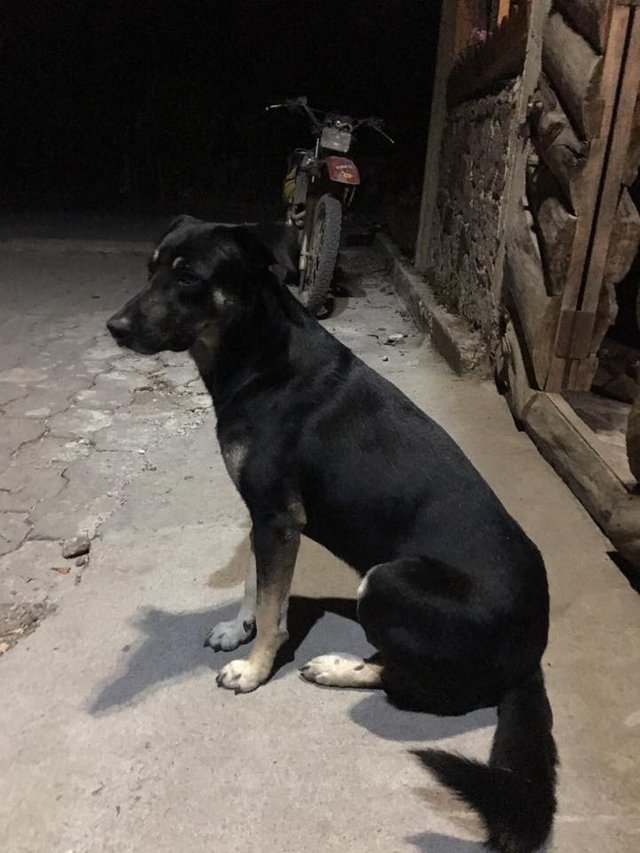 This is actually a photo of him guarding Hostel Del Lago. He loves that place and now I've got him held hostage in a doggy hotel. Actually I just got the money to keep him in there. We had him and another dog fixed and got them shots thanks to a great organization called AYUDA. https://ayudagt.org/
Truthfully it was a lot of physical and emotional labor taking care of him, but I can say that AYUDA and also some really great animal lovers in San Marcos helped me with getting him fixed. Literally AYUDA vets set up in an auditorium and people brought in their dogs. It was a whopping 300Q (only about 44 USD but a lot if you dont have a real job in Guate)
but look at him.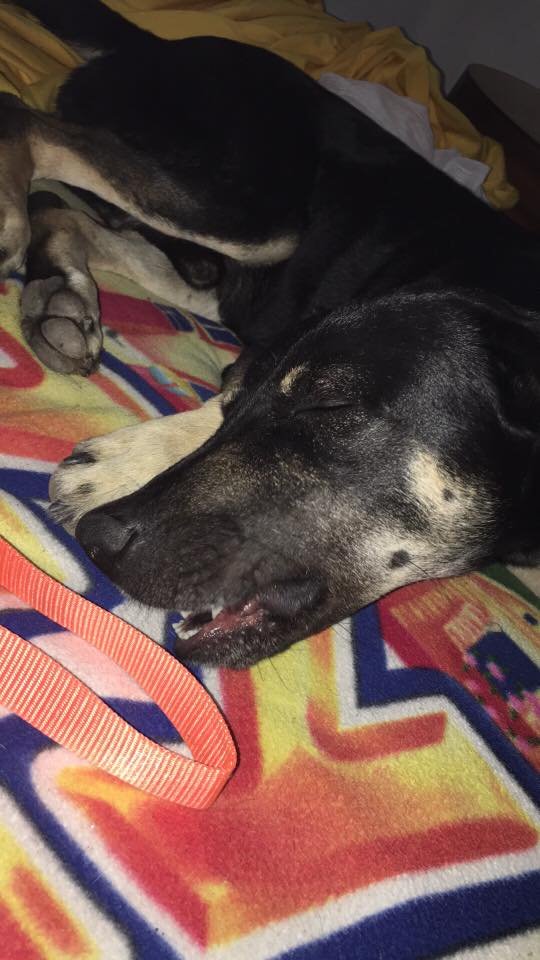 this is him chewing a small bone. Some small joys that I offered him while we were together. I know its gonna be hard when I see him again. Honestly I feel bad but I refused to leave him in the street and I'm really glad hes staying with Lucky Dogs in Panajachel.
https://www.facebook.com/luckydog.pana/photos/a.1844063438955008/2210585255636156/?type=3&theater
They also took another stray dog that a friend of mine found and the community wanted her to get fixed. I took her to Lucky Dog as a stray and they will try to find her a home.
Since we are talking about animals it would be bad not to mention these cutie that were in a house that I stayed at: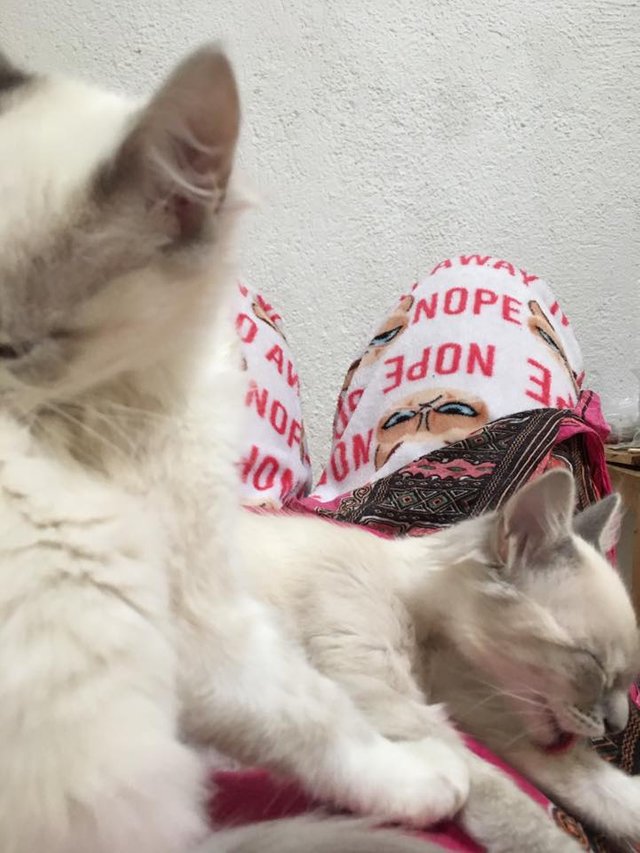 Gatita (kitten) 1 and 2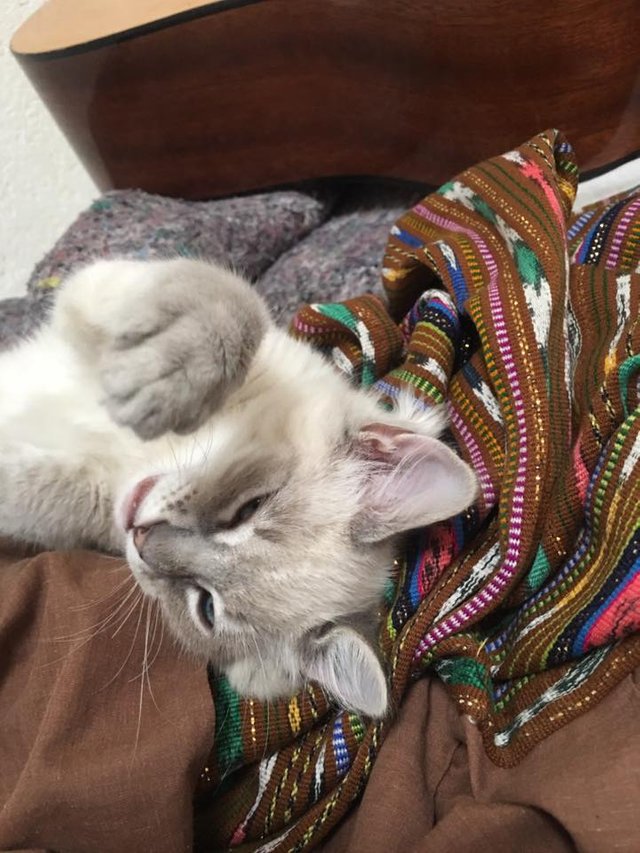 this one was my favorite... but I only stayed ther e few days.. just enjoy their cuteness temporarily, like I did.
Unfortunately the Animal Madness did distract me from doing well as a volunteer music teacher. But I think I should mention this organization:
They are doing some pretty amazing work empowering women and kids. Their space is really small but they have after school meal and enrichment from reading, sports, to.. music.. and then I got a dog and that sort of ruined everything. They were all really sweet as well. It was good to have a connection to kids from the public school. I didn't have the time to volunteer there, and it was a little overwhelming. So many huge classes and I felt very unprepared with so little spanish and no spanish songs..
But anyway Konojel is a great organization that needs more space for their afterschool programs so please check them out, hehe.
But enough about caring , giving, and uplifting..
My BEST FRIEND in San Marcos became this guy at an awesome cafe and music venue--
Angelo from Cafe Camino.
https://www.facebook.com/Fastslowcamino
He was there for me and cherished my voice. I sang improv on that stage more than once. I was allowed to stay late and gossip with him while he let me use his devices since mine had died.
Also in Cafe Camino I found my great friend and a possible way in to teaching English.
Gabi Gab---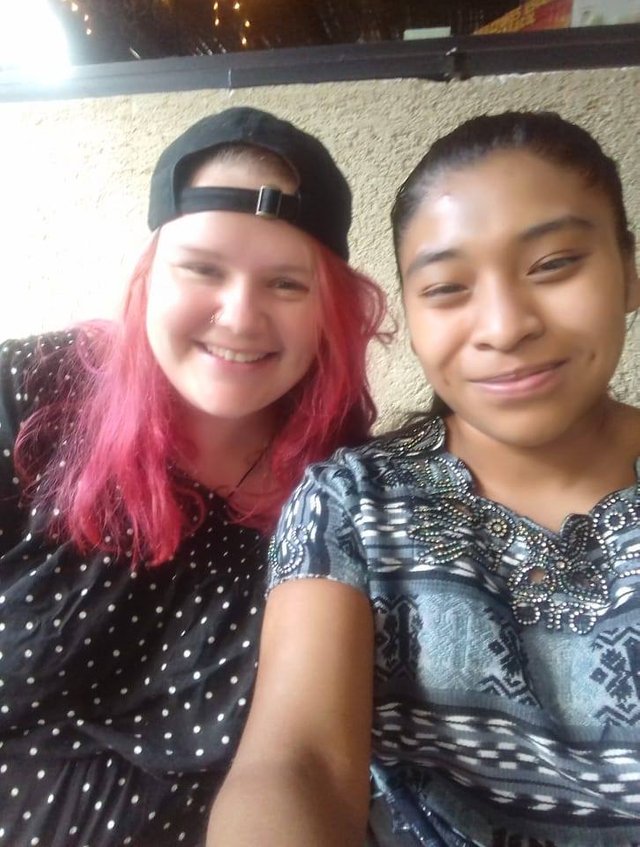 We work hard, and we play hard. hahaha.. but yea it was a real English=SPanish exchange. Because she really knows how to speak Spanish well. Very smart young woman.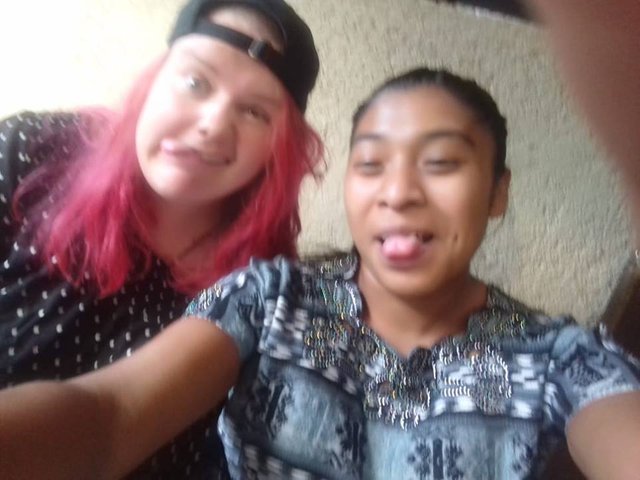 That was my past few months.. my present is a bit wobbly but its LIVE i think. I have stuff cookin (maybe too much) as far as music goes. I am working on learning body music first and foremost and doing some funky acapella arrangements of old jazz and show tunes! Unheard of stuff because I found it at a barn sale. Yes, I'm in a place where there are Barn sales. Eventually my dream of making a body and acapella neo-soulfolk theatrical piece will arise .....lol
As for TEAM GIRL POWA? its still got a fired bubbling but I clearly don't have the time or patience to run it!! lol. Let me know if you DO I'm taking applications for HBIR (head bitch in REbellion). I am gonna stay hella feminist though but I think I will do it with a smile as much as possible. I will avoid this place during my period. Wish me luck.
I start working at a very special place tomorrow. Not Disneyland..but something quite like it. I hope I get to meet Wally Mouse.
This is that (new name) Magenta Voice: Vokalo Butterflee signing off:
Lima Being AKA Capn GIrlPOWA aka Lisa Muthafucking Muh-rie

yay the old school annoying banner. and the nice one...

btw Ricki Lake loves bitcoin and is my new hero.