Explore Hong Kong with me #8-帶大家去尖沙咀"掃街"🍢 🍹local street food in Hong Kong and coffee shop in Tsim Sha Tsui
Hi Steemit friends,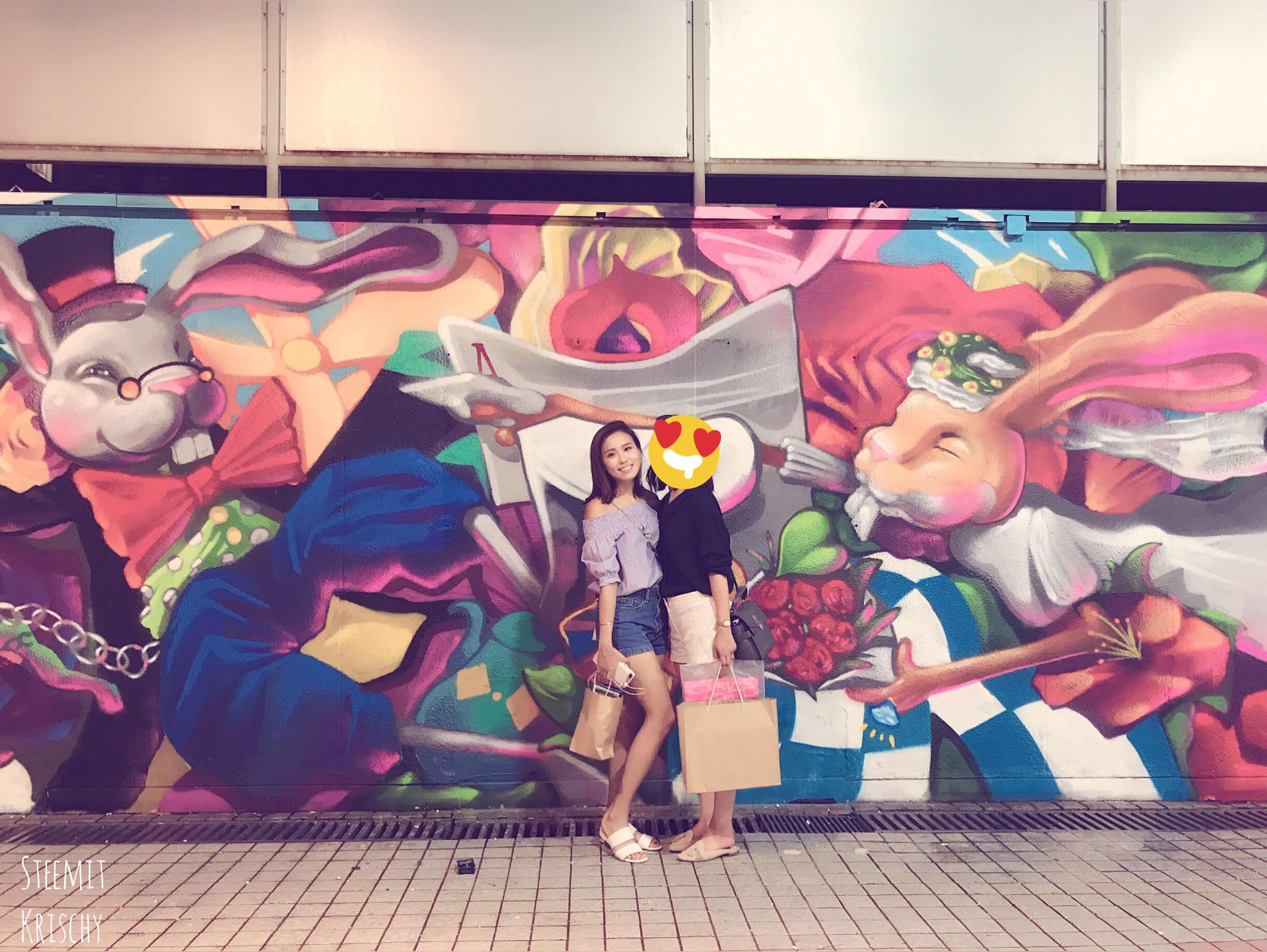 Hope you are doing good today.🌹 As you may remember, I introduced two local street food shops in my Explore Hong Kong with me #6. Hong Kong is famous for its food and it brings together cuisines from all over the world. And street sweeping in local lingo ( sou gai) is an essential Hong Kong experience and no Hong Kong experience is complete without trying Street food. Even Michelin has launched its street food guide in Hong Kong. This weekend , my friend travelled from the U.S to visit Hong Kong and I decided to bring her "Sou Gai". And to start this journey, we decided to visit a local coffee shop with incredible 3D coffee Art.
Steemit的朋友大家好,週末大家都去那裡遊玩了?不知大家記不記得我在Explore Hong Kong with me #6 介紹兩家我很喜歡的街頭小食店呢?香港以美食天堂而聞名,匯集了來自世界各地不同的美食,而「掃街」是一個在香港旅遊的重要體驗,米芝連更為香港推出了街頭小食指南。「掃街」的意思在街上閒逛,邊走邊品嘗整區的街道小吃。今天剛我的朋友從美國到香港旅遊,所以我就帶她到尖沙咀「掃街」,嘗試不同的街頭小食,體驗這個香港的獨特文化,開始掃街之前,我們決定先到訪一間咖啡店,它們有很可愛的3D立體泡沫咖啡。
Let's begin our journey~ 😉 開始我們的旅程~ 😉
1. Allegretto
Latte Art can be inspiring and artistic, baristi always come up with different designs and patterns on the surface of the latte. The Baristi in Allergretto has brought the latte art to the next level. The Latte Art of this shop pops out from the coffee cups. It's a pretty spot to chill after you get tired strolling around Tsim Sha Tsui or have a casual lunch with friends.
咖啡拉花可以有很多變化,咖啡師就像一個藝術家用牛奶在latte或cuppuccino拉出不同圖案,而Allegretto以它們的3D立體泡沫咖啡揚名,不少因爲聞名而來,我們也不例外,它們家的咖啡太可愛,女孩子真的無法抗拒>V<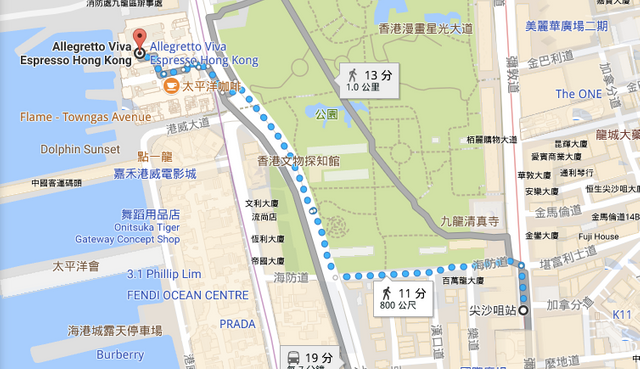 Allegretto is located around 11 minutes walk from Tsim Sha Tsui Station Exit E.
從尖沙咀E出口步行約11分鐘。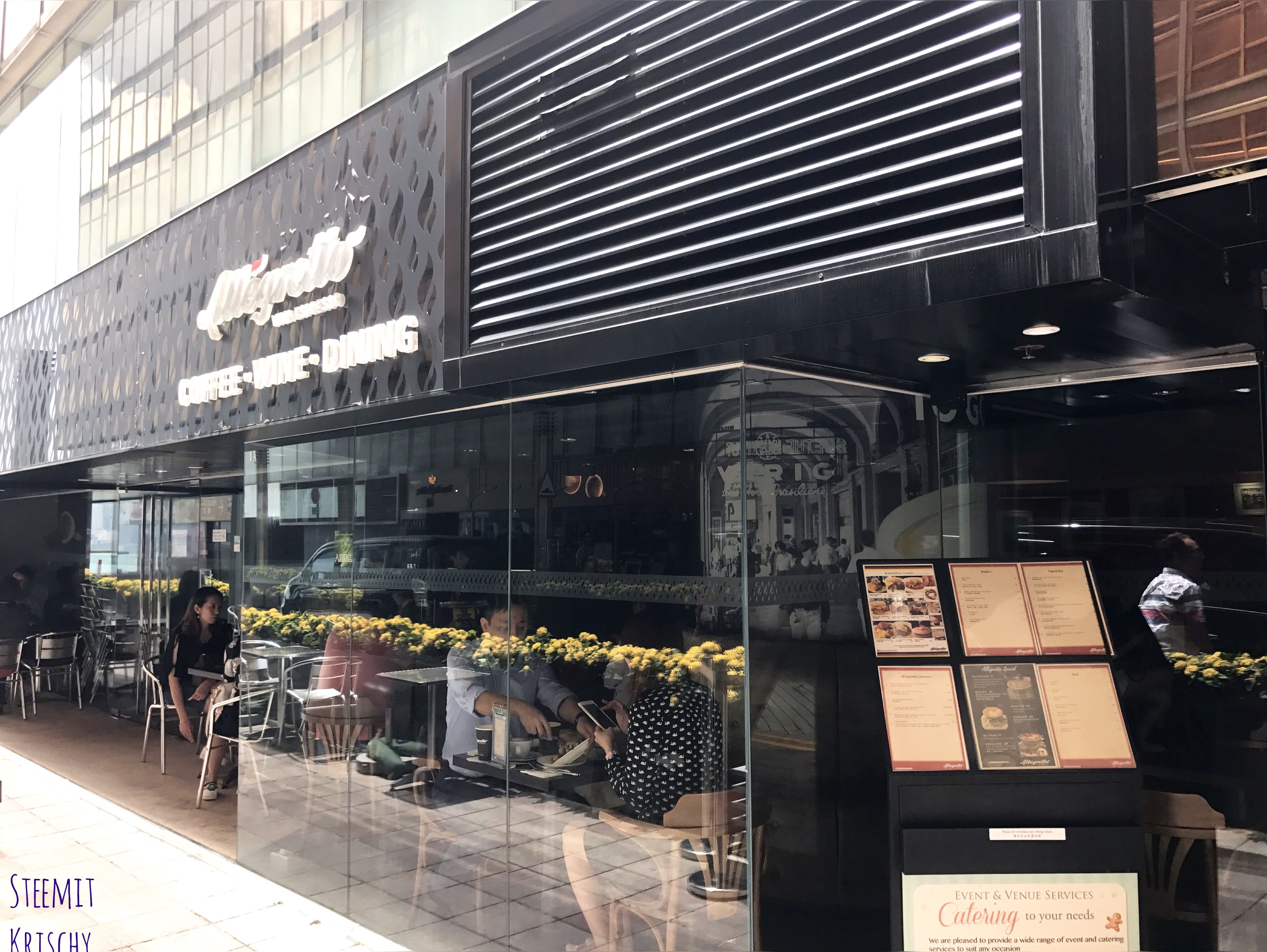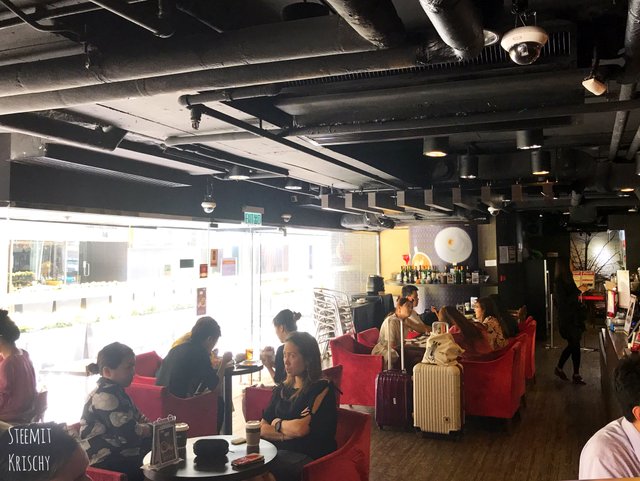 Coffee shop is in modern style using red and black colour as their theme colours. I like its strong contrast of the interior design :)
咖啡店以黑紅色作為主調,桌椅牆身都用了黑紅色,咖啡廳環境舒適,是一個適合和好朋友聊天的好地方。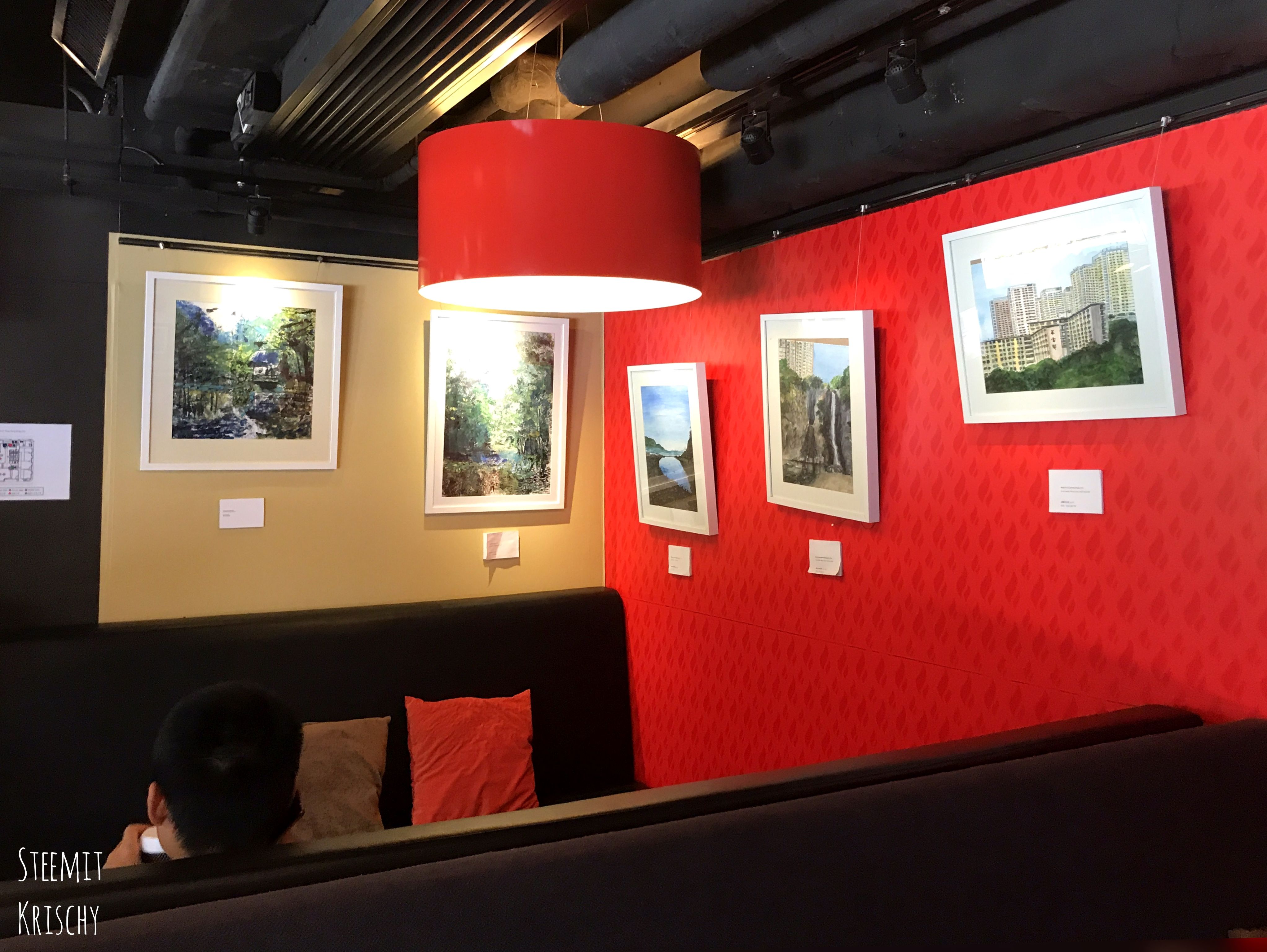 And different paintings are hanging on the wall.
牆身掛了不同畫作,不少是以香港街道景色為主題。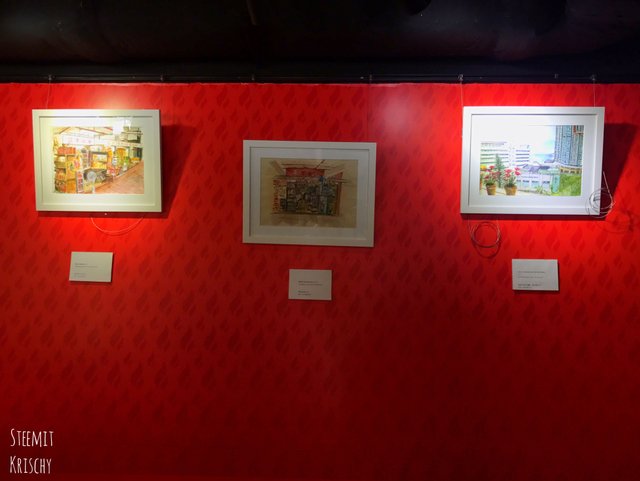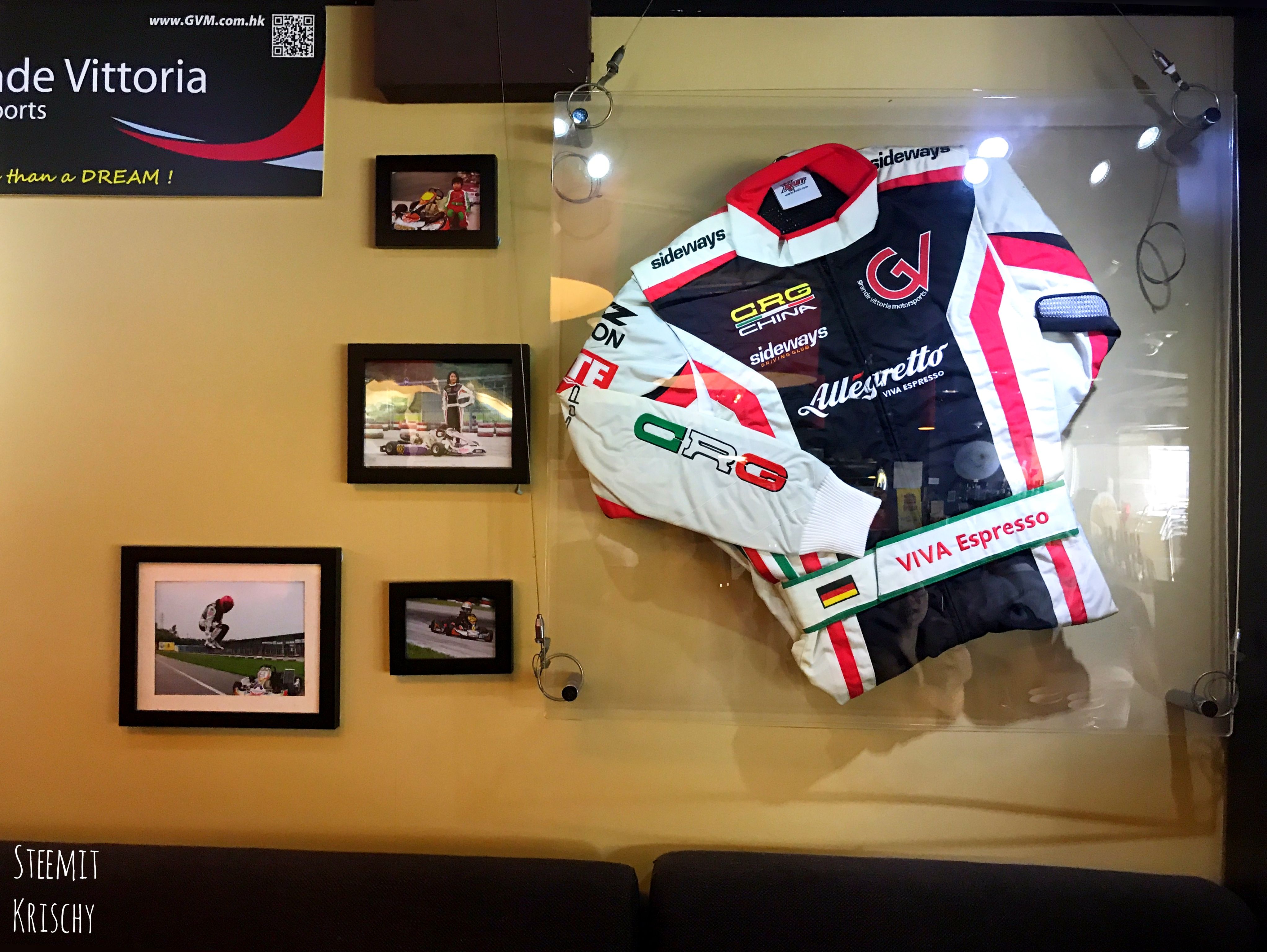 Let's see what we order today~😋 😋 😋 我們來看看今天點了什麼😋 😋 😋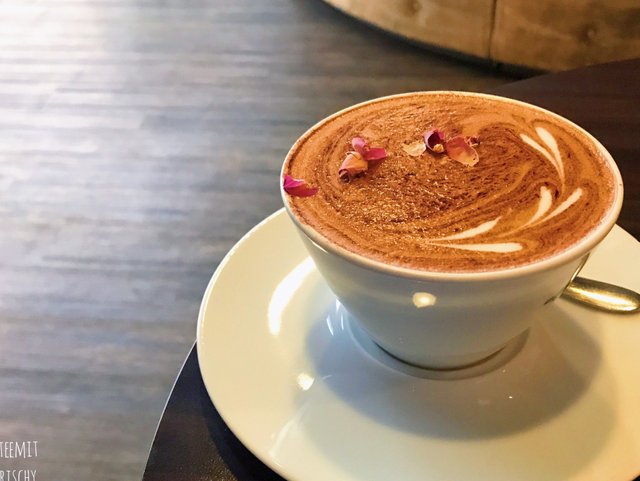 Rose Mocha. For those who love the taste of rose and chocolate, this rose mocha surely hit the spot. It taste more like a chocolate than a mocha to me :P But it still taste pretty good in my opinion.
玫瑰摩卡,這杯玫瑰摩卡喝起來很像巧克力,咖啡的味道不是很重,喜歡玫瑰和巧克力的朋友應該會蠻喜歡的

3D Art Cuppuccino. It's super adorable. What girl could resist such adorable 3D latte art, right?
3D立體泡沫咖啡,這款只有Cuppuccino可以選擇喔,如果想喝拿鐵就要選擇平面的。這個超可愛的~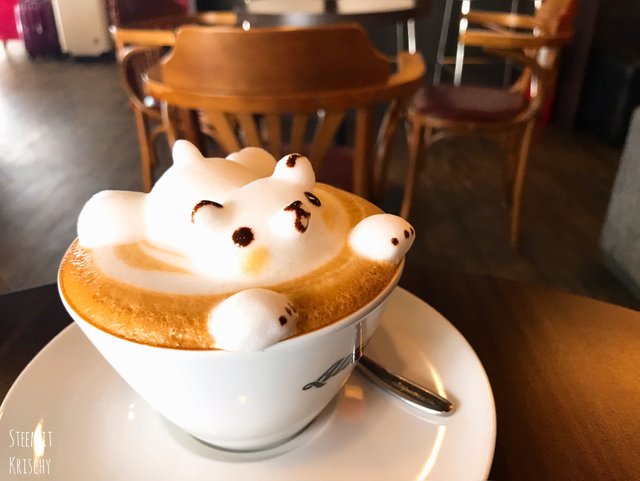 Another 3D Art Cuppuccino. This time is a bear floating on my coffee.
另一杯3D立體泡沫咖啡, 是一隻可愛的小熊, 他好像在游泳, 哈哈 :P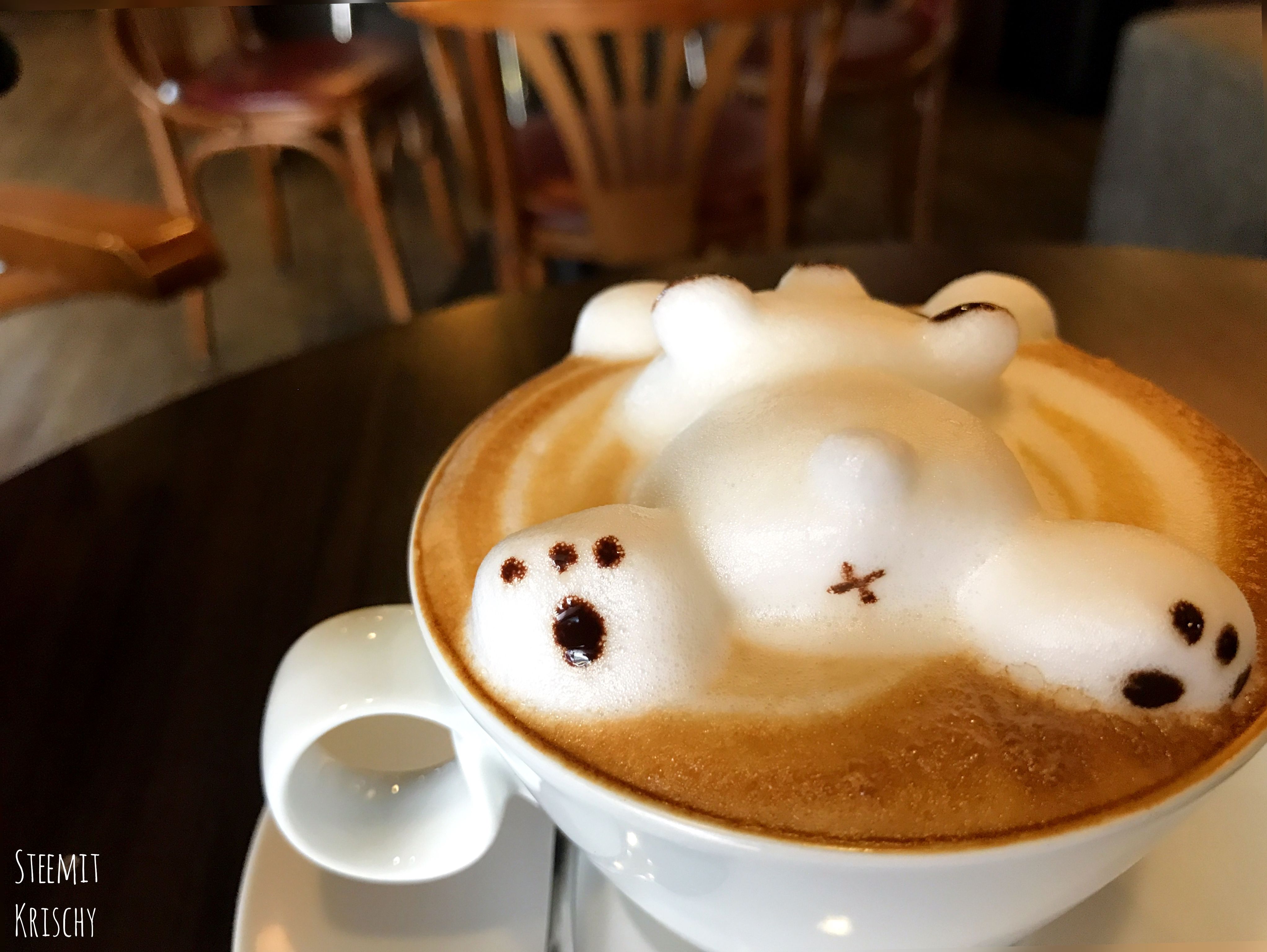 They even paint on the back of this bear. Looks how cute this is.
看看小熊的背面,他還有尾巴和腳掌,也太可愛了吧 > <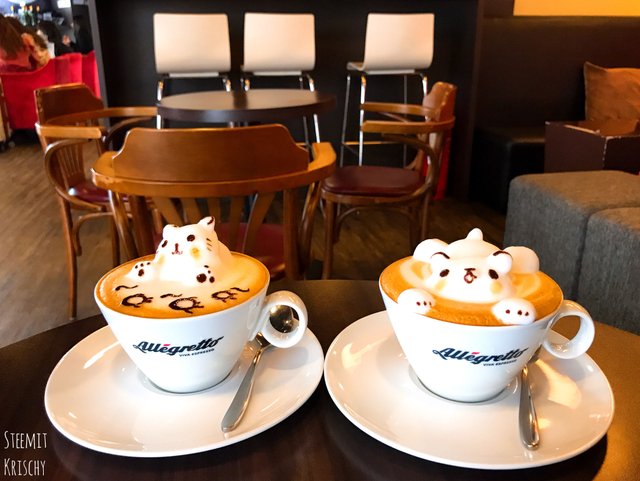 Photo time with my girls:P It's worth the experience but the latte is just average except with 3D Artistic design. I am impressed with the 3D coffee Art.
這間咖啡廳很適合和朋友休息聊天,體驗一下3D立體藝術的咖啡,但咖啡質量一般,如果你只想享受一杯高質的咖啡,我就不是很推薦了:)
---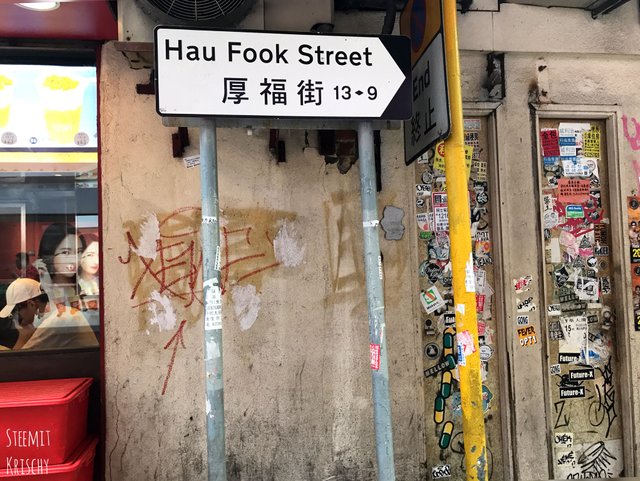 Next we move on to "Sou Gai", the street food stores I am going to introduce are located on Hau Hook Street, Tsim Sha Tsui or the street next to it. You can find many different restaurants and street food stores on this street :P
到訪咖啡廳後,我們開始「掃街」,我以下介紹的幾家小吃店都主要在厚福街,或是在厚福街的附近。厚福街有很多不同的餐廳和小吃店。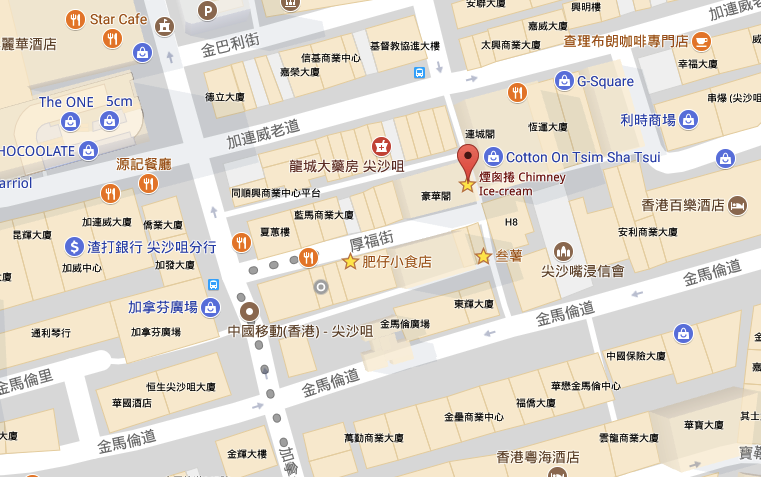 2. Fei Jie's Shop 肥仔小食店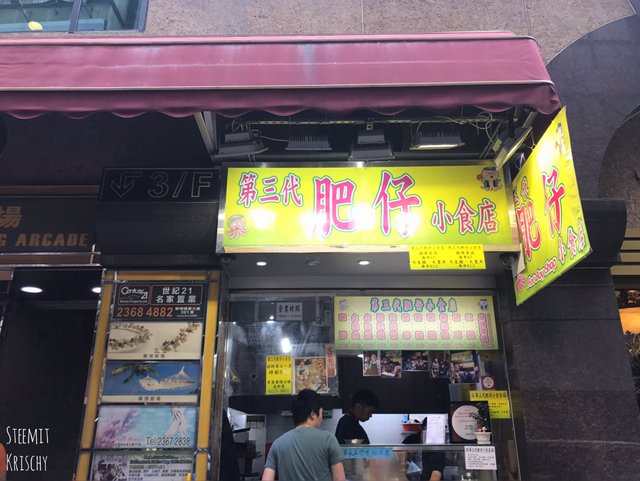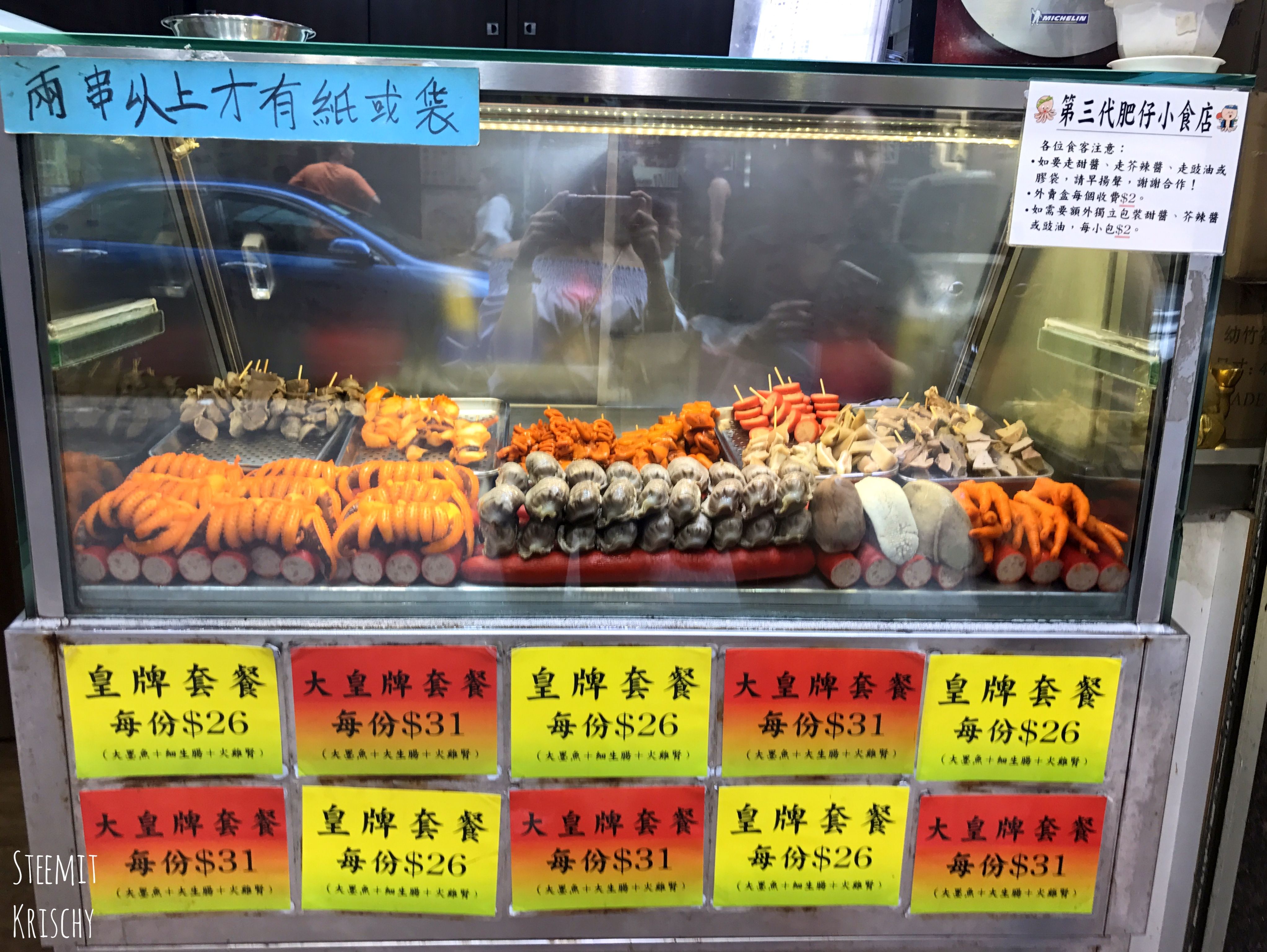 Here's the menu, there are different combinations provided for the customers to choose from. Famous for their grilled squid tentacles, Mini waffles, Cuttlefish, Chicken kidney etc.
肥仔小食店很有名,他們是米芝連推薦的小吃店喔~相信大家都聽說過吧:P他們家的墨魚,生腸和雞腎都很好吃,喜歡吃內臟的朋友可以試試喔。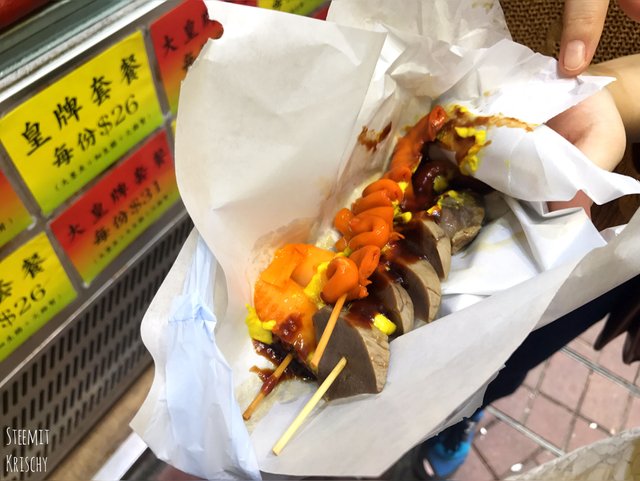 Here's the food that we ordered. squid tentacles, chicken kidney and pig intestine. They are served with mustard and hoisin sauce.:P My friend said they taste very delicious. It's probably the best place to get "sang cheung" pig intestine in Hong Kong.
這是皇牌套餐,有大墨魚,生腸和雞腎。
---
3. Changzhou Glutinous Rice Ball 長洲糯米糍
It's located right next to Fei Jai's shop who famous for its Mango glutinous rice ball originated in Changzhou, Hong Kong. They are soft glutinous rice hidden within it is a big piece of mango. It's also known as Lo Mai Chi in local lingo. Other than Mango, there are different flavour to choose from, durian, strawberry, etc.
位於肥仔小食旁邊的是長洲糯米糍,這家小食店在長洲很有名,而芒果糯米糍是它們的招牌。這次我們點了芒果和榴連,我個人比較喜歡榴連️😋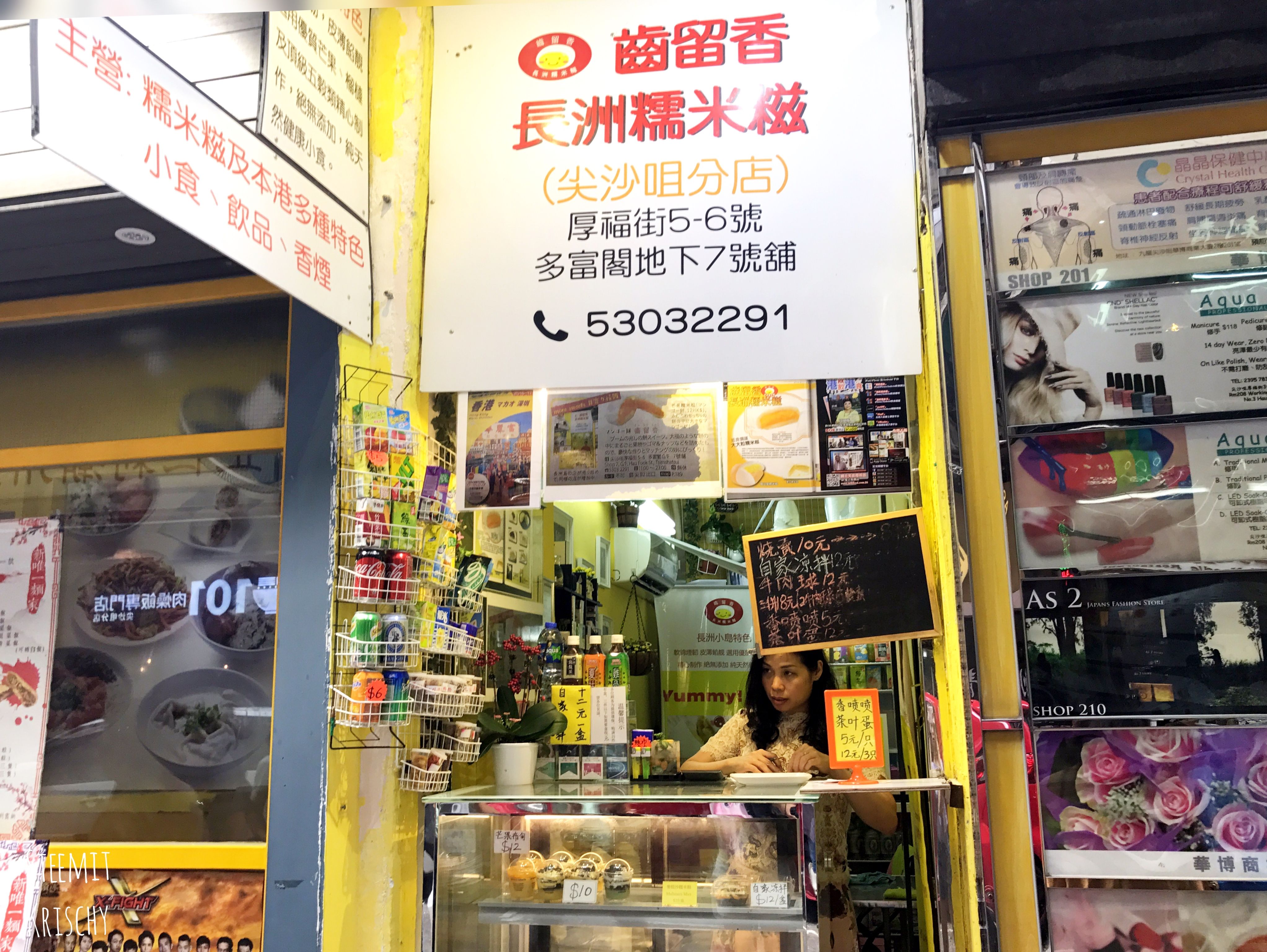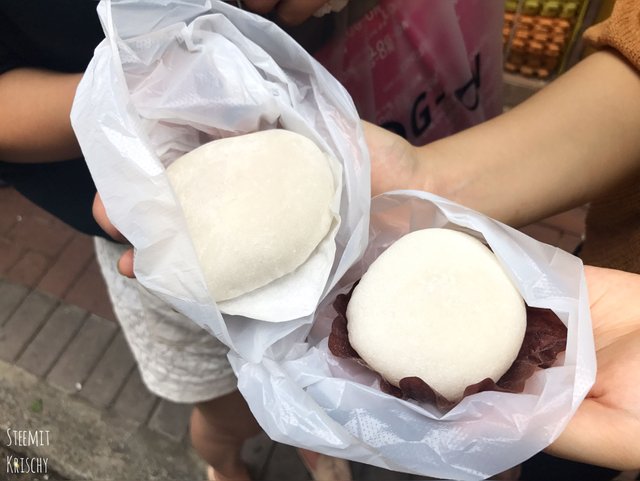 Mango glutinous rice dumpling and Durian glutinous rice dumpling 😋
芒果和榴連糯米糍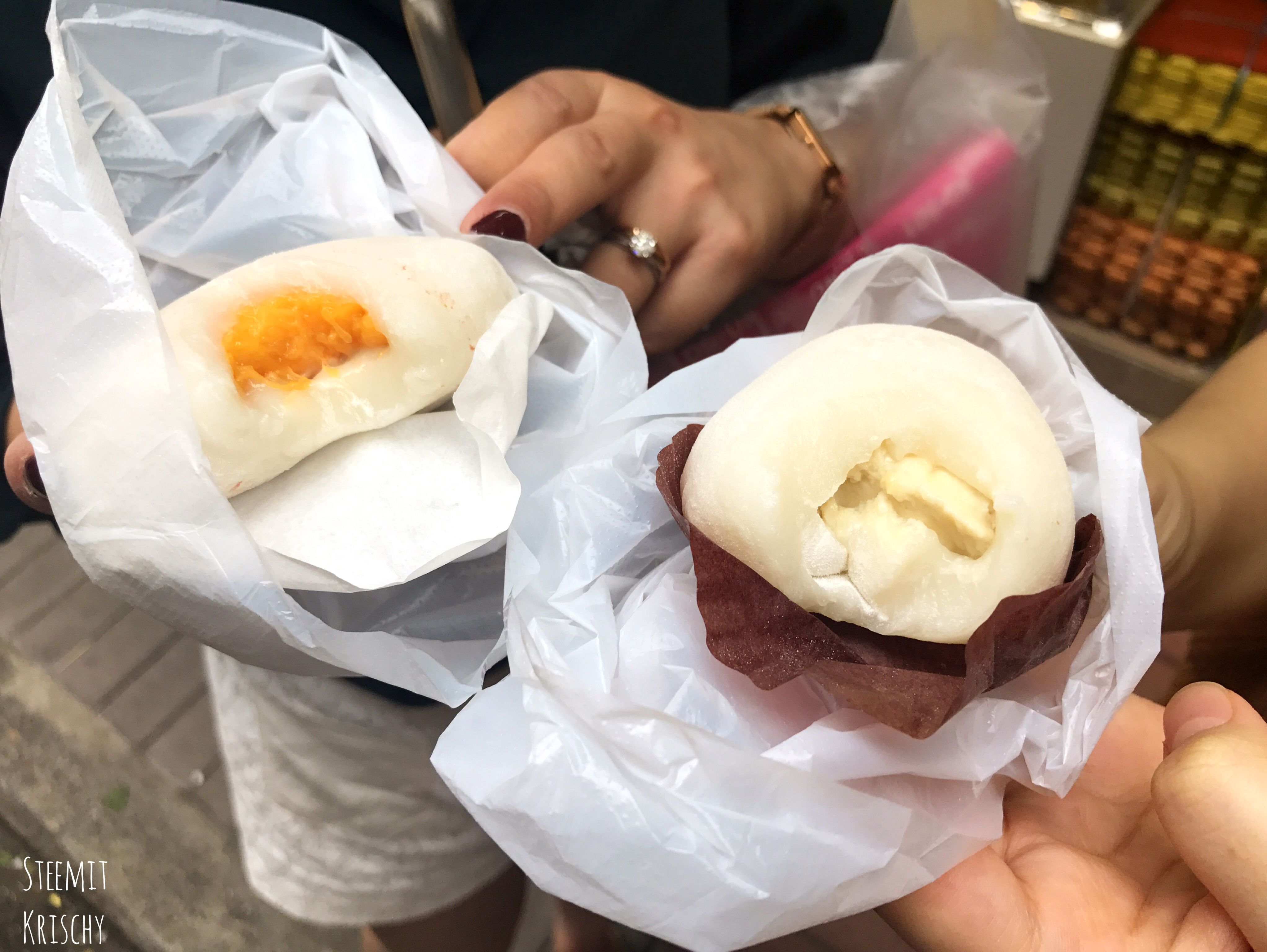 I prefer durian to mango as I am a big fan of durian. I know the aroma of durian is very strong,and some people found its smell repulsive. You either hate it or love it .
---
4. Chimney Ice-cream 煙囪捲
Walking for like 2 minutes from Changzhou Glutinous Rice Ball shop, we get to the Chimeny ice-cream. Chimney is a bread-like pastry with peanuts or coconuts crunch on the outside and soft on the inside. They are used to replace the traditional cups or cones for the soft serve. Chimney Ice-cream have different combinations of soft serve and types of toppings.
從長洲糯米糍這家小店步行約2分鐘就可以到下一家小店,煙囪捲。他們以捷克街頭小食煙囪捲為主打,麵包外蘸上砂糖及椰絲或杏仁粒,再唧入軟滑的雪糕。用煙囪捲代替傳統的杯子還蠻特別,不過麵包有點偏硬,略嫌不夠鬆脆。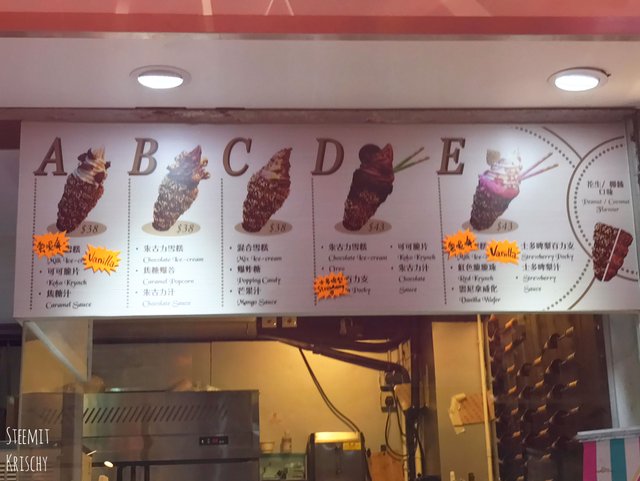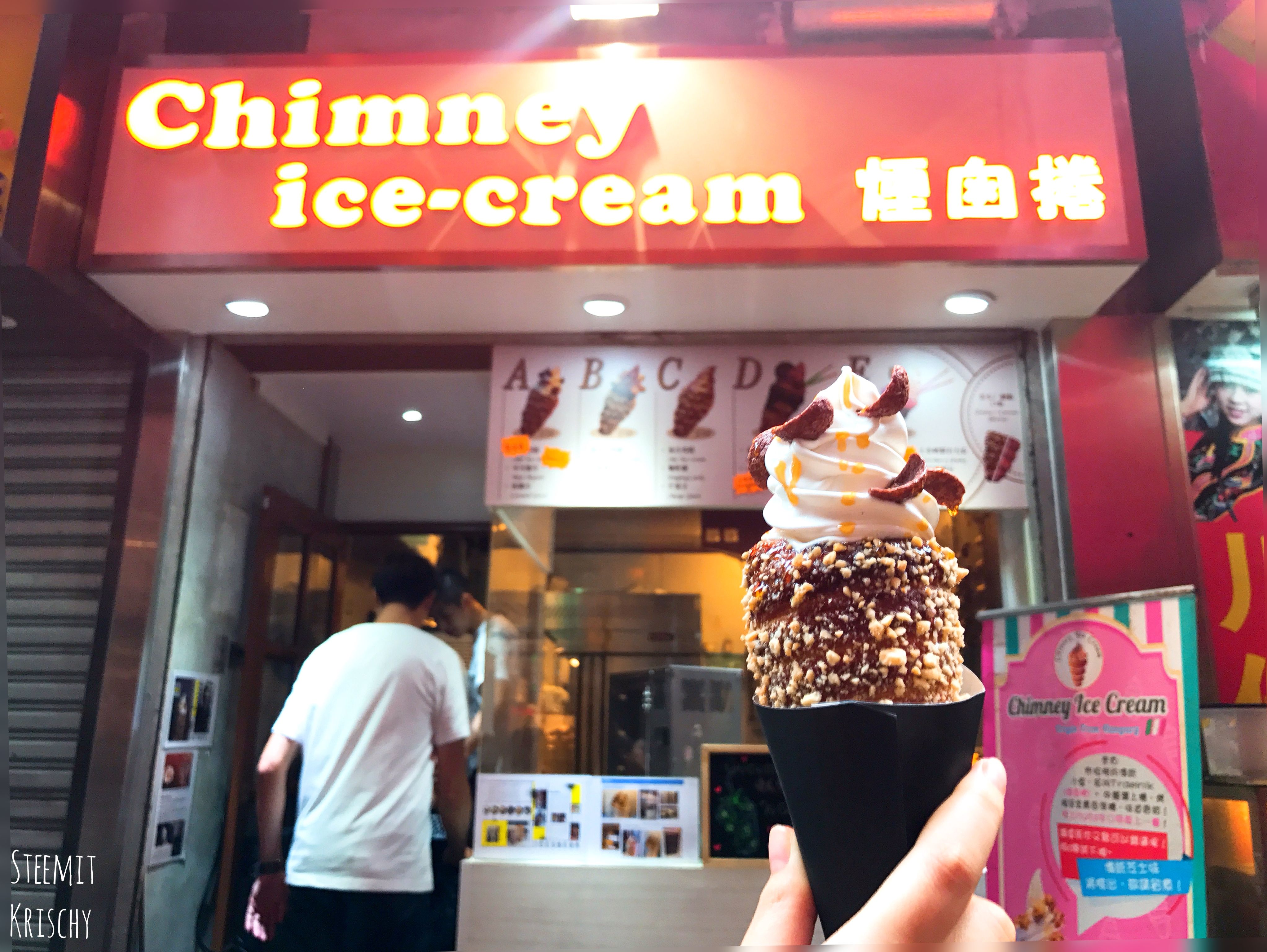 I ordered a classic treat, vanilla flavour soft serve with koko krunch and caramel sauce.
我們點了一個椰絲的煙囪捲,雲呢拿冰淇淋,可可脆片和焦糖汁。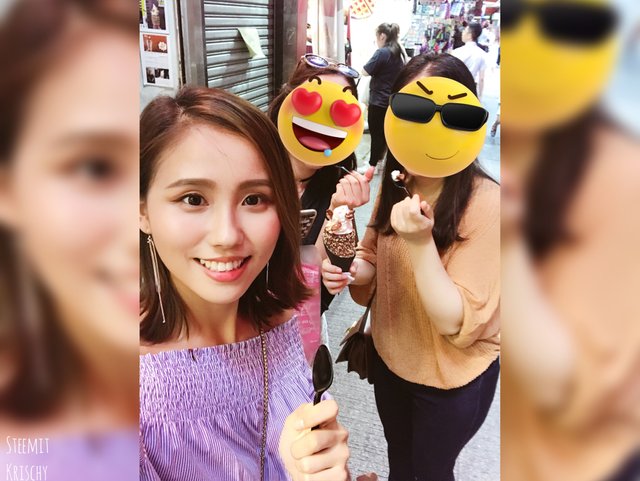 5. Three Potatoes 叁薯
Another street food store on Michelin Guide, Three Potatoes is famous for its large variations of potato dishes, like the baked potato with egg, hash brown with fried onion and bacon etc. Today, we ordered a special baked potato snack, baked potato with chicken in Sichuan Chilli Sauce. It tastes pretty good, the chilli sauce stimulate our appetite and make us want more after eating so many food in this culinary journey~
今天最後介紹是另一家米芝連推薦的小吃店,叁薯。他們主打馬鈴薯(土豆),特別的是他們不只有西式的重量級芝士焗薯,雞蛋沙律焗薯,香煎鴨肉薯餅,他們還有中西合璧的菜色,口水雞焗薯,微辣的雞肉配上焗薯,帶出中西合璧的感覺,很值得一試。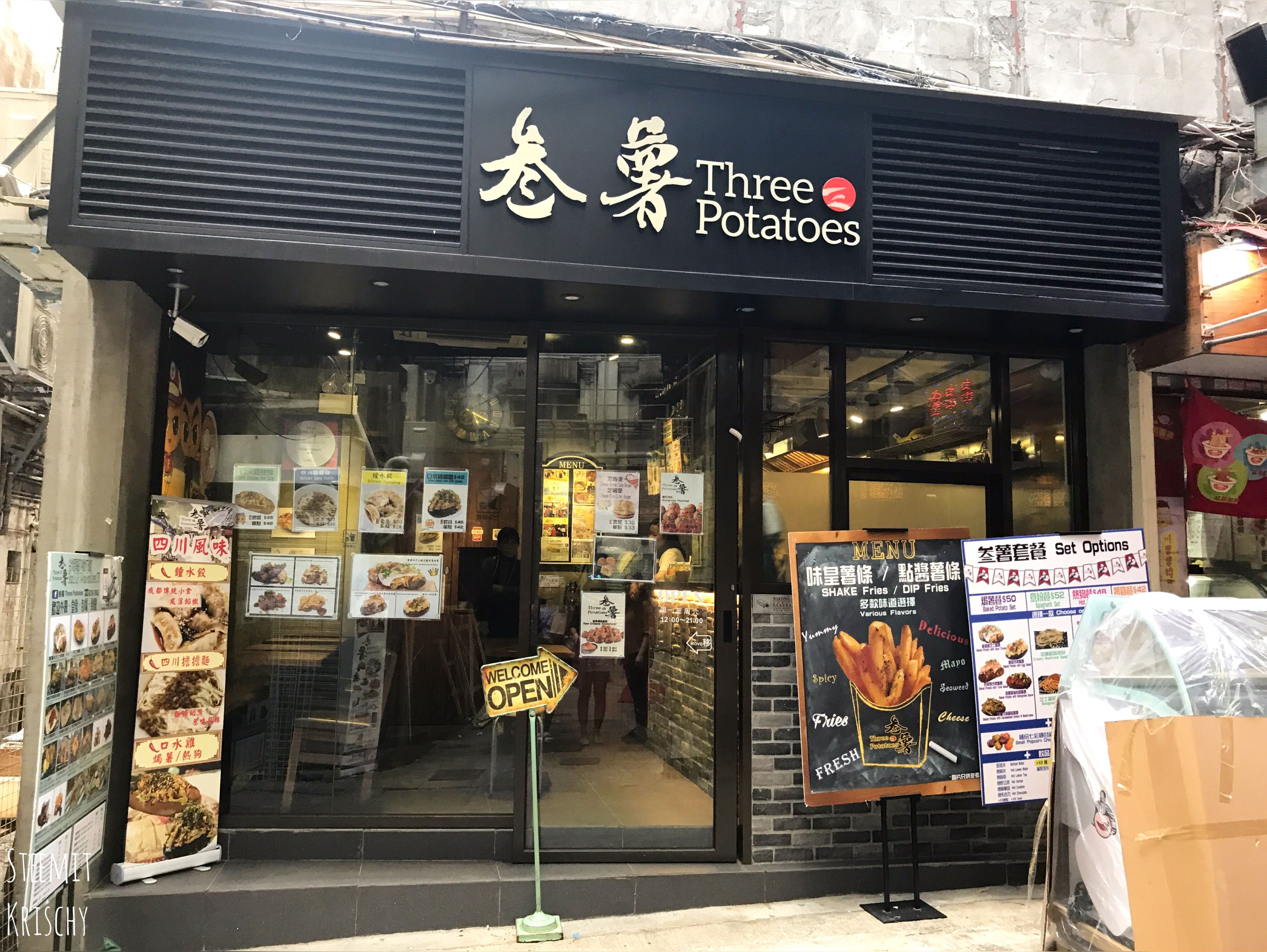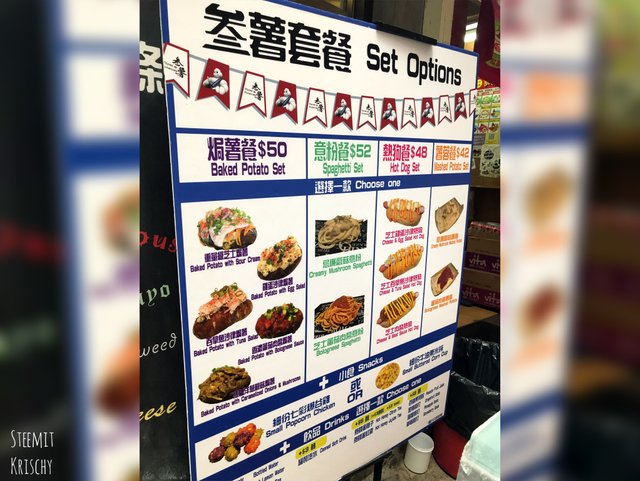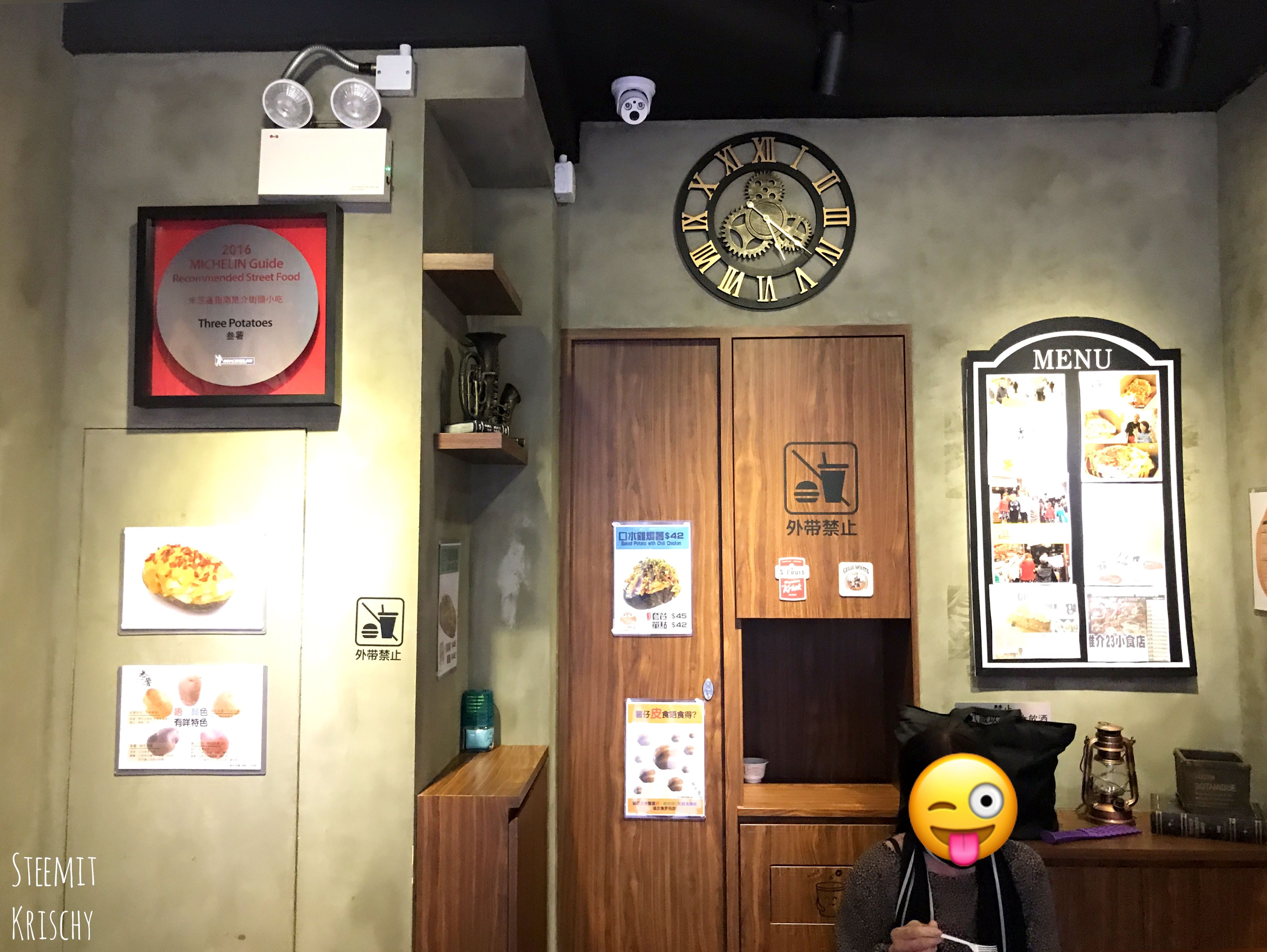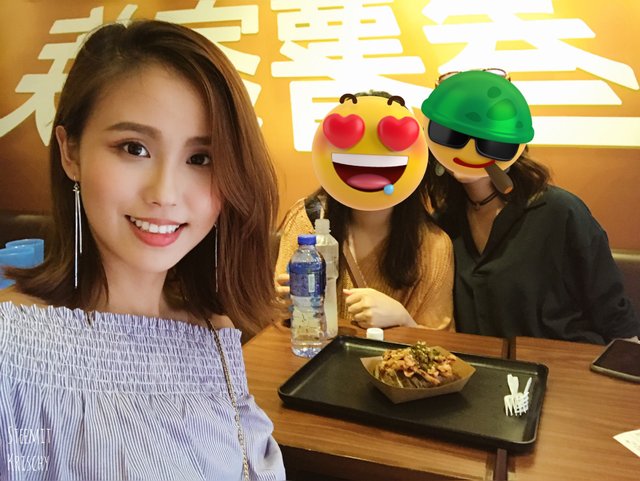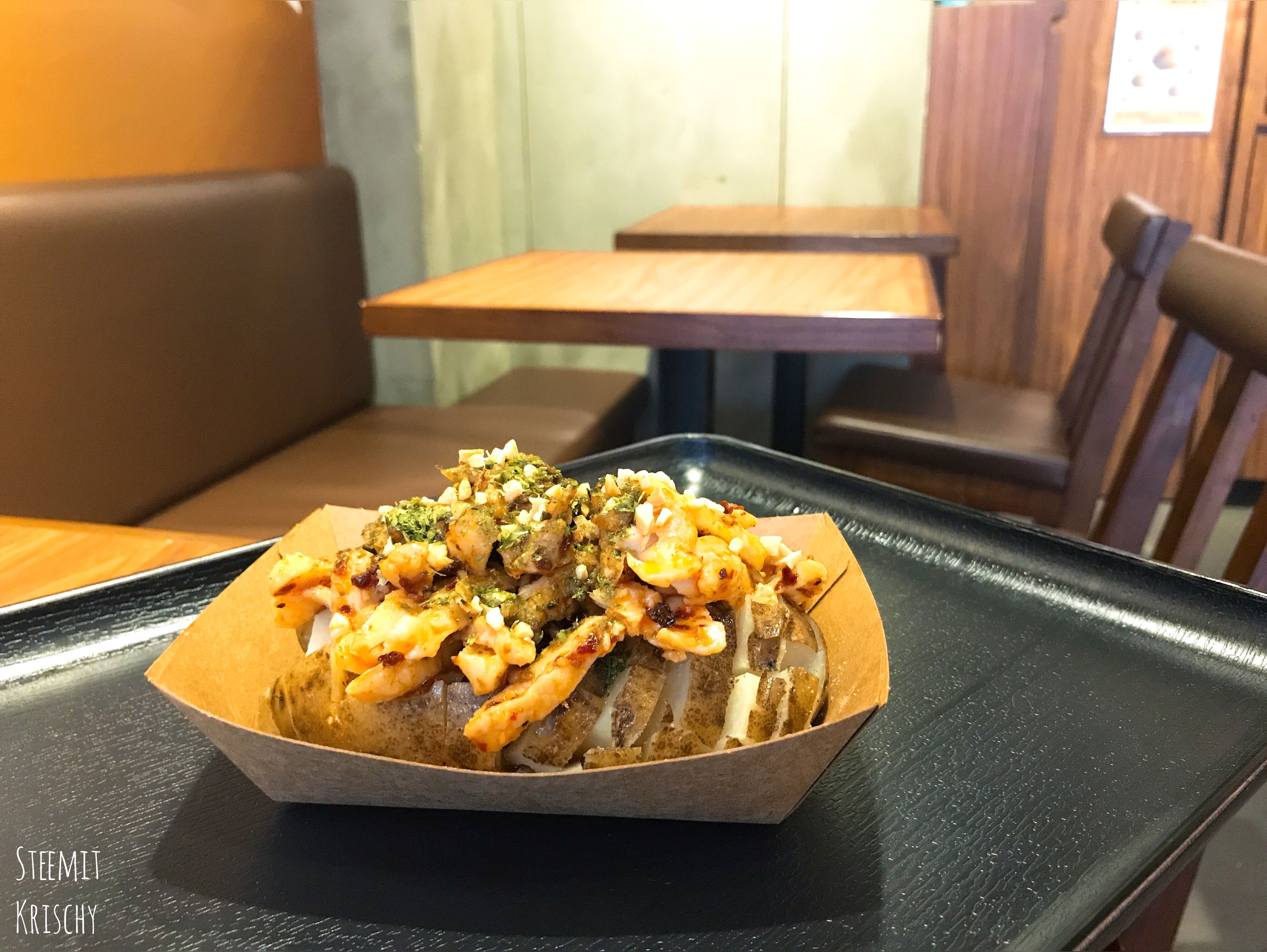 Baked potato with chicken in Sichuan Chilli Sauce
口水雞焗薯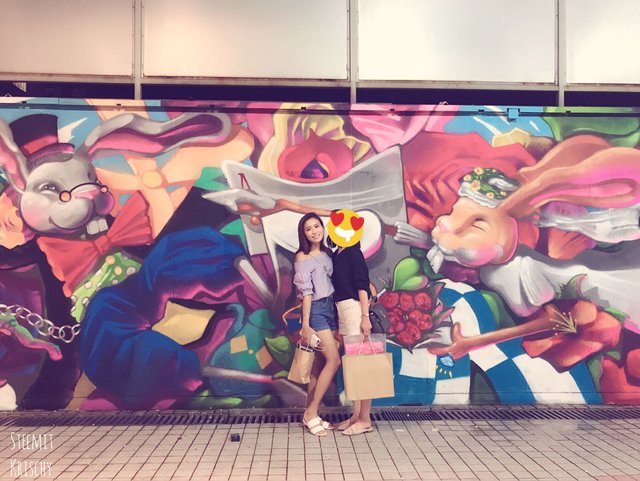 And of course, we visit "HE JI" to end today's journey:P If you ask me which street food shop I like the most, I would say "HE JI". Their fish balls and fish meat Shao Mai are just too good to be real~~ To know more about this street food store, you may visit here.
最後當然我們又去了「賀記」,不過上次推薦了,這次就不重覆在這𥚃介紹了,有興趣的朋友,按這𥚃。大家可能會問我最喜歡的小吃店是那一間,我還是最推薦「賀記」,我還發現他們的拍青瓜皮蛋也很不錯
---
Read the Latest Explore Hong Kong with me series :
Explore Hong Kong with me #7- 帶大家去沙田鼎泰豐🌞 Din Tai Fung& New Town Plaza's exhibition
---