In Philadelphia, you'd have to be someone who is looking for trouble, to wear an opposing team's Jersey to a bar in Philadelphia; on game day to watch the game. You'd have to be downright crazy to wear one to a stadium, if it were it a known rival like a divisional team like: Dallas, NY Giants, or Redskins. You'd be even more insane to wear a New England Patriots Jersey into the stadium. People are just fools and will start fights, throw things, even with kids present, being sloppy drunks and defending the team, as if they are personal friends with everyone on the team. It's just the Philly reputation that is mostly true unfortunately.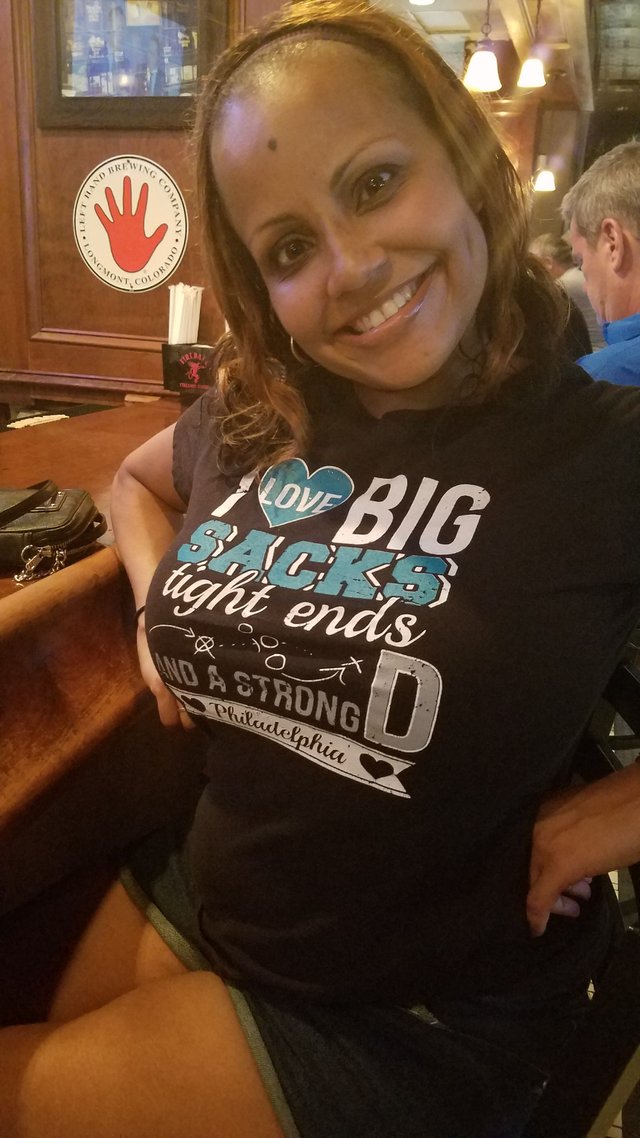 She has no issue stirring up the pot with people and drawing attention to herself as you can see from her shirt. We started at a place called Gibney's. It was pretty beat for an opening night of an NFL football game. Keep in mind, the Eagles knocked the Falcons out of the NFC championship last year to go on and win the Super Bowl. I would've thought more people would've come out to see a rematch.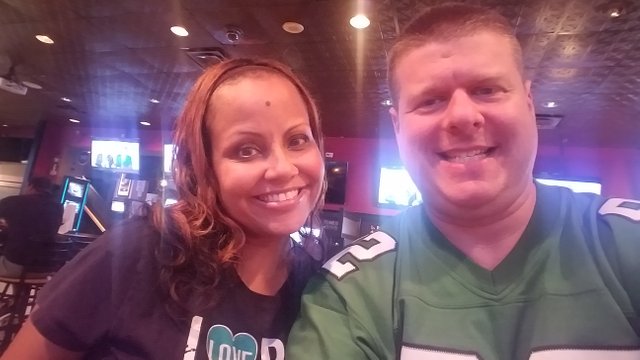 If you go elsewhere, it is not hostile. We were going to be in Atlanta anyway for the season opener on Thursday 9/6 and we are from Philly. It would only be natural for us to be the jackass people from Philly in various Atlanta bars. We went to probably 7. The final 2 stops were not the types of bars that allow photos. I will leave it at that.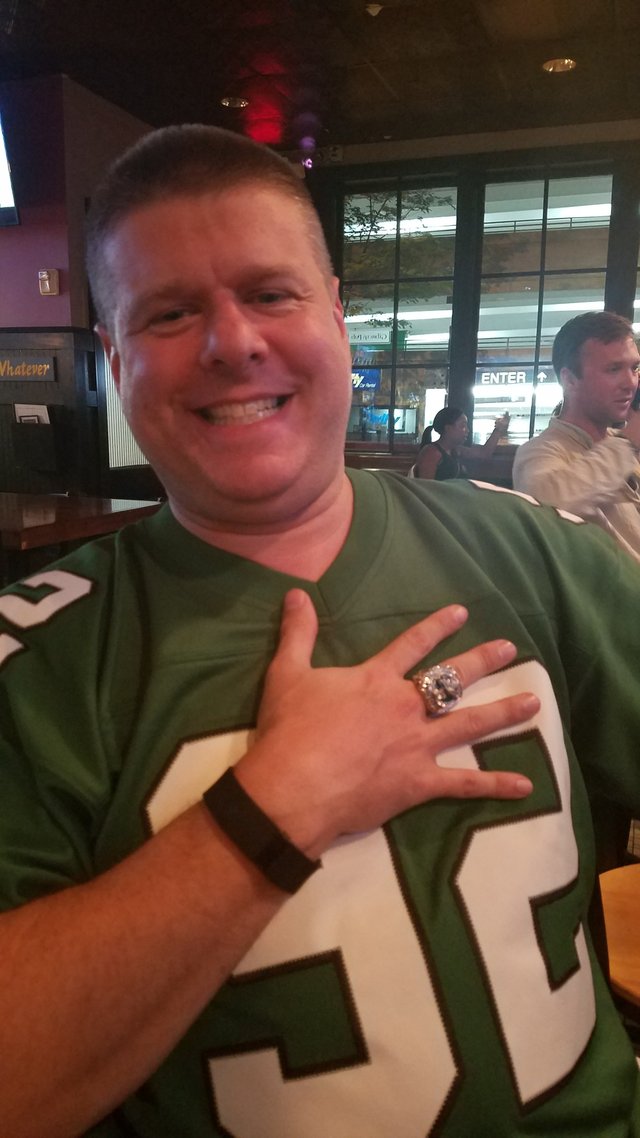 I was sporting my $25 replica Super Bowl ring in addition to my unmistakable Eagles green jersey.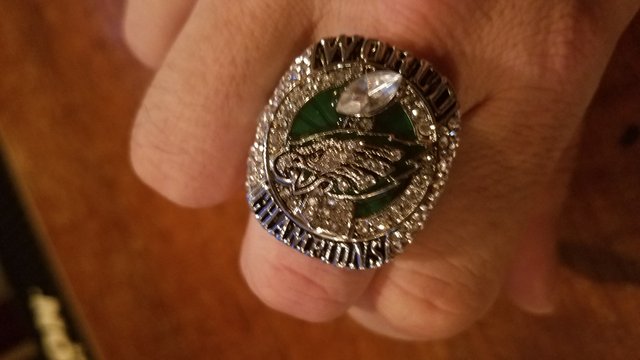 This ring looks like the original, but is no way near the quality. It is a cool enough conversation piece though. Lots of people wanted to see it and talk about it. It came from Ebay from China. The simulated Marquis diamond is basically just glass. I don't even think its a cubic zirconia, but it looks OK enough.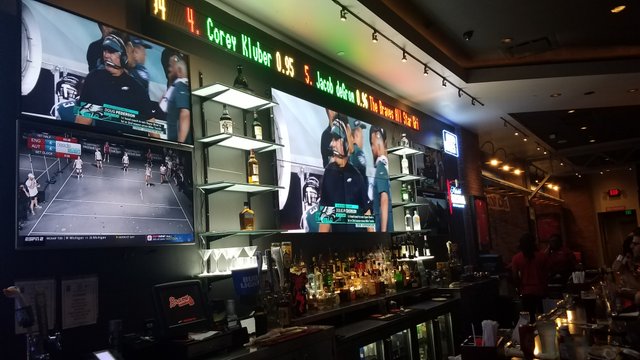 Then we moved onto a place that would seem rather unwelcoming to Philly fans, the Atlanta Braves All-Star Grill.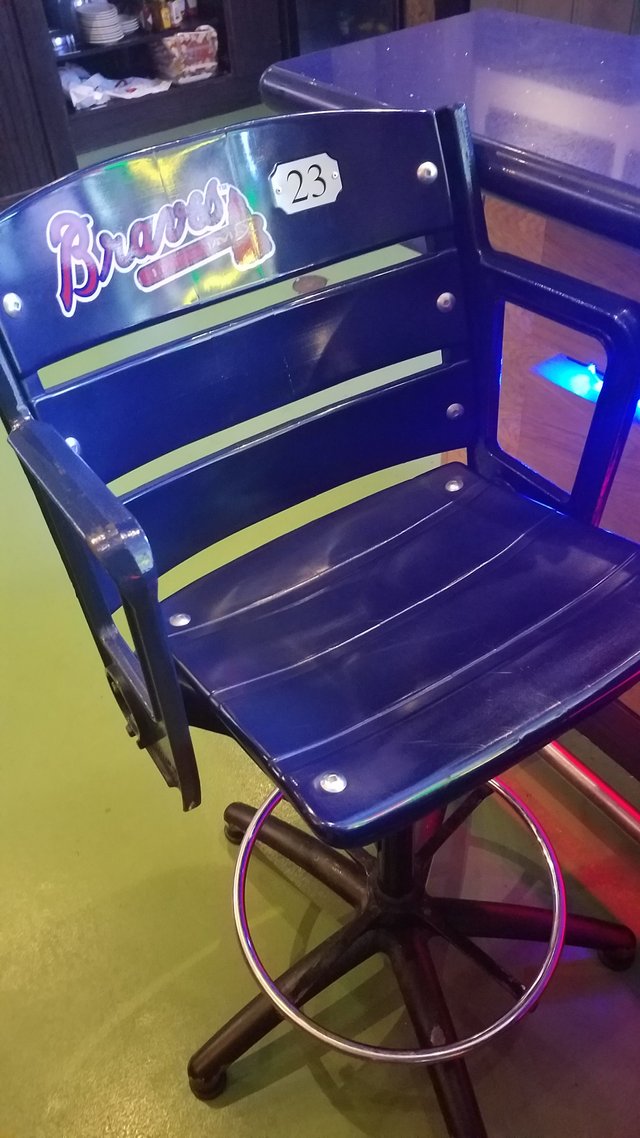 They were nice to us there though. No issues. Actually ended up talking to some New York fans who were also there.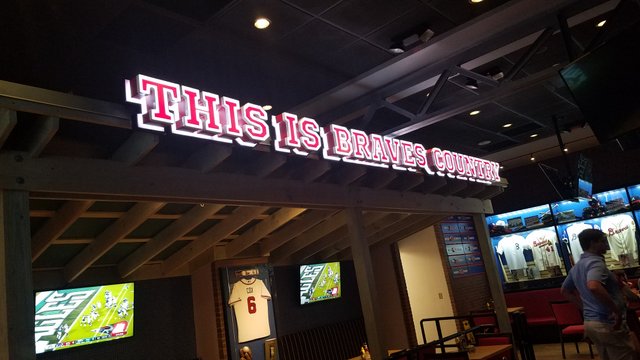 Every city has it's pride. Gotta respect that...Then it got a lot more interesting when we left here...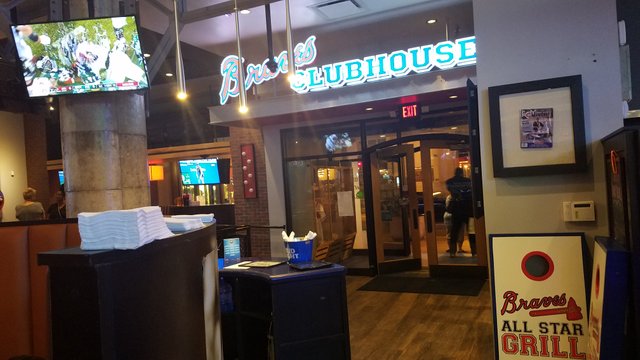 And ended up here. I wish I could've taken more pictures of the servers there, but I couldn't.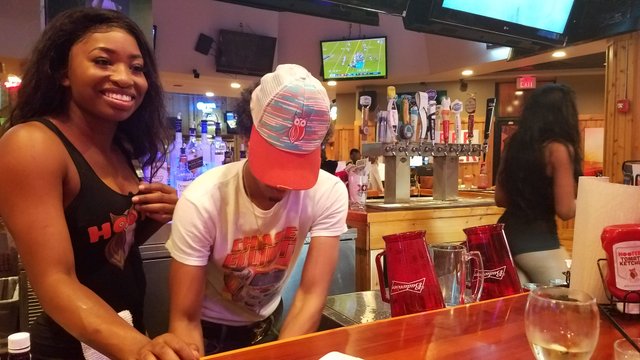 Oddly, the largest crowd was at Hooters, which we walked by, but didn't want to go to a foreign city, to a chain restaurant that we could find back in Philly. We ended up going in there because it seemed like there was actually an interested crowd though.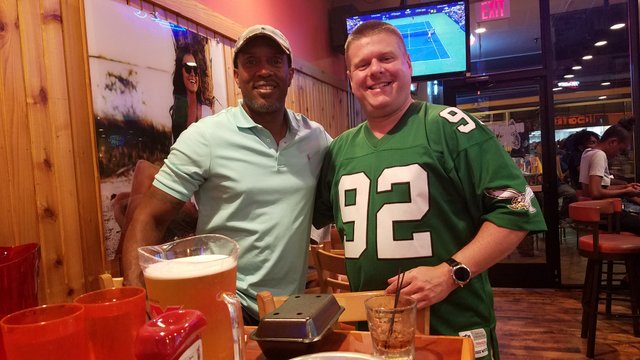 We end up sitting at the bar and after a few minutes, I get a shoulder tap from someone who says, "Now I know you're real Philly fan if you're wearing that Jersey, especially down here." It is a Reggie White #92 Jersey for those that don't know. The person in the photo is Eric Matthews, who played with Reggie White after he left the Eagles. Eric was in his rookie year in Green Bay and Reggie was still with Green Bay as well, and they were friends. Reggie White died in 2004 with heart and lung issues believed to be related to sleep apnea. Coincidentally, I too have severe sleep apnea, which gave me and Eric something to talk about as well.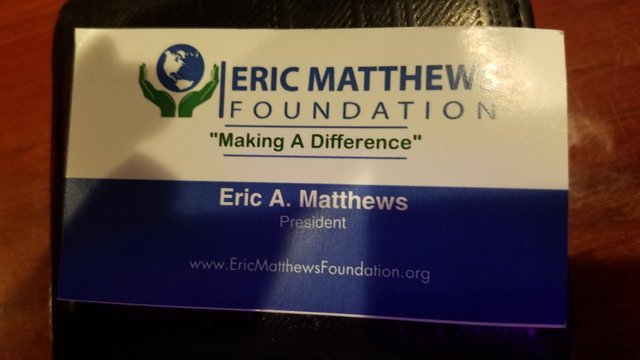 He has his own foundation in his retirement, and is involved with a lot of child outreach programs. He was an incredibly nice guy and I ended up talking to him casually for probably 45 minutes, on and off. My girlfriend got him and his nephew a pitcher of beer, while she was yelling at some Falcons fan for yelling at her for cheering for the Eagles. Ugh.
It was very cool to speak with someone who had a real Super Bowl ring from SB31. I had my hands full with my girl and an angry drunk though. Nothing came of it, and Eric and his nephew said they totally had our backs, if something did. He wasn't even telling anyone that he was a retired player or sporting any Super Bowl ring. He was just blending in with the crowd. It was really him though. :) Reggie White was known as "The Minister of Defense", and some would say he was the best defensive player ever. His number is retired in both Philly and Green Bay.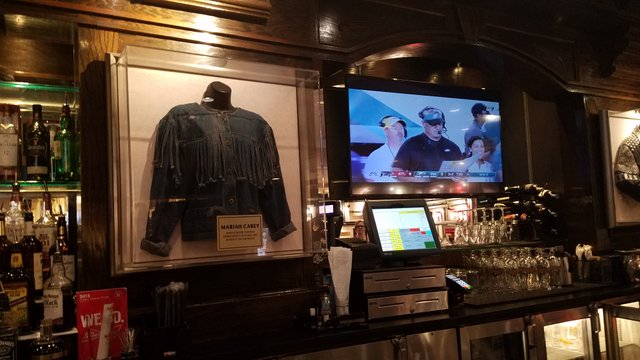 When Eric left, we ended up walking across the street to the Hard Rock Cafe to watch the end of the game. That's about where the story has to stop because the other stops simply aren't the type of places that allow photography. I have some other photos to post about my other days in Atlanta visiting CNN, the Coca-Cola museum and some other miscellaneous shots. This post is a follow-on to yesterday's post about fine dining in Atlanta if you would like to check out: https://steemit.com/travel/@inspire1/9y6owmaz - feel free to check that out if you liked this read. I welcome any comments or questions about this write up as well. I write back! Thanks.