HELLO STEEMIANS!!
Summer feels is already happening everywhere, with the closing of classes and commencement exercises, many families, friends, and couples are already looking for a place to spend their summer vacation so that they can relax, enjoy, and release all the stresses from work, life and studies.
Pictures of #couplegoals, #vitaminsea, #summerbuds, and #bestsummerever are already trending on Facebook, Instagram, and Twitter. As for me and my partner, it doesn't matter even if we didn't have the "#summerbuds" for as long as we have each other we can still shout out "#BESTSUMMEREVER!!!"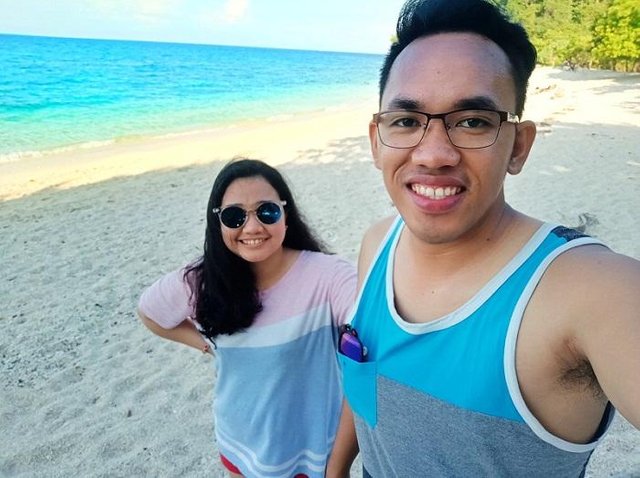 For this summer, we decided to explore the beaches of the Island Garden of City of Samal.
Island Garden of City of Samal, Samal or also sometimes called as IGaCoS, is a coastal paradise comprising of the main island and 7 islets within three districts namely Samal District, Babak District, and Kaputian District. Among the 7 islets, Talicud Island is the largest and the most popular island in Samal.
Samal Island is very popular among tourist because of its preserved natural beauty such as white sand beaches, crystal clear waters, forests, caves, mountains, falls, and aquatic resources for underwater activities like snorkeling and diving. This island has a lot to offer you from adventure to pleasure.
There are more than 30 options to choose from, both commercial resorts and private beaches, as for my perspective I've always wanted a beach resort that is unspoiled, peaceful and quiet for the purpose of serenity, and somehow away from civilization so that I can chill and relax especially since during summer, that is the time expected where there will be a large crowd of people going to beaches. And for the destination that we chose in a resort in Kaputian District, we definitely hit the jackpot. This resort is located beside Alloro Beach Resort.
Introducing "Samalan Camp and Sea"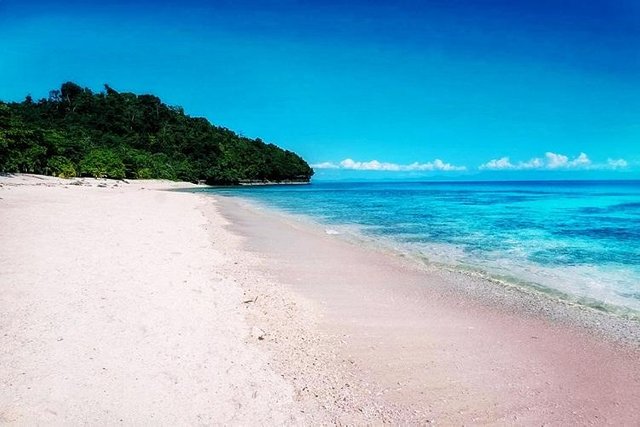 Long shoreline that is best for reminiscing
How to Get There
There are two ways to get there; it could be via ferryboat wharf at Km 11, Sasa, Davao City or via commercial boat at Sta. Ana Wharf, Davao City.
Via Ferryboat Wharf at Km 11, Sasa
The fare using ferryboat is only 10 pesos per head and you can bring with you your vehicle but the rate for a vehicle will depend on the number of wheels. It will be a 10-minutes ride to arrive at Babak District, the northernmost part is Samal Island. The ferryboat is accessible 24/7.
Upon arrival, there are motorcycles available for rent if you want to explore the island for yourself and just ride a "habal-habal" (motorcycle) to take you to Samalan Beach Resort in Kaputian District.
The fare from Babak to Samalan Beach resort is ranging from 180-200 pesos per head.
Via Sta. Ana Wharf
From there, take a commercial boat going to Kaputian Port and pay 60 pesos per head for a one-way ticket. It will be a 45-minutes ride to reach Kaputian Port. Also, a piece of advice, going to Sta. Ana Wharf earlier in the morning is much more convenient and hassle-free, especially because during peak season, most of the commercial boats will be full already around 10 am and you'll be left with a chartered boat which is very expensive.
Upon arrival at Kaputian Port, "habal-habal" (motorcycle) drivers are already waiting for passengers to take them wherever the passengers want.
The fare from Kaputian Port to Samalan Beach Resort is ranging from 75-100 pesos per head and it takes about an hour to get there. Expect a bumpy ride!
Entrance Fee and Accommodation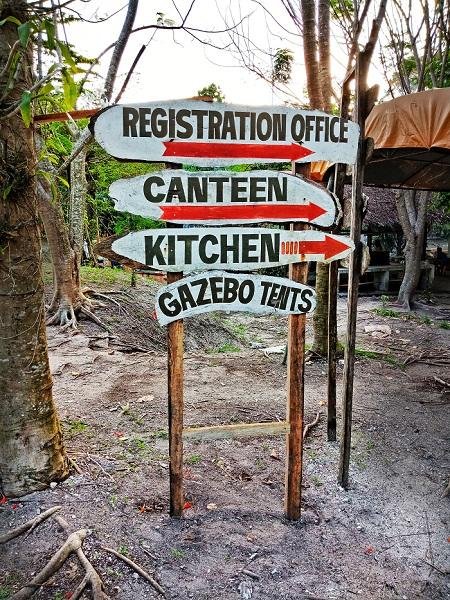 Pay 300 pesos for the entrance fee and this includes a tent which is good for two persons with pillows, blankets, and foam. As for the room rates, cottages, and water activities kindly visit their Facebook page @samalancampandsea.
What Do I Love About this Resort?
Long beach shoreline with fine white sand.
Crystal clear waters that have different hues from the shore going to the deep waters
They have a marine sanctuary for snorkeling.
Freshwater for shower.
The tranquility (not crowded, peaceful, peaceful, clean, no karaoke, no nightlife or bars)
The natural environmental state is well preserved, not well developed yet very beautiful. You will appreciate the nature's beauty of the beach and the mountain.
Beautiful sunrise and sunset.
Below are the pictures that I took during our stay at Samalan Camp and Sea.
---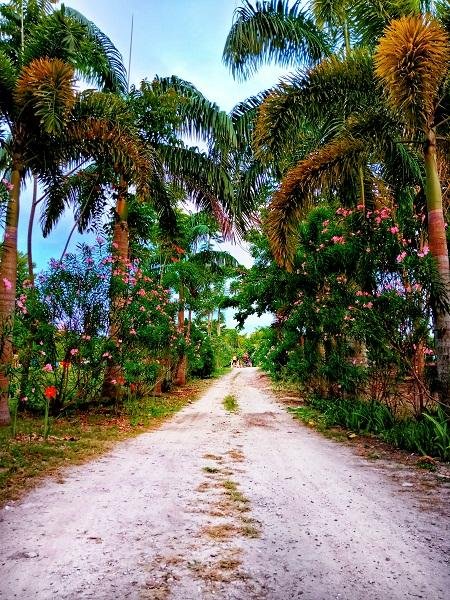 Long walk from the entrance to the beach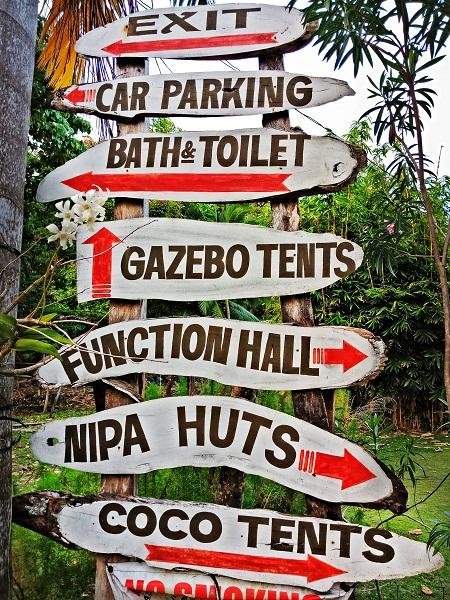 This way please.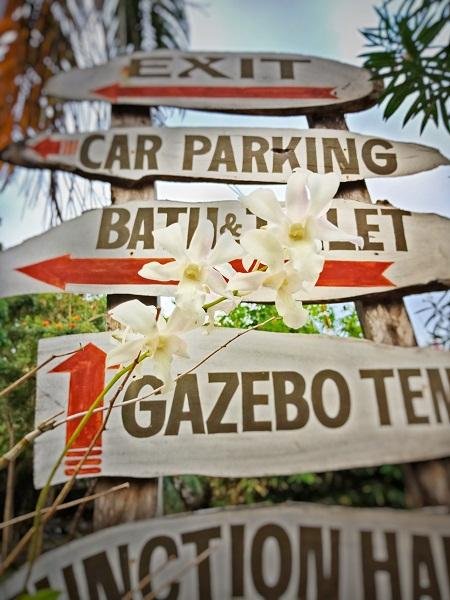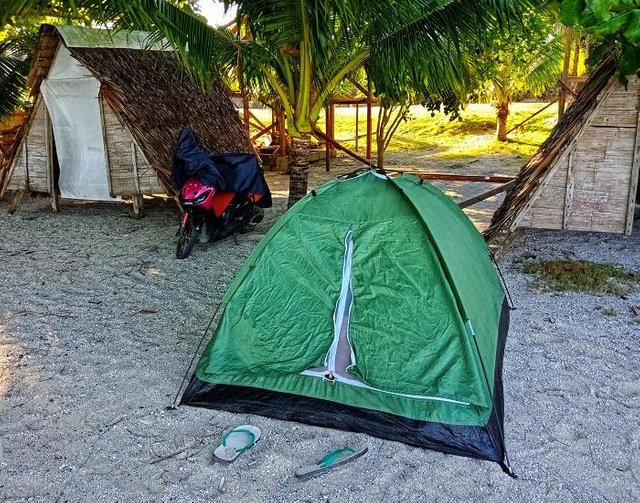 Our tent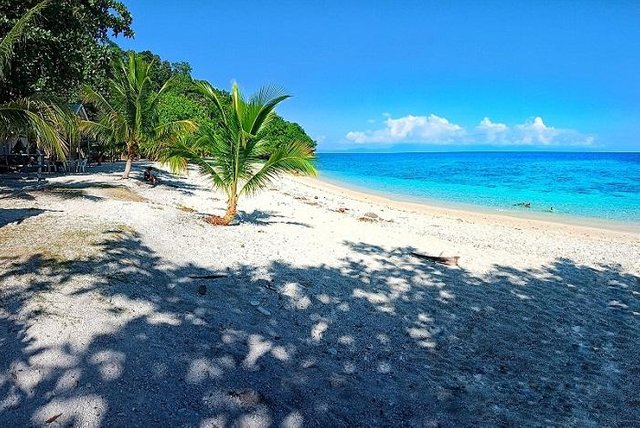 Side view outside our tent

Panoramic view of Samalan Camp and Sea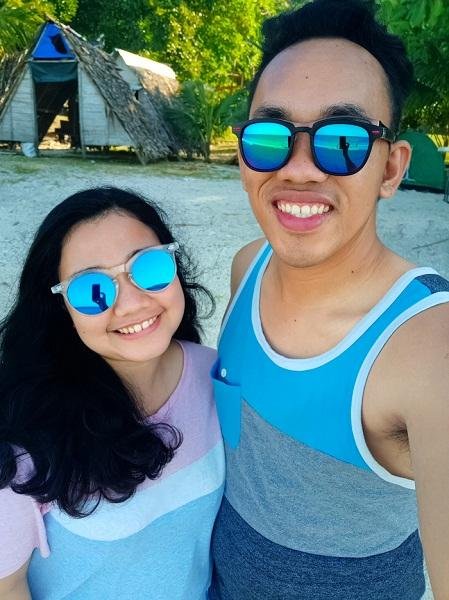 My One and Only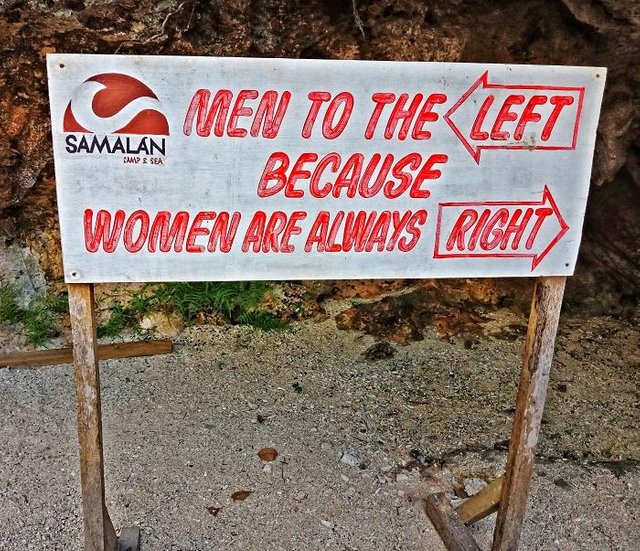 Obviously. Duh xD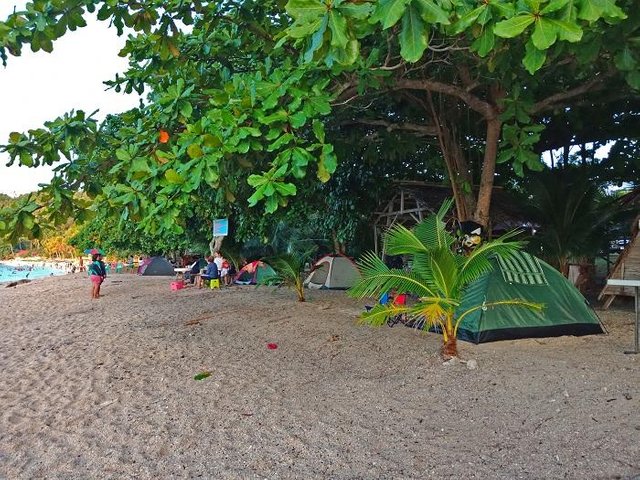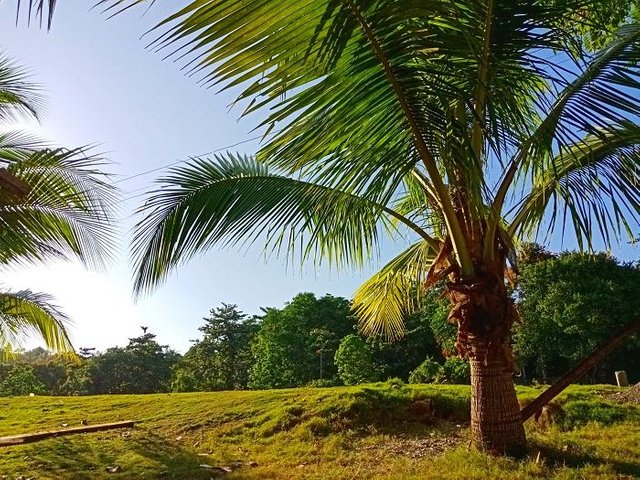 Dwarf coconut at the back of our tent.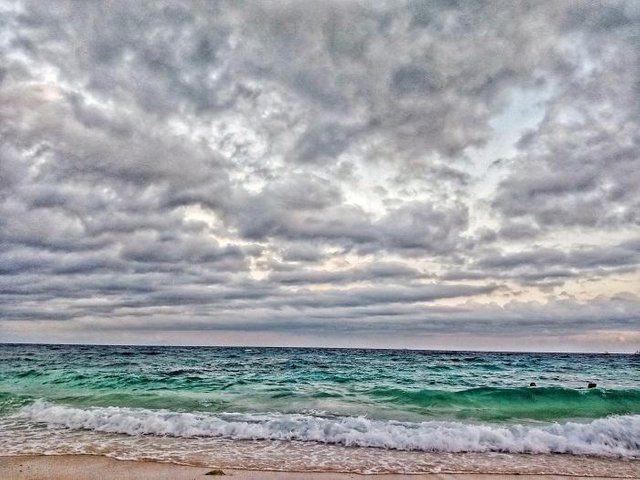 It's about to rain. (it rained around 5 pm)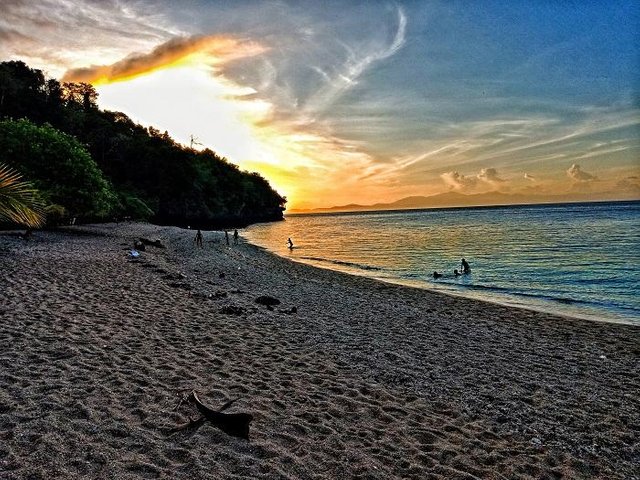 Sunset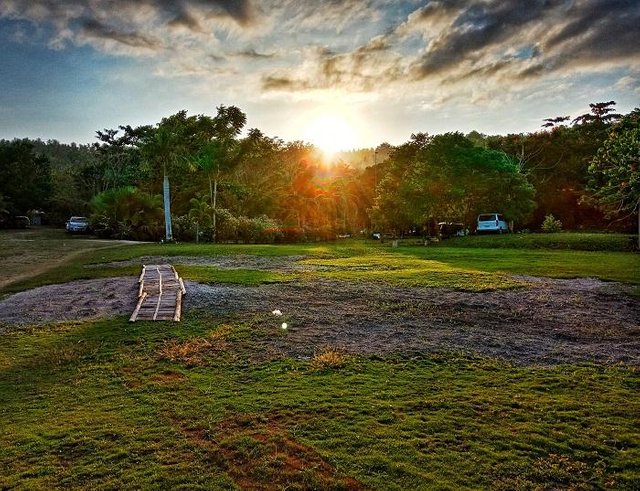 Sunrise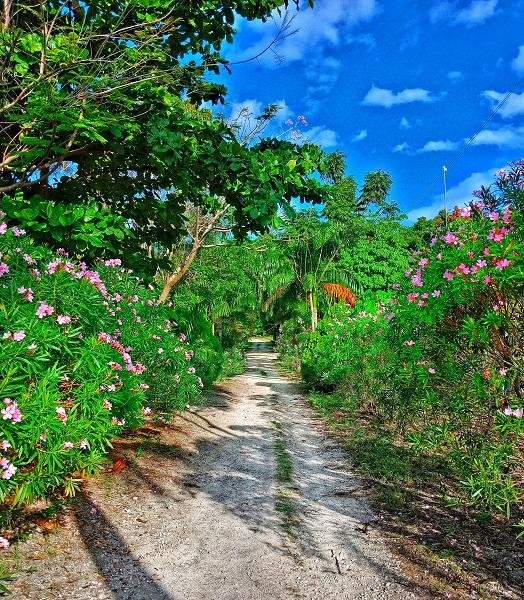 Garden view when going home.
---
I really recommend this place and if you like, add this to your bucket list. Also, always remember that wherever you go, be a responsible tourist and a traveller.
As we say in Tagalog, "Basura Mo, Sagot Mo!" which means your trash, your responsibility! Enjoy this summer Steemians!

Reference

Also, I am inviting every Filipino Steemian out there to help and participate in @surpassinggoogle (Sir Terry) movement on adding Steem-Based Cryptocurrency on Coins.ph. You can read his post about it here.
Thank you for your time reading this and please look forward to my next episode. If you enjoyed it, a resteem is alway appreciated.
---