Sandwell, Gabriola Island... Old Wise Stone, Old Growth Forest...
I'm thrilled to share some of my photo art from where i live... this image i shot in Sandwell Park on beautiful Gabriola Island... just a 20-minute ferry ride from the city of Nanaimo on Vancouver Island, BC - another hour and a half ferry crossing from Vancouver BC... on the west coast of Canada...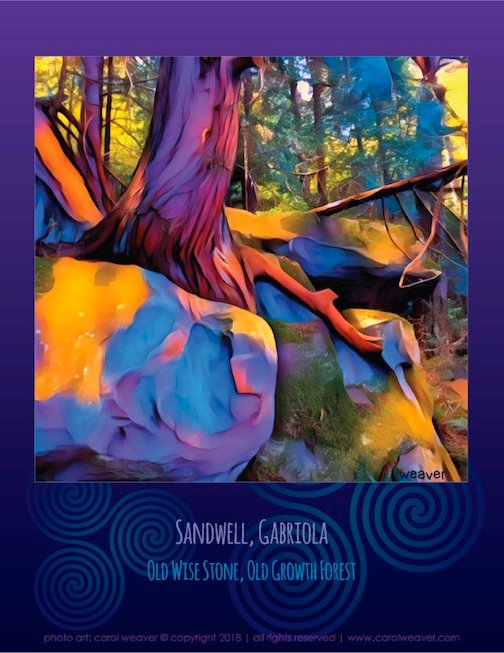 Gabriola is a photographer's heaven... i love shooting photos here and enjoy playing with colour and shape creating original works of art...
Sandwell Provincial Park on Gabriola Island, BC, is a beautiful forest walk down to a long sandy beach – with stunning views of the Strait of Georgia, overlooking the sandy shores of Lock Bay.
Walking down this ancient path, you are greeted with towering forest trees growing right out of huge rock and boulders. Our sacred Earth Mother says much to those who will listen.
Gabriola also is one of, if not the largest Arts communities thriving in Canada and we have an active and supportive Arts Council as well. The Council organizes three annual arts festivals every year; our Spring 'Isle of the Arts Festival' >> where artists apply to share and teach their art/skills... our Summer Music + Theatre 'Cultivate Festival' >> and in the Fall, our long-running 'Thanksgiving Studio Tour' >> where over 80 artists open their studios for 3 days...
• image title: 'sandwell, gabriola... old wise stone, old growth forest'
(((o))) drumweaver earth arts, Gabriola Island, BC
© copyright 2017 • carol weaver • all rights reserved
• contact me at... www.drumweaver.com >>
If you would like to order a print they are $25 with no mailing cost within North America... this image would fit into an 8.5 x 11 clip frame...
---
• More about Gabriola Island at our Chamber of Commerce website here >>
• The Gabriola Arts Council >>