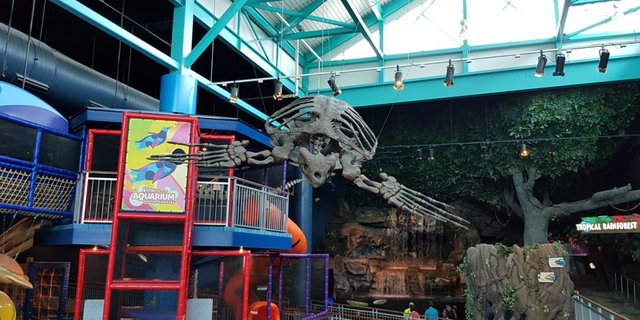 As we entered Ripley's Aquarium of the Rockies, the first area we encountered was a tropical rainforest. Part of the exhibit included a spectacular waterfall that fed a pool teaming with fish.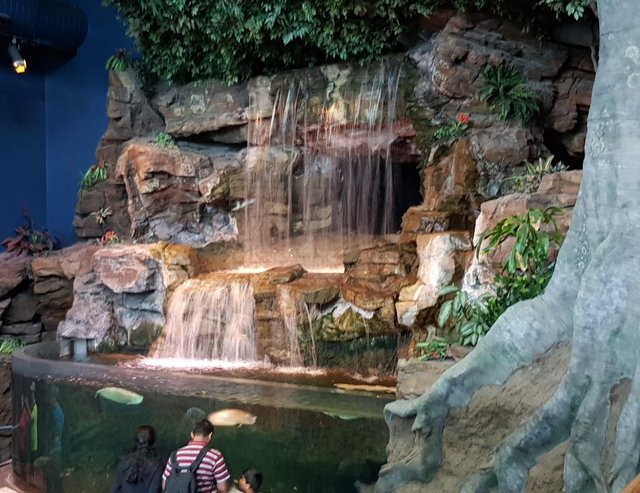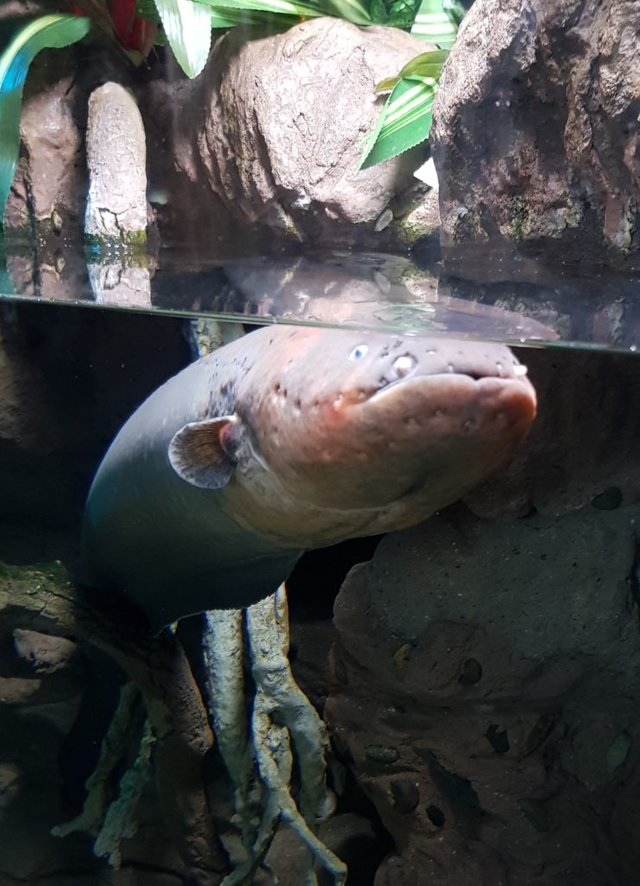 Keeping with the theme, we saw Green Iguanas.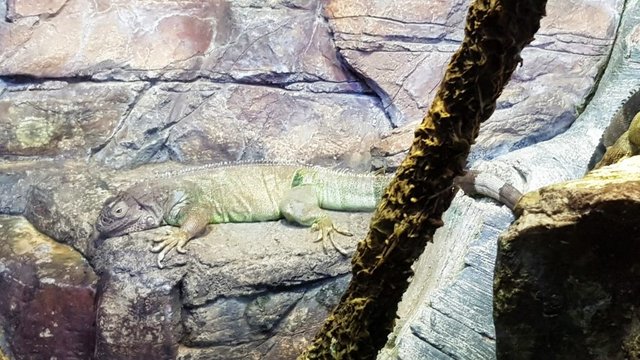 Hidden among the vegetation we also caught sight of poison tree frogs.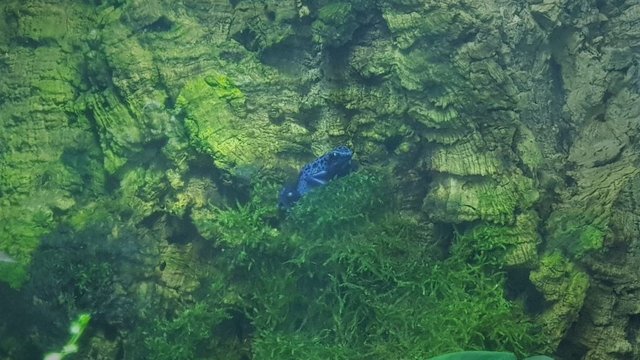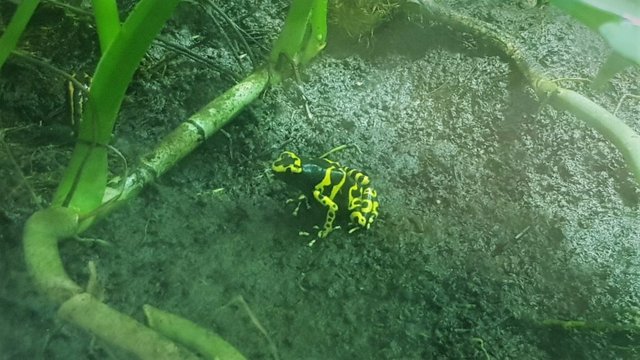 Excuse the fuzzy pictures, these were shot through steamed up perspex. Next up we saw these fun fellas, mudskippers.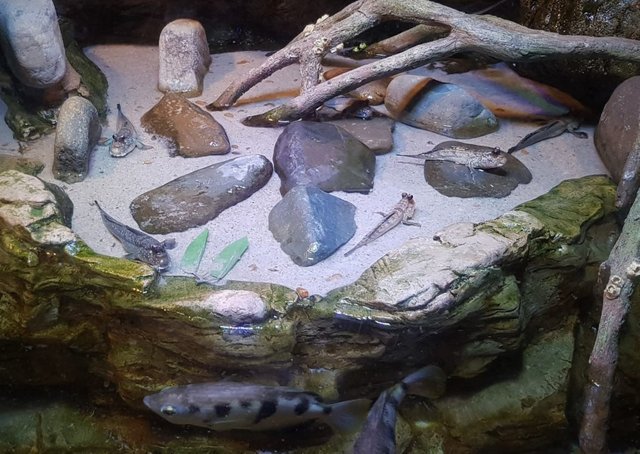 I was fascinated with their frontal fins that look like arms with hands.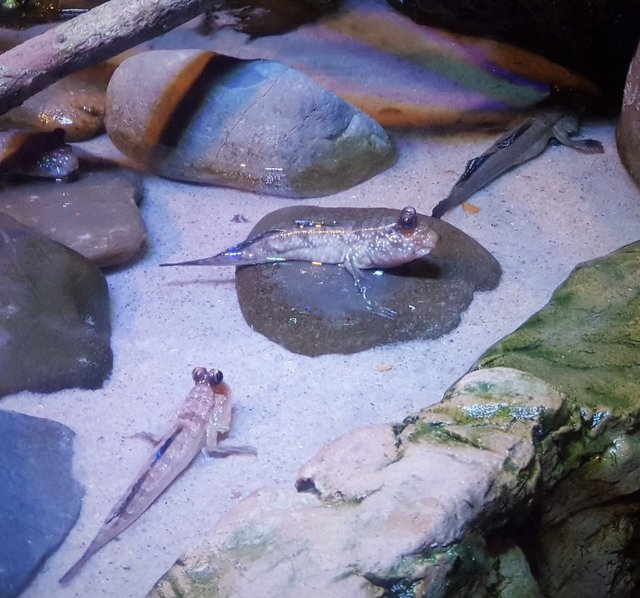 This next fish has four eyes, two to see above the water, two for below. Quite handy I guess.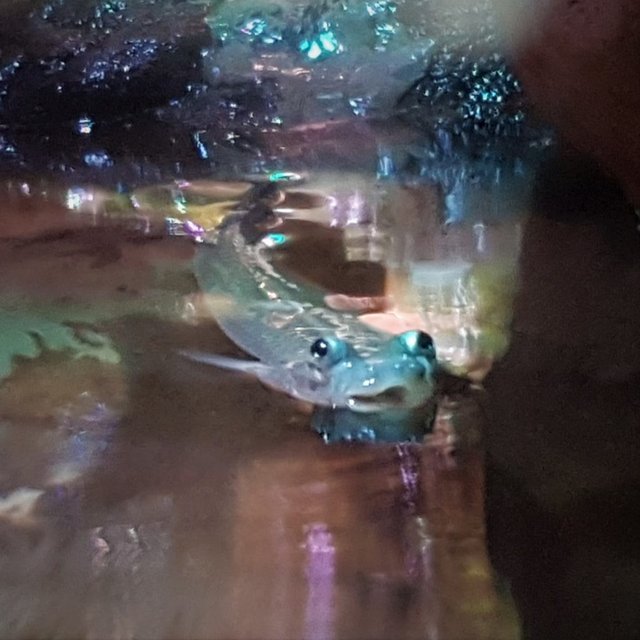 Next, we entered a more tropical theme.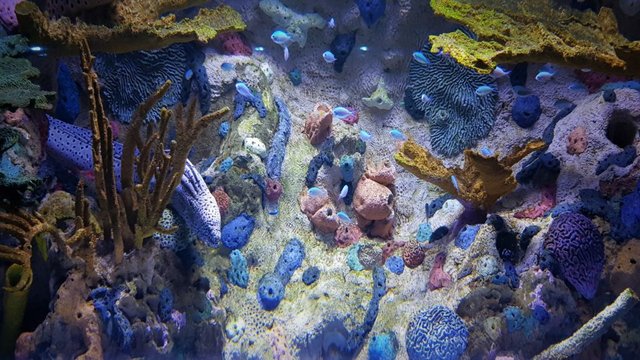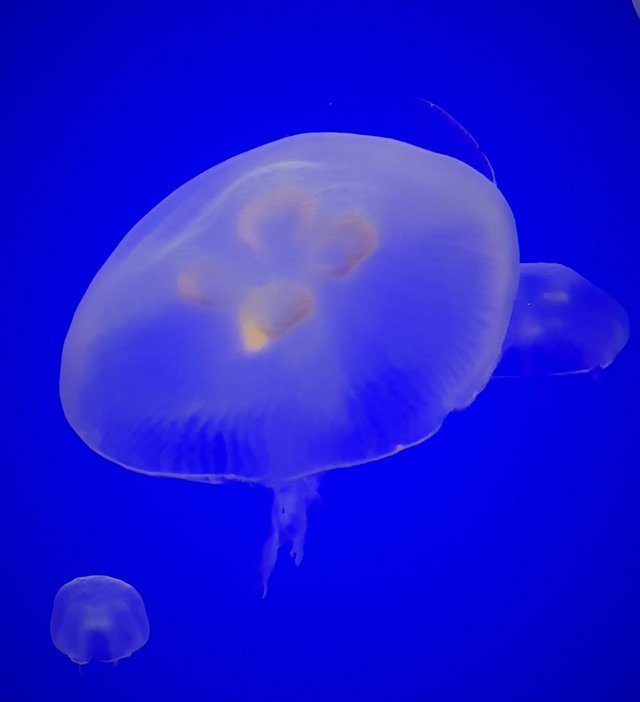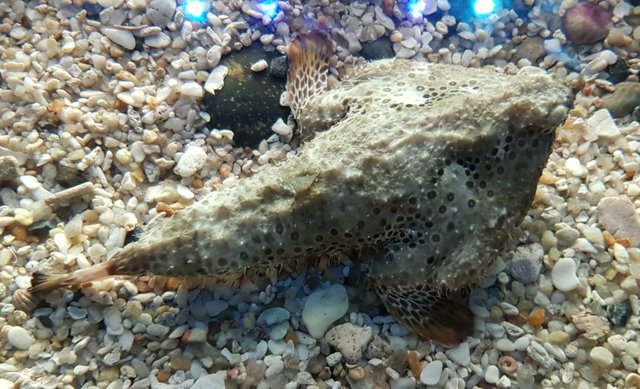 Seeing the control room was interesting, where each exhibit was monitored.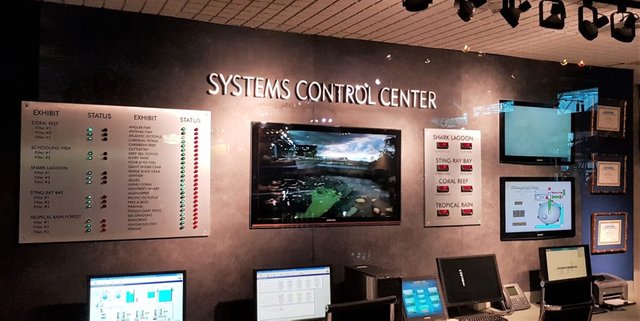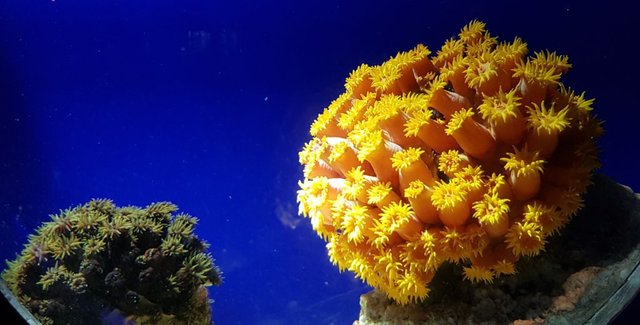 By far my favorite exhibit was the shark tank.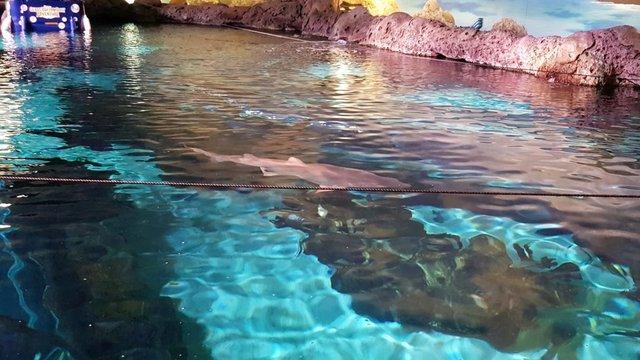 I looked forward to walking through the tubes underneath them later.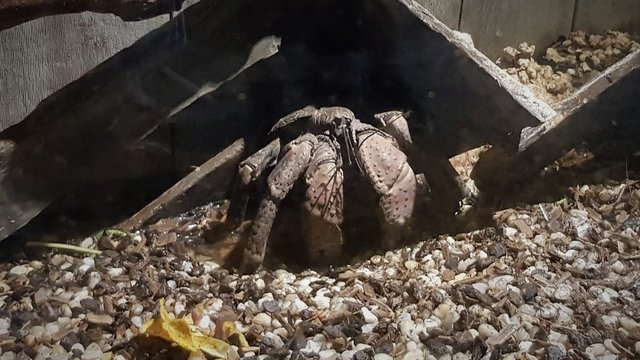 Coconut crab.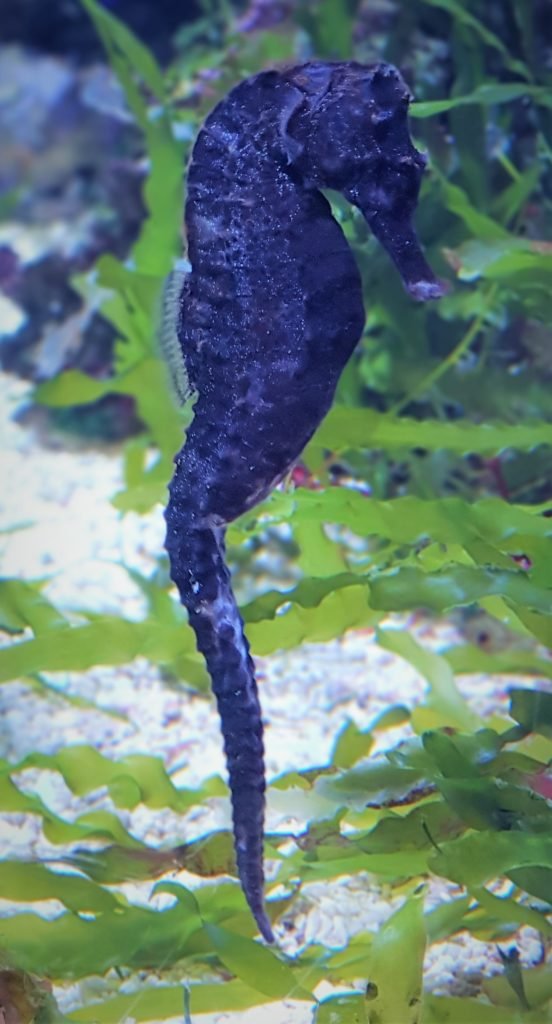 As we rounded the corner we saw a diver inside a huge tank filled with tropical fish, feeding them and entertaining the crowd.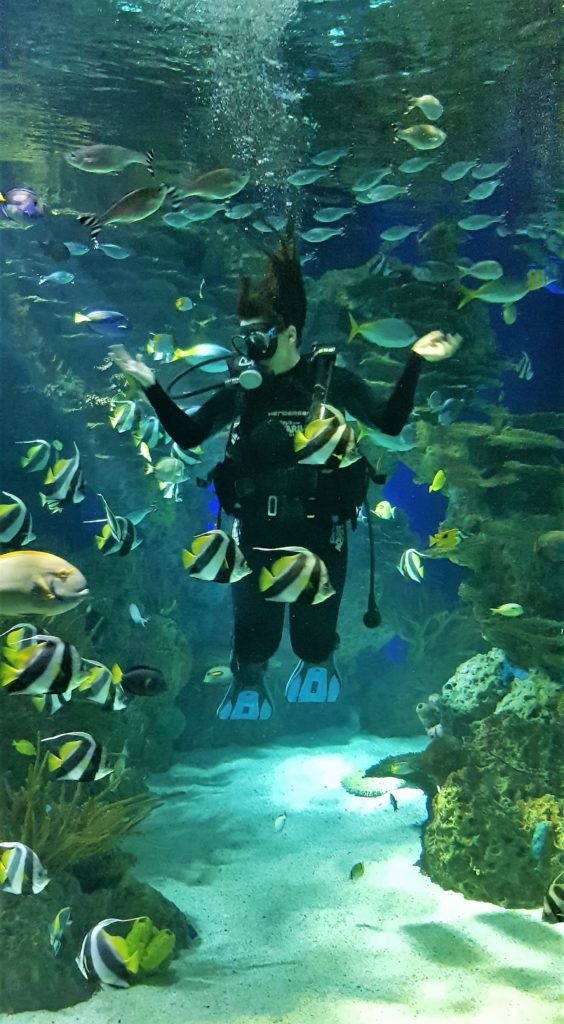 This photo shows how thick the perspex is on the tank: both of these ladies' hands are flat on either side.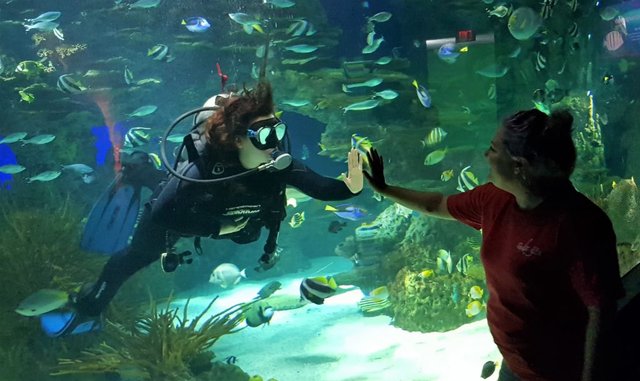 This next exhibit was enchanting.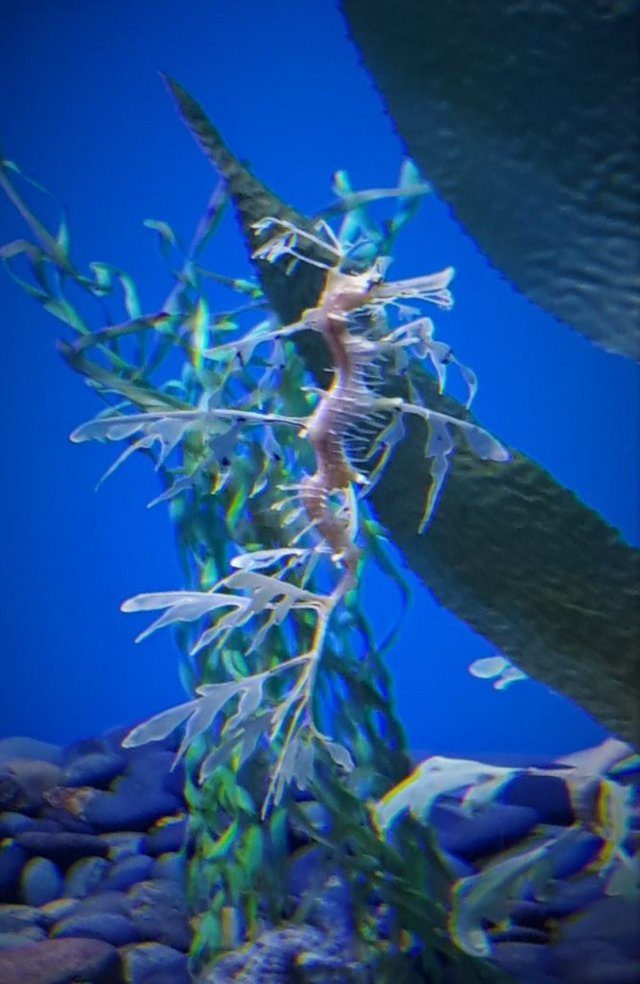 I thought of these as very dragon-like.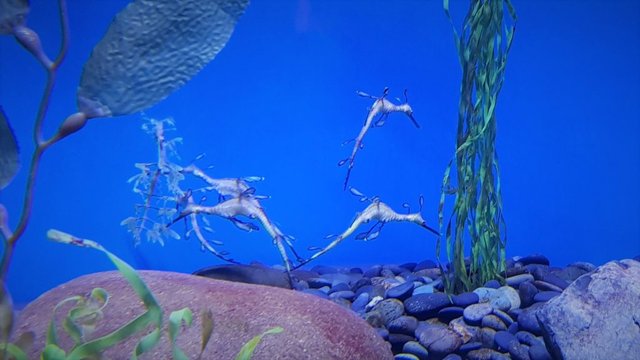 Finally, we entered the tubes under the shark exhibit. Seeing these animals up close and personal was exhilarating.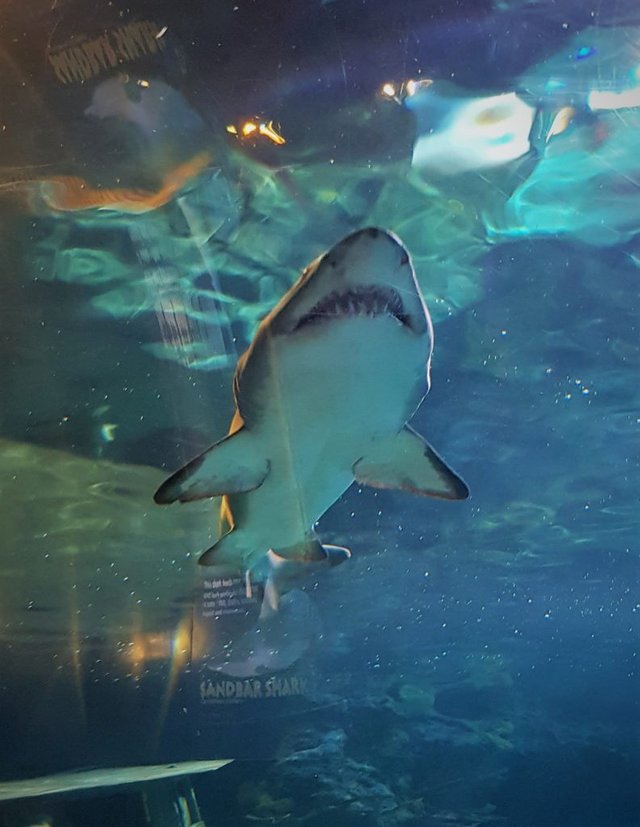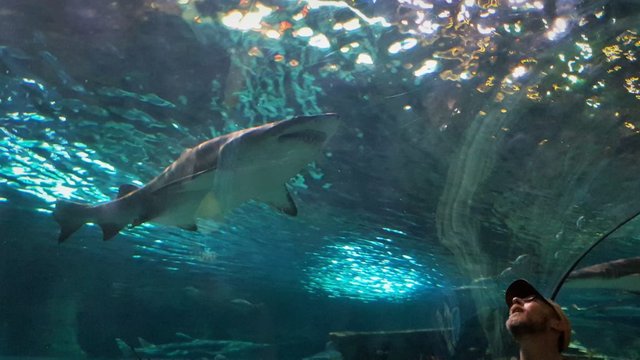 @Sircork and shark. Not sure which one's bite is the worst...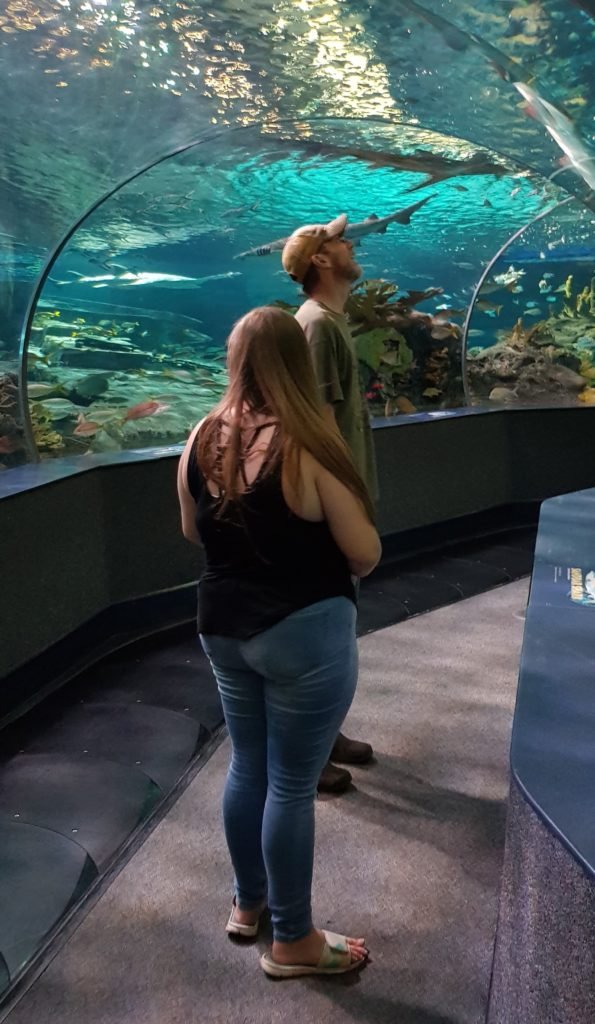 @catherine813
and
@sircork
. To the left, you can see a travelator, which we often stepped off to admire the various shark species.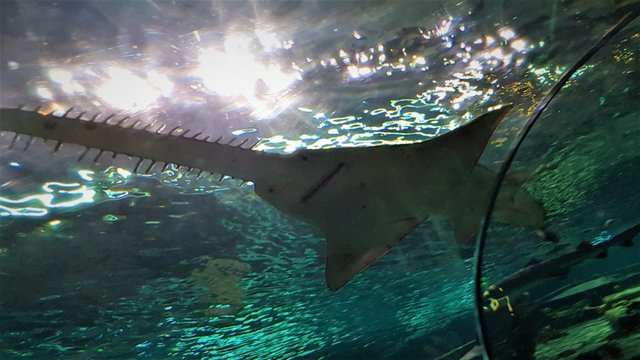 The sawtooth sharks were captivating, with their almost smiling mouths.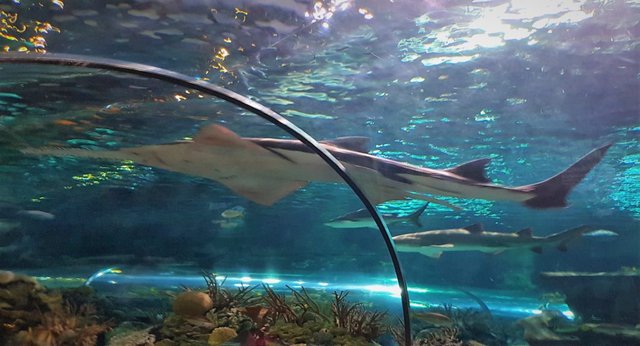 Nature certainly has a sense of humor.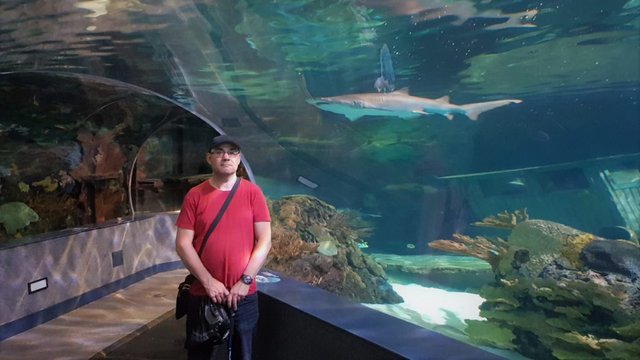 Of course, tourist custom dictated that I get a photo of myself, thanks to
@sk43
.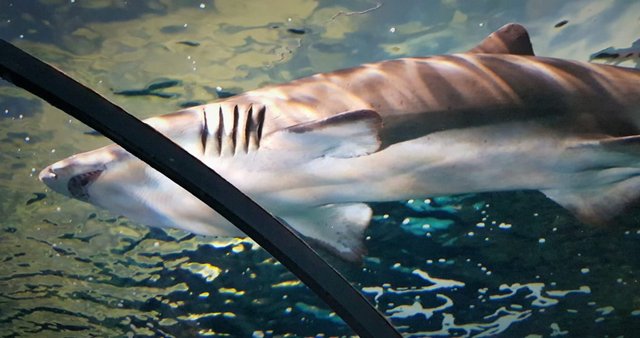 The proximity of these potentially lethal animals was quite sobering, with their wild stares and mouths full of razor-sharp teeth.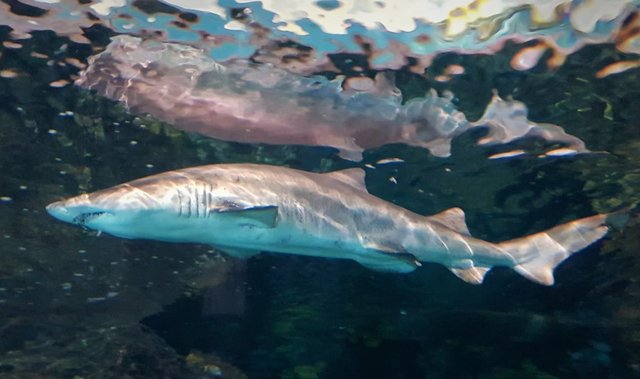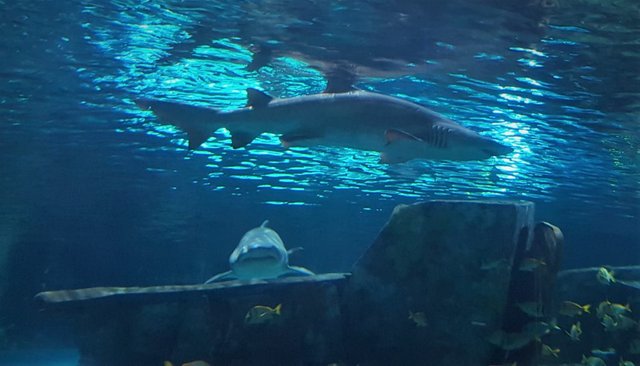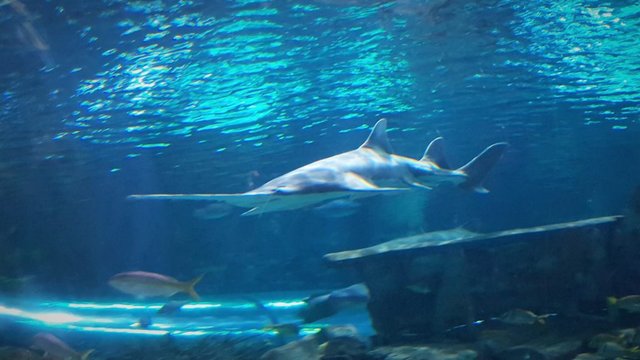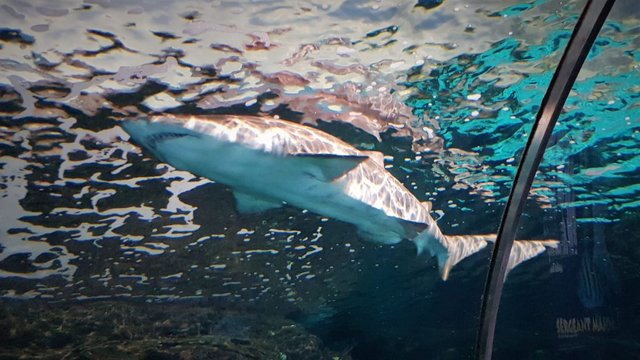 In this shot, you can see a glass-bottomed boat that takes visitors around the shark tank.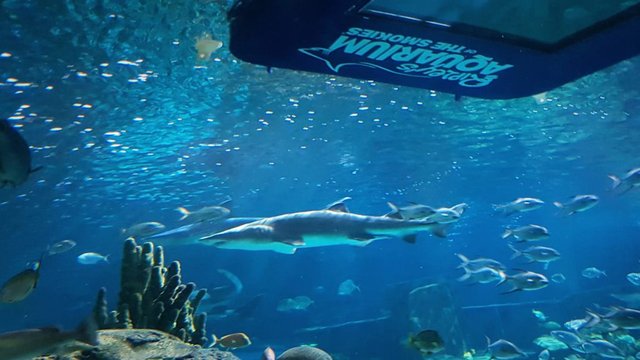 Scott,
@sk43
on the right., with a sawtooth shark lying on top of the perspex tube.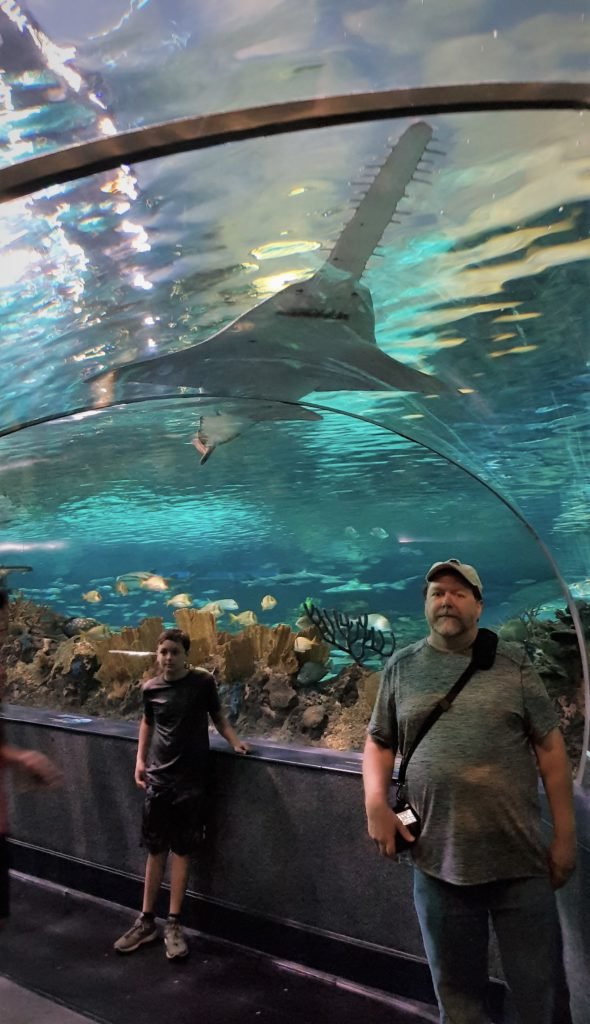 After getting our fill of sharks, we eventually moved on.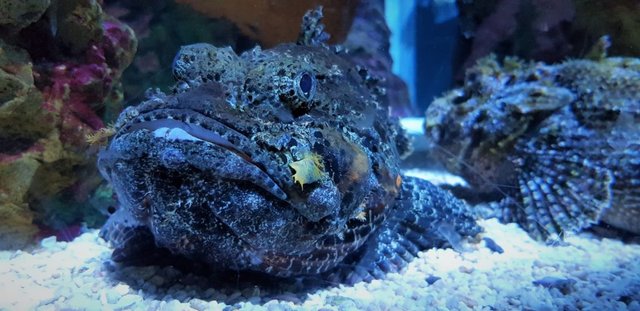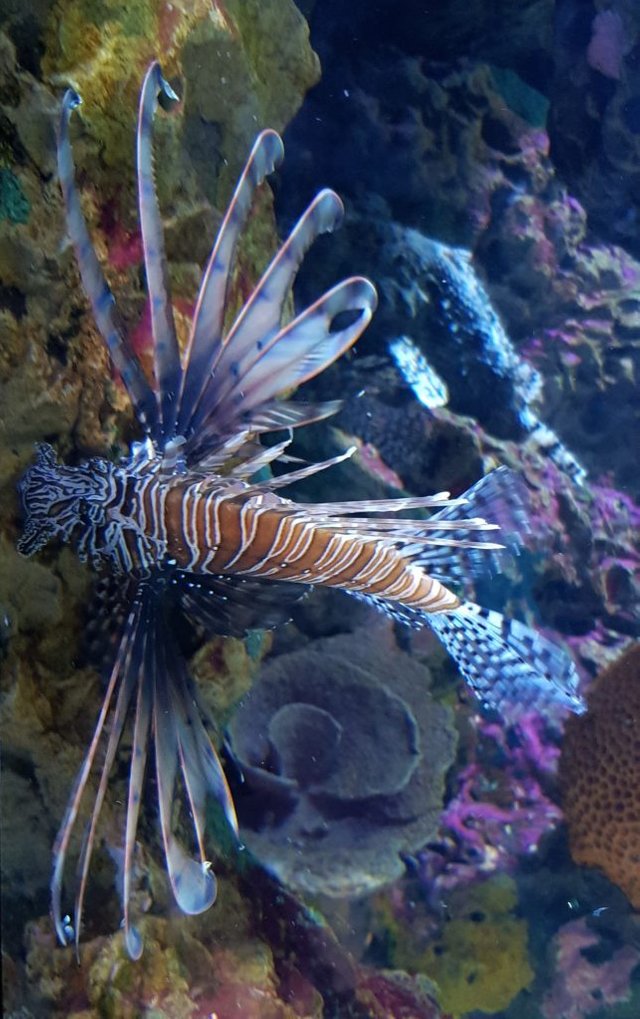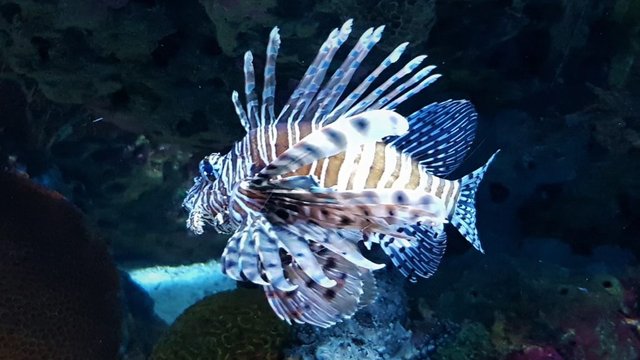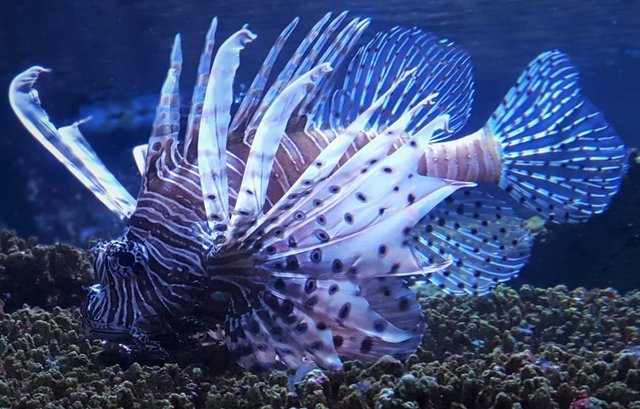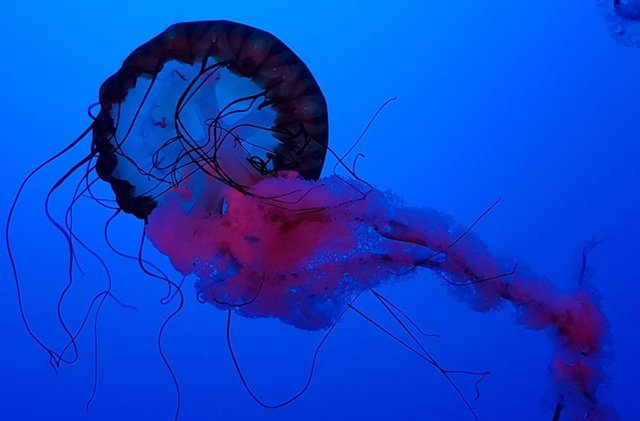 Although I have visited aquariums in the UK, some of the species on display I had never heard of before, let along seen, such as this fellow, a frogfish.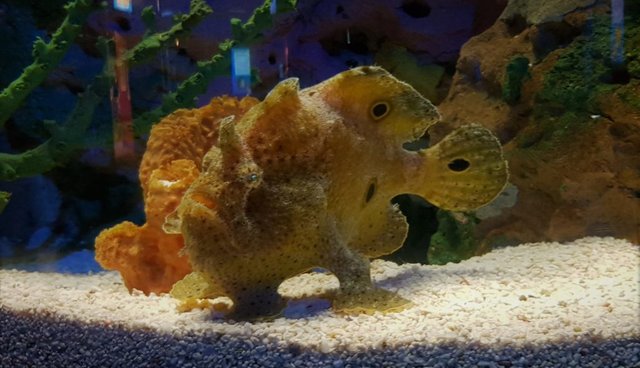 Its lower fins appear to be short stumpy legs with webbed feet, on which in walks across the gravel.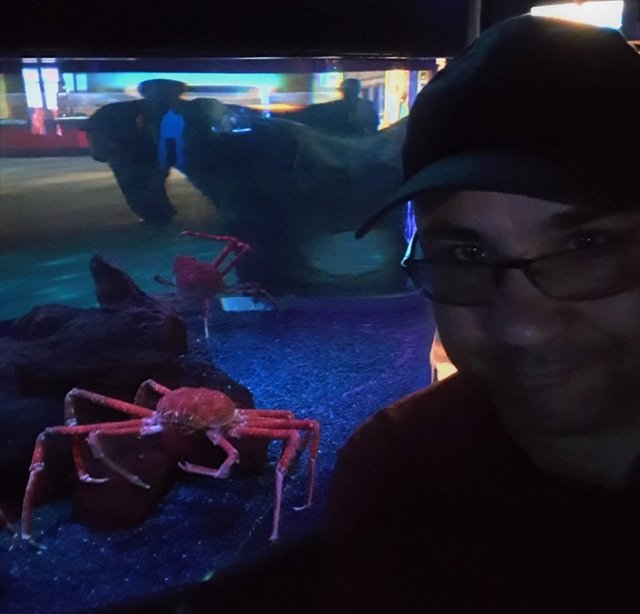 Me being stalked by giant spider crabs.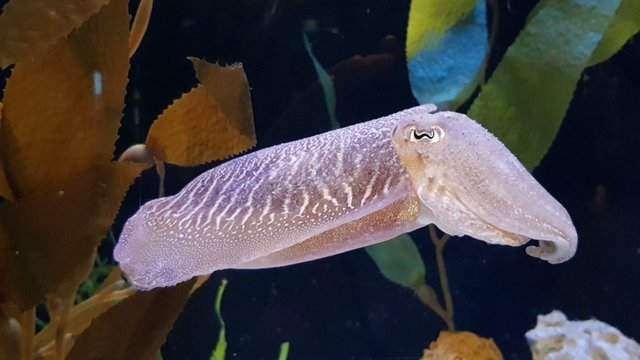 Baby Cthulhu, or cuttlefish...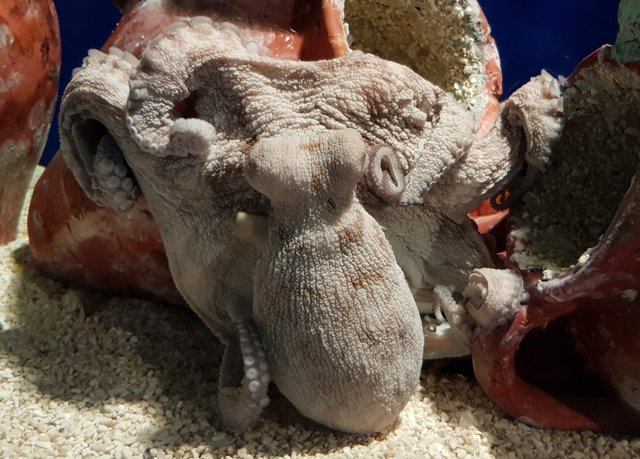 I find octopuses very interesting, they are so alien looking, yet very clever.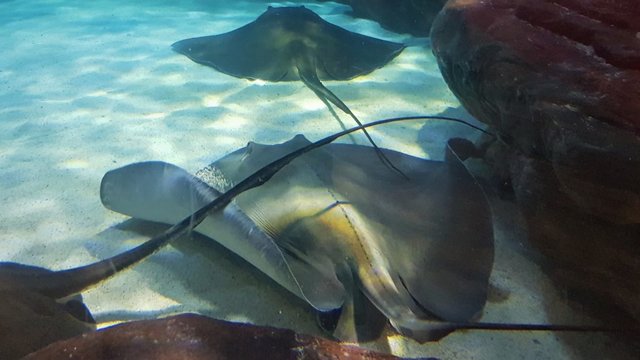 The rays exhibit contained several different species, majestically 'flying' around their tank.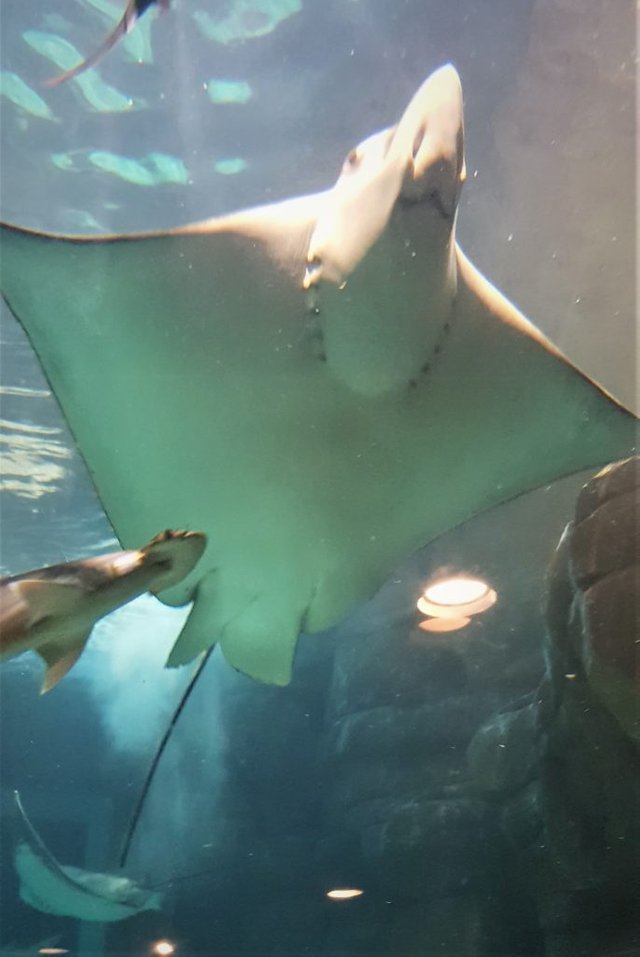 Next up were the penguins.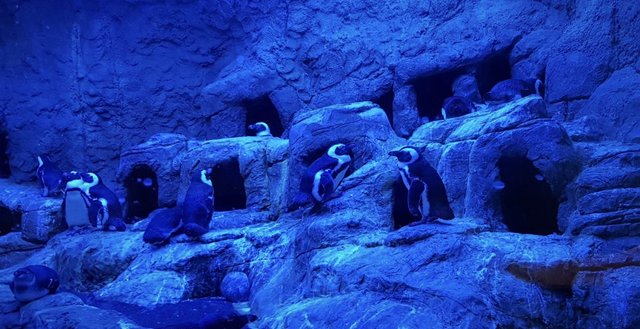 Outside, they had an enclosure to swim around.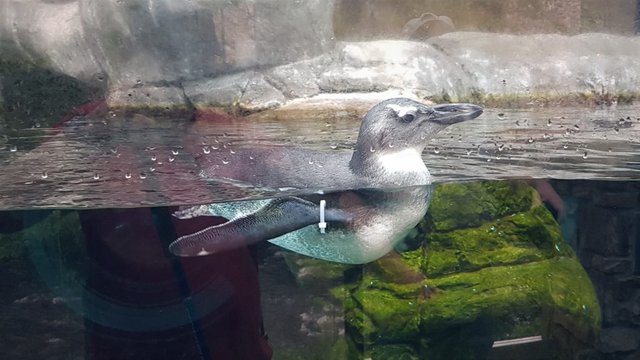 The same lady diver from earlier then entered the ray tank to feed them.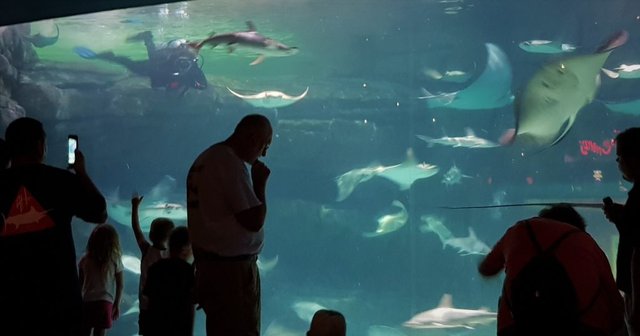 I wish I had more photos to show you of this, but truth be told, my legs were beginning to give out on me, so I sat back and watched from a distance. Other patrons were close to the tank watching, and they blocked any good pictures.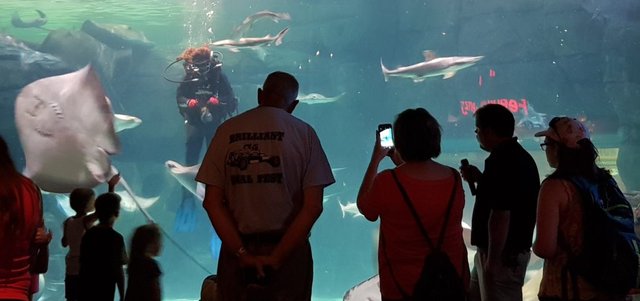 It was then announced that the diver would be entering the shallows above, to try to coax some of the smaller rays to being stroked.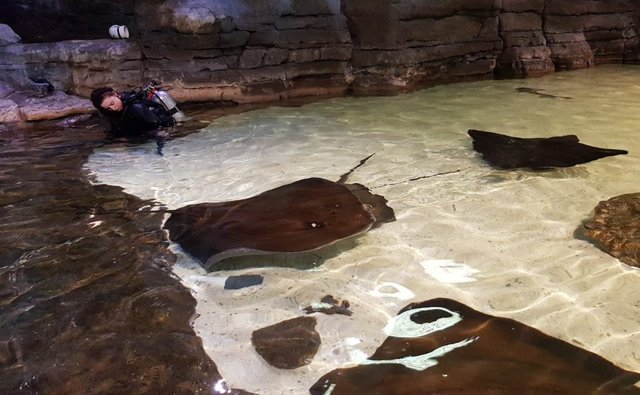 We really enjoyed our visit and I saw many creatures I hadn't previously. The entire set-up of the aquarium was fantastic and I thoroughly recommend visiting it yourself.
---
Posted from my blog with SteemPress : http://www.muxxy.co.uk/2018/07/09/trip-to-usa-full-on-tourist-mode-part-2-the-aquarium/
---