The Secret Mystries Of The Ancient City Of Petra ~ Part One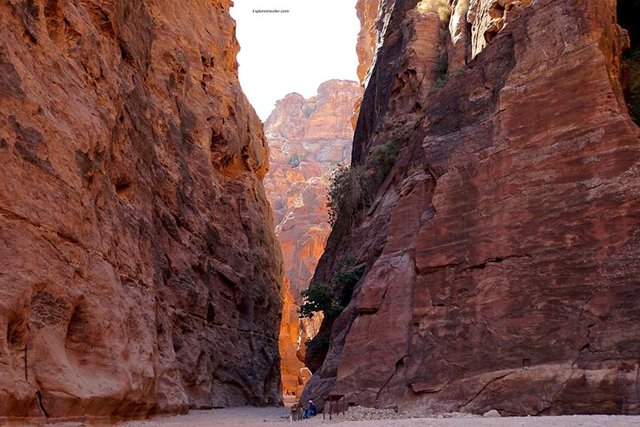 Exploring The Mysteries Of Petra
This is the magnificent entrance into the city of Petra, where history, ancient stories, folklore, and archaeology all come together in an ancient city, clothed in mystery. The entrance, designed by nature, is narrow and provided security and safety for an ancient people. You have just traveled through the awe-inspiring Valley Of Moses, looking at the amazing mountains of rose, red, and white sandstone, beholding the shadows of the mountains across the desert and then you come to the gateway of this mysterious city, the narrow and magnificent siq. If you look at the photo above, you will see just how enormously tall this entrance is, as both humans and animals appear to be quite small at it's base. 
The siq is a dim and narrow passageway winding through the cliffs of the mountains. In places, it is no wider than ten feet, and the trip is around a mile in length. Most enter this amazing city on foot, but there are donkey carts for hire to ease the hardships of your journey. 
This is the main way into this ancient city, a city complete with piped in water, a sanitation system, and even a way to dispose of the sewage. The facades of the buildings are uniquely carved out of the mountain of sandstone. The Treasury, most likely an ancient temple, stands tall and proud at the end of your journey through the siq and into the city. As you end your steep walk, you enter into this ancient metropolis known as Sela in Hebrew, or Petra in modern times. Both words mean rock, and it is in this area that Moses is believed to have struck the rock in the wilderness and water gushed out.  Numbers 20:11 tells the Biblical account of this event:  " 11. Then Moses lifted up his hand and struck the rock twice with his rod; and water came forth abundantly and the congregation and their beast drank."It is this account that inspired not only the name of the city itself, but of the surrounding valley. 
 If you have come from our website, ExploreTraveler.com
Twitter Page, ExploreTraveler
Facebook Page, ExploreTraveler  
  "Helping bring the world together one friend at a time. So travel
 and discover that the world is full of wonderful people." - ExploreTraveler
 We have a travel tip audio book that you can purchase at Audible --> Here
Happy Travels, 
   © 2017 ExploreTraveler. All Rights Reserved