The Secret Mysteries Of The Ancient City Of Petra ~ Part 2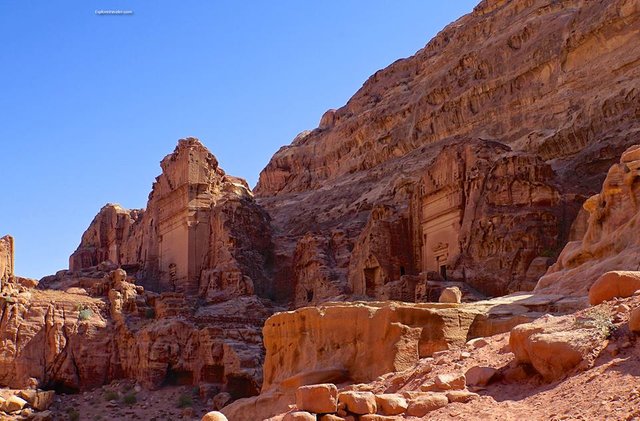 Carved Into The Sandstone Hills Is The Lost City Of Petra
The sandstone hills hold mysteries over 2000 years old. Mysteries of the fortress built by the Nabatacans.  It seemed like nothing could ever touch it. The shadows of the towering ziq envelope you as you make your way through this mile long winding path and into the city. The first thing you see is the facade of the Treasury. The Treasury was most likely a temple built to the many gods of this enormous civilization. But if you let your eyes feast to either side of this first building, with all it's grandeur, you will see the many carved quarters and caves that are intricately carved into these amazing sandstone cliffs.  
As you enter the city, take a slower pace, protecting your eyes from the blinding light of the hot sun, and your face from the blowing sand.  The roads are wide and you can usually climb to the many caves and other lodgings in the side of the hill. The architecture of the Nabatacans almost dances to life, as you begin to investigate this city carved into to the stone mountain. A city built with the preciseness of current carving tools. Petra, unlike a museum, was a thriving city with miles of roads, paths, walkways, stairs, and structures that were used each and everyday. A city that seemed as if it could never be destroyed, but one day it was just gone.  As it disappeared, it also became lost to the world, only the stories of it's greatness were still alive. 
Each fragment of this great civilization still stands today, though perhaps more than two-thirds of the city lies beneath the sand, buried and waiting to be discovered. But what you can see is magnificent and imposing, facing the elements  almost defiantly day by day, as the hot sun, the cruel wind, and the torrential rains make their impact on the mysteries that still lie buried. 
As you slowly explore the ancient walkways, the enormous size of these buildings leave you feeling like a small speck in the magnificent scheme of things. The size and the grandeur is overwhelming. As you make your way through the city, the carvings are amazing and then you find carved channels going even deeper into the city. There were even channels carved into the rock to move fresh water where it was needed. This city, in the midst of a dry and hostile desert, was like an Oasis in the midst of a wilderness.  It's services were designed to run smoothly, day after day. It was a thriving city set on a hill. A city that was almost untouchable, was most likely taken out by a series of earthquakes, leaving much of it's mysteries still buried. This is a city that is hidden, in the cleft of the rock. 
 If you have come from our website, ExploreTraveler.com
Twitter Page, ExploreTraveler
Facebook Page, ExploreTraveler   
  "Helping bring the world together one friend at a time. So travel
 and discover that the world is full of wonderful people." - ExploreTraveler 
 We have a travel tip audio book that you can purchase at Audible --> Here
Happy Travels, 
 © 2017 ExploreTraveler. All Rights Reserved