The Secret Mysteries Of The Ancient City Of Petra ~ Conclution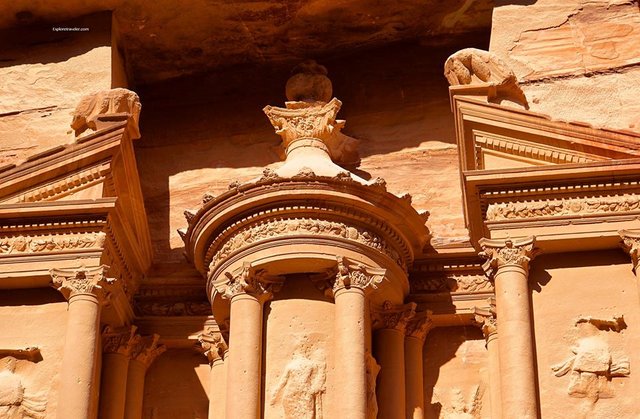 Elaborate Architectural Detail Of Al-Khazneh Or "The Treasury" In Petra  
As our five part Petra adventure comes to a close, we take time to look at the upper levels of the Al-Khazneh or The Treasury. Here the mysteries of the lost city grow as we wonder just what this magnificent building carved out of the sandstone cliffs was used for. Most seem to favor that it was some type of a temple for the many gods of Petra after the many invaders of Rome took control, but there is also the theory that in the beginning it was an elaborate tomb.  This also applies to the Monastery that is higher in the cliffs.  As with many of our questions, the answer is buried under the sand and boulders that were put in place by the many earthquakes over the years. 
As we look up to the top of The Treasury, the first fact is that this is an area that has not been as exposed to the human touch and curiosity. Therefore we can take notice of the extremely elaborate Architectural detail at the top. It is magnificent! It is almost untouched! This is the architectural signature of a city carved out of stone almost two thousand years ago. 
As magnificent as these buildings are today, can you even begin to picture what they must have looked like during the time of the Nabataean Civilization? As much as we know about this great civilization, just imagine how little we really know as of today. Almost 90% of this great city is waiting to be set free from the ruble left by the earthquakes and sealed by the wind and the rain. What you see here today is beyond beautiful, but what is waiting in the wings to be dug out of its desert burial place, will be even greater. What a perfect time to make your plans to explore the next generation of mysteries, at "The Lost City Of Petra!"
 If you have come from our website, ExploreTraveler.com
Twitter Page, ExploreTraveler
Facebook Page, ExploreTraveler  
 "Helping bring the world together one friend at a time. So travel
 and discover that the world is full of wonderful people." - ExploreTraveler 
 We have a travel tip audio book that you can purchase at Audible --> Here
Happy Travels,
 © 2017 ExploreTraveler. All Rights Reserved