Travel Blog 3, Part 2: Extraordinary accommodation in Taiwan | Hotel Indigo, Kaohsiung
Hello Steemians!
Accommodations are the most important factor for most travellers out there. I believe a good stay is what makes your vacation/travel more exciting.
So, please follow me to Kaohsiung, Taiwan in this article.
Hotel Indigo, Kaoshiung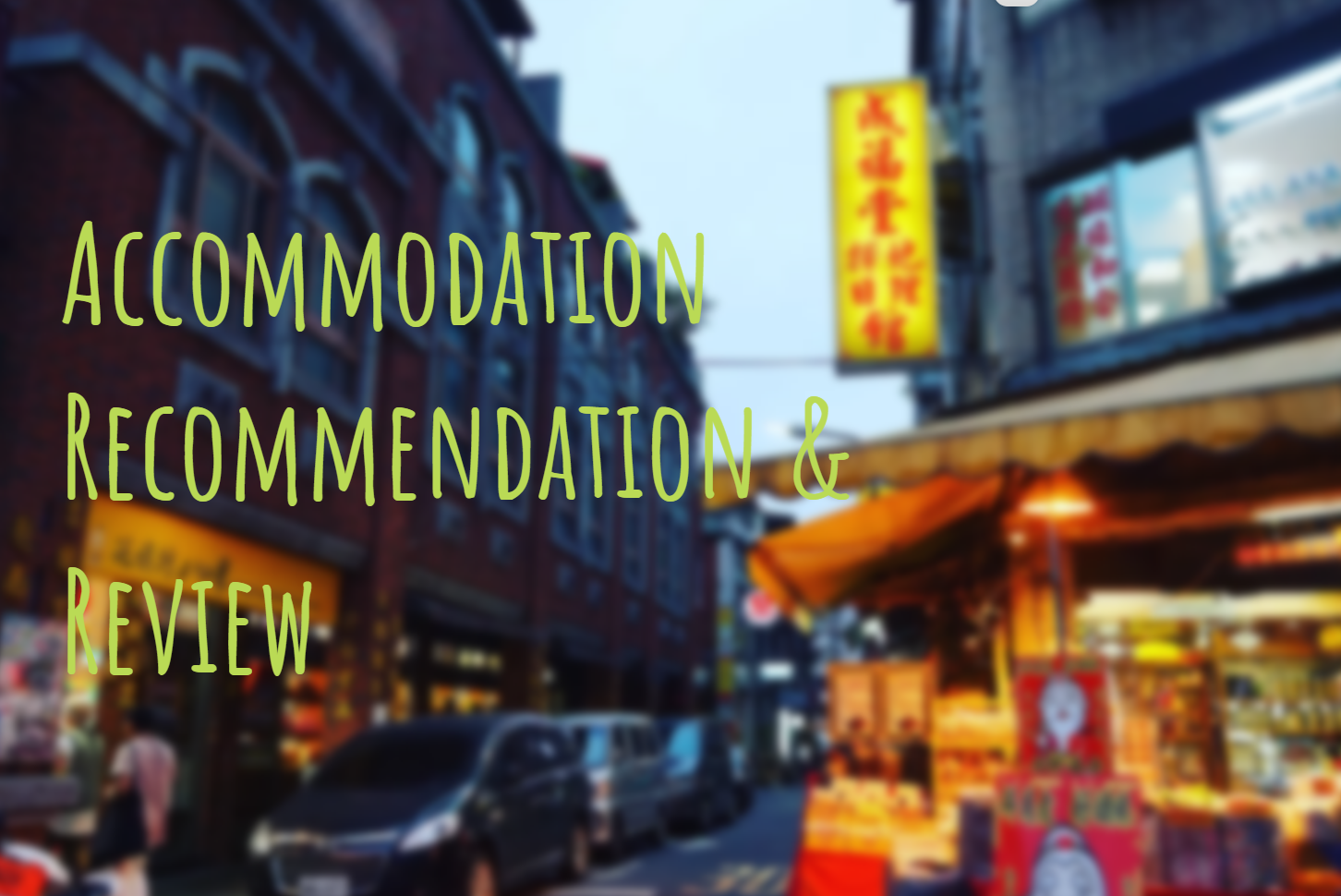 Accommodation in Taipei could be way out of your expectations and budgets. With the latest population recorded at 2.705 million in just Taipei alone makes it more than hard for locals to get a suitable place to stay. Landed houses are almost never be seen anywhere in Taipei. With the highly priced apartments, leaving you with limited accommodation choices and a higher budget for a better and comfortable stay.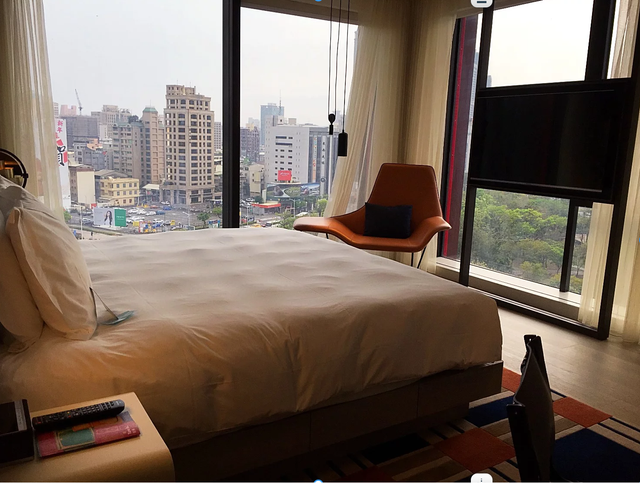 When it comes to accommodation, location is always my priority. Having a convenient location, able to access many public transportations, a stone's throw to local markets is a must for me and to all fellow travellers too. Therefore, I have decided on Hotel Indigo which is a subsidiary hotel of IHG group. We have chosen a premier room which could accommodate up to 3 persons which cost 115Euro/night.
Hotel Indigo is a recently built hotel located in a very convenient location at Zhongshan 1st Road which is 5 minutes walk to the closest MRT station. Giving you the opportunity to explore the vibrant city nearby Central Park Station as easy as 123. Hotel Indigo also provides one of the most famous sky bars of all Kaohsiung.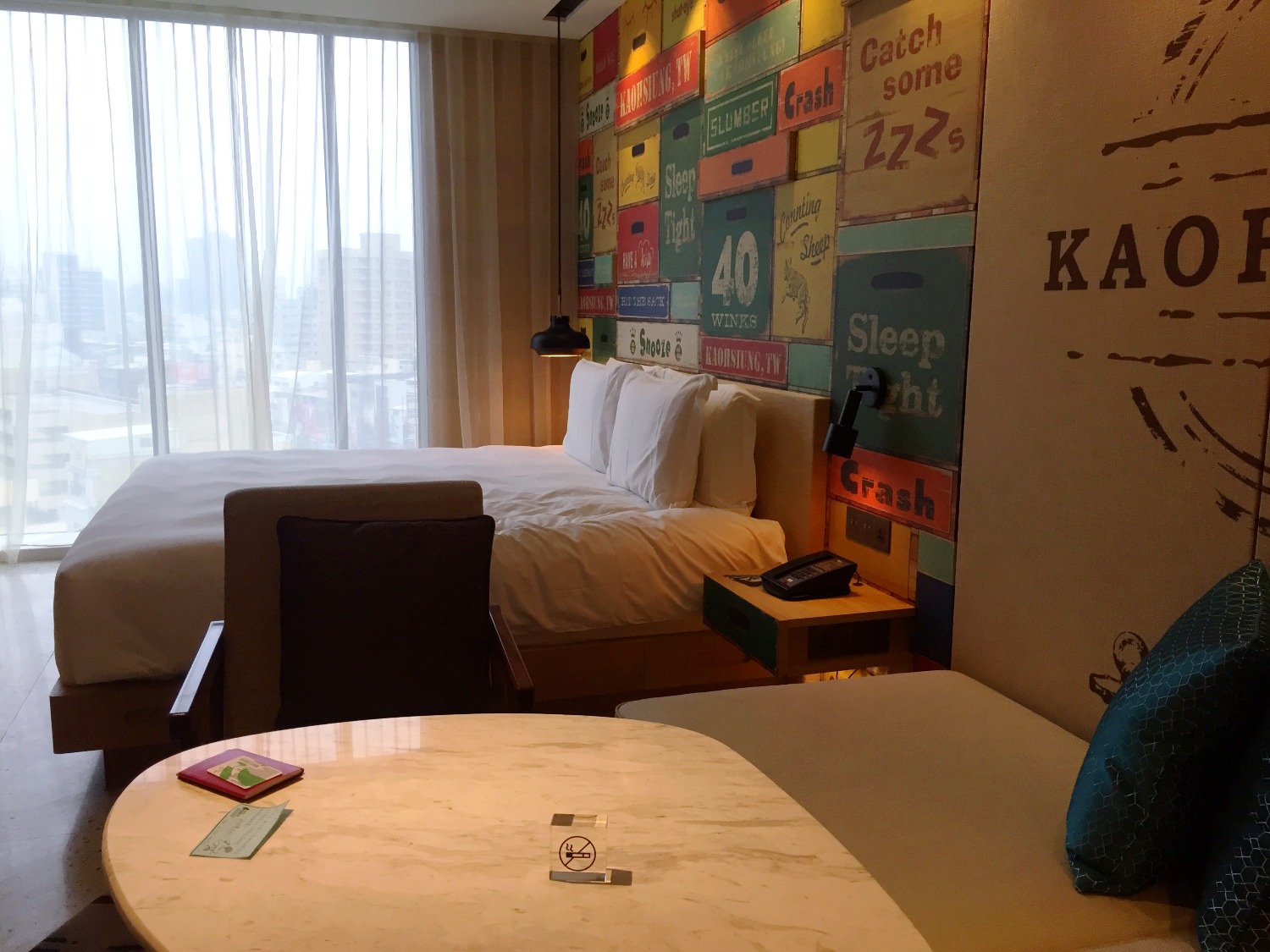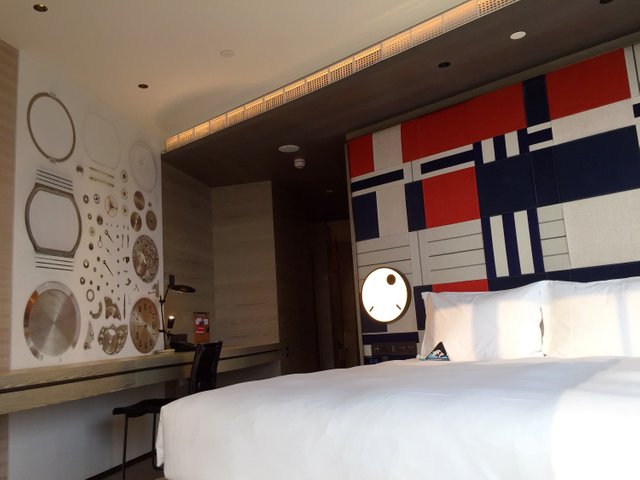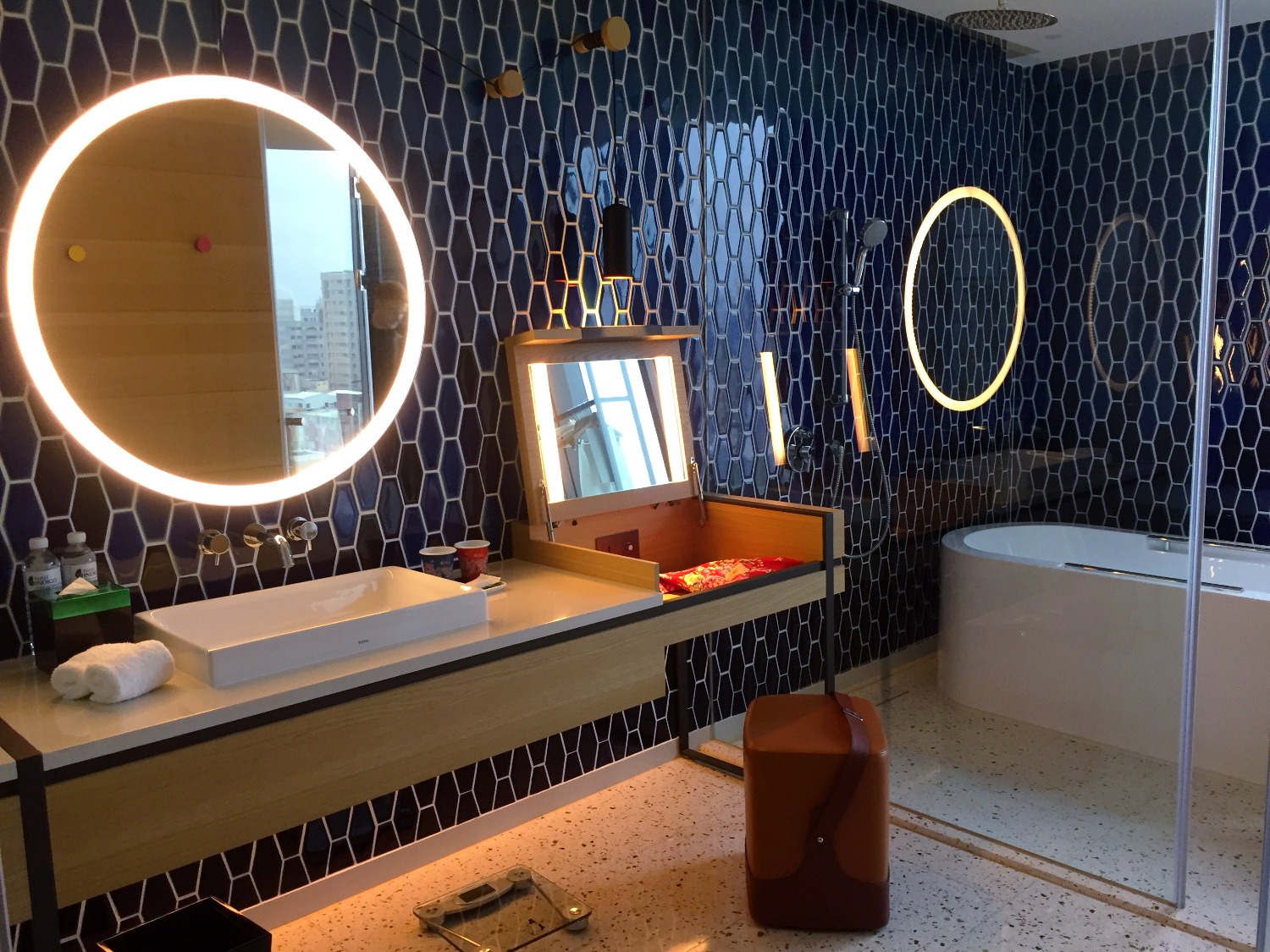 The moment I've entered the washroom, I just can't stop looking at the stunning decorated washroom that makes me want to spend as much time as possible there. It might sound crazy but, it's true that I love the vibe in the washroom so much!
I love how their designer has such well thoughts that toilet was separated from the bathroom that gives you all the privacy you need. What beyond surprise and amazed me was the toilet was fully equipped with Japanese technology of heated seat, automated washer and even a massaging mode to choose from :D The bathtub was situated at the perfect spot for every room where you could have a perfect view of the city while you're having your relaxing bath with the complimentary spa essential oils.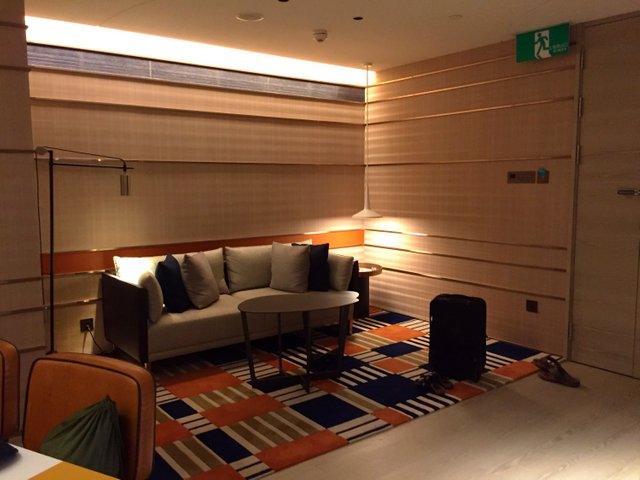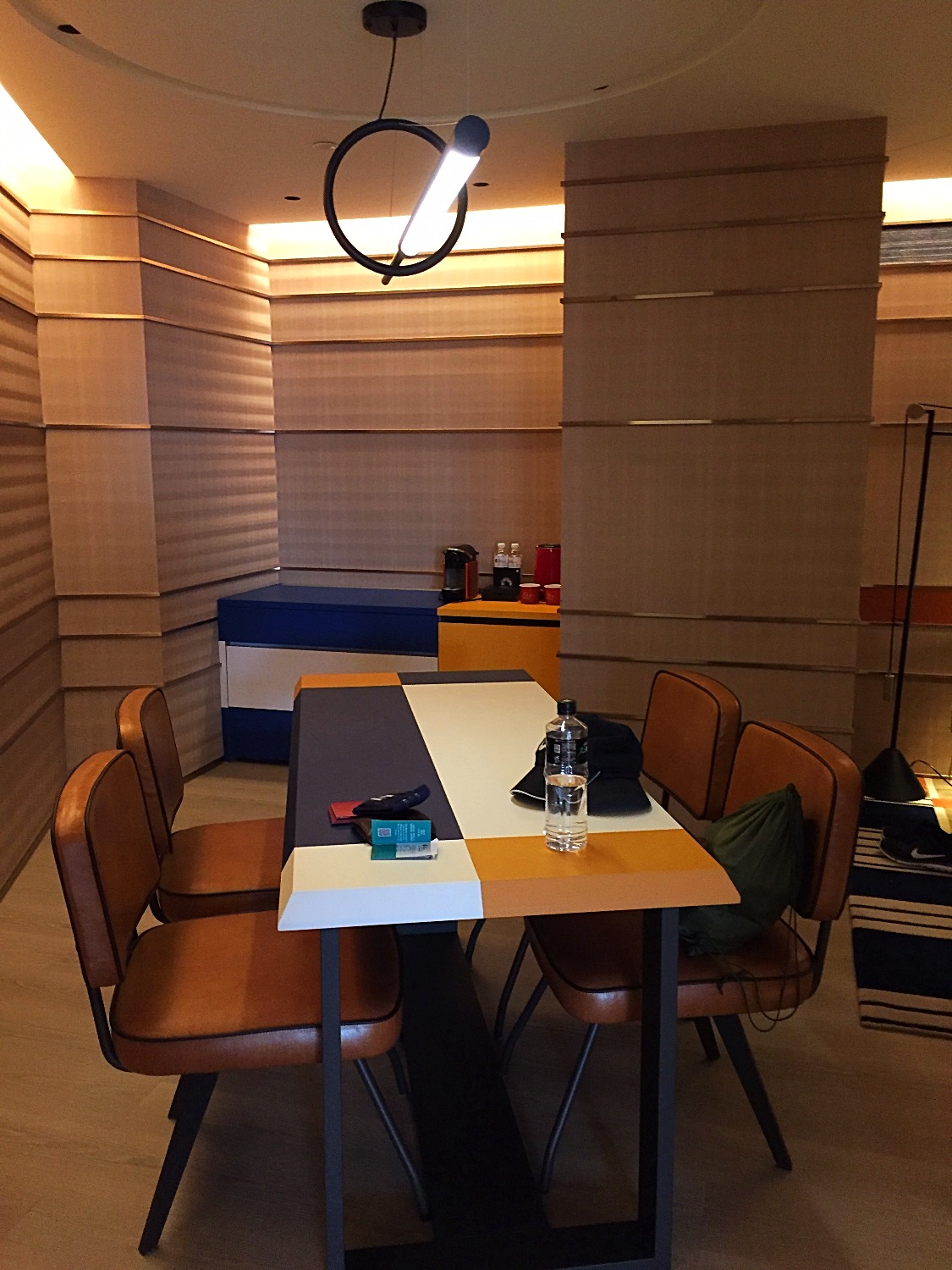 As good as the room was, however, we encountered some natural distractions which forced us to request a room change. Out of our expectations, we were upgraded to their premier suite which cost approximately 500Euro per night. It is merely just a room where it is a 99 sqm suite equipped with king size bed and 1 living room with the panoramic view of central park. The living room also provided an in-room sound dock where you're free to express your love towards music whenever you want.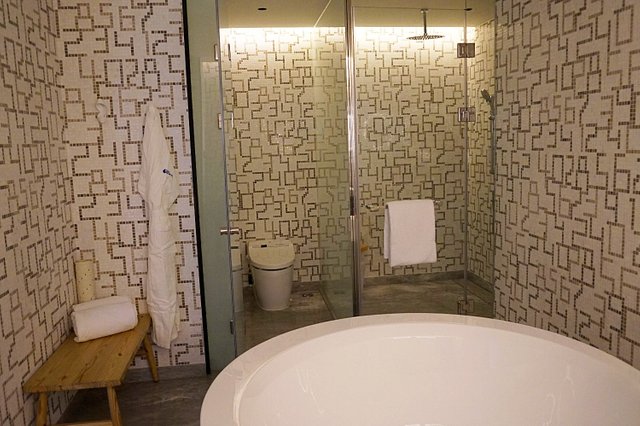 Of all the hotels I've stayed all around the world, this is definitely a top rated hotel that has the superior design for their bathrooms and toilet. Just to mention, this particular suite has 2 toilets in the room. The gigantic bathtub made me feel like as if I am swimming in a pool. I am a little exaggerate but it's really enormous that it took up so much time to be filled. I especially loved that they pay so much attention to the minor details throughout the room.
P.S. did you realize the wall was all numbered tiles? Because I did not realize it until the time before I left the room.
Overall rating: 8.5/10
Reason: Slighty highly priced, but what you pay is what you get.
*Disclaimer: All photos and information were collected from my travel experience. Non-sponsored post. Please do drop me an email if you wish to use the photos and details as it is all contains copyright.
Please do resteem, upvote and follow me
Your support is what kept me going to write more blog post
Much Love <3