Tortuguero National Park, Costa Rica: About turtles and life lessons
Looking back: Tortuguero National Park, Costa Rica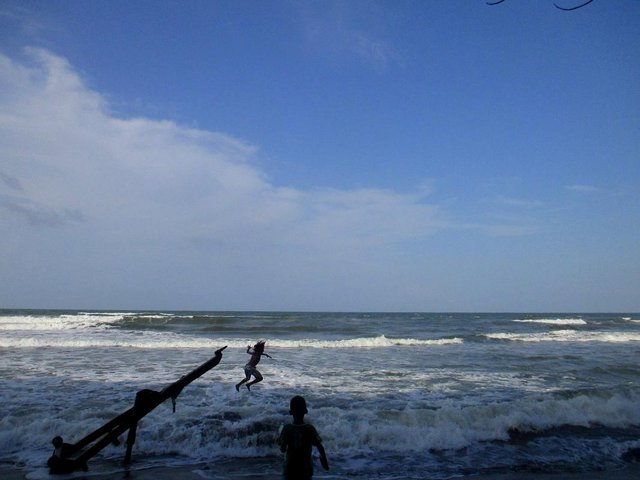 Sometimes you first see the profile of a Couchsurfer, decide you need to meet this person, and then you check where he or she lives. This happened with Silvia, a 49-year-old downright crazy Dutch immigrant who has been living in Tortuguero for 12 years now. 
"I see life as something magic, full of magic moments. [...] I have joined Cities of Light, opening my living room to an hour of meditation in silence from 8 to 9 PM right here in Tortuguero. All are welcome. [...] I try to live as 'mindful' as I can. A simple life with my mind clear and pure, in peace. I am not interested and never was in money, and I guess I am poor, but happy. [...] I would love to be part of a 'revolution' of mind, and that is what I aim at for the future. I used to say I was interested in starting a commune. I think I no longer am, but I am still in love with the idea of having a 'walk-thru commune', with coming and going Couchsurfers. I am still interested in starting a human potential movement, since I think we need to explore what else our minds can do, but that seems to be more a thing for the future... [...] I love to read, I love nature." 
Wow. This woman is partly what I already am and partly how I would like to develop myself.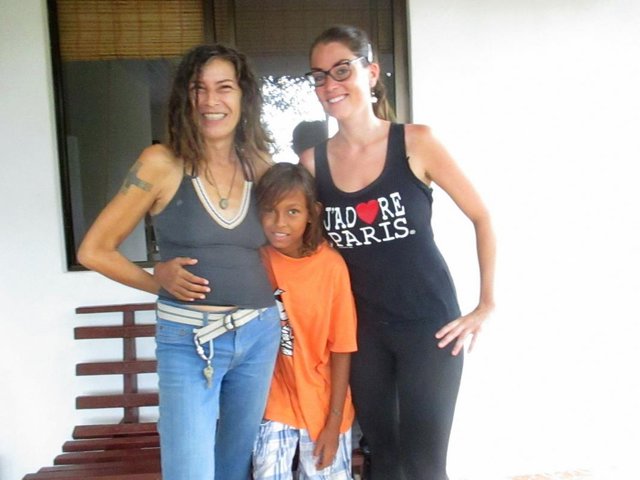 Tortuguero itself didn't seem the worst place to visit either: A tropical rain forest where the turtle breeding season just took off. Some alarming Google search results about several armed robberies in the buses and boats made me a tad nervous, but then I remembered that facing fears and stepping out of my comfort zone had brought me nothing but life experiences so far. So I went... already pitying the poor robber that would go through all these trouble for a bunch of ragged clothes, beaten-up shoes, a half-broken camera, a phone with a shattered screen, a wet photocopy of my passport, some dry bread and $50.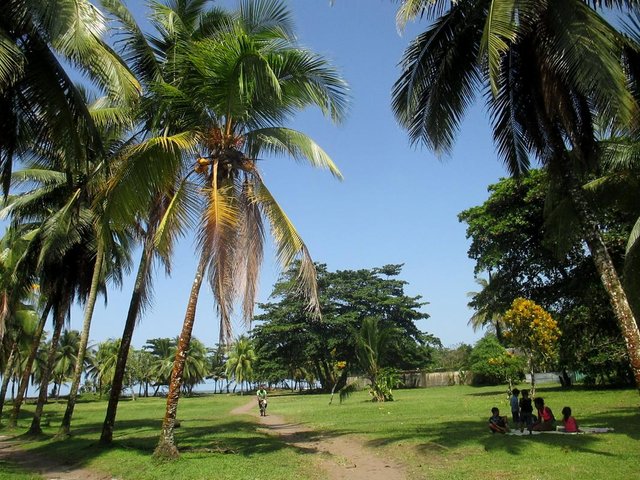 No guns were pointed at me though, the only disturbances I had to live through were the poignant stench of a Frenchman and a female pyramid of flesh that locked me into my backseat with her 150kg. (I have nothing against fat people, someone else's daily calorie consumption is none of my business... but when it starts disadvantaging others it does become my business. Just like smoking right next to someone causes the same negative health effects and can therefore be considered extremely discourteous, taking up 1.5 seat and thus leave a few centimetres ass-space for the person next to you, so she's sitting with her face smashed against the window and buried under a pile of meat , doesn't show great manners.) Sweating from this abundant skin-to-skin contact I got out of the bus in Cariari and found some English-speaking Tico's running at me, all too eager to sell me both bus and boat tickets to La Pavona and then Tortuguero. Together with the Lonely-Planet-reading, rolling-suitcase, non-Spanish-speaking tourist masses I got dragged into a bus. As soon as I saw the locals entering the same bus 100 meters further down the road, I knew I was being ripped off. Later I found out I indeed was, I paid $2 for a suitcase I didn't bring plus their royal commission. Tourism done wrong.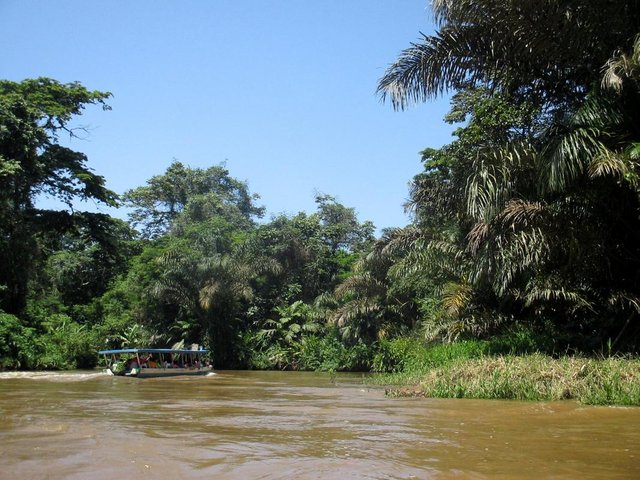 Feeling worse for them than for myself (I mean, tourism will disappear like this), I enjoyed the police-escorted boat ride during which I spotted a crocodile, and on the way back a toucan and a spider monkey. I realized I did a poor job at packing. Just coming from the fresh highlands around Paso Ancho I packed a sweater, jacket and rain jacket, just one tanktop and I left my flip-flops at home... to arrive in the humid 35-degrees tropics of this Caribbean rain forest. Well done, Steph.
I kicked off my shoes and decided to walk the streets barefoot until I would find someone who knew Silvia. The local men, all a bit too eager to help, led me to the hotel where she worked as a receptionist.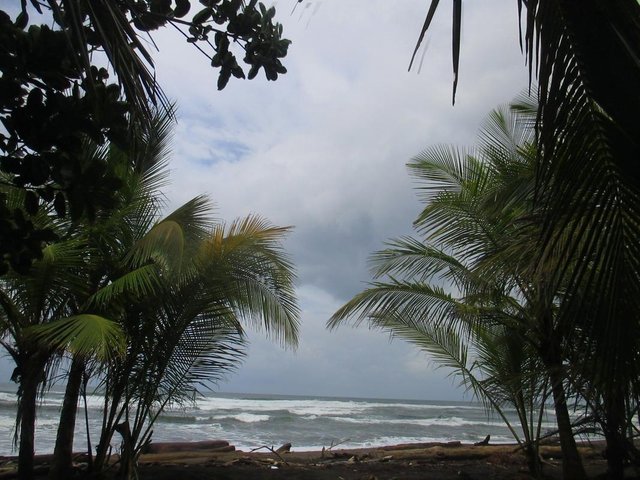 Loudly laughing and full of stories about her jealous Rasta (ex?)boyfriend she had been fighting with all day, this skinny, dreadlocked woman made me feel like I just found back a long-lost friend. JJ, her beautiful son who shockingly accurate resembled Jungle Book's Mowgli, guided me to the house while pointing out all exotic fruits and veggies hanging on the trees. (Why the name JJ? Well, the father is John, so he would be John Jr. But then his sister already gave birth to a John Jr., so until a month after he was born they were still looking for an original name with 2 J's. They found several, but as no one really gives a shit it remained JJ). The house, guarded by the biting cat Minchi, was a tiny little square with cement floors, thin wood plate unpainted walls, a roof made of corrugated iron, no glass in the windows, a temporarily broken toilet and a shower that was simply a cold-water-tap at a two meters height. There was one small bedroom for JJ, Silvia slept in the living room. I didn't see a TV, computer, microwave or any other electronics. While JJ was climbing on the walls I realized that you really don't need anything more, I could perfectly live like this.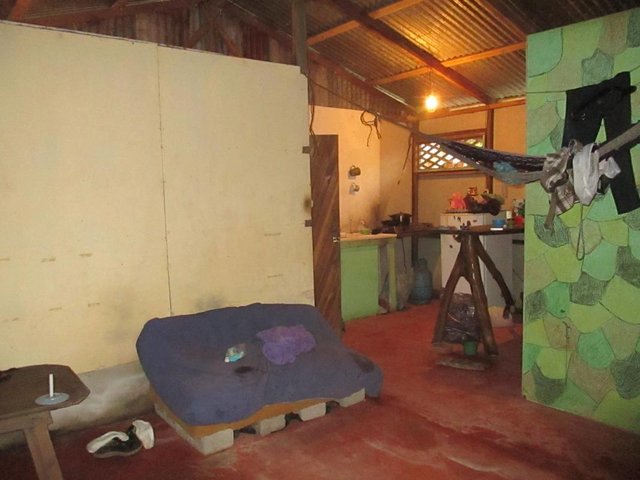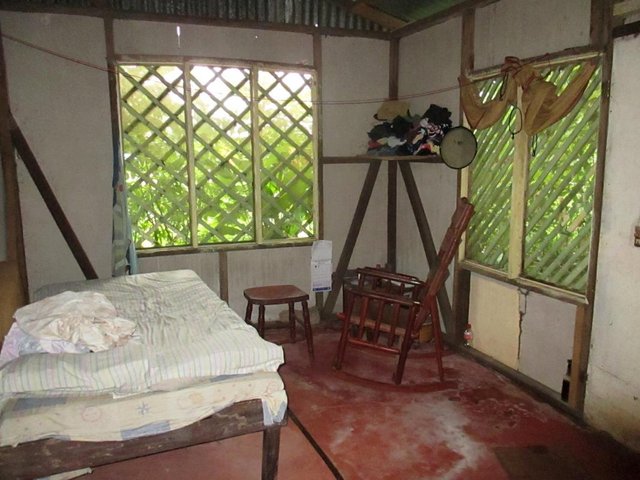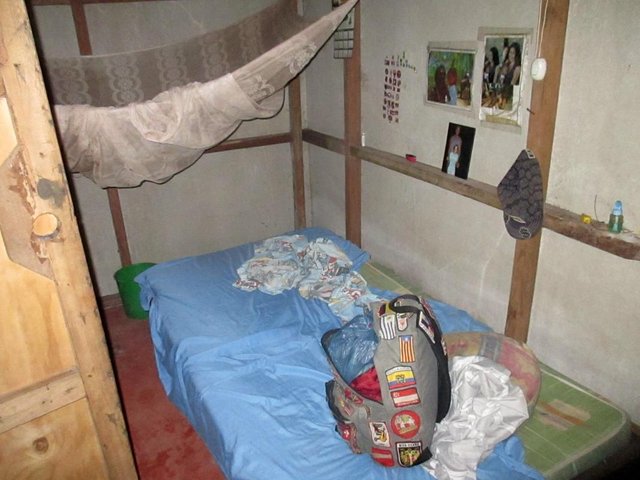 Later Silvia pointed out that especially the French Couchsurfers can't handle this, how she called it, poverty... but well, that doesn't really come as a surprise, does it? JJ put on his rollerblades and asked me if I wanted to see his school. While making some acrobatic stunts and break-dance-moves in order not to fall, my little guide showed the place where the local kids get their education: a building right next to the beach, what a childhood! Straight from the playground he dived into the sea, where his friends were already sunbathing.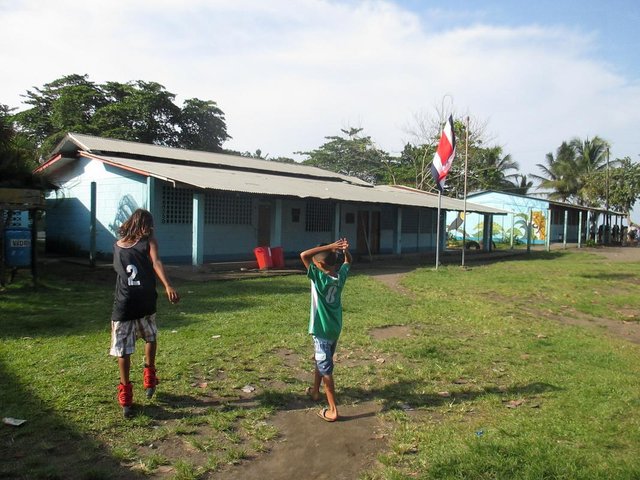 But back to business: Being located in a place called 'Tortuguero', I can't leave without seeing some tortugas (sea turtles). As our wonderful human race thinks it has the right to steal these animals' eggs and use their body and shield for consumption and decoration, a local foundation closed up the beach at night... probably once they realized that with tourism these animals are worth more alive than dead (beautiful concept, money). The only way to spot them is via a tour, something I usually rather avoid. I came to the tour office at 6PM, getting informed we leave at 9PM and eventually waiting in the line of tour groups (600 people) until 11PM... BUT it was worth it. I saw two giant turtles stumbling on the beach, digging a hole and laying the eggs (and by laying the eggs I mean I saw the eggs literally falling out of Ms. Turtle), after which they closed the hole again and made their way back to their ocean.
Life is beautiful if we just let live...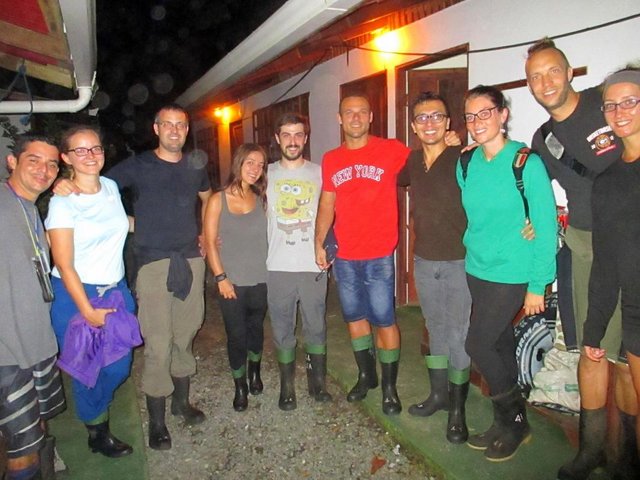 No other photos were permitted in order to not scare the turtles
When I arrived back into the house I saw three people sleeping on a mattress on the floor, just to make sure their guest had the best place to sleep (JJ's bed). This selfless hospitality from the people that possess less than most of us made me almost tear up a bit.
Richness is in the mind.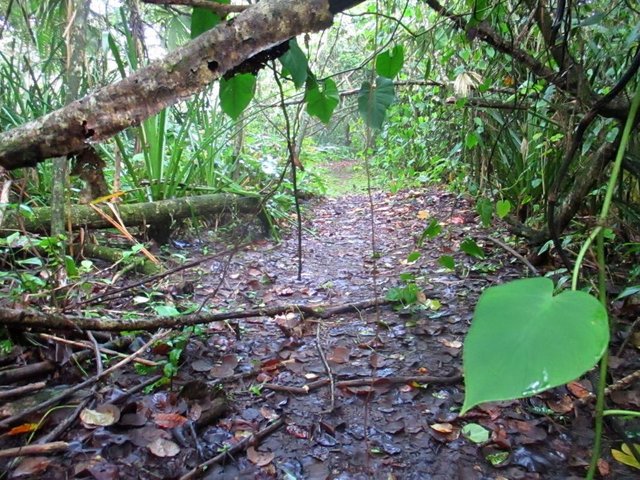 After I took a cold shower and prepared my breakfast naked as I didn't want to wear a towel, I tried to sneak into the national park for free. Nature is for and from everyone, charging a $15 admission is simply not something I cooperate with. With some tips from Silvia the plan worked out and equipped with some rented plastic boots (best investment of the day) I fiercely stepped through the swampy humid rain forest for about 5-6 hours without stopping, as a mosquito army would immediately attack if I did. Burning sun and heat alternated with intense I-can't-even-see-my-hand-in-front-of-me-rain-showers, making sure I at least didn't bring my rain jacket for nothing.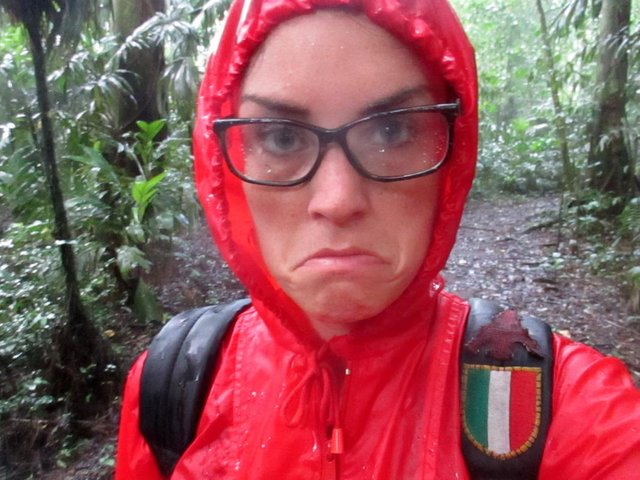 It served another purpose too... after 4 hours of hiking I realized I needed to pee. Not having seen anyone the entire time I figured I could just drop those pants without bothering to seek shelter. The moment I started  the process out of nothing a male hiker passed by... peeing on full force I was unable to put a stop to it, so I just held the rain jacket in front out of my half-naked squat position, friendly waving from behind. Welcome to my life. This isn't even the first time this happened. 
On my way back home the electricity fell out like it does often here, so I bought a candle and started cooking in the dark.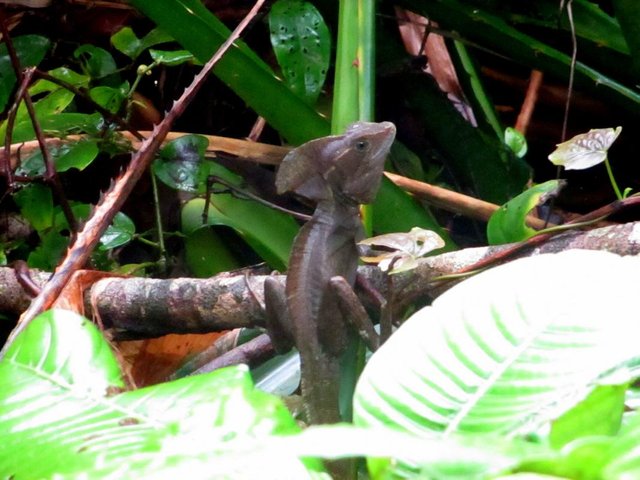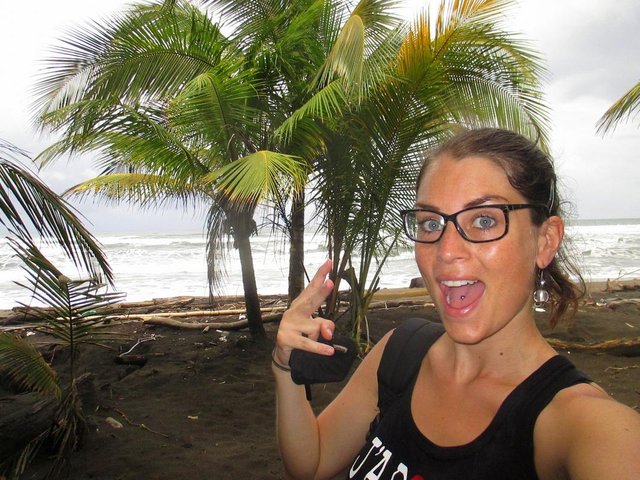 As Silvia had been working 2 months straight without 1 single day off (workers' rights, why?) we unfortunately didn't spend much time together, but this night we shared a tasty Dutch meal and some candlelight conversations. As she sat down in her rocking chair and lit up a joint we talked about how we both didn't feel at home in our country and how we left everything behind.About difficult childhoods, abuse, emotional blackmailing, depressions and black periods that make you stronger. About how relationships failed and how new ones started. About men and their failures. About how love can drag you down... all the way down to paradise. Because even though she went through the vortex of  hell and back, here she sits in a place others only see on travel TV-programs with the most beautiful child of the village. 
"I always thought I had many people I could count on, friends, family, the man I blindly fell in love with... I froze inside learning that one after the other stopped caring or maybe never did, because of prejudices and faulty conclusions. Until I got over that too. 
From that moment on I found real happiness, as it all of a sudden depended all on me instead of on others."
Even though others can enrich your life, you first need to learn how to be happy all alone: internally rather than externally. And then all of a sudden the lights switched on again and I heard the entire village bursting out in a loud cheer. Time to celebrate.
Until we meet.