On Detours with Kathi #011: Sanctuary of Truth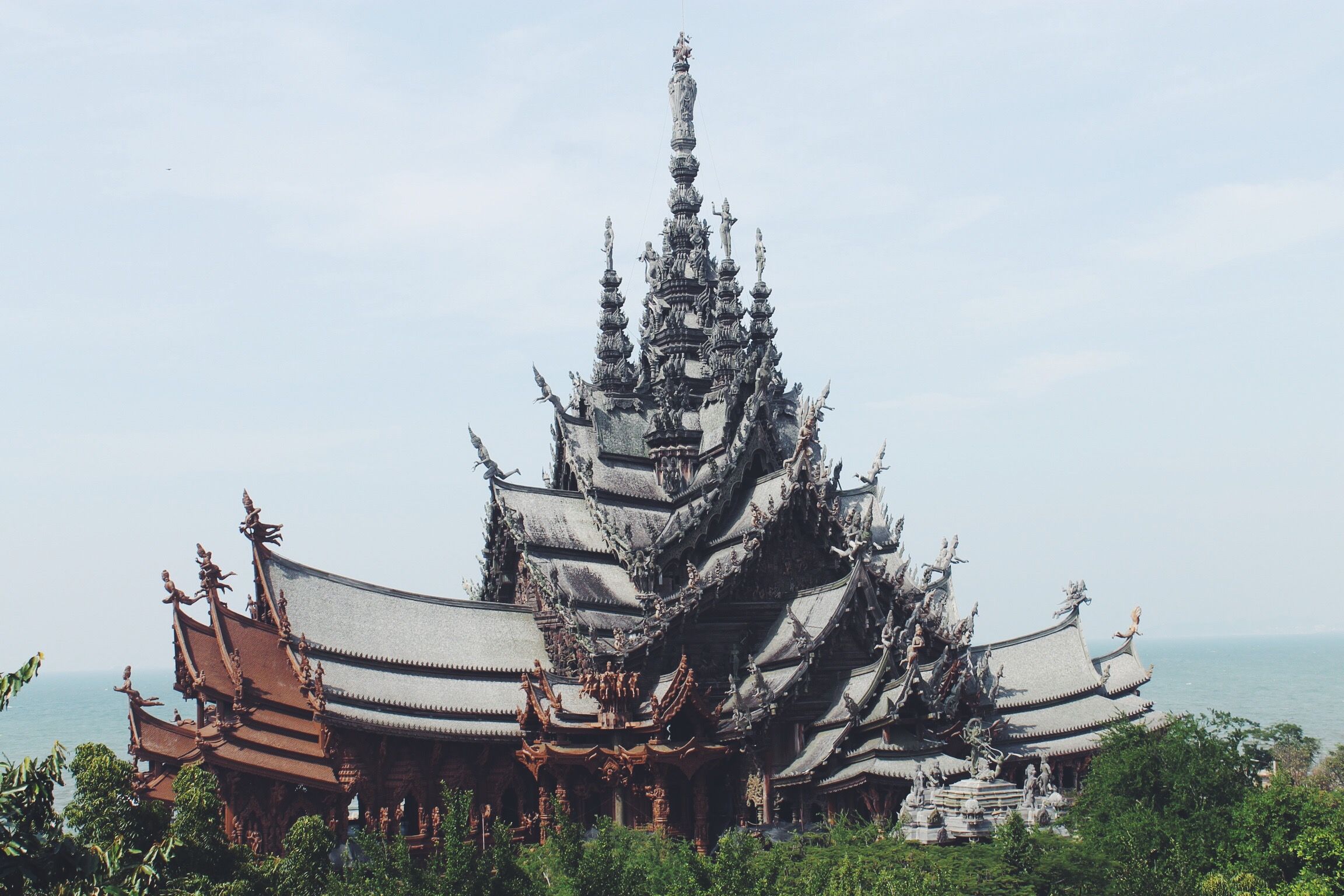 Sanctuary of Truth
Hello lovely people! I just wanted to start out saying - THANK YOU - for always keeping up with us and reading the blog. Thank you for our first 50 followers.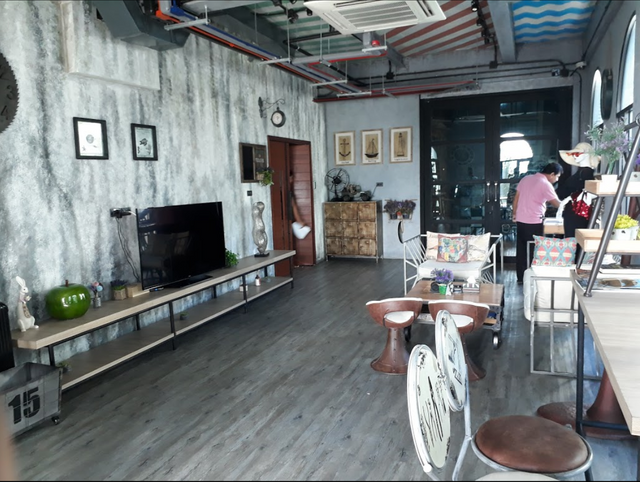 I don't think I told you, but remeber that we came back to this awesome hostel we already stayed at last week ? The Nonze Hostel really is a beautiful place to stay at. But I was actually meaning to say was, that we got an even bigger room this time and are staying on the 4th floor instead of the 3rd which has an even better view. So after getting up at 9.30 am we were just in time to get breakfast on the 2nd floor where you can either sit in or outside. Today we decided to eat outside even though it was a little windy.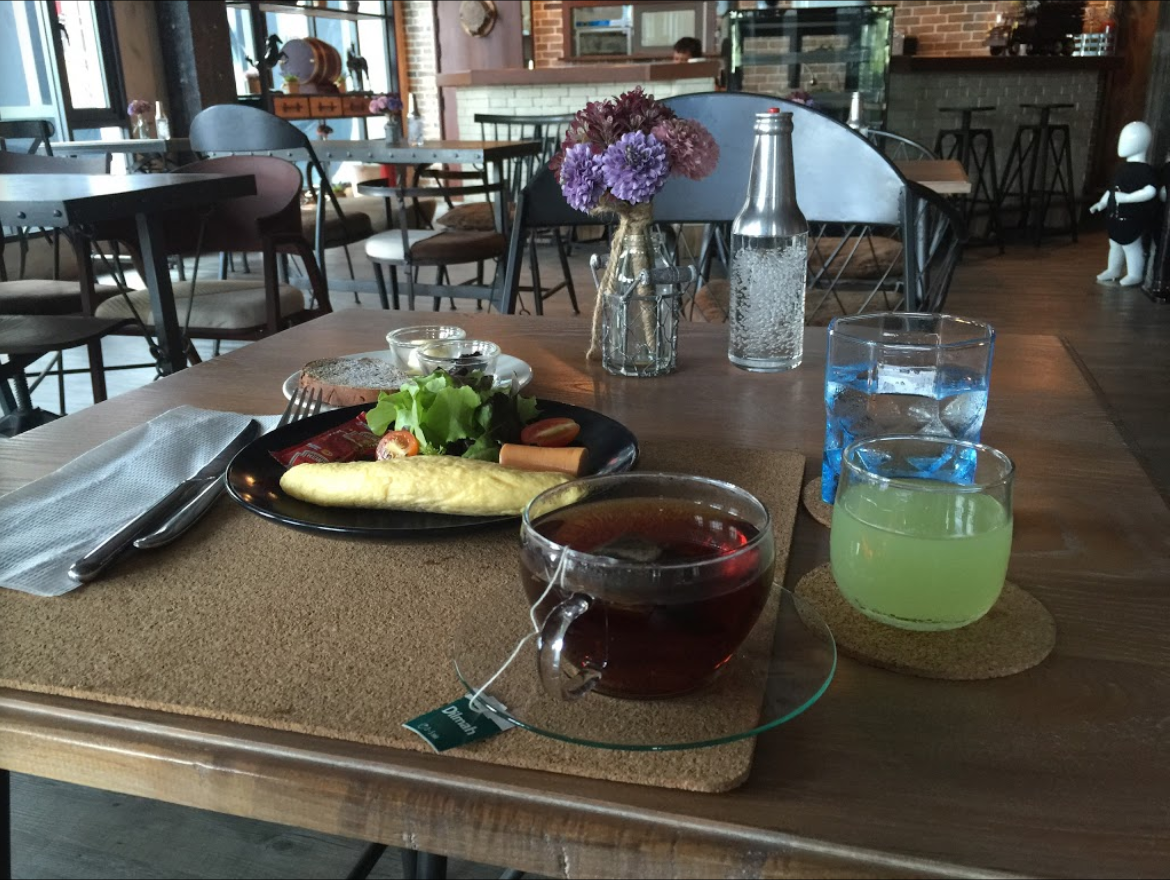 While having breakfast we tried to figure out what to do for the day and since the girl from Portugal who stayed in the hostel too told me about the Sanctuary of Truth I thought that we could go there. I talked to May the Thai girl who literally helps us with everything and she said she could get us tickets. May, her sister who is also the owner of this place and another woman from the staff took Jules and me to the Sanctuary which was maybe 20-25 minutes away. I can't believe how sweet they are to just take us all the way there, but they said they loved to do it for us. We get a lot of support from them here and whatever it is we can always ask them for help.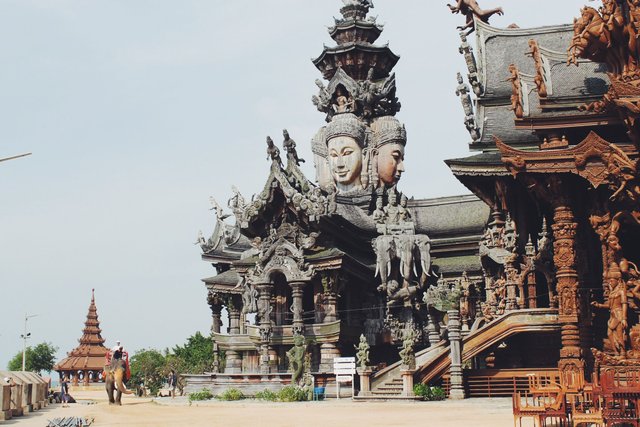 The Sanctuary of Truth is a huge castle build by the Thai people and is only made of wood. It's located with a view on the sea which is really pretty actually. We paid 500 Thb each for entrance and had to walk through a little park at the end of which you get to a view point where you can look on the area from above. Us being us, we again violated the dress code for entering the place so we had to rent a cloth to put around our waste and cover our legs, whoops. We looked pretty amazing ! No, just kidding.
After getting to the view point you down the stairs through a little jungle and enter the area with food places, the sanctuary and so on. Since you can rent horses, wagons, quads and ride elephants around the Sanctuary you first pass all those places before you get to the actual Sanctuary down by the sea.
-Just one thing I would like to say before I go on: In Thailand most of the animals are not treated well. The elephants, horses, goats and whatever they had there did not look 'happy' at all. As a visitor you can always buy food to feed them and I feel like all of the animals are there to earn money. They are attractions and you can actually see that everywhere you go. Even the Koi at the floating market were attractions. People buy food and feed them, that's all.-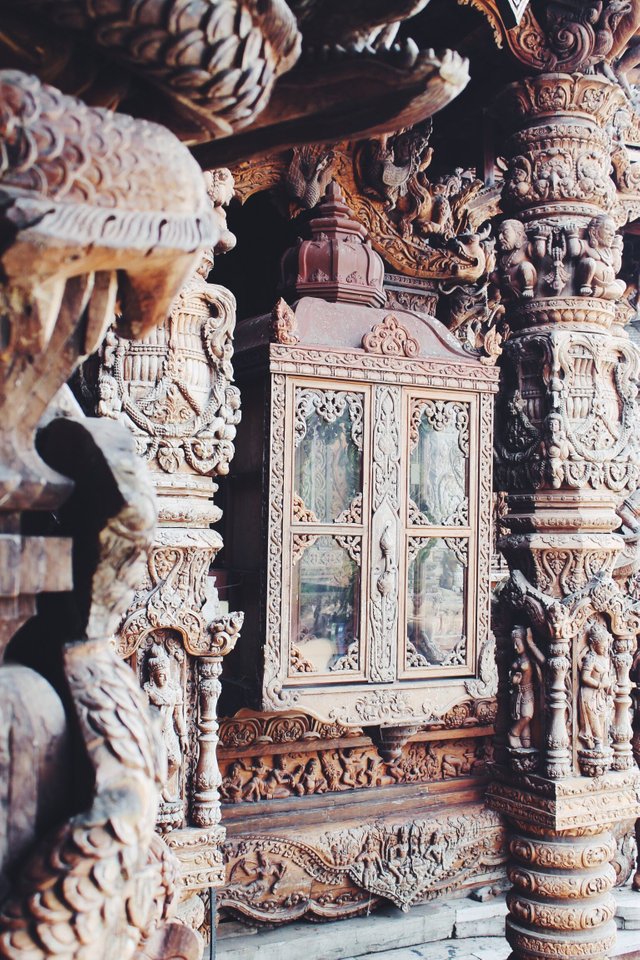 Anyways, so when you get to the Sanctuary of Truth you look at this huge castle build out of wood looking amazing ! It's really incredible with all the details, the sculpture and the scenery. At first we walked around the building and then we went inside. Funny thing - the Sanctuary is under construction right now so we had to wear helmets inside and looked hilarious, you can't forget that we also wore those cloths. Outfit of the day was on point for sure.
Inside are also a ton of statues and right in the center of the Sanctuary is a podium on which they put pictures of the king. Seriously, everywhere we go, look, think or whatever we look at pictures of the king. I mean it's one thing to highly respect and look up to this person, but I don't have to look at him EVERYWHERE. On every corner of the street, every market, every 7eleven, every family mart just everywhere, but different country, different customs I guess.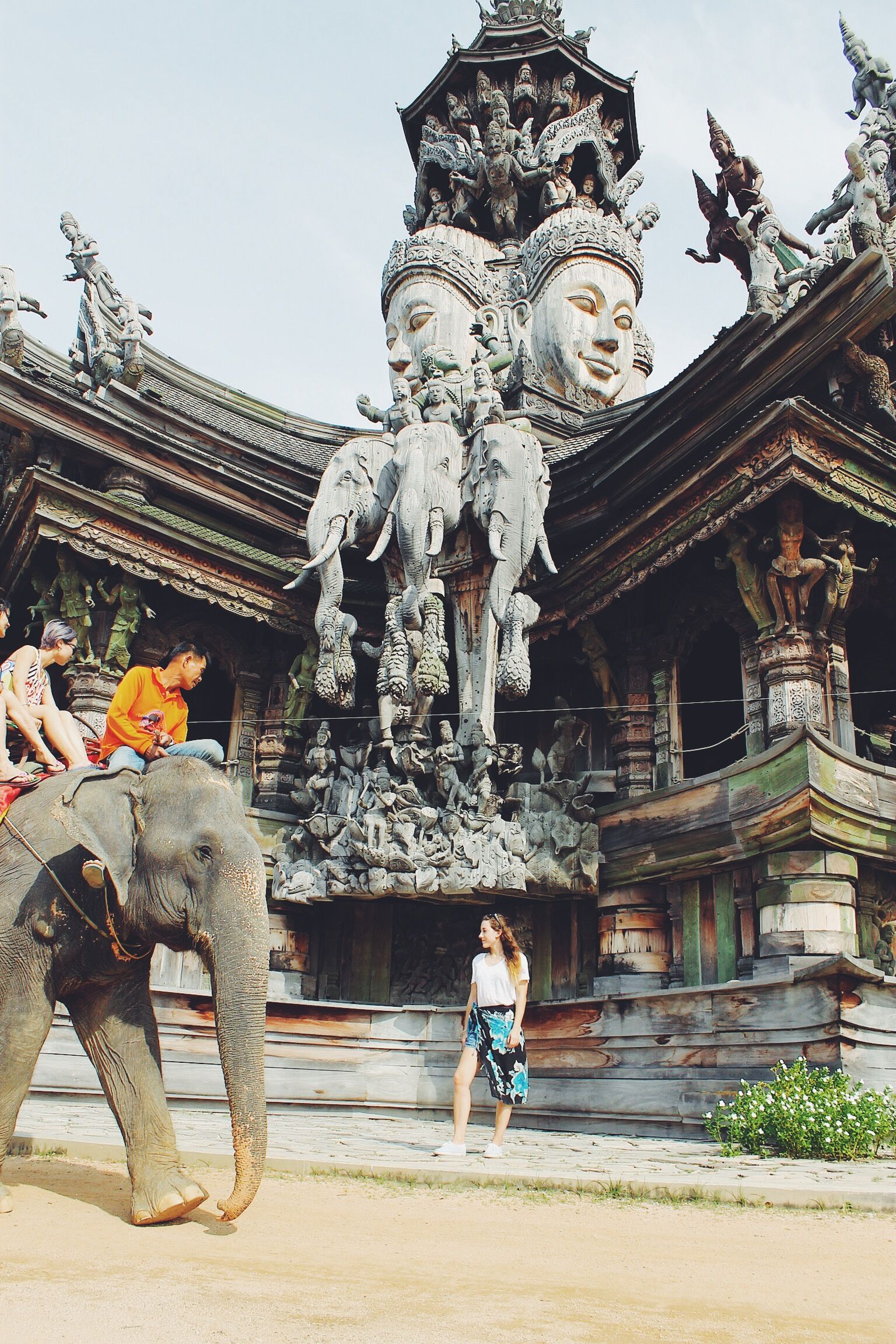 The Sanctuary was really amazing. After looking at that we walked around the area and watched a show with Thai dancers and Martial Arts. It was fun, but the Thai music they play to it - I can't stand it. I will try to maybe add a video where you can hear it, but it's really annoying I think.
Back at the hostel we had lunch in the restaurant and also got some delicious ice cream from May. The food which they actually only made for us was so good.
After eating we headed out with May to this Massage place right around the corner of the hostel. We actually just wanted to get a food massage, but all ended up getting a full body massage for 1,5 hours which only cost 400 Thb (about 10€). It was so good and we felt so nice after.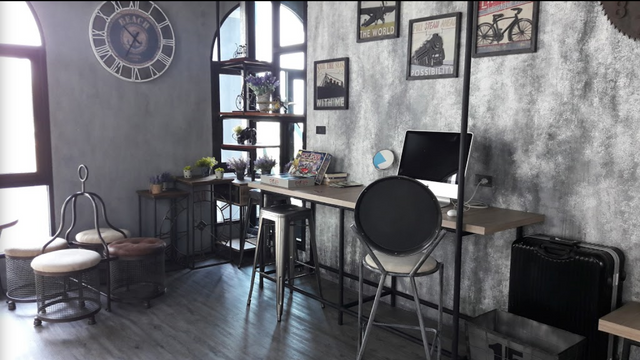 Goodbye plans !
I kind of feel like this is becoming a really long post so here you go with a second heading, haha !
Our actual plan was to leave to Koh Chang on Tuesday, but since the weather is supposed to become really bad there we had the idea to head up north and go to Chiang Mai. Two german girls we met in the hostel today already went there and said it was beautiful. Well, that was the new plan, but guess what !
We found a flight on 'AirAsia' for a good price and we could also fly from the airport close to Pattaya so we wouldn't have to go back to Bangkok first. But for whatever reasons our credit cards are not working because we need an extra code which we don't have and it takes up to a week to get it - awesome ! Since we can't pay with our credit cards now, we can't book the flight so we can't fly to Chiang Mai in already 15 hours ! The german girls told us we could book the flight at a 7eleven so we also tried that, but that also didn't work out so here we are, wanting to leave Pattaya on Tuesday, with no flight. Here in Thailand was also a holiday today so we couldn't even call the airline.
So for now I will head to bed soon too since Julia already did so and we will try to figure out a plan in the morning.
Fingers crossed we will still get a flight for Tuesday please !
That's it for today - sorry for this really long story, but now you're in the picture with everything going on !
Love,
Kathi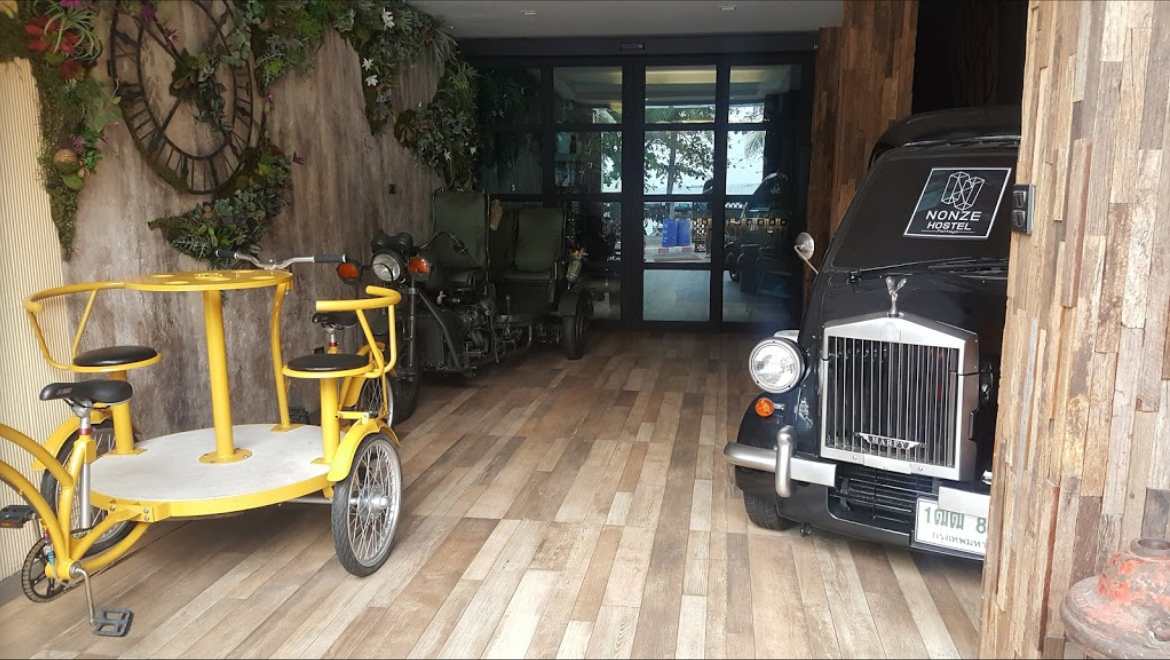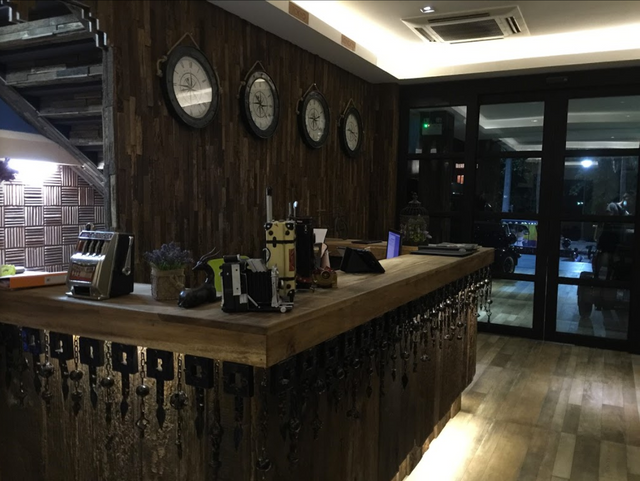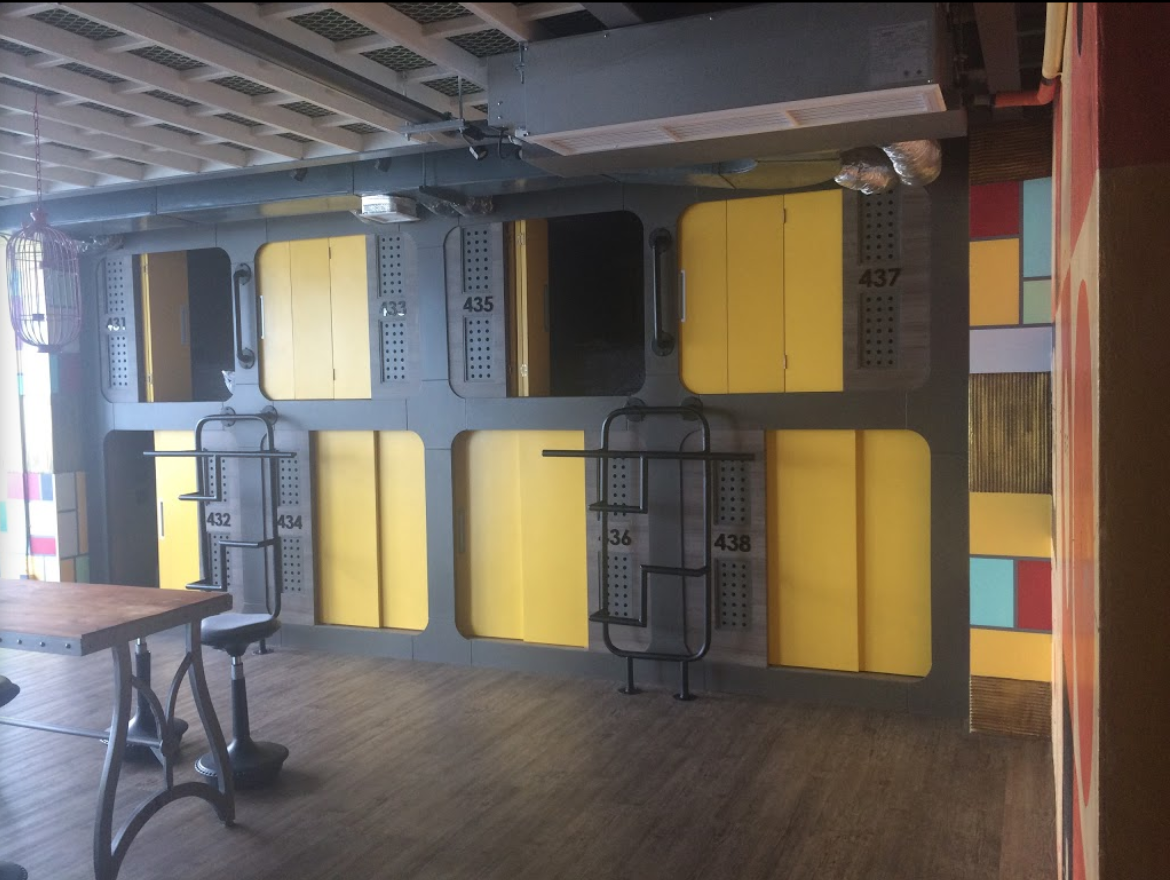 ---
Dear Steemit friends,
Kathi is a friend of mine and currently on her way around the world.
Show her some love: Instagram
If you like this post, please support with an upvote and follow me.
Leave a comment to let her know what you think about her journey.
All the best,
BigBoy.