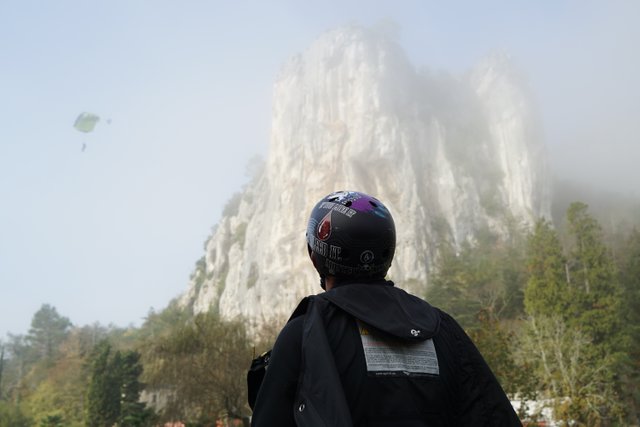 The local jumpers like to keep this cliff off the radar, so I will not be revealing the location, however the place is beautiful.
I can understand why those basejumpers that know about this place want to keep it a secret.
We hiked up at around 6am and waited up the top for the sun to burn off the thick fog so that we could see our landing area.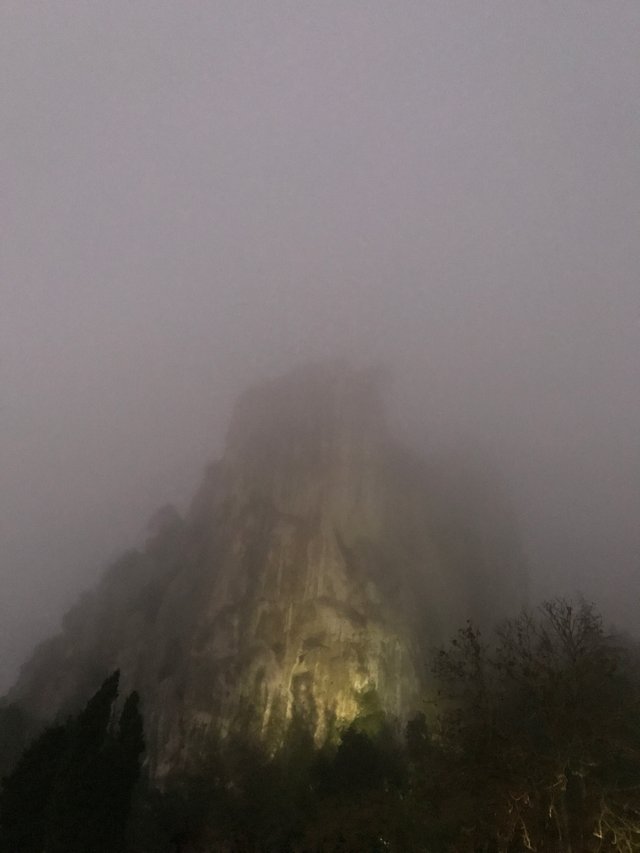 Above is what it looked like just before our hike...kinda creepy and eerie. The hike was eerie too as there were a lot of crosses buried everywhere.
The Sun is starting to come up so its a case of getting ourselves set up and wait it out for it to burn through.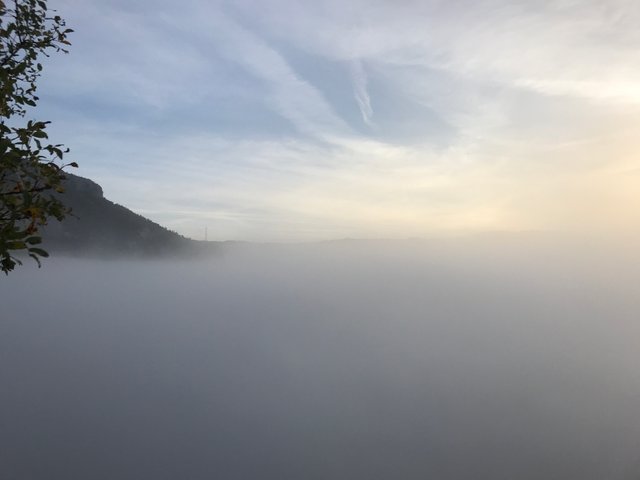 A view of the surrounding mountain range, with some more crosses.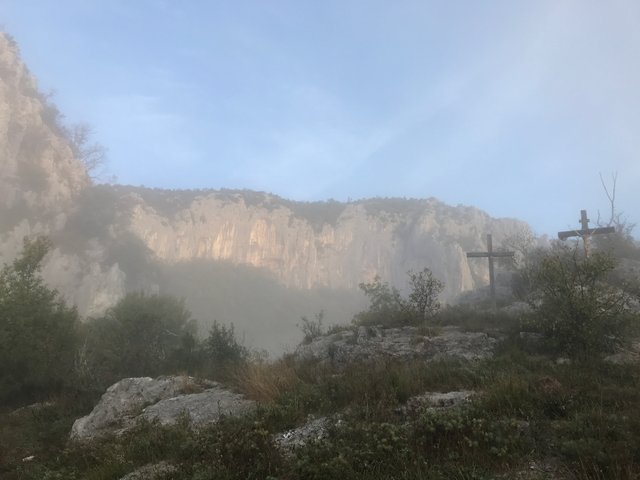 By around 7:30am the fog started to thin out and we were able to see the LZ, so 2 of us decided we were happy to jump.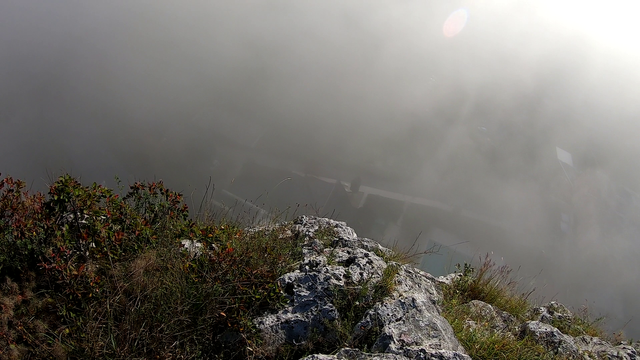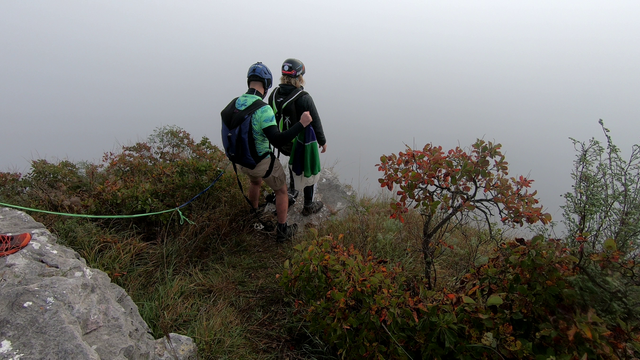 A buddy went first as he had jumped this cliff before and I went second as I guess I was the next most experienced basejumper in the group.
3, 2, 1 see ya!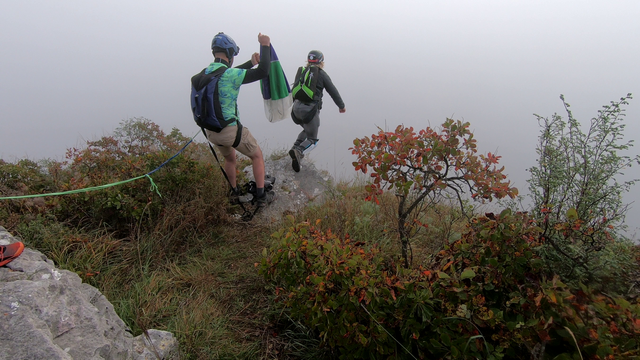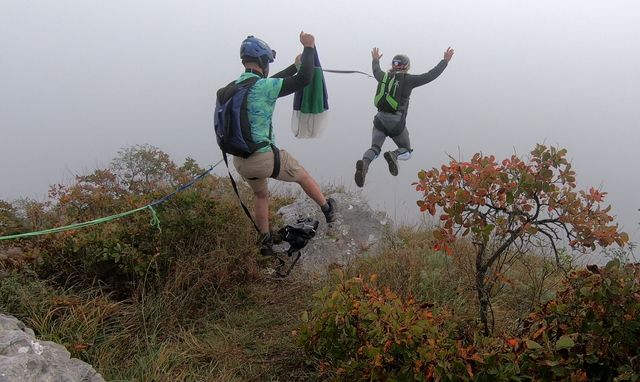 This was the view of me after opening, from the ground. The fog has started to return, however it didnt affect my vision, although it looks bad. I could see the LZ and all other hazards very clearly.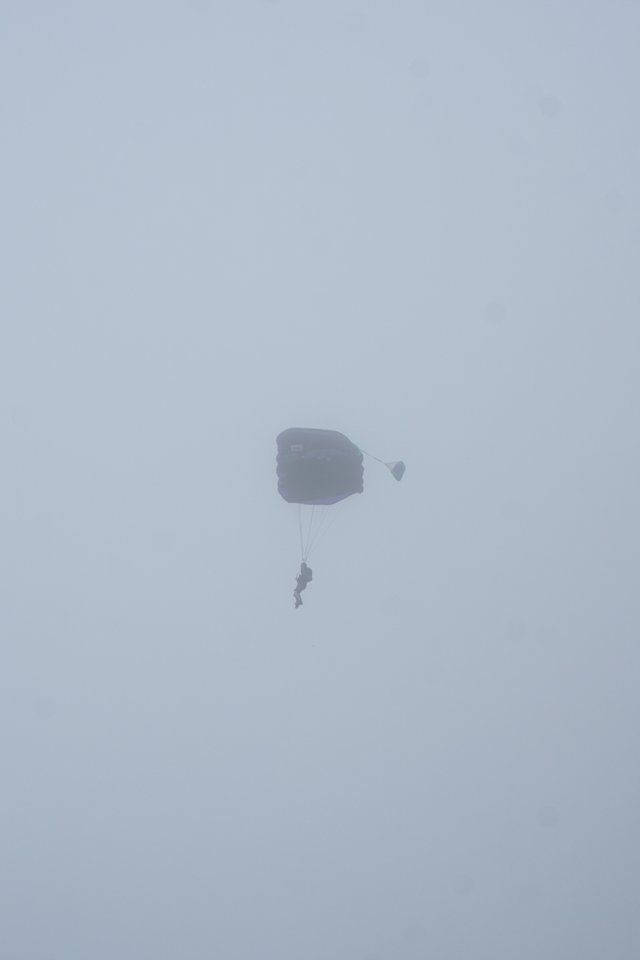 See, really not so bad...
On deep brakes here sinking the canopy in as the landing area is TIGHT and full of hazards.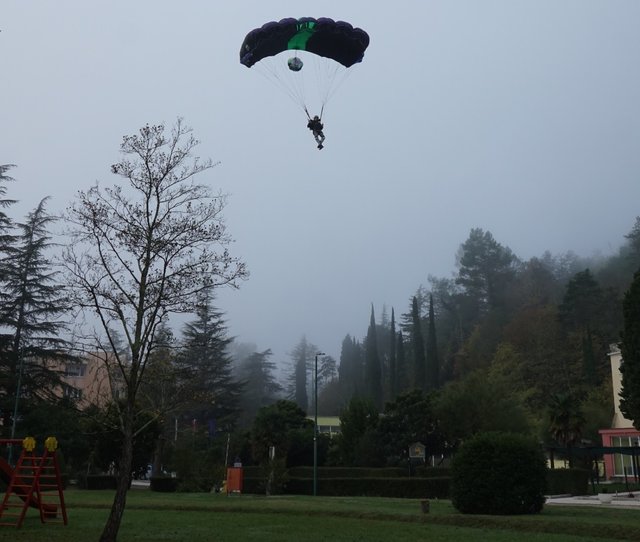 Preparing to land, with that beautiful cliff in the background.
I probably could have put a filter on this or enhanced it in some way, but I like it how it is as this is what it looked like on the day, super dark and creepy.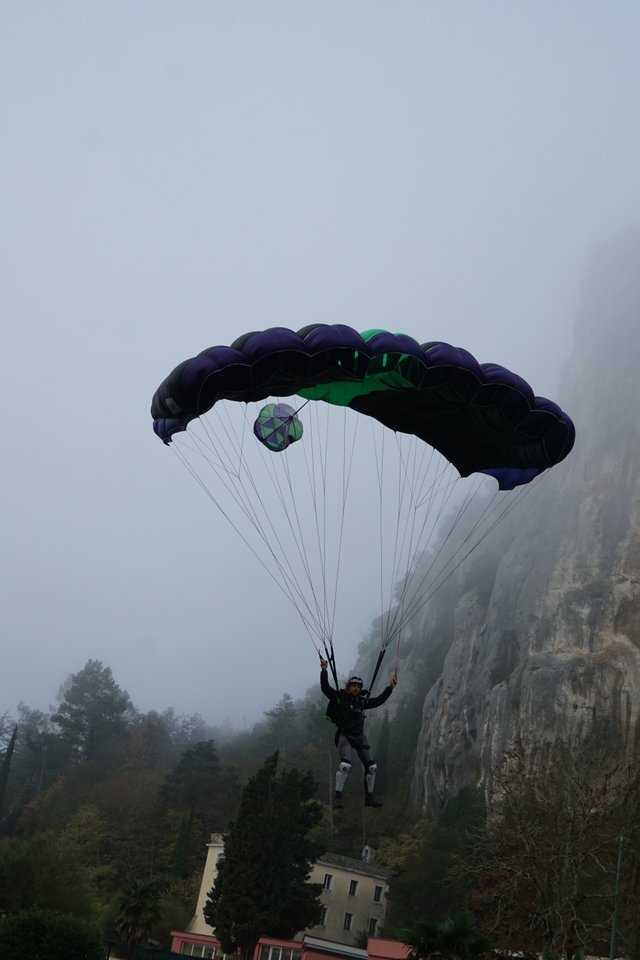 The other 4 base jumpers decided not to jump and to wait out the fog.
Around an hour later there was another window for them to jump, and they took it. We were communicating from the bottom explaining that it is basically clear, but when you are up there you have to make your own decision.
The liablity in base jumping comes down to the individual jumper, we do not have a pack mentality. If YOU do not feel comfortable with the jump, then DO NOT JUMP. Don't jump just because other have.
Some photos from the ground of a mate jumping the cliff.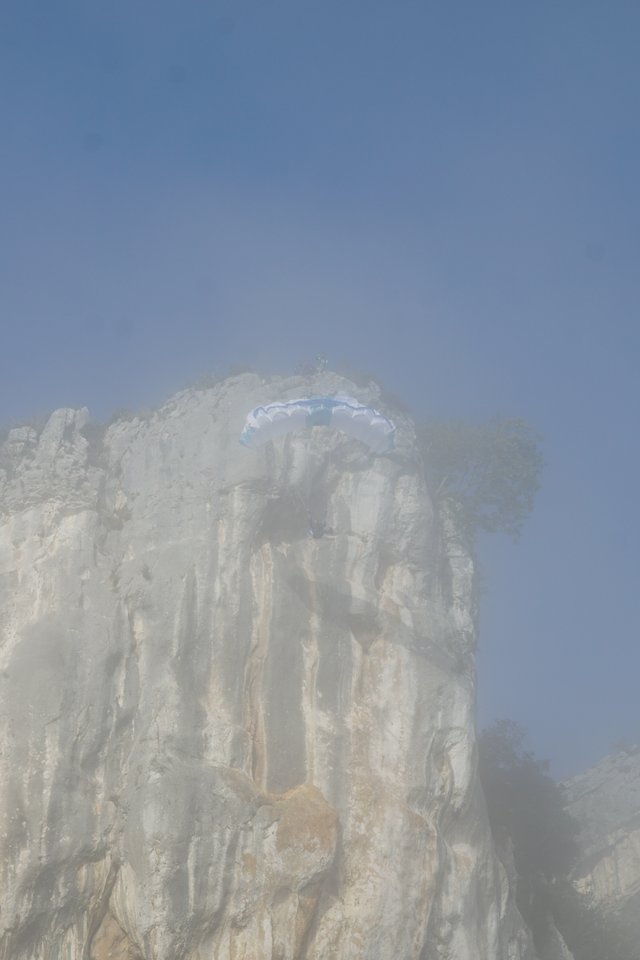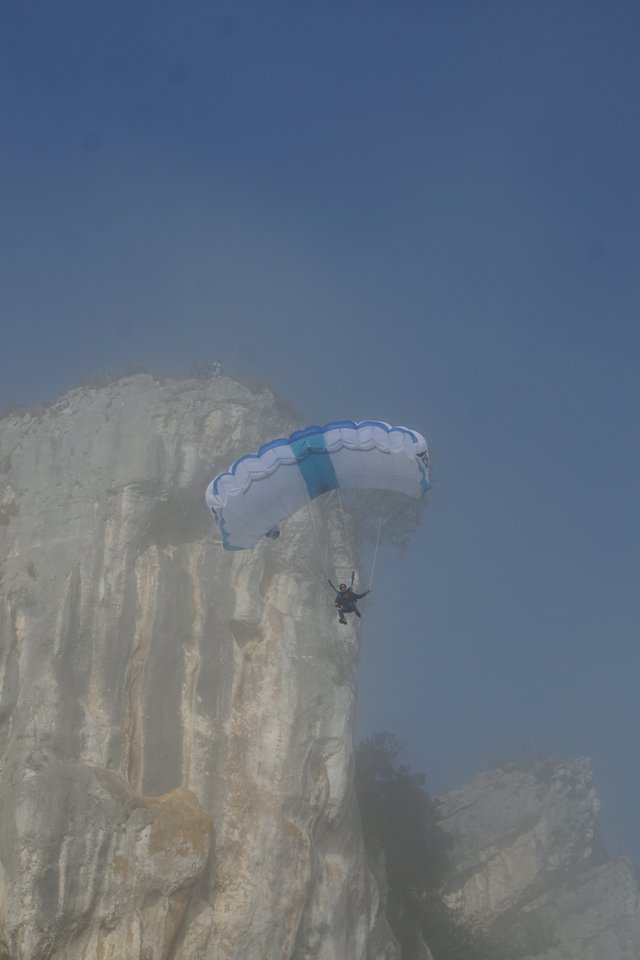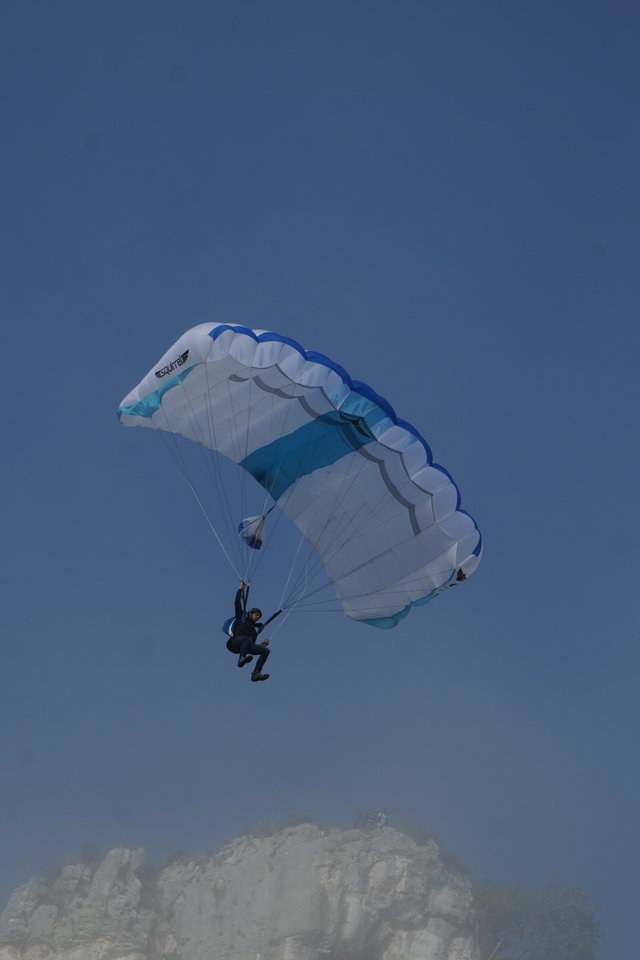 6 of us made the base jump off this low cliff with no injuries.
5 went PCA'd and 1 Static Line as the cliff is so low you would not want to take a freefall from it. If you did freefall it and got an off heading, the outs are not great...trees and buildings.
Thanks for reading! I do these base jumps because I absolutely love it, I don't do them for social media but I love uploading my jumps to steemit as I want to share the fun, and you guys and girls seem to like it :-)
I AM NOT A BASE JUMPING INSTRUCTOR. IT IS FOR ENTERTAINMENT PURPOSES ONLY. DO NOT GO AND ATTEMPT TO CLIMB A CLIFF, LET ALONE JUMP OFF ONE BECAUSE YOU SAW MY POST.
@curie @steemit
#freefall #terminalvelocity #skydiving #basejumper #skydiver #frothing #fullfroth #frother #adventure #life #adrenaline #extremesports #adrenalinesports #gopro #travel #rockon #summereveryday #summer #sliderdown #subterminal #base #basejumping #basejump #europe #gonthrow #321cya #seeya #nightbase #nightbasejump #fullsend #basehouse #thebasehouse #rcanebasejump #atair #adrenalinbase #osp #lifeisforliving #vanlife #lifesforliving #lowcliff #earth