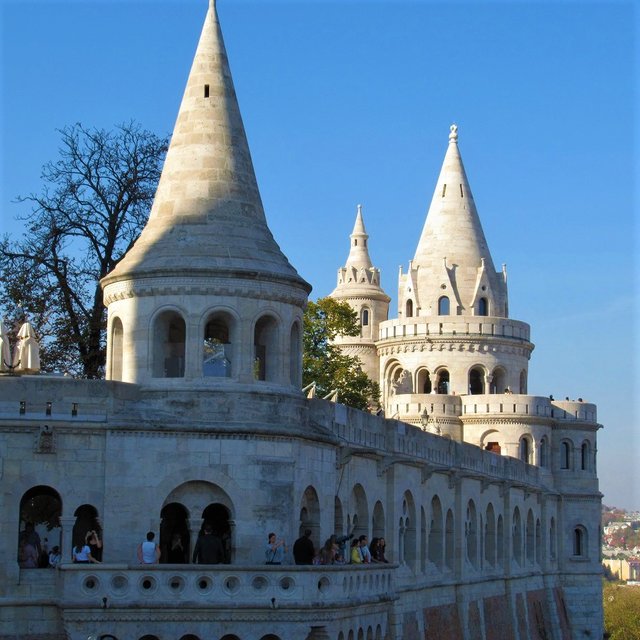 ---
A bit of history about the Halászbástya or Fisherman's Bastion in Budapest
The Fisherman's Bastion was built between 1895 and 1902 as part of the series of developments that were to celebrate the 1000th birthday of the Hungarian state. The Bastion was inspired by the architectural style of the early medieval times (Neo-Romanesque) approx. the year 1000, when the first Hungarian king started his rule.The 7 towers of the Halaszbastya features the 7 Hungarian chieftains who had led their tribes to the present day Hungary to settle down in 895, and the Statue of St Stephen (1906), the first Hungarian king (1000-1038). source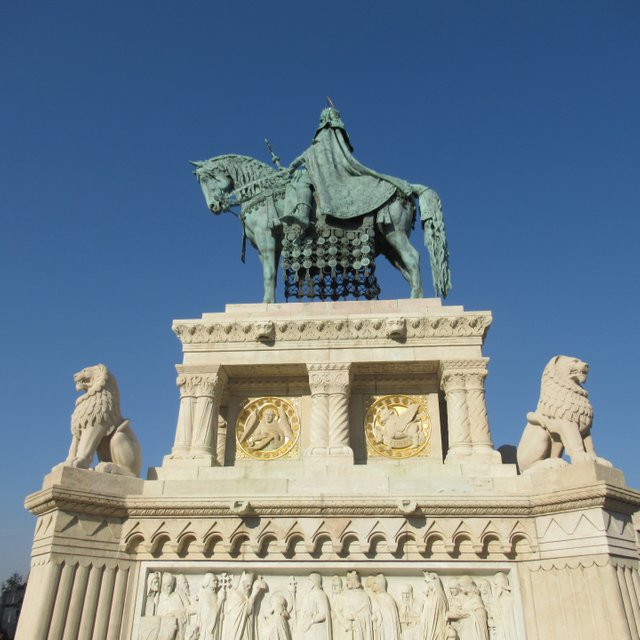 The architect of the Halaszbastya is Frigyes Schulek, who also restored and redesigned the Matthias Church. The construction of the Fisherman's Bastion is intertwined with the restoration of the church: its historical architectural style was also picked to suit the church redesigned in a later medieval style (Neo-Gothic). The T shaped Bastion arrangement was to embrace the church while enhancing its beauty, and also to connect the Castle hilltop with the Danube side settlement, Fishtown aka Watertown. Source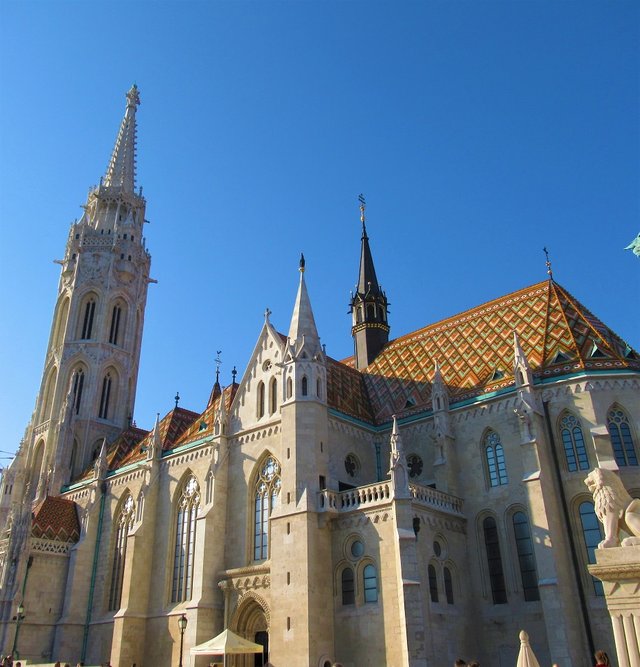 The bastion was built as a viewing terrace with lookout towers on the base of a stretch of the castle walls (from the 17-18th century, built after the Buda Castle Siege). Rather than building sturdy thick stone walls, the intention was to present the locals with a communal panorama terrace, as the Buda Castle was no longer considered to be a military place. The romantic notion was to recall the old times, so Halaszbastya is often likened to a castle prop, which does not feel real. It was meant to be like a fairy tale, feel like history rather than be history. Source
---
Today we visited the Fisherman's Bastion and I was quite impressed
Although Budapest is filled with beautiful architecture, the bastion is something different. Several times I've been looking at the beautiful towers from a big distance across the Danube river or sometimes even from the Buda hills side, wondering where these towers belong to. Honestly I didn't know until a few days ago when I accidentally bumped on an article about must-see things on the Buda side of Budapest.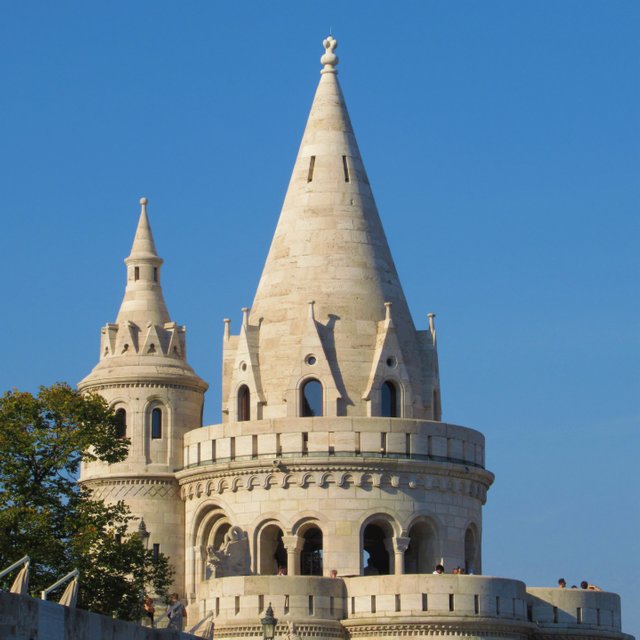 From far these towers look like they came straight from a fairytale, but up close they look even prettier.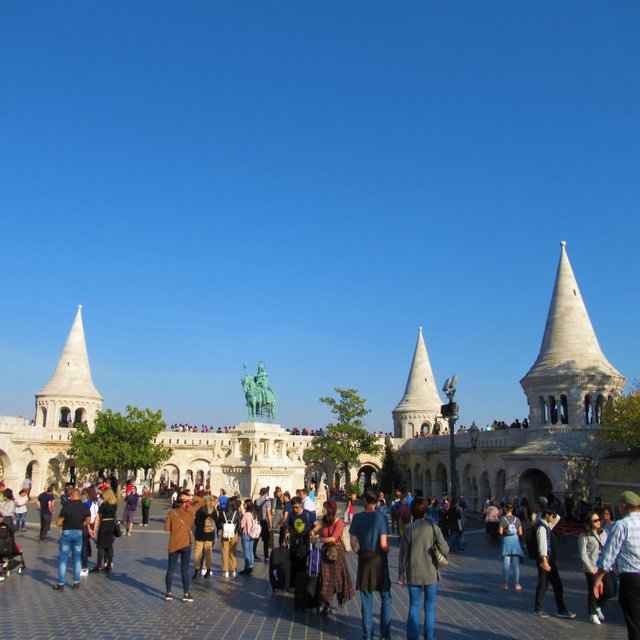 The downside of this bastion is definitely the tourist crowd. Today was a day with a lot of sun, and that probably attracts even more tourists, but I read that it's crowded here most of the times and the best time to visit is in the early morning or during lunch break (between noon and 1 pm). When the sun sets you are probably in an even bigger crowd because many people come there to get the perfect picture, which I understand if you don't live here. For me it wasn't that important, we will get there another day for the perfect pictures while the sun sets..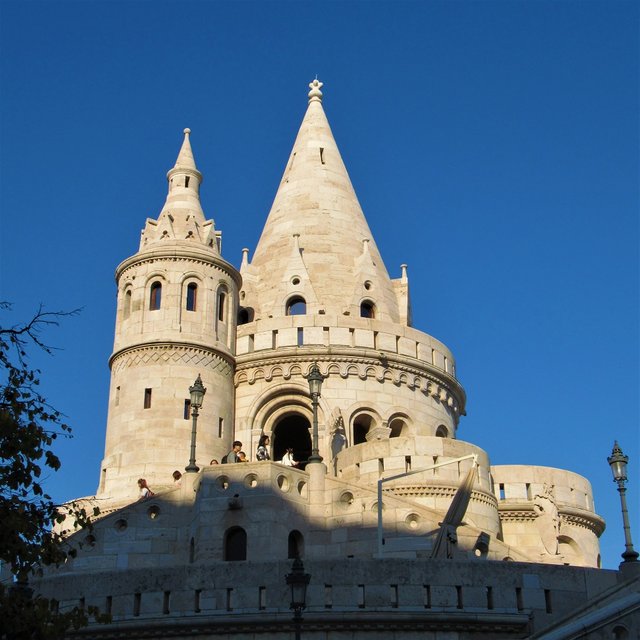 I will probably go back another time, because it's really worth it visiting when the place isn't packed with tourists on every little corner or spot where you can overlook the bastion. As you can see almost every picture is filled with a lot of people, I hope to be able to make some great ones one day without any tourists in the pictures.
---
Enjoy a nice coffee at Starbucks and don't forget to look inside this souvenir shop
When you walk all the way to the left of the bastion, to get to the highest tower and shoot some stunning pictures of the Parliament building for example, you will also see this fountain in front of the Starbucks. If you want to relax and have a drink, you can either sit here or (if there's a free table) you can sit on the panoramic terrace of the restaurant next to the park.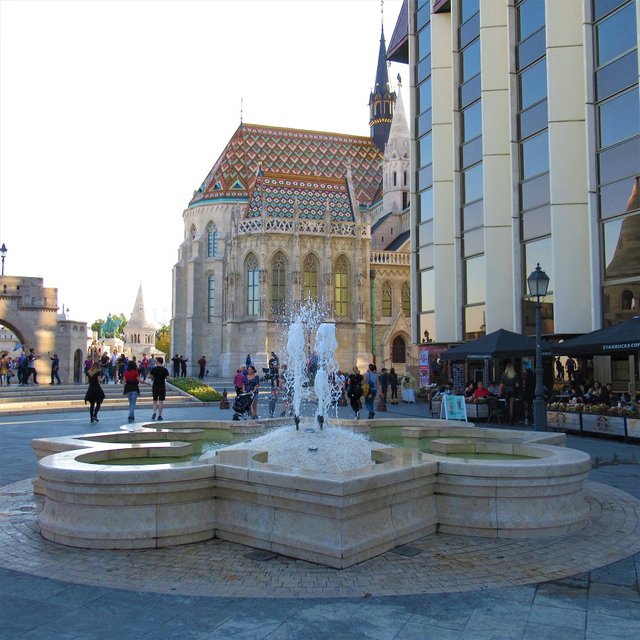 This is the souvenir shop "Memories of Hungary".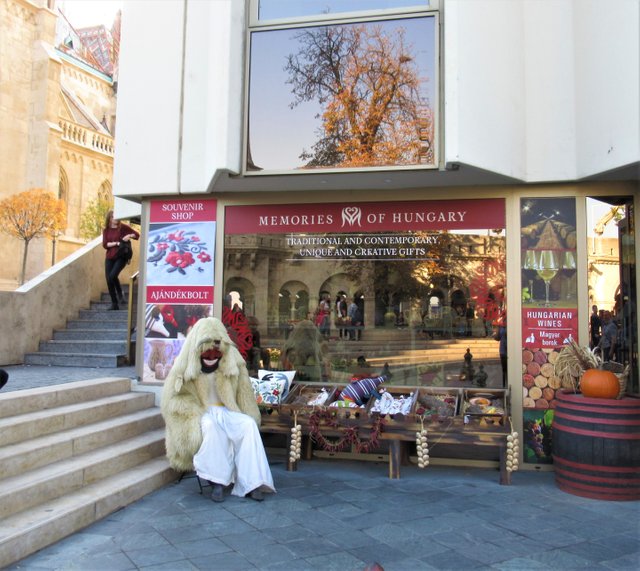 In case you're wondering, that wasn't a real man sitting there in costume, although they could have fooled me.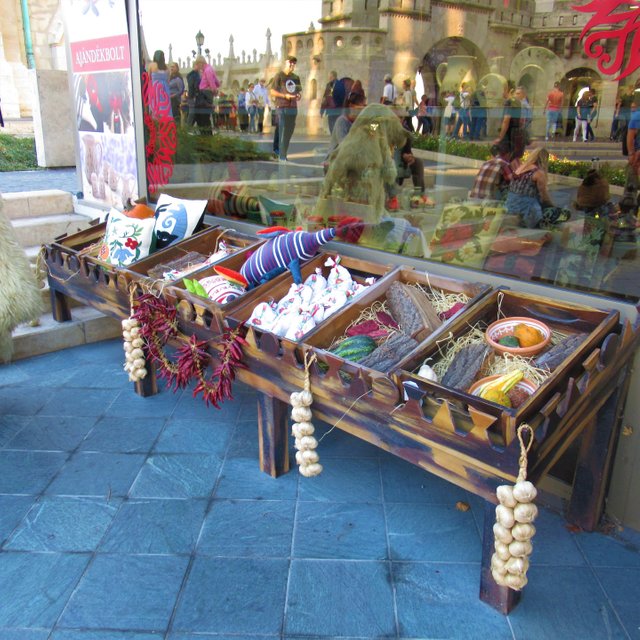 Looks so colourful right? Worth a visit if you are looking for a souvenir from Budapest.
Have you ever been in Budapest? And if so, did you visit the Fisherman's Bastion? How did you like it?
~Anouk
---