Introducing Serbia to Steemit; #Serbiaweek; Day 1: 10 things to see in Serbia
Serbia is situated at the crossroads of Central and Southeast Europe. Out of around 7 million residents of Serbia, the majority lives in Northern Serbia. The capital city, Belgrade, ranks among the oldest and largest cities in Southeastern Europe.
This small country is known to the world thanks to tennis player Novak Djokovic, scientists Nikola Tesla and Mihajlo Pupin, Mileva Maric and many others.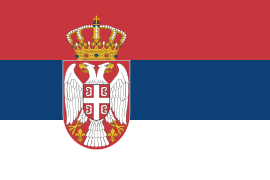 Very few of you know something more about Serbia, so I decided to dedicate this week to introducing Serbia to all of you. This is a great country and I wish to share it with you.
For day no.1 I decided to write 10 things to see in Serbia. So let's begin.
A monument of nature- "Đavolja varoš"-"The Devil's town"

This rare sight arose from centuries old soil erosion and it formed "two residential districts" - "A Devil's pit" and "A Hell's pit". This place is also known as Red spring. Locals believe that this water is healing water. The legend behind this miracle is that this figures are actually "rocky wedding guests" who were going to marry brother and sister, the God made them like this to prevent the great sin. "The Devil's town" is nominated for a world wonder of nature.

Vlasinsko jezero- Vlasina Lake
It's surface is 16 km2 and the depth is 35 m. The interesting thing about Vlasina Lake is so-called "floating islands" which arise from lifting water level. The islands are from peat, the product made of centuries old decay of moss.

Preserve Uvac
One of the things that many remember when someone say "Uvac" are the beautiful meanders of the same name river Uvac. This preserve is rich with the only natural wildlife preserve of griffon vulture in Serbia. It's wingspan can reach 3m. If you are lucky, you can see unique dance of this birds. Also, you can't miss seeing many caves. If you wish, you can cruise to really feel the nature.

Felix Romuliana

This is magnificent palace of Roman czar Gaius Maximianus. Today, visitors can see the remains of the former palace with the mosaics, the statue of czar Gaius Maximianus, the temple dedicated to Jupiter and Helcules, public baths, etc.

Oplenac

This place is historically important because of the Karadjordjevic dynasty. Here, you ca see the mausoleum of Karadjordjevic dynasty which was built by Petar I Karadjordjevic, the Church of St. George, royal vineyards, museum, the house of king Peter I, also royal mansions, the monument of Karadjordje, the originator of Karadjordjevic dynasty. If you want to spend more days on this glorious hill, there's a hotel that locals built.

Kopaonik

Kopaonik is the largest mountain range in Serbia. The highest point is Pancic's Peak with 2 017m. Kopaonik is a major ski resort in Serbia and it was declared as a national park.

Fruška Gora

We, Serbs, are referring to it as a jewel of Serbia, due to it's beautiful landscape protection area, nature and its picturesque countryside.

Petrovaradinska tvrđava - Petrovaradin fortress

Nicknamed "Gibraltar on/of the Danube" is a fortress in the town of Petrovaradin, itself part of the City of Novi Sad. The fortress was added to Spatial Cultural-Historical Units of Great Importance list but to the world it is known as a place where EXIT is happening.

Hram Svetog Save - The temple of Saint Sava

The temple of St. Sava is a Serbian Orthodox church located on the Vračar plateau in Belgrade. It is one of the largest Orthodox churches in the world and ranks among the largest church buildings in the world. The church is dedicated to Saint Sava, the founder of the Serbian Orthodox Church and an important figure in medieval Serbia. It is built on the Vračar plateau, on the location where his remains were burned in 1595. by Ottoman Grand Vizier Sinan Pasha. From its location, it dominates Belgrade's cityscape, and is perhaps the most monumental building in the city.

Kalemegdan

Last but not least, Kalemegdan Park is the largest park and the most important historical monument in Belgrade. Its name is formed from the two Turkish words: "Kale" (fortress) and archaic word of Turkish origin "megdan" (battlefield). Kalemegdan Park, split in two as the Large and Little Parks, was developed in the area that once was the town field. It provides places of rest and entertainment. Belgrade Fortress and Kalemegdan Park together represent a cultural monument of exceptional importance, the area where various sport, cultural and arts events take place, for all generations of Belgraders and numerous visitors of the city.
I could write all day about the great things to see in Serbia, but I'll let you see it for yourself.
I hope you like this because I am inspired to write more about Serbia. Stay tuned :)