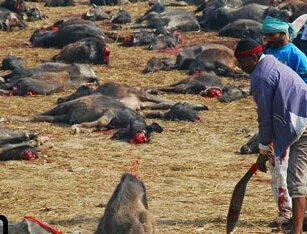 Animal Kill festival by cutting more than 250 thousand head of buffalo, goat and bird for Nepal's Hindu Religious Festival is held every 5 years. The slaughter ritual of animals with swords aims to please the Goddess of Welfare and the God of Luck in Gadhimai Temple, Bariyarpur. Earlier at the 2009 Festival Event millions of Nepalese Hindus also cut 250,000 birds. These believers believe that if animal sacrifice is carried out it will bring prosperity, prosperity and luck after Goddess Gadhimai is satisfied.
Mangal Chaudary, head of the Gadhamai Temple pastor said, "This is the day of Greatest Luck" The 2-day program will begin for the first time with the cutting of 5 different animals (Pancha Bali Ceremony), namely the cutting of Mice, Goats, Roosters, Pigs and Birds Dara and on the next day the beheading of buffalo, which will later be part of the buffalo head will be buried in a large burrow. While the leather part will be sold to the trader who has contracted it.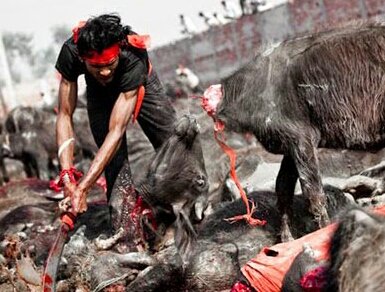 Although it has become part of Tradition and Rituals Weird millions of Nepalese Hindus, this activity was strongly criticized by PETA, the Animal Rights Organization which called for the Massacre Culture of these heinous animals to be stopped. Uttam Kafle, a member of Animal Protection said, "It is inappropriate to use the name of Religion to kill animals viciously, we try to make people aware of the way to worship peacefully without having to commit animal cruelty".
The Supreme Court in India also responded by asking the Government of India, which borders Nepal to not accept requests to send animals to be sacrificed in the Gadhamai Temple Rituals. Whereas the Nepalese government can only bring down thousands of police officers so that there will be no clashes between animal activists and followers of the Gadhamai Temple.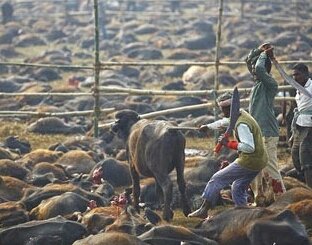 By @andimalaria