ADSactly Travels - Shimla: The Unforgettable Memories
Shimla: The Unforgettable Memories
People collect goods.
But a traveller collects memories.
The memories which are intangible, but can never be forgotten.
The memories which are never erased.
The memories you keep carrying.
The memories which last till your life ends.
Shimla is a place to collect memories and moments. There are many different types of sights in Shimla and nearby areas including green valleys, small treks, temples, many adventure sports places. Shimla has something for people of any age group, with different taste and flavors. It has snowfall for ice-skaters, fog, and rain for monsoon lovers, a variety of local, national and international cuisines for food lovers and much more for others.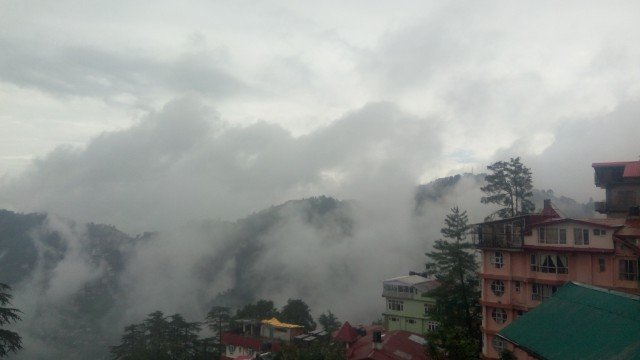 What Attracts People to Visit Shimla:
Shimla is filled up with a lot of attractions which make this place one of the most visited hill stations in India. As the name suggests, a hill station is a town located in the hills which are at a higher elevation as compared to nearby plain areas.
Any time in a year is the best time to visit Shimla. Unlike any other hill station, this place is always a tourist spot in fog, summers, rainy seasons and winters. This site never runs in offseason mode
A toy train journey which puts you very close to nature.
Ice skating in the snow.
A lot of green valleys all around.
A view of India-China border from Naldhera.
The oldest and the most beautiful golf course in India.
My Unforgettable Memories With Shimla
A few months back, I attended my best friend's wedding in Solan and then also planned to visit Shimla which is just 50 km from Solan. Solan is also a hill station but a very famous one. The beauty of this place is also scenic.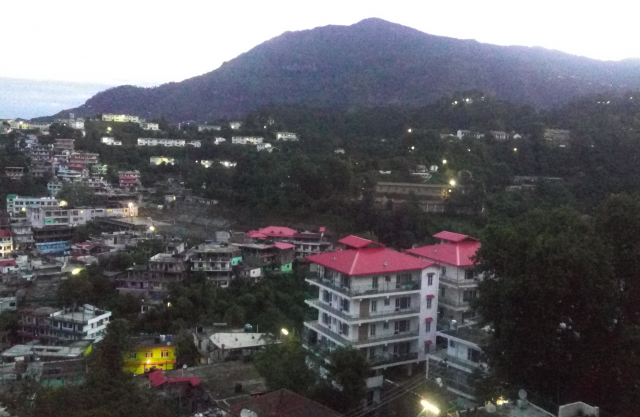 A view of Solan
Before visiting this site, I heard a lot about the exciting toy train experiences. A toy train is a mini version of the actual train with shorter bogie length and with only 3-4 bogies connected which resemble a toy. There are many sharp curves/turns in the hills, so trains with longer bogie size and a large number of compartments are prone to derailing. I also chose the toy train to travel to Shimla. I started my journey in the morning at 11. The toy train journey is a slower one and took me about 3 hrs to reach Shimla. But, this toy train journey was the best part of my Shimla travel. The trip from Shimla to Solan is all through the hilly areas. The train goes from many small tunnels, through lush green forests. The slow speed of train and greenery all around pulled me close to nature. The toy train runs so slow that sometimes I felt like coming out of the train and run in parallel with the train.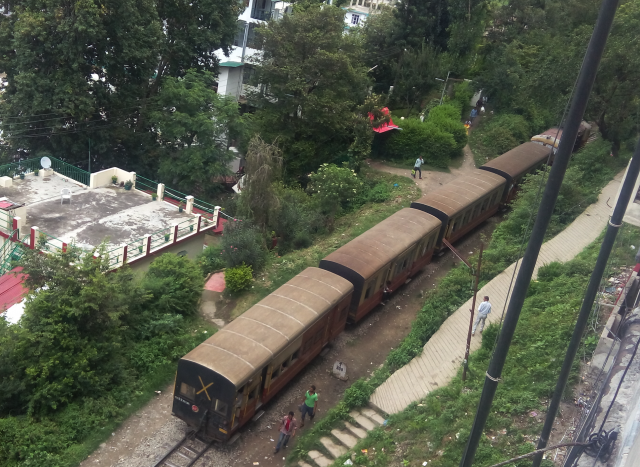 A click of toy train from my guest house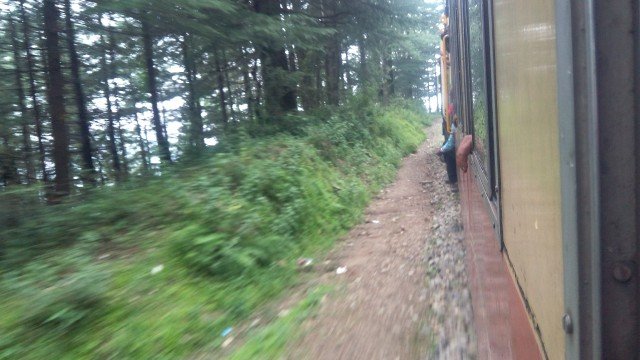 A toy train journey
I had a list of places that I wanted to visit during this trip including local sightseeing and few places nearby Shimla. I settled for local sight-seeing which included Mall Road, Lower Bazar, Upper Bazar, Lakkad Bazar and Jakhu Temple. All these places are nearby which made me cover all of these sites in lesser time.
Mall Road is the central market and a no traffic zone. Everyone regardless of gender and age needs to visit this place by walking. And this is the reason that you rarely find any local person who is obese. I attended the mall road multiple times during my visit to Shimla because I had a different experience at different times of a day. In the early morning, I was shivering due to the cold weather, and there was fog all around. In the afternoon, the temperature was almost touching 25 to 30-degree Celsius. You will see glow shines which are the advertising screens all around the Mall Road at night, and it looks like a city of lights. At the center of the Mall Road, Indian national flag is hoisted and also has multiple screens to show various videos of different part of Shimla. Here, one can enjoy the different flavors of ice-cream, mouth-watering local snacks, and horse riding.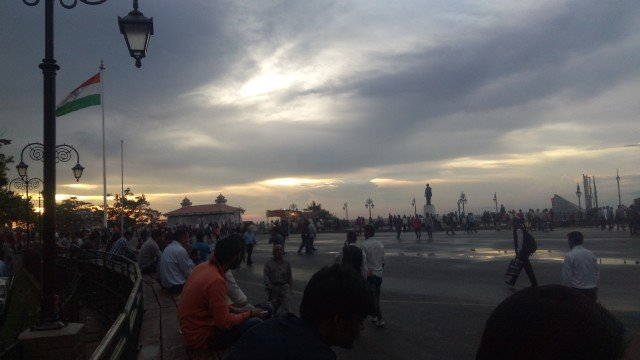 Mall Road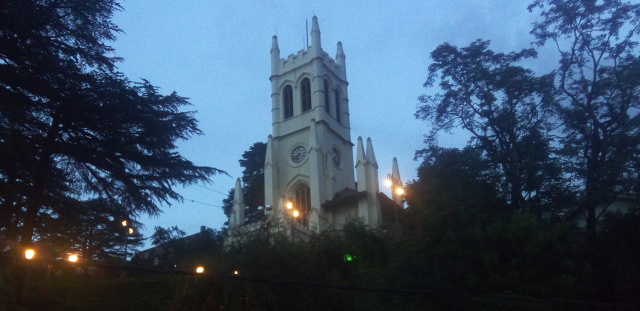 Mall Road clock house
I crossed the Mall Road and entered into Lakkad Bazar. Lakkad means wood and ****Bazar*** indicates market. So, it's a market where you find wooden goods. I saw lots of extraordinary wooden items here including various car shaped wooden toys, wooden bowls, slippers, clocks, etc. Then, I visited Lower Bazar and Upper Bazar which are adjacent to the Mall Road. In the past Upper Bazar was a market for royal and high-class people. And, Lower Bazar was a market for labor and other lower class people.
In the evening, I headed towards Jakhu temple which is about 2 km walk from the Mall Road. But, that 2 km walk was a steeper one, and difficult to walk on. I felt like walking on a 45-degree angle surface from the plain. This temple is devoted to Hindu deity, Hanuman and is at the highest peak of Shimla. Lord Hanuman is known as the remover of dangers. Jakhu is famous for world's most giant idol of Hanuman which is about 108 feet in length, and one can see this idol from any part of Shimla and outskirts.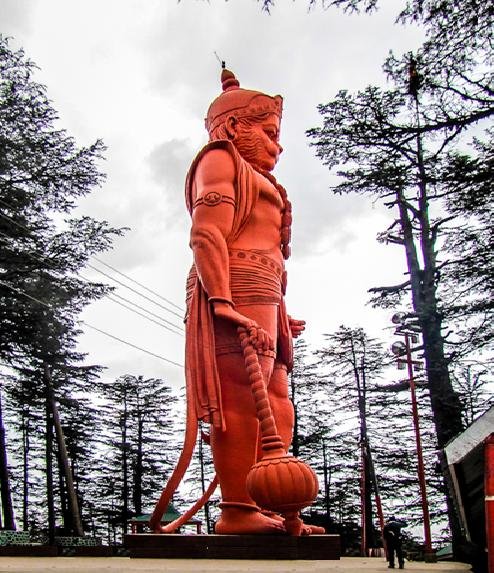 credit
There is a board at the beginning of the way to Jakhu which helps people to know their fitness level according to their age. I also started walking on this road and found fewer companions on the way as it was quite late in the evening. It took me around 35 minutes to reach the place, and I came to a category of fit as per the board in the image. Jakhu temple is a beautiful place with a significant concrete ground and in the middle of the field one witnesses the giant statue of Hanuman. I spent few minutes in the temple and came back to Mall Road again.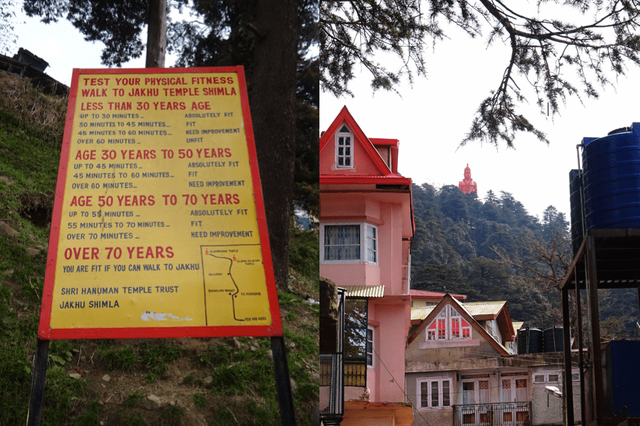 credit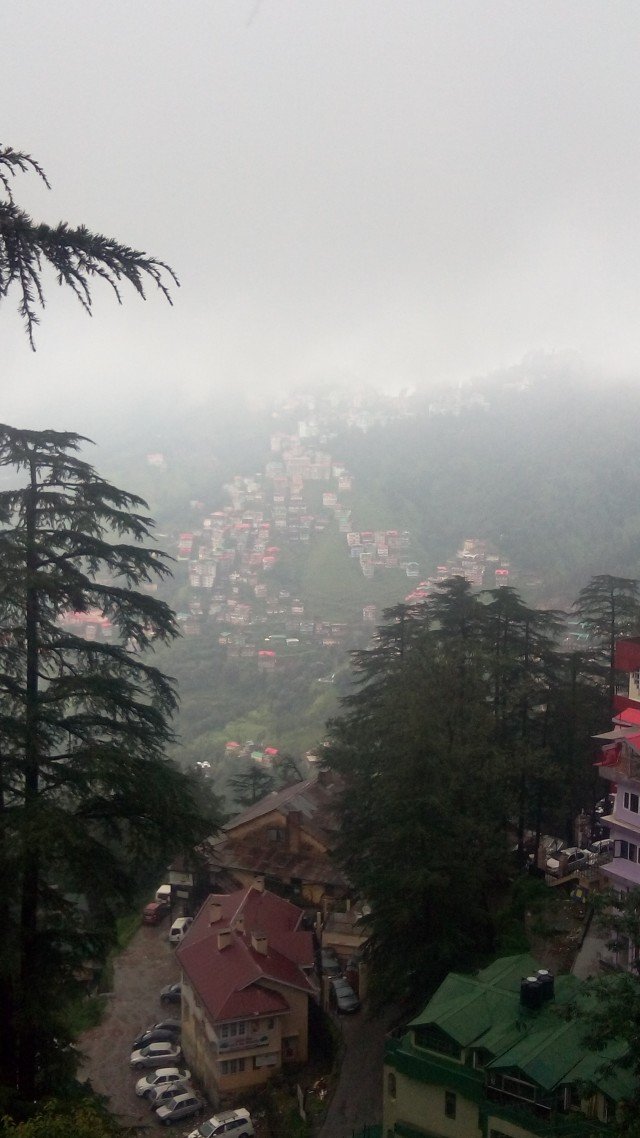 View of Shimla from mid way to Jakhu temple
The next morning I woke up early and saw fog all around the mountains. These are few captures of the beautiful morning I witnessed.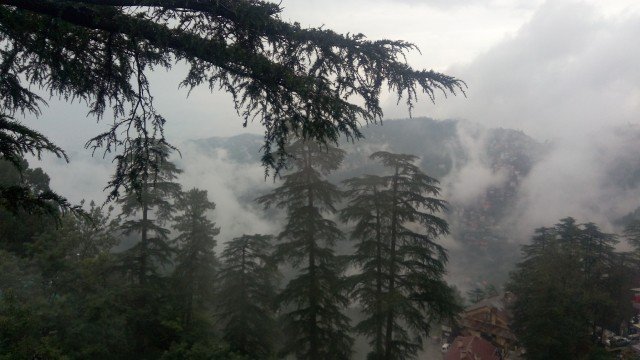 A foggy morning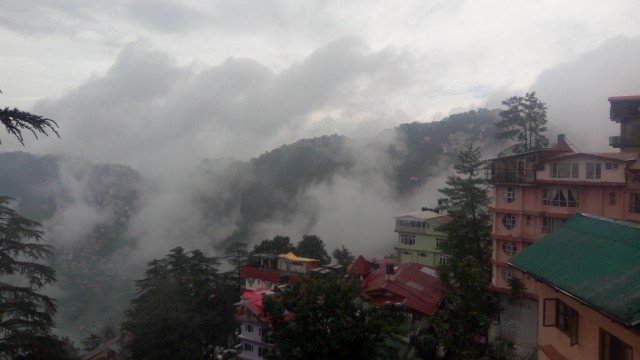 A foggy morning
Top Three Tips:
Investing time in toy train travel is worth. You will get to explore the treasuries of great Himalayas. Go for it.
Keep carrying warm clothes with you. You never know when the weather changes.
Try visiting Jakhu temple in the morning time. Monkeys and other animals shout more in the evening which might make your experience a bitter one.
Keep Travelling
Click on the coin to join our Discord Chat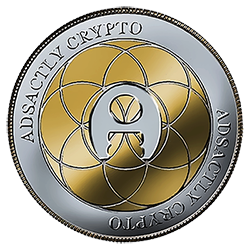 ---
Vote @adsactly-witness for Steem witness!
Witness proposal is here: https://steemit.com/witness-category/@adsactly-witness/adsactly-steemit-witness-proposal
First open: https://steemit.com/~witnesses
In the bottom of the page type: adsactly-witness and press vote.



Use small letters and no "@" sign. Or, click here to vote directly!
Thank you!

---