Exploring the Town Under the Castle on the Rock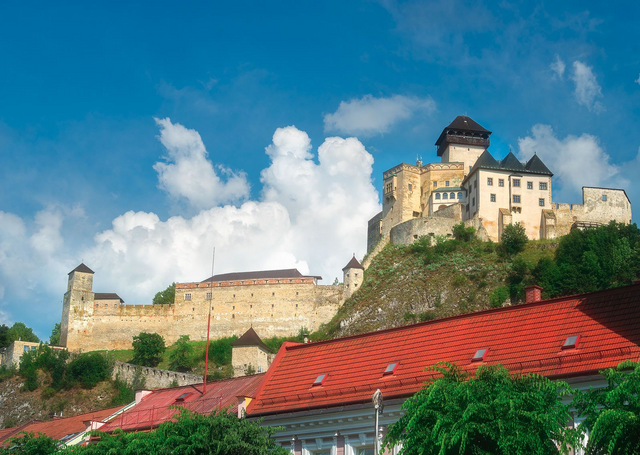 Fellow Steemians, today I will take you to a super cool place that you most likely haven't heard of yet. I'm taking you to a town in Slovakia built under castle that is jutting out of a singular rock. I will guide you on how to properly spend a day in such a place so you don't waste your hard earned Steem Dollars.
That place is called Trencin (pronounced Tren Chin)
I discovered Trencin, but it was not due to any travel guide or blogs - it came as a recommendation from a friend I met in Romania. Throughout my travels, I've found that Slovakia is a nation of castles and Trencin is only one of many that dominate the country's landscape.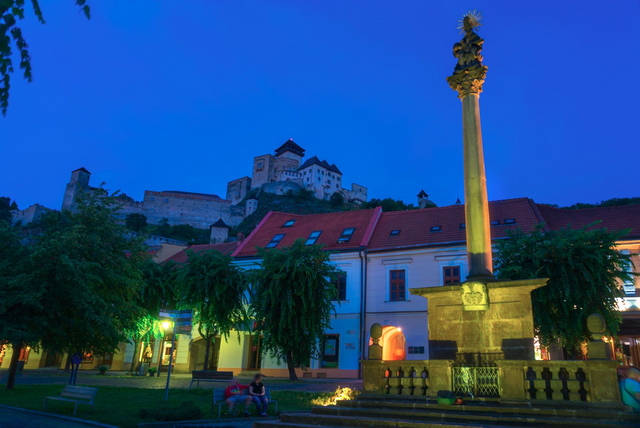 Trencin at Night
Travelers going by trains to other destinations can easily dismiss Trencin as just another castle on a hill in a land that has got heaps of it. They'll take their cameras out and press it on the train windows taking a couple of pictures, possibly even curious about researching it further, but they actually never get around to getting off the train to explore the quaint small town and the castle to which it was named after.
For the few travelers who do, they are rewarded with a unique place to wind down and explore. The castle sits on an enormous rock that overlooks the whole town. An imposing figure you cannot miss and you'll be tempted to go right inside the fortress.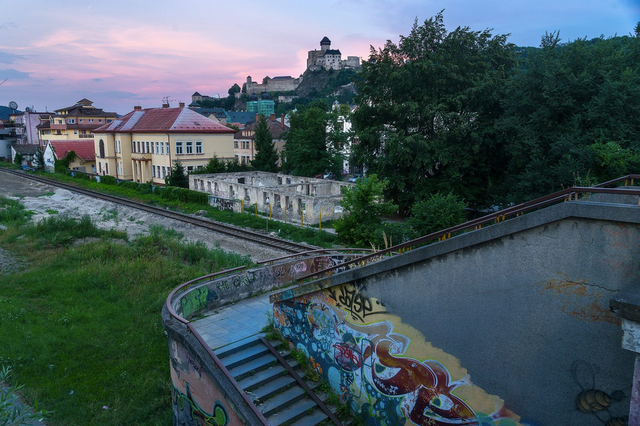 Just Outside of Town
Personally, however, I am more interested in how castles incorporate into the surrounding landscapes. I have never been particularly keen on going inside temples and museums. The boundaries of walls and roofs do not interest me. So it is natural for me to head directly into town square searching for great vantage points to picture the scenic castle.
I must mention that I'm a big fan of Slovakia. The people are super friendly. Even the beautiful women that look like they just walked out of magazine cover smile at you with gusto. You feel welcome and you can't help but walk with a splendid smile on your face. The vibe in Trencin is just the same. Vendors and stores seem eager and pleased to have you as a patron. The cobblestoned streets which wind its way to the corners and alleys eventually lead you into the town square.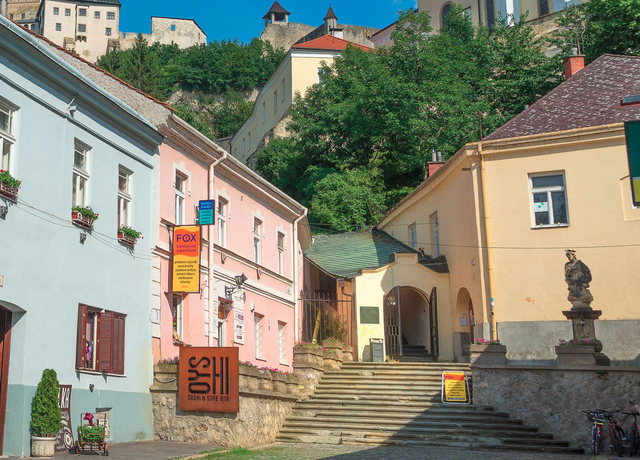 The Parish Stairway leading to the Castle
My girlfriend and I wandered about to get lost in its alleyways and ancient winding streets. We wound up crossing the river, picking pears and apples along the way, to get a terrific view of the castle and the city below. Fruits appear to grow tremendously and freely along the river banks. There are apples, pears, cherry-plums, and other various varieties fruits we are delighted to harvest for bites as we stroll down the banks of the river Vah, the longest river in Slovakia.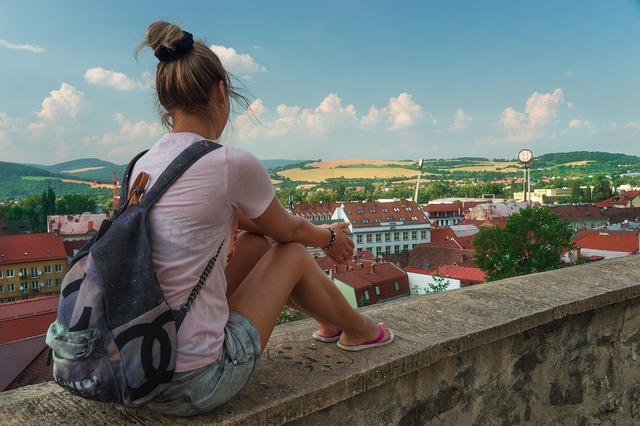 View from the Castle
We spent the entire day circling the town, taking pictures, walking alongside the river Vah, just plain having fun. It's a really cool way to go on a date without depleting your travel funds.
Where to Stay
Parku Pension, it is conveniently situated near a park close to the railway station and main city square. Oddly there is a casino in the lobby with slot machines so if gaming is your thing this place is the place. From the window of the chambers, you may see the ramparts of the castle because the retirement has a direct view of the castle on the rock. For a single night with two beds, it is 28 Euros. Not bad for a private suite with clean beds, private baths, and a refrigerator.
Where to find food
Finding a restaurant which serves normal food seems to be an exercise in futility. All of the places we went to just served beverages and desserts. It is all about the Desserts and Slovaks enjoy their sweets! It's not unusual to discover a place that serves pastries, ice cream, or some other sweets throughout the nation.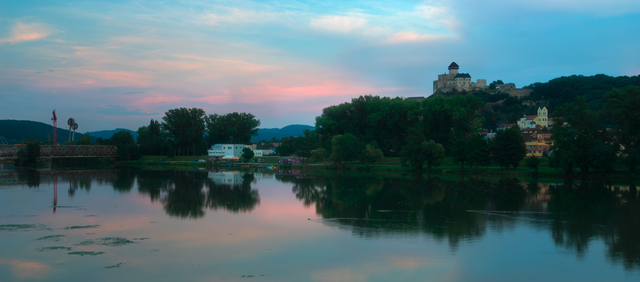 Panorama of Trencin
We circled around the main square several times before finally locating, Sperenza, an Italian restaurant that served food. The restaurant is near the Mestska Veza (Clock Tower) another attraction of Trencin.
Main Attractions
The
Trencin Castle
built on top of a Steep rock is certainly the dominant attraction in town. Trencin Castle, along with Spis and Devin, is among the greatest in Europe. The huge fortification is caused by innovative improvement for warding off Turkish attacks. It had been home to various aristocratic families. As various owners shifted, the qualities of the castle changed.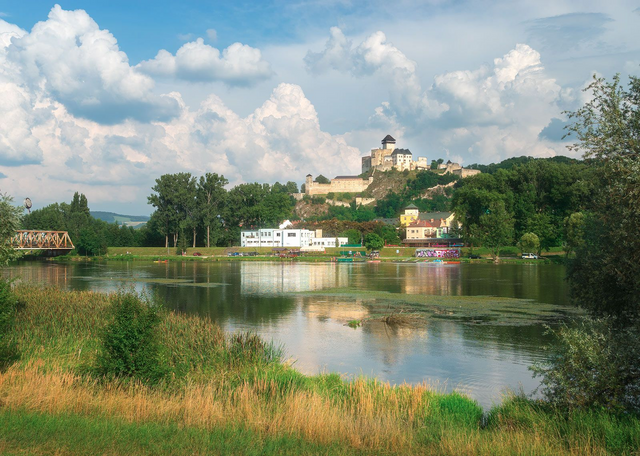 Trencin Castle and River Vah
The Parish Stairway, another noteworthy attraction, that will lead one to inside the walls of the Castle. There is a synagogue but that also was closed so we could not explore it. There is a Roman Catholic church which jaunts up over the skyline above town just next to the castle. In the middle of town is Vodnik, a spitting statue fountain which seems to attract plenty of children.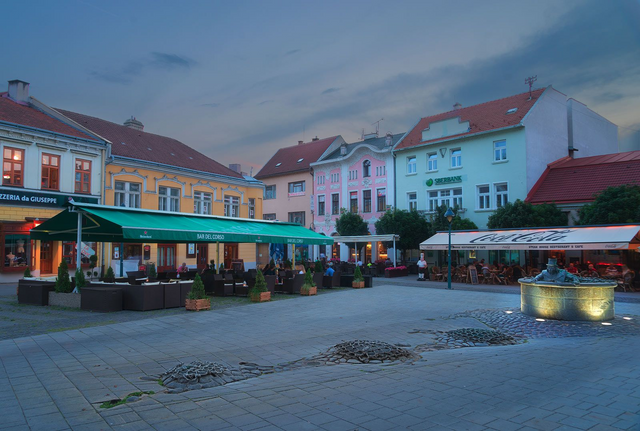 Main Town Square with Vodnik
If and when you do visit Trencin, I recommend that you cross the bridge across the River Vah and walk along the banks opposite the town and the Castle. It provided us with terrific views of the town and enjoyable times harvesting fruit snacks on the way.
Want to Check Out Trencin? Discuss below!
Trencin is just 1 hour away from Bratislava by train.
If you are coming in from Kosice, it takes 4 hours by train.
There are buses that go to Trencin but trains are the fastest and most affordable option.
A One night in Pension Parku -- 28 Euros.

GET UP TO 2X YOUR VOTE VALUE >> Steem Follower <<

GET MORE FOLLOWERS >> Steem Engine <<
"Travel is fatal to prejudice, bigotry, and narrow-mindedness." - Mark Twain
All photos are taken and articles are written by yours truly unless otherwise stated.
Twitter Page, AlwaysWanderlust
Facebook Page, AlwaysWanderlust
Instagram Page, AlwaysWanderlust
© 2017 AlwaysWanderlust.com All Rights Reserved