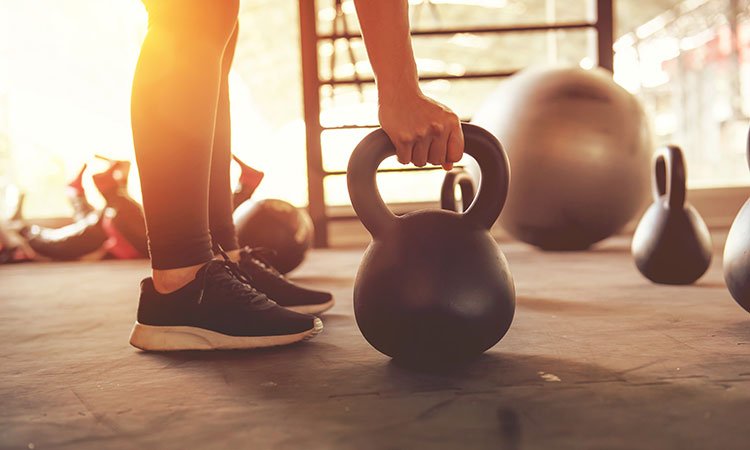 Photo Source
---
Good Day Steemians!
It's super rainy outside here in NYC and I won't be able to go for my daily hike, but thats alright I have plenty equipment to play with at home! One of the equipment that I own is a kettlebell (well, multiple actually). Its one of my favorite pieces of equipment, however theres something that urkes me. The only thing I see people doing with kettlebells are 'kettlebell swings.' Don't get me wrong, kettlebell swings is a GREAT full body, challenging exercise that I incorporate into my routine often. What I am simply saying, is that you can get so creative with them to challenge every muscle in your body. So that is what I am sharing with you all today - a creative full body workout that you can do using ONE kettlebell.
---
Low Squats x 20
I started this circuit with low squats. Whats great about kettlebells is that you can hold them in a very comfortable position. I love low squats because they really set those leg muscles on fire because of that extended range of motion vs a regular squat where you don't put as much stress on the legs.
---
Kettle Bell Deadlifts x20
I absolutely love kettlebell deadlifts. I am using a light (15lb) kettlebell, therefore my reps are higher! I used a lighter kettlebell because remember, this is a FULL BODY workout. I wanted something that will get me through 4-5 circuits of this workout. Remember to incorporate mind to muscle - and squeeze those glutes at the top.
---
Squat Combo x 20
I enjoy turning a basic exercise (squats) and turning them into a combo movement that will maximize the efficiency of a single workout! Working as many muscle groups as possible in one exercise means more results :)
---
Single Leg Deadlift Combo x10 each side
What I enjoy more than kettlebell deadlifts are, single leg kettlebell deadlifts! They are so challenging, not only for strength but it challenges you to improve on your balance. Don't get discouraged if you don't do these perfectly, as you can see I'm also finding these to be difficult. However, when I first started performing this exercise I couldn't even keep my balance. So this exercise is a great progression to a regular single leg deadlift to keep things challenging.
---
Repeat this circuit 4-5 times for a full workout! Remember to consult your doctor before performing these exercises. If you have any joint, bone, or muscle injury I don't recommend doing these exercises
---
Follow Me On Instragram
Follow Me On Twitter
Subscribe To Me On Youtube
Background Music From Epidemicsound