I still remember riding miniature trains as a little kid. Even though it was probably 40 years ago and I have no idea where it was, the simple joys are often the ones that stay with you. I've recently moved to a new area and when looking around for kids activities over the weekend the Penwood Miniature Railway caught my eye so I thought we might check it out as a family. We arrived just as the sun broke out from behind the rainclouds and as we approached the station we were greeted by this magnificent specimen.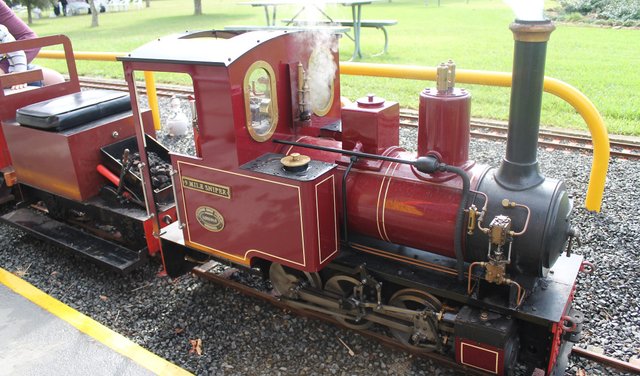 This is a miniaturised replica of the 9 Mile Sniper Steam Train and it's in tip top shape. As you get close to it the smell of coal and steam gives you a whiff of an age long past. I'm sure the history and technology behind this beautiful train would be totally lost on the little kids (like mine) who just wanted to take it for a ride, but for the old boys and girls who volunteer their time to run the railway I am quite sure there is a lot of pride and love for this little engine. Sure enough we were soon all aboard and my little girls (who normally won't sit still) started waving and squealing in delight as we chugged through the picturesque surrounds.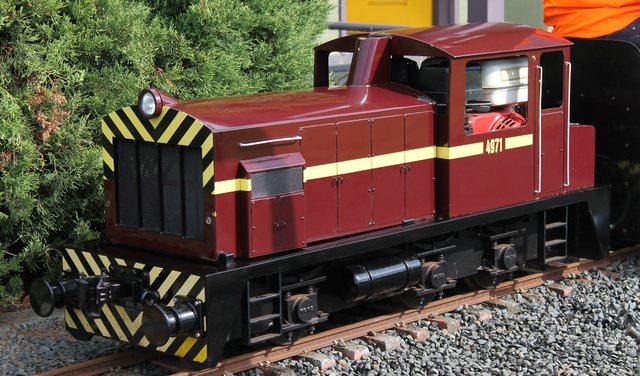 I originally thought that we might only take 1 or 2 rides for our modest $5 entry before the kids got bored, but there was soon another train on the tracks. The 4971 above is powered by a petrol engine and while maybe not quite as historically significant it is a powerful little locomotive that was pulling 4 passenger carriages plus a guard carriage at the back. Sure enough we gave that a ride too and even when it was loaded up with passengers it still got a pretty decent speed up.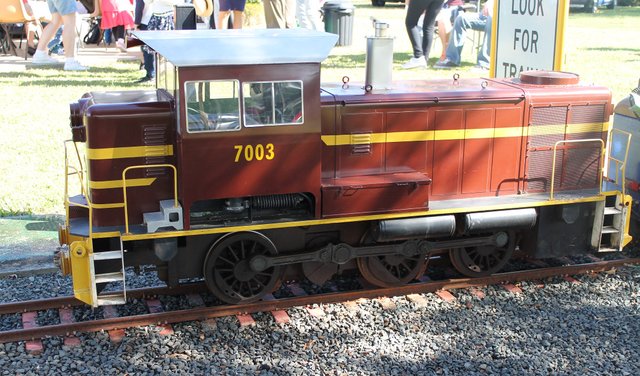 There was a few families there but those two trains would have easily kept everyone entertained but the organisers brought out another. The 7003 electric train was pulling another 2 carriages and made sure there was nobody waiting in line. My little girls just couldn't get enough. I lost count of the number of times we went around the tracks but they never got bored of it and were happy waving and smiling at complete strangers all morning. It turned out to be a very cruisy and chilled out morning for this old dad and I'm very grateful for the volunteers who generously gave up their Sunday morning – plus countless other hours I'm sure – for what could only be passion for a hobby that I hope gives them as much joy as the kids (and old dads) who get to ride them around the tracks. Keep up the great work Penwood!
---