Hi folks,
I've found in the past that the 1-day MACD on poloniex turning green, can sometimes be a useful indicator for trading. But, unless you watch the charts every day, you might likely miss this event! Therefore, I just wanted to make a post about this, in case anyone is interested :)
Please note: I am not suggesting a correlation between this event and any price change, and I am not advising buying or selling based on this. Instead I'm only discussing some annotated charts, which may or may not be of interest to the reader.
First's let's look at the chart of STEEM on poloniex: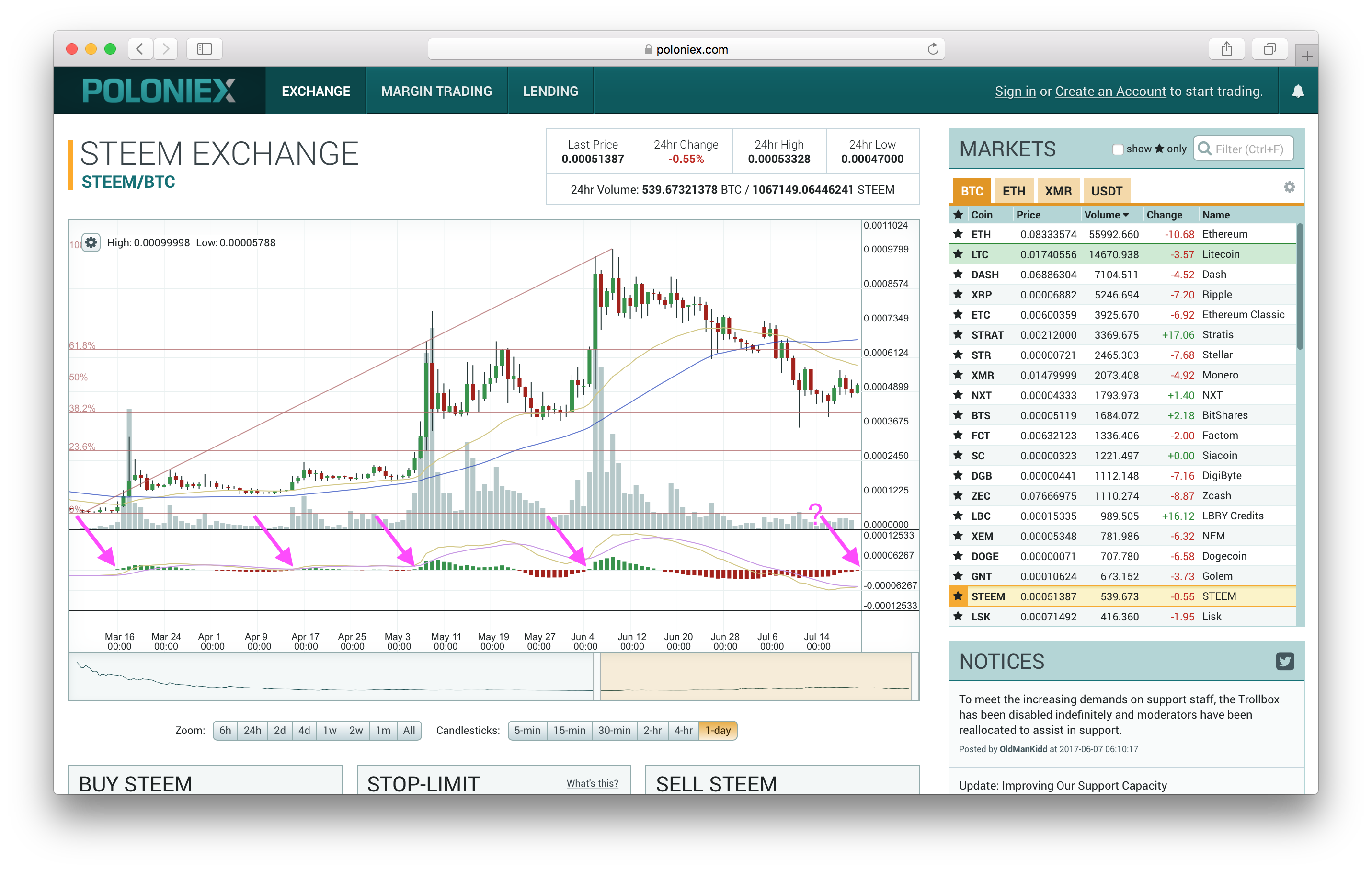 I've marked previous 1-day MACD red->green changes with magenta arrows, and I've put a question mark next to last one because it hasn't changed over yet.
Do you think there is any correlation between these arrows and price increases? And does another MACD red->green switch-over look likely to occur soon?
Out of interest, here's another current chart (Bitshares), for which I've added the same indicators:


The same questions arise: What's the likelihood of both a 1-day MACD red->green switch over occurring soon, and will we see a price increase (relative to BTC) too?
Also, this chart has a 'double bottom' formation, which is often regarded as an indictor that a reversal (price increase) may take place soon after.
Finally, here's one more current chart from poloniex (Stratis), which I've included because it shows a recent 1-day MACD red->green switch over.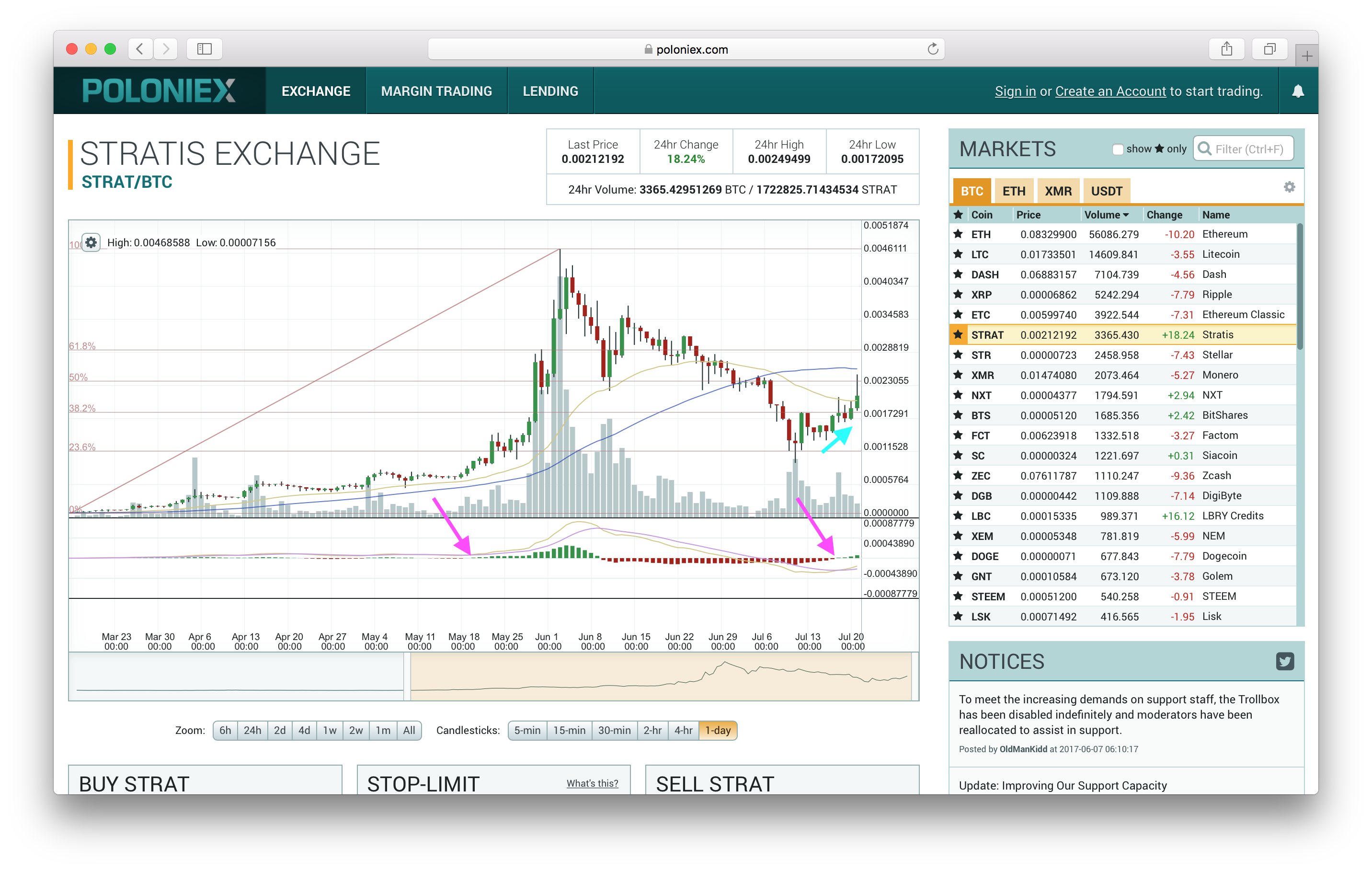 As we can see from this chart, there was a nice price increase (shown by the cyan arrow), which did coincide with a 1-day MACD switch over. But was this coincidence, or is there some other reason to explain it? (Personally, I think it's quite likely there could be an external reason - but as I'm not looking to trade it, I haven't looked into it!) However, even if an external reason was the cause of a large price increase, it might also likely cause the 1-day MACD to switch over too - since its data is directly derived from the price data!
One other thing that might lead me to believe that it could be less likely that we see large price increases in typical alt-coins, right this minute, is that we've just had a very substantial rebound in prices already (like was the case with STEEM, Bitshares & many other, today). And, this doesn't show up on the alt-vs-BTC charts, because BTC has just had a huge increase too (from its recent low).
This brings us to the question of whether we should even be using alt-coin against BTC charts for any technical analysis? Personally, I tend to avoid looking at these types of chart when I can avoid it (for the reason that BTC can be very unstable), and much prefer alt-coin-against-USD charts wherever possible. However, I still think alt-vs-BTC charts may be of some interest, especially for coins that are mainly traded against BTC (and STEEM is a good example of this). One main reason, I believe, is: if there are a lot of other traders out there making decisions based on the same alt-vs-BTC chart (and one example might be the 1-day MACD red->green switch over on poloniex), then I tend to think this in itself could be a cause of some price movements (whatever the technical merits of using the chart)!
Finally, here's a chart of STEEM against USD (taken from coinmarketcap):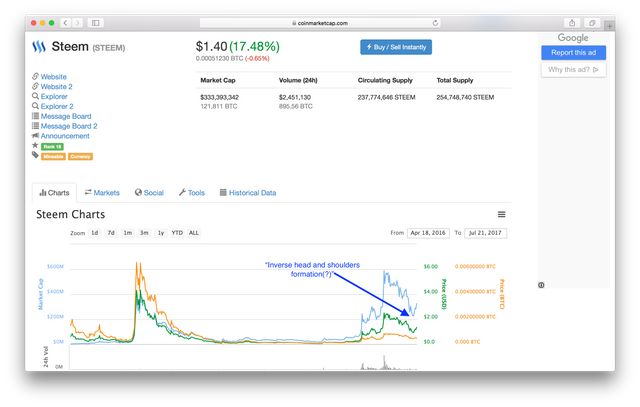 As we can from this chart, we've already had a substantial increase in the price of STEEM, over the last week: from around $0.90 at its low point to nearly $1.40 right now (so, around a 50% increase)!
This chart also looks to be showing a bit of an 'inverse head and shoulders formation'- which could be taken as a positive sign for the continuance of the rebound.
Anyway, whether you are trading or not, it may still be of interest to see what happens to these charts in the next few weeks. Will we see the 1-day MACD switch-over? Personally I might hazard a guess that this looks to me to be quite likely. But, will we see a substantial increase in STEEM when plotted against BTC? To me, this is a much trickier thing to predict, particularly in the case STEEM (or Bitshares) right now, because as I mentioned (1) BTC is very unstable, and (2) we've already had a 50% bounce back of STEEM when plotted against USD. But the reader must make up their own mind, of course!
Please let me know if you have any comments or views on this post. Thanks!
DISCLAIMER: Nothing in this post pertains to any trading advice.