Just a quick update with where I stand. (previous post is here)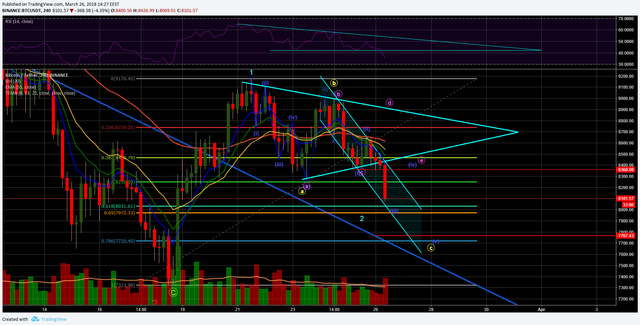 I have dropped the bullish count (1-2-3-4-5 Red, as per previous chart) as it  has officially been invalidated. 
Meanwhile, I was fancying considering this an ABCDE  symmetrical triangle correction, but it has been invalidated last night. A key factor was the market reaction upon meeting the 55 EMA for the  4hr, 3hr, 2hr, 1hr (and even 30mins) ALL AT ONCE! The reaction was a strong rejection, so now I am expecting an agrressive final C wave which will bring  us down under $8k. 
I am currently in a short position, started at 8360, partially filled at 8100 for hedging reasons (previous weak support) and now targeting 7767, around the next level of previous price action, as well as 0.786 Fib. 
If the candles will pierce through the last point of Fib support there is a gross chance the main impulse wave up will have failed, becoming an X, thus I will have to reconsider my whole count (on the daily) as bearish and readjust accordingly. 
The next 48hrs are CRITICAL for the medium-term future of Bitcoin's price levels!
Elliott Wave theory will be my main approach for higher timeframes and also, at times, for lower ones. I would really love an interpretation of my charts using other tools and indicators as well. Good luck and may you be ever-profitable!