The formula for success (it's literally a formula...)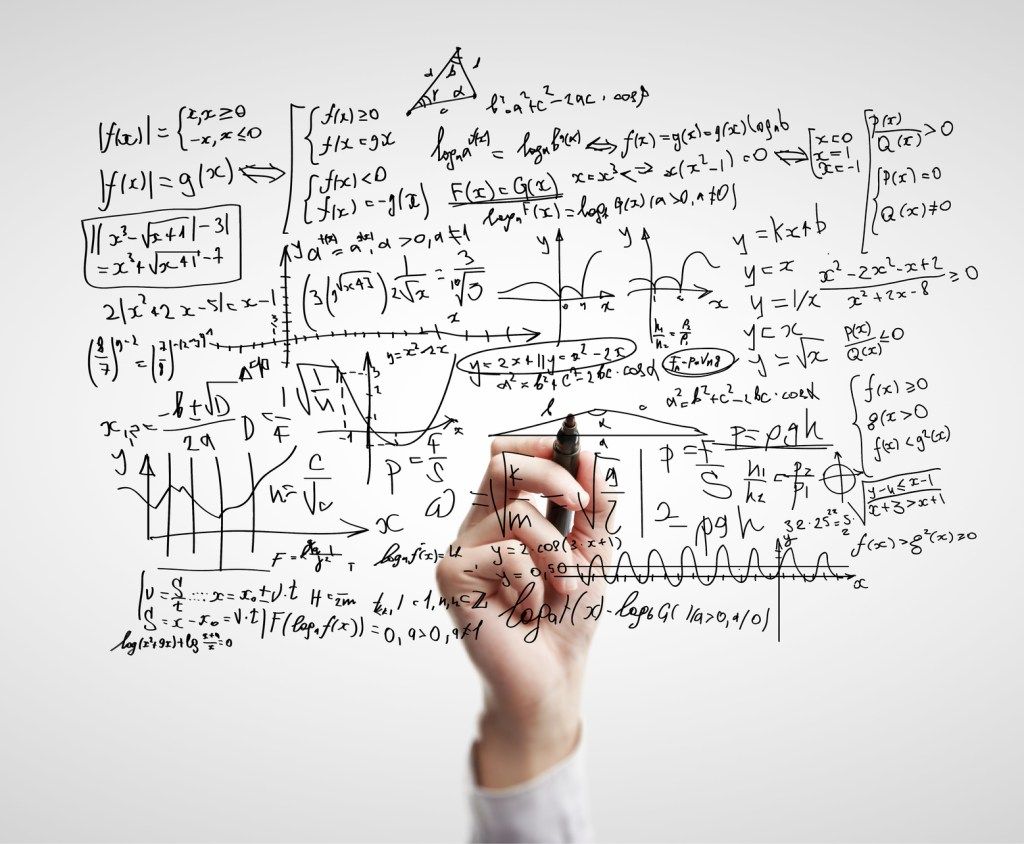 When Stephen Hawking wrote 'A Brief History of Time' he was warned that every formula he used would halve book sales (it only has one, e=mc2). This is going to be long and boring, but if you want to make money at trading then you have to understand this concept.
Well, trading is a mathematical business so you'll just have to suck it up, lol.
What I am about to reveal is the magical formula that all professionals use, it's the 'holy grail' of trading, the 'secret sauce'. That aside, if you're losing money at trading then this post is probably the most important post I'll ever write for you, it's so critical to your success.
Enough of the cheesy guru clickbait. 90% of traders who fail, fail because they can't understand this simple concept or have been taught wrong versions of it.
It's so simple, once you see it you'll think 'duh, that's so obvious !' but if that's the case, why does everyone still lose money ?...
The 'formula for success' consists of two parts which I'll break down into plain English first.
Risk Reward ratio.
Simply put, this is how much money you are willing to risk on each trade compared to how much you are willing to take as profit. Or how much you lose on average compared to how much you win.
Hands up in class if you've been taught that you need a Risk Reward of 2:1 ? That you must try to make 2 times what you risk in every trade ? You must be willing to risk $10 to make $20, or $250 to make $500 ? Or 3:1 or 5:1 ?
Well if you believe that, that's why you're probably losing money because it's complete horseshit. Risk Reward is only half of the equation, it doesn't really matter what it is as long as the second half of the formula balances up.
And the second half of the formula is....
Probability of winning trades
How often are you right ? how often does your system work out in your favour ? How often do you 'win' ? An awful lot of people claim to have astonishingly high hit rates, like 'I win 80% of my trades'. I very much doubt that, as the people who make serious money in trading usually have hit rates of less then 40%... It really doesn't matter though, because once again that's only half of the formula.
The formula bit.
Time to get your calculators out ! Not really, it's very simple.
In plain English first,
multiply the value of your average win by the number of times it usually wins
multiply the value of your average loss by the number of times it usually loses
Divide the first number by the second number
If the answer is greater than 1, you will make money. If less than 1, you will lose money.
Simple, eh ? I'll demonstrate with some real numbers on one of the systems I personally use.
This system is my 'daily grinder'. I use it all day, every day, on every stock I trade. It's a 100% mechanical system so I don't even need to think about it. It's not a huge earner, but it works consistently in most markets, most of the time and has worked for the last 5+ years consistently. This is my boring 'wages' system.
My Risk Reward for this system is 1:1, for every dollar I stand to lose, I make a dollar.
My system wins 56% of the time, in other words, my probability ratio is 56:44.
To work out if it's a good system, you first multiply the average win amount (in this case, '1' pip/dollar/tick/unit) by the percentage that it usually wins, 56.
56 * 1 = 56.
Then you work out the same for the losing trades, lose '1 unit', 44% of the time.
44 * 1 = 44.
Now you divide the first number by the second and if the answer is greater than 1 then it's a winning system.
56 / 44 = 1.27 (greater than 1, success !!)
And that's the secret formula, duh ! lol. Ok, so lets try it with different values.
Another system has a risk reward ratio of 5:1. For every $1 risked, it makes $5.
The system has a winning probability ratio of 20%, it only wins 20% of the time and loses 80%.
Plug in the numbers...
20 * 5 = 100
80 * 1 = 80
100 / 80 = 1.25 (greater than 1, success !!)
In English then, for every 100 trades, it would win $5 * 20 trades = $100, but will lose $1 * 80 trades = $80. So the net profit is $100 - $80 = $20. It makes money.
You can probably understand now how it works, and why the advice that you must have a reward ratio of 'X':1 is bullshit. If you win more than lose, but you lose more often than you win, you'll lose ! lol
Ok, so some real world examples now, of the difference between amateur and professional traders.
Joe is an amateur trader. He read all the stuff on YouTube and followed some gurus advice. He has a system that wins 80% of the time (and often boasts about his win ratio on internet forums). But, like all amateur traders, he just can't let the losers go. So when he loses it tends to be really big. And when he gets into a winning position, he takes profit way too early as he's afraid to give it all back. He might win 80% of the time, but for every $10 he wins, he loses $70 on average.
Plug in the numbers...
80(%) * 10($) = 800
20(%) * 70($) = 1400
800 / 1400 = 0.57 (less than 1, loser !)
Joe is going to lose all his money. Every 100 trades he wins $800 but loses $1400. Joe's future is giving handjobs behind dumpsters to pay the mortgage.
Now look at a professional trader. He's smart, he understands probability. He's no time for losing trades and cut them dead as soon as possible. And when he wins, he wins big. His system only wins 30% of the time and loses 70% of the time. But he only loses $10 when he's wrong, and $90 when he wins.
Plug in the numbers...
30 * 90 = 2700
70 * 10 = 700
2700 / 700 = 3.85 (much bigger than 1, winner winner chicken dinner !!)
The professional traders future is snorting cocaine off a hookers ass in Bermuda strip clubs, or maybe paying Joe for a quick tugjob behind a dumpster.
See how it works ? The amateur can have a system that wins 80% of the time and still lose money. The professional can have a system that only wins 30% of the time and still make (a lot) of money.
I said at the start about the fixed risk reward advice being bunk, so one last example.
This system makes $10 when it wins, but loses $25 if it doesn't. That's a risk reward of 0.4:1, never mind 2:1 or 5:1 ! But... the system wins 75% of the time and only loses 25%.
Plug in the numbers...
75 * 10 = 750
25 * 25 = 625
750 / 625 = 1.2, it still frikken wins !!!
So try and get this nonsense out of your head that you need to have high win ratios. And also the notion that you need to have positive risk reward ratios. They're two halves of one formula and only taken together can you tell if your system is going to make you money. Either one of the 'halves' can be abysmal, as long as the other 'half' balances it out.
The average professional trader will have a win probability of something like 40%, they only win maybe 40 times out of a hundred trades. But when they win, the risk reward ratios are in the order of 10:1, 20:1 and upwards. Cut your losses short, let the winners run, and even with the shittiest system in the world you can make money.
As I've mentioned in previous posts, you can literally make a trading system out of tossing a coin, a pure 50:50 probability. If you can understand the formula above, and make $12 when you win and only lose $10 when your wrong... you win.
Header image credit : drjohnlatham.com found via Google image search, no affiliation.
About me -
I'm a full time financial trader, mostly in Forex and Commodities. I write for fun and try to help beginner traders get started, avoiding all the mistakes that I made. I'm always happy to chat or discuss ideas so please just give me a shout in the comments !
100% of anything I earn from this post will be donated to a Steemit charity or worthy user.