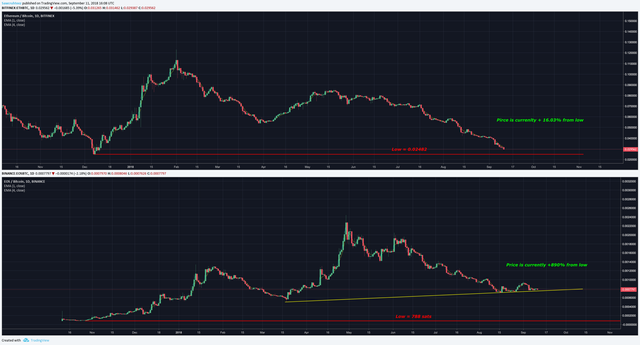 I believe that it is possible to beat the market through a consistent and unemotional approach. This is primarily achieved through preparing instead of reacting. Click here to learn more about the indicators I use below and click here from my comprehensive trading strategy. Please be advised that I swing trade and will often hold onto a position for > 1 month. What you do with your $ is your business, what I do with my $ is my business.
The most overvalued coin in crypto right now is EOS. This is based on the relationship to it's low from last winter. ETH is only 16.03% above it's low while EOS is +890%. I am short EOS:BTC from 0.0008856 with orders set to add as soon as yellow trend line breaks down. That would also confirm the bear flag/head and shoulders that has been forming. I firmly expect it to retest it's lows from last winter, below 1,000 sats and plan to short it all the way down.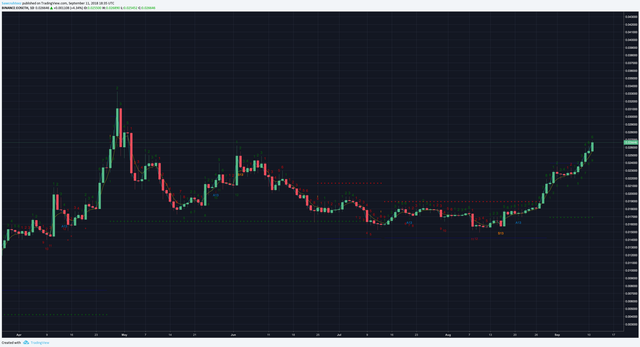 Shorting EOS:ETH seems like an even better bet. Currently on a green 6 which indicates three more days to the upside. That lines up perfectly with ETH falling into support and should be around the time EOS:BTC breaks down the crucial trend support.
Thanks for reading!

Allow me to Reintroduce Myself...
Learn How to Trade! [part 1]
Learn How to Trade! [part 2]
Wyckoff Distribution
Bitcoin Bubble Comparison
Bitcoin Daily Update (day 195)