Trading Competition with Lottery 724,000 EUR Worth of OBITS - Register to secure your spot!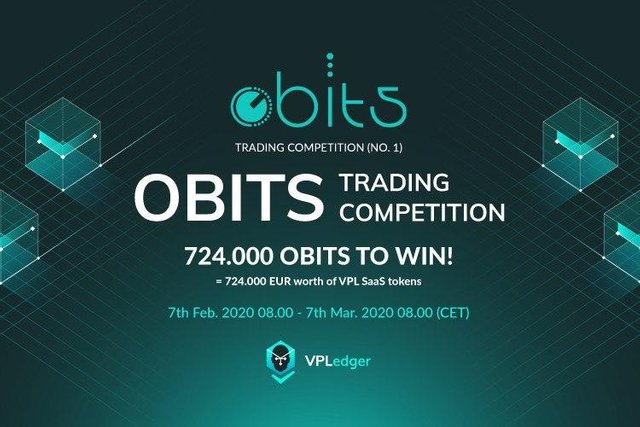 As part of celebrating our New Year's decision to offer OBITS holders full ownership of the year one supply of VPLedger blockchain SaaS tokens (VPL), from the launch of mainnet, we are offering everyone the chance to possibly double their OBITS allocations in a 30 day long trading competition!
Three important points to secure your reward at the end of the competition
***Register NOW: First 500 who send 1 OBITS to account OBITS https://openledger.io/account/obits is sure to be considered
***Minimum OBITS: Each participant must hold on account 1000 OBITS at time of start to receive double up at end, BUY NOW for best price. Yes, you can join the competition at your own convenience of course, and still get the double up as long as you held 1000 at start and minimum 2000 at end.
***Terms and Conditions: Make sure to read and comply with all terms and conditions to secure the maximum outcome
Trading terms and conditions
Below list will be updated with new points every day until start of competition.
Duration 30 days
Start at 8 am Feb. 7th, 2020
Ends at 8 am March 7th, 2020
Total Pool available for winning: 724 864 OBITS
Each participant must hold on account 1000 OBITS at time of start. Do you have already? If not check below for link where to pick up some OBITS!
If participant has 2000 OBITS or more at end, reward is minimum 1000 OBITS each to the first 500 participants

Secure your spot as first 500 participants - send 1 OBITS to BitShares network account: obits as confirmation

No participant can send or fill up other account during competition with OBITS, if so both accounts are disqualified!
ERC20 OBITS deposit is disabled indefinitely from February 7th, 2020. If you need them for trading competition, do so before this deadline. Withdrawal option will continue to be enabled and OBITS leaving BitShares network this way will be burned(removed indefinitely) from circulating supply.
From February 7th, 2020, ERC20 OBITS has function primarily as voucher to buy Vimples (VPL) on VPLedger.com, and can be purchased on any of the exchanges Chaoex.com and BitSG.com.
Biggest market to trade: https://openledger.io/market/OBITS_BTS
Pick up #BTS with #BTC to buy #OBITS on BitShares network: https://openledger.io/market/BTS_BTC or https://openledger.io/market/GDEX.BTC_BTS
Or pick up some bts on some of the #exchanges around the world: https://coinmarketcap.com/currencies/bitshares/markets
Daily lottery picks 5 winners to share 1000 OBITS, so a 200 OBITS each.
Daily Trading picks 5 Winners earning from 1500 OBITS down to 125 OBITS 1st to 5th place.

16: It is not obligatory to trade every day, but to take part in OBITS Trading Special it is a must. See below
Beware the OBITS Trading Special to ensure your spot in this competition of the month!

We welcome everyone to come join this 30 days long trading competition with daily lottery and prizes to top traders, as well as a final distribution of more than 834 000 EUR (724 000 + 110 000) worth of VPL SaaS tokens in the form of OBITS.
These same OBITS are then easily migrated into VPLedger anytime from launch of mainnet, where a mere 1000 OBITS equals 1000 VPL which is the amount needed to upgrade to lifetime member and its many subscription benefits. Don't miss out on buying the Lifetime Membership Subscription. Depending on the time you buy OBITS you can save bigtime using OBITS to pay for your subscription. I leave it for you to find out how much that is!
It is a First Come - First Served offer
We offer the Lifetime Membership Subscription to the first 4000 upgrades or until mainnet is launched, whichever comes first.
OBITS ERC20 tokens can also be used to buy VPL, but needs done via BUY section on VPLedger.com. These OBITS vouchers are also burned from total OBITS supply.
Some links of interest
Check out what is VPLedger all about on: https://vpledger.com
Check out the connection between OBITS and Vimples (VPL): https://vimple.openledger.io
Media writing about VPLedger, OBITS and eDEV
https://cryptocoin.news/press-releases/edev-decentralised-freelancing-on-the-vpledger-blockchain-platform-32414
https://www.investitin.com/edev-and-vpledger-use-case-hiring-a-developer-to-build-a-new-stablecoin/
https://nulltx.com/edev-and-vpledger-use-case-hiring-a-developer-to-build-a-new-stablecoin/
https://themerkle.com/edev-decentralised-freelancing-on-the-vpledger-blockchain-platform
https://www.newsbtc.com/press-releases/an-introduction-to-vpledger-a-suite-solution-for-businesses
https://www.cryptocompare.com/coins/guides/how-blockchain-technology-can-provide-a-global-software-as-a-service-platform
https://www.ccn.com/vpledger-an-all-in-one-blockchain-platform
https://www.coinspeaker.com/vpledger-blockchain-platform
https://www.livebitcoinnews.com/an-introduction-to-vpledger-a-suite-solution-for-businesses
https://www.cryptoglobe.com/latest/2019/12/how-blockchain-technology-can-provide-a-global-software-as-a-service-platform
https://www.blockfeed.today/2019/12/30/a-smart-solution-for-real-business-problems
https://usethebitcoin.com/a-smart-solution-for-real-business-problems
https://www.cryptoninjas.net/2019/12/30/vpledger-a-smart-solution-for-real-business-problems
On Medium VPLedger handle plenty more and very well written content articles about VPLedger:
Follow twitter handle: https://twitter.com/vpledger2
Follow facebook handle: https://www.facebook.com/vp.ledger.58
Follow Instagram handle: https://www.instagram.com/vpledgerworld
Follow linkedin handle: https://www.linkedin.com/showcase/vpledger/about
Follow VPLedger on telegram as Lifetime Member: https://t.me/VPLedgerGroup
Connect to testnet VPLedger in an easy way, just scan below QR code for link: