Missed the Iota and OMG break-outs. It's partly good, not letting FOMO getting in the way of looking for the next one. I had been much too focused on EOS, think not scanning the market thoroughly might be why I did not see them coming. I had anticipated Iota break-out in an earlier post a week ago here.
So I had written about going long at critical levels for both Bitcoin, Iota and EOS (patience on this one, will happen). I also mentioned I had NEO on my non-trading account and bought around $8. Now I have DASH on the watchlist, here's my trading plan: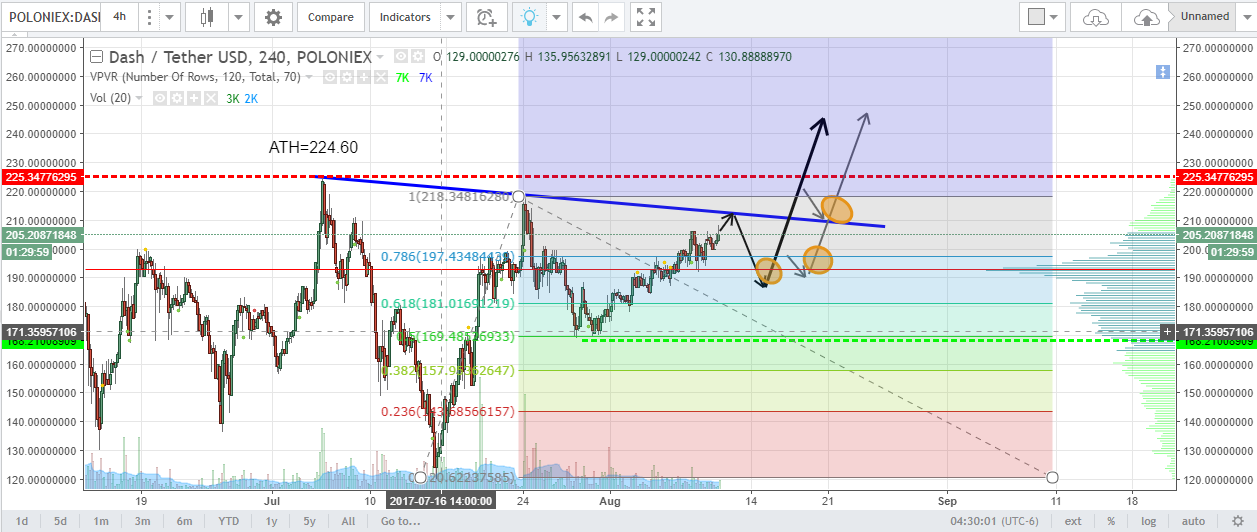 Planning to go long DASH at Orange circled areas, with tight Stop Loss. Before entering, I am waiting for it to form a base, micro -consolidate and scale in with small buys. If buying below the Blue downtrendline, I am positioning myself for a possible break-out. Buying above the blue line means buying after breaking multi-day resistance trendline. The confirmation of the break-out is when price gets above 224.60, I am expecting some rejection at around this price level.
After looking at a Fib extension, we are looking at first Target at around 280 areas.
As always, these ideas are notes for my own trading, and not considered investment advice. Feel free to comment and share your thoughts, although I am not always able to respond right away, I am trying to be more interactive on this platform. Happy Friday!