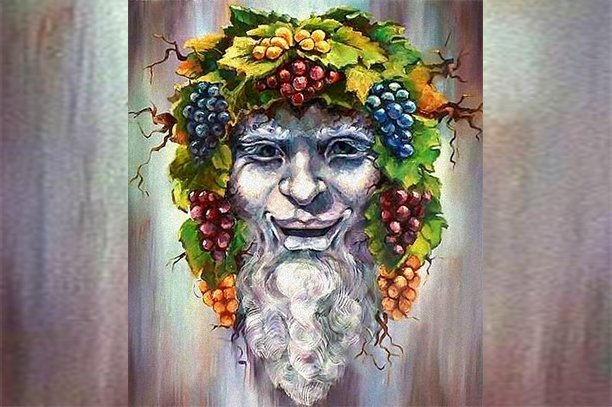 Dionysos şarap, üzüm ve eğlence tanrısıdır. Eğlence düşkünü olan tanrı her zaman hoş vakit geçirmek ister, aynı zamanda ona tapan insanların da bu eğlenceleri paylaşmasını arzulardı. Doğal olarak Dionysos hem ona tapınanlar hem de söylenceler için popüler bir tanrıydı.
Dionysos'un dünyaya gelişiyle ilgili farklı söylenceler vardır. Hepsinde babasının Zeus olduğu ve gayrımeşru bir çocuk olarak dünyaya geldiği bilinir. Başka bir kadından dünyaya geldiği için Hera'nın (Zeus'un eşi, Evlilik Tanrıçası) kıskançlığının getirdiği zalim planlara maruz kaldığı da söylencelerde geçmektedir.
Dionysos'a tapan insanlar ayinler düzenlerdi ve bu ayinlerde şarap tanrısı olduğu için şarap içilirdi. Şarabın insanlara kendilerini tanrılar kadar yüce ve güçlü hissettirdiğine inanılırdı. Şarap içen insanlar tanrıyla yekvücut olmak için gereken coşkuya ulaşırdı.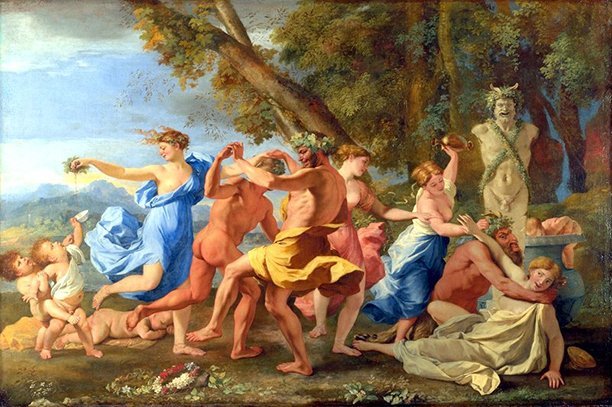 Dionysos ayinleri genellikle geceleri düzenlenirdi. Kadınlar deri giysiler giyer, şarap içer, sarmaşık dallarından örülmüş çelenkler takar ve Dionysos'un tasviri etrafında çılgınca dans ederlerdi. Kimi zaman kurt ya da geyik yavrularını emzirirler, kimi zaman da bir hayvan avlayıp parçalar ve çiğ çiğ yerlerdi. Zaman zaman kendilerinden geçen kadınlar ayin sırasında bir erkeği ya da bir çocuğu paramparça ederlerdi. Şarap içip çılgınca dans ederek büyük bir coşkuya kapılan insanlar kendilerini tanrılar kadar güçlü hissederdi. Dinsel coşku çoğu zaman cinsel coşkuyla daha da artardı. Geceler çılgınlık içinde sürer ve katılanlar kendilerinden geçerdi.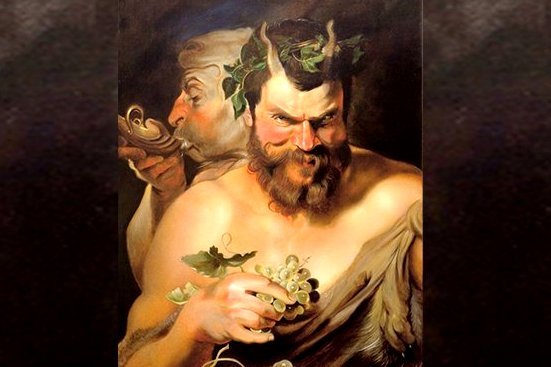 Dionysos ayinleri çok popülerdi fakat herkes tarafından kabul görmezdi. Kimileri onun gerçek bir tanrı olmadığını ileri sürüyor, bu da Dionysos'u çok kızdırıyordu. Kendisine karşı gelenlere acımasız davranmasına karşın yandaşlarını sık sık ödüllendiren ve çok sevilen bir anrıydı. Dionysos ceza olarak kendisine inanmayanları delirtip, yavaş yavaş ölmelerini izliyordu. Ödül olarak ise verdiği en değerli armağanı şaraptı. Dionysos dünya üzerinde dolaşmaya ve ölümlülerle vakit geçirmeye bayılıyordu ama Olympos Dağında on iki tanrının arasındaki yerini de koruyordu.

ENGLISH VERSION
Dionysos is the god of wine and festivity. This god of entertainment was always willing to have a good time, and at the same time wanted to share this fun with people who worshiped him. So, Dionysus was a popular god for both worshipers and rituals.
There are different myths about the arrival of Dionysus in the world. It is known that his father was Zeus and came to earth as an illegitimate child. It was also said that Hera, Zeus's wife, the Goddess of Marriage, had been subjected to cruel schemes brought on by the jealousy because of his born from another woman.
The people who worshiped Dionysus arranged rites and drank wine for the wine gods. Wine was believed to make people feel as high and powerful as gods. People who drink wine would have the enthusiasm to be united with the god.
Dionysus rites were generally arranged at night. Women wear leather clothes, wreaths woven from ivy, drink wine, and dancing wildly around Dionysus' portrayal. Sometimes they suckle wolves or deer puppies, sometimes they hunt animals and eat raw animals. From time to time, the women who passed through their selves and lost their control would smash a man or a child during the ritual.People who drank wine and danced wildly enthusiastically felt themselves as strong as the gods. Religious enthusiasm often improved even more with sexual enthusiasm. The nightfall went on in frenzy and the attendees passed through them.
Dionysus rituals are very popular but they were not accepted by everyone. Some argue that Dionysos is not a true god, and that makes him very angry. He was a very loved god who often praised his followers, although he was ruthless towards those who opposed him. Dionysos as a punishment make the people who did not believe him crazy and watches them slowly die. The most valuable gift award is wine. Dionysus loved to travel around the world and spend time with the mortals, but he also protected the his place between the twelve gods on Mount Olympus.