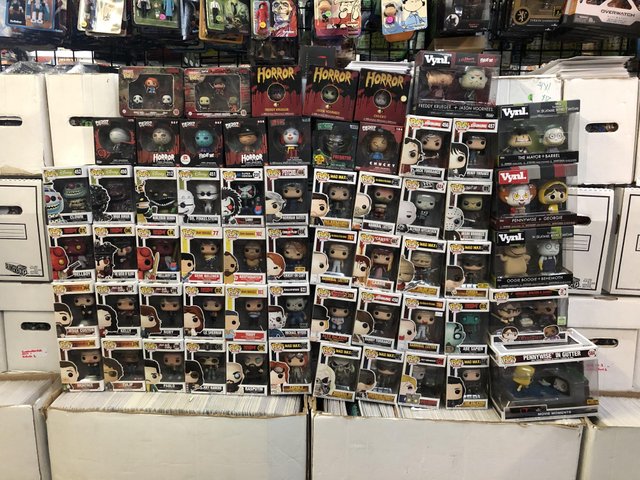 This one I kinda feel bad about. I always post photos and write up's of some of the cool collections that come into our shop. This time...I felt a bit sad afterwards. Now I'll preface this by saying, I didn't even really want this one. There's nothing here of any substantial value...at all. It's pretty much all commonplace pieces and shit that will sit around for a bit. But I ended up with it anyway of course because I'm dumb.
I already have 90% of what's here 10 times over again. So I was upfront about it when the gentleman popped into the shop with 2 tubs and a bag full of assorted collectibles. This collection consisted of 60 pieces in total. 44 of which were Funko Pops with the remaining 16 being Vinyls, Dorbz, and sone other shitty figures.
About 20 seconds in, I already knew I pretty much didn't want this stuff. It's just excess nonsense. We have over 3000 different Pops on our sales floor and another 15,000 or so in the back room consisting of repeats. I just do not need any more of this kind of stuff unless it's pieces I don't already have. I basically told him this and he said he didn't care. That he had no room for it and would take anything.
He then shot out a number. "Can ya pay $45 bucks?" he asked. "I'll give ya $40 as I have mostly everything several times over" I replied. He sighed with relief and thanked me which seemed odd. Before I paid him I told him that he'd make more selling em online. It's not bad stuff...horror stuff always does well so I'll go through this eventually. But it's just stuff I already had. "No time" he replied.
I handed him his 2 twenties and that's when he told me that his girl gave him the boot and he was currently homeless. That he had to get rid of his possessions and find a place to crash. That's when I felt awful. I mean, while I didn't want this stuff...I got it for a fucking song. It breaks down to .66 cents an item or .90 cents a Pop. That's next to nothing, and I felt bad.
I was actually going to give him some more money...even another $20 or something but then he mentioned that he'd be back as he has more to dump. So if he cones back, I'll give him a healthier chunk of change in the hopes that it helps him out of his dark spot.
I wished him well and told him I hoped things started turning around soon. He seemed in good spirits for someone who was in that position...if that's actually true. He told me it'll turn around soon, and then he left. Hopefully to go find a room for the night or something like that, and not to go buy dope or something along those lines.
Either way, I felt down about this one. If the story is true, then this guy is in a shit place in his life. Having to sell his collectibles that he obviously cherished at some point...just so he could have a roof over his head for a night or two while he figured shit out. Or...it's even darker than that and he's more lost than I initially thought. Whatever way it breaks down...it just kinda made me feel a bit sad and shitty.
Blewitt