Me ne apko mukhtalif trah ky hlwy bnany ky treeqy btye to aj apni is post me b kch asa hi hlwa bnany ka treeqa btaon ga.ye hmara rawaeti hlwa hy .jo mazedar hny ky sath sath jism ki drd ko kam krny ky liay b istimal kia jta hy q ky is me desi ghee istimal hta hy js ki malish ka aksr joron ky drd ky liay mashwra dia jta hy.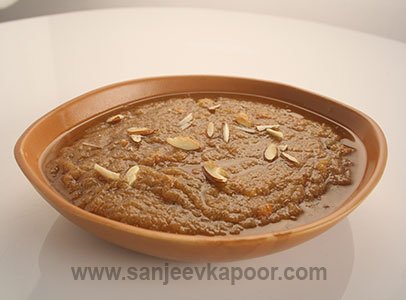 Image source:https://www.sanjeevkapoor.com/recipe/Aate-Ka-Halwa-Turban-Tadka-FoodFood.html
Hlwa bnany ky liay mandraja zail marahil hain.
1-sb sy phly achi quality ka ataaa lain.
2-is aty ko chan lain .
3-karahi me desi ghee dalen r is me ata dalen r isy musalsal hilaen q ky agr thora ata b brtan ky sath lg gya to wo jal kr hlwy ky zaiqy me krwahat si peda kr deta.
4-jb ata surkh ho jye to is sy agy ap is me gur dalna chahty hain jo ky do mukhtalif treeqob sy dala ja skta hy.
5-phly gur ko pees lain r isy us aty me shamil kr ky musalasl pkaen.
6-ya phr agr ap hlwy ko thora sakht kr ky khana chahty to phly aty ko nikalen r thora ghee dal kr us me gur dalen r pani ka chennta lgaen r pkny dain.
7-jb gur kinary choru to us me bhuna hua ata dal dain r musalsal pkaen.
8-ab jb gur bilkul hal ho jye to is me thora dodh dal kr 2 ya 3 mint hilaen hlwa tyar hy.
9-hlwy me mewajat waghera b daly ja skth pr ye hlwa asy hi khany me kamal zaiqa rkhta r hlka phulka b rhta.